Happy Pride 2023!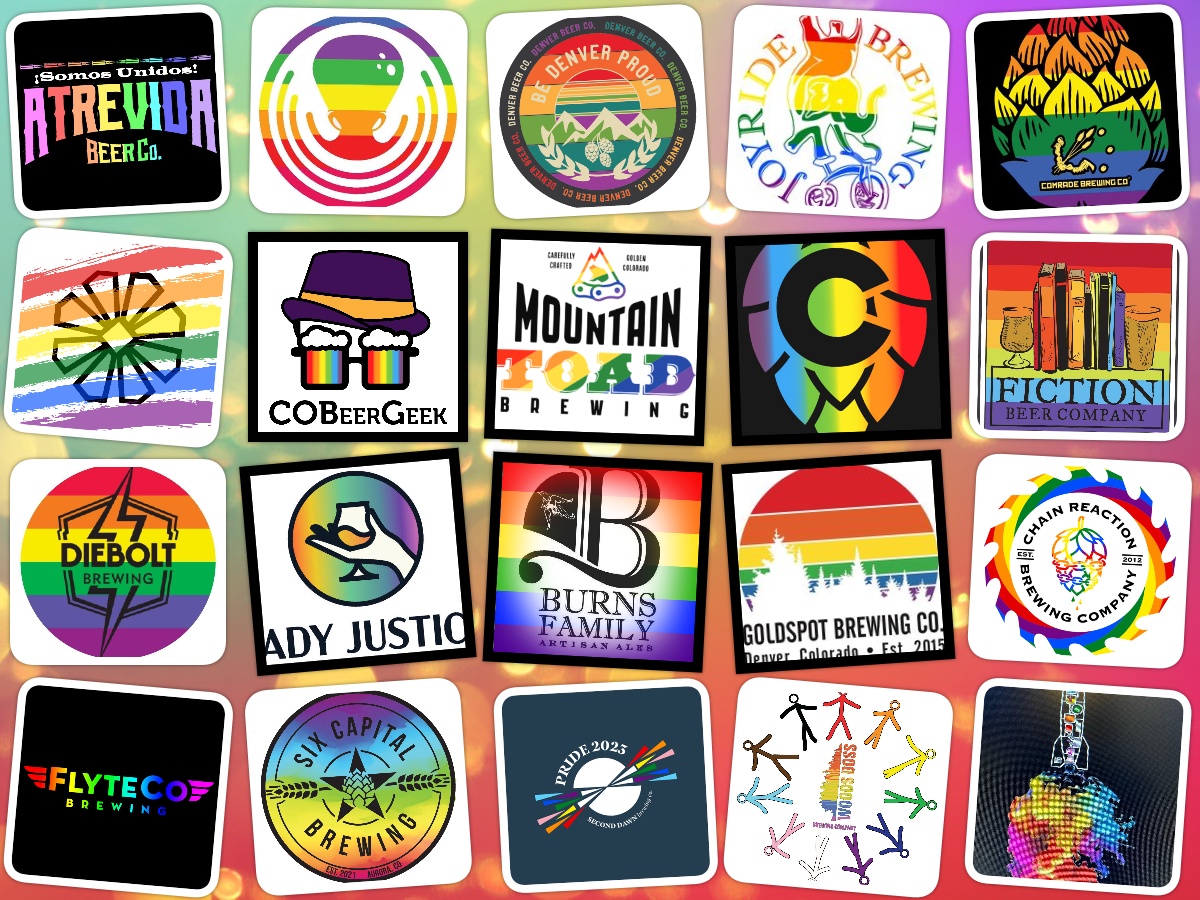 The LGBTQ+ community has had a longtime friend in the Colorado brewing industry.
Here are some of the Colorado breweries that are proudly showing their support through events, rainbow-themed merch, special beer releases, and an outpouring of love for the entire LGBTQ+ community.
This is a living article in which I will add more information throughout Pride month as I find out about it.
*************
Queer-Owned Colorado Breweries
*************
Colorado has three Queer-Owned breweries!  
Read about all of them plus other queer owned/supportive breweries around the country in this article:  43 Queer-Led and Queer-Supporting Breweries to Champion Right Now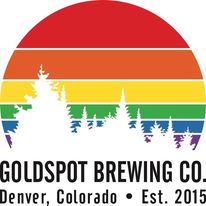 Goldspot is a fabulous craft brewery in Denver's Berkeley/Regis neighborhood with traditional ales and lagers and some not so much.
They strive to create a sense of community, a place to be known, to gather, to celebrate and to feel at home.
They hope their eclectic, balanced, and lovingly crafted beer will bring people together to share in this wild adventure of living and living well.
Kelissa Hieber is their head brewer and sole owner.
From Bartender to Owner: How Kelissa Hieber Made Goldspot Her Own by Jonathan Shikes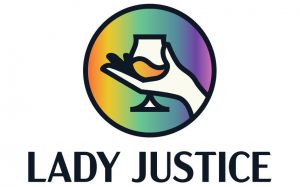 The Lady Justice Brewing Company was dreamed up by Betsy Lay, Kate Power, and Jen Cuesta during their 2010 service in AmeriCorps – asking the question "why can't we brew beer and give back to our community?" What began as a small operation on a custom-built homebrew system in a tiny storage space has grown into a flourishing taproom and movement.
Today, Lady Justice Brewing is a community-focused brewery dedicating time, space, and money to nonprofits and community partners that support and empower women and girls in the state of Colorado. Their giving is focused in two direct ways: through their Community-Supported Beer (CSB) memberships with 100% of profits over cost going directly to nonprofit partners, and through the fabric of the taproom community, highlighting opportunities to volunteer, collaboration brews, and more.
Betsy Lay is their co-owner and brewer.
Betsy Lay: Brewer and Philanthropist by Lorne Fultonberg of University of Denver Magazine
Lady Justice Takes Over Longtime Brewery Space on East Colfax in Aurora by Jonathan Shikes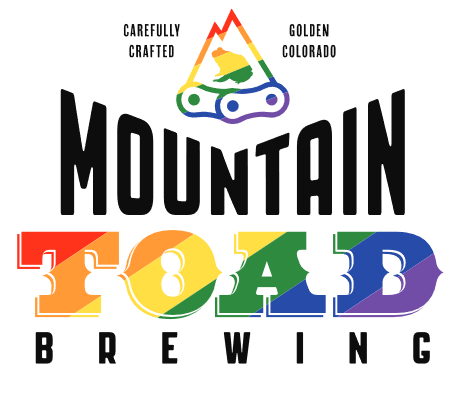 Having just celebrated their 10-year anniversary, Mountain Toad Brewing, a small brewery in Golden, is the oldest queer-owned brewery in Colorado.
Their focus is on providing a place for the community to gather and unwind.  The taproom offers a quaint and comfortable atmosphere for locals and visitors alike to grab a pint and make a new friend. Good vibes and high fives are always on tap.
Mountain Toad is owned by Thad Briggs & his partner Brian Vialpando
All in the (Chosen) Family by Holly Regan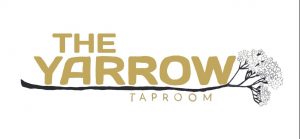 While not a brewery quite yet, The Yarrow Taproom in Austin Colorado is on the Colorado Brewery List as a brewery in planning.
Maddie & Jess, a delightful young couple, met in college at Western State in Gunnison and then opened this taproom in a tiny west Colorado town.
They already have a good Colorado craft beer tap list and I look forward to when they eventually are serving their own beer!
The Yarrow Taproom comes to Austin by Lucas Vader
*************
Going to Breweries with Pride
*************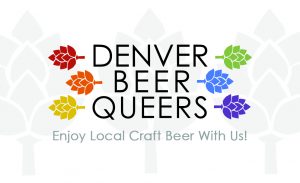 *************
Pride Events
*************
There are lots of great Pride Events happening at breweries in June 2023!
Join us for a month-long celebration of love and pride with beer releases and collaborations, a daily scavenger hunt, daily rainbow prizing, music, tons of events and our 3rd annual pride parade!
Grab your family and friends and we'll see all of you humans in June!
1 June:  Call to Arms Brewing:  Tie Dye your own CTA Pride Shirts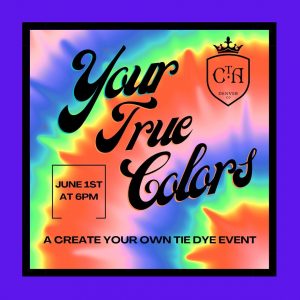 We're excited to be kicking off Pride Month on Thursday, June 1st, with some Drag Musical Bingo hosted by Talia Tucker L'Whore!
From 7-8:30pm, there'll be several opportunities to win some prizes and it's free to play.
Mark your calendar and make sure to join us!
02 June: Raices Brewing: Pride Kickoff Party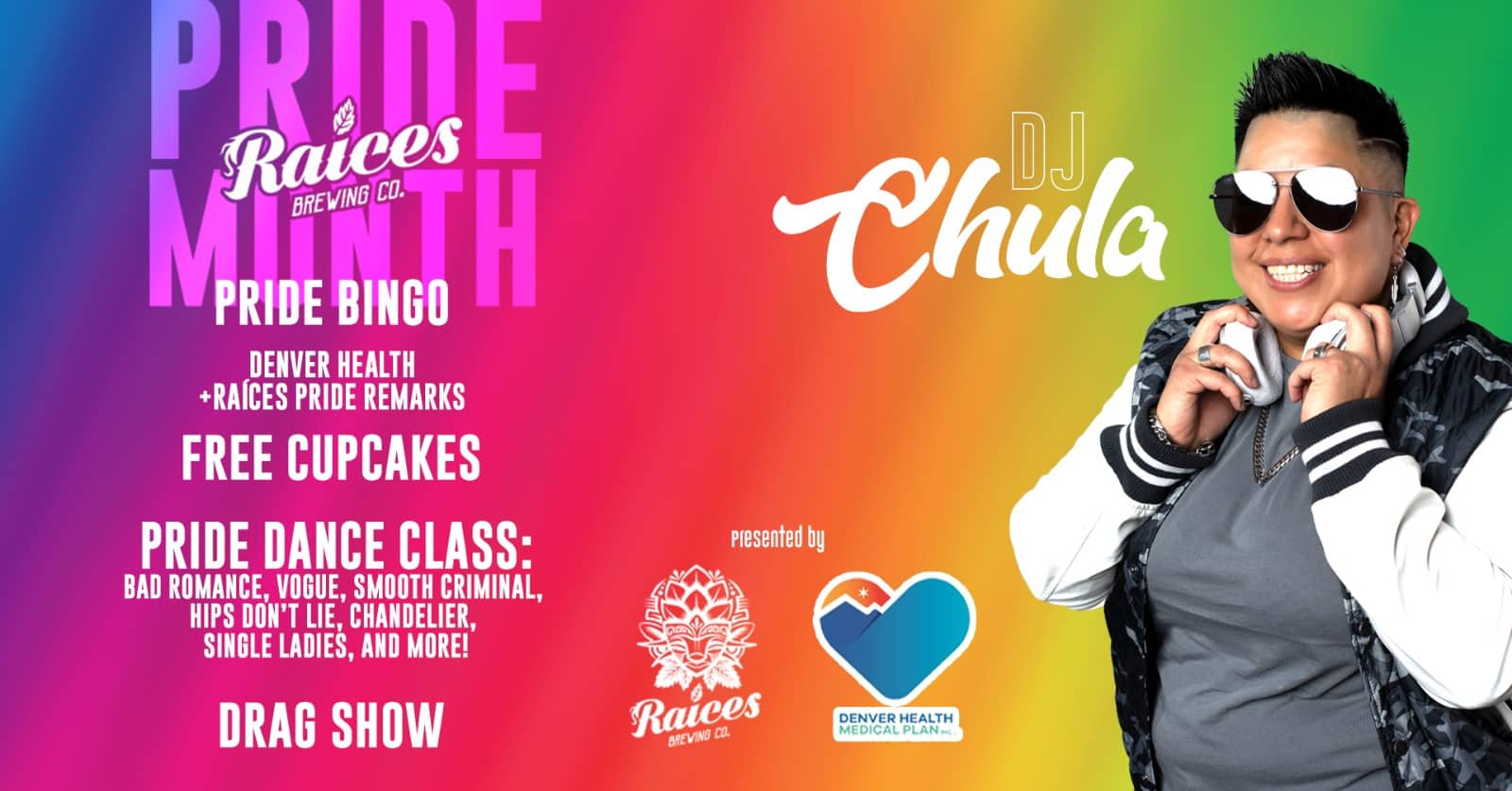 Celebra con nosotros el inicio del mes del orgullo! En apoyo a la comunidad LGBTQ, tenemos un programa divertido para ustedes esta noche en colaboración con Studio Colombia y Denver Health.
No te lo pierdas!
Celebrate with us the beginning of Pride Month! In support of the LGBTQ community, we have a fun program for you tonight in collaboration with Studio Colombia and Denver Health.
Don't miss out!
-Pride Bingo
-Pride Dance Class
-DJ Chula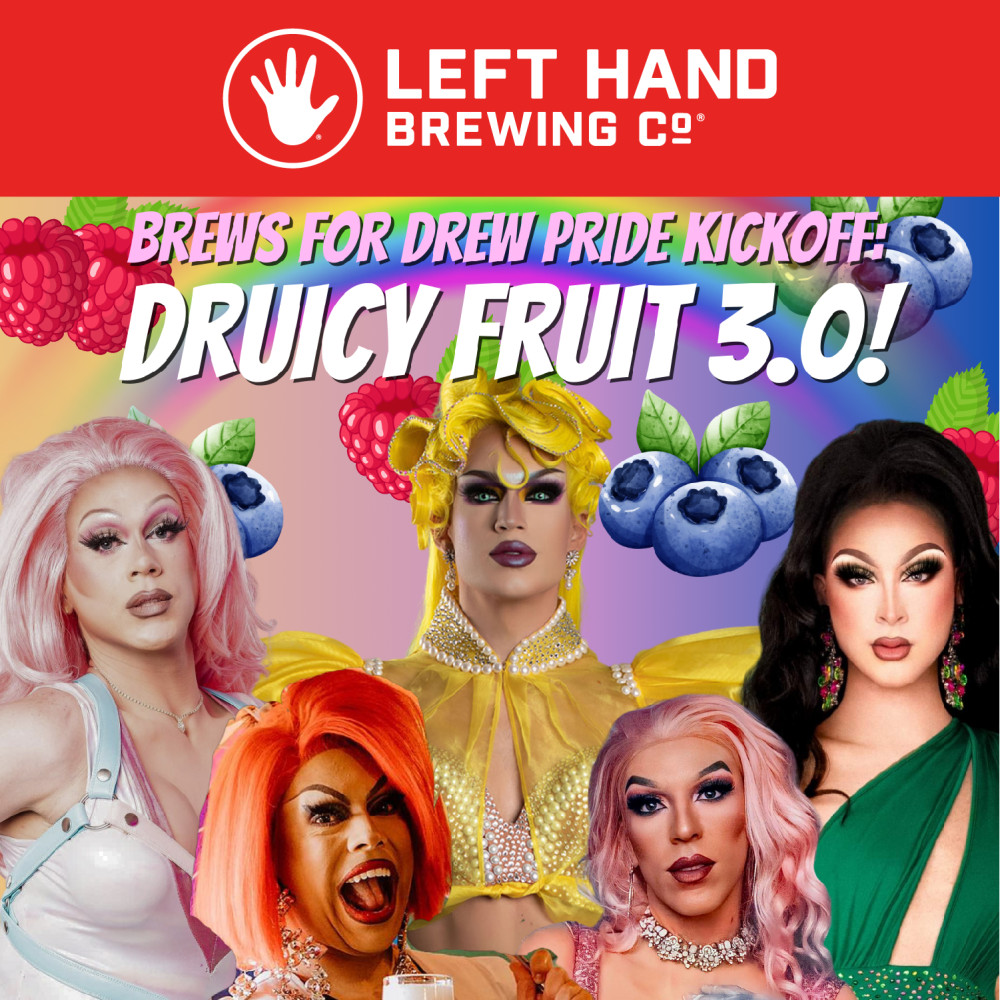 Join us & The Dru Project for a Pride kick-off in Longmont! 🏳️‍🌈
We're tapping a beer in honor of Drew — DRUICY FRUIT 3.0, a fruit-forward Berliner Weisse sparkled off with edible glitter! A portion of proceeds will benefit LGBTQ+ youth. Come drink for a good cause, enjoy live entertainment, drag performances, and tasty brews while celebrating with PRIDE! 🏳️‍🌈🍻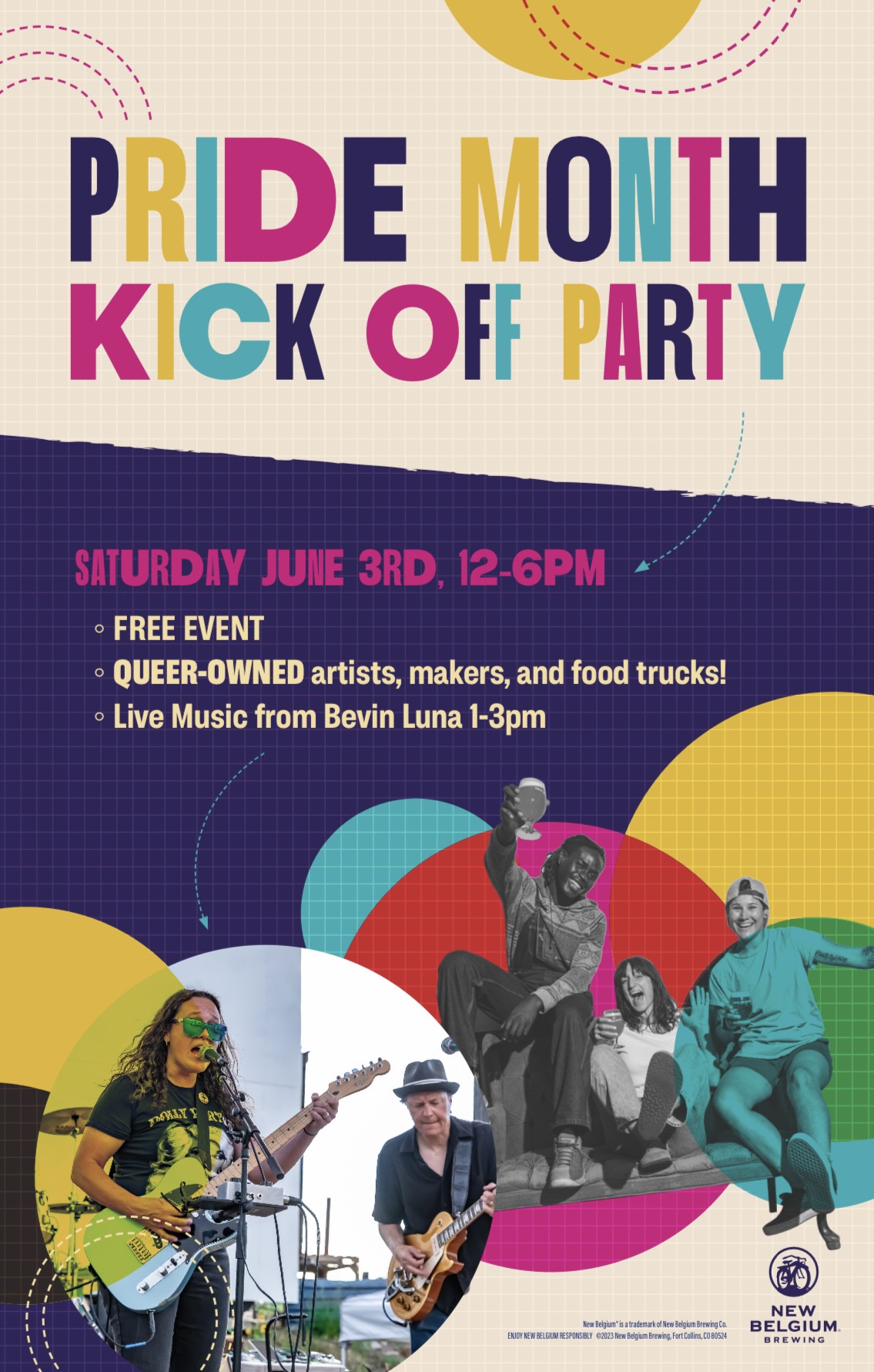 Join us as we host some of our community queer-owned artists, makers, and food trucks for a kick-off to Pride month on Saturday, June 3rd. We will have Live Music from Bevin Luna 1-3pm!
Join us for our FIRST marketplace! We'll move some of our chairs out of the way + will create space for these lovely makers to showcase their goods! We'll also give a portion of our beer, merch + snack sales to The Center on Colfax to support the work they do to engage, empower, enrich + advance the LGBTQ+ community in Colorado. Hope to see you all there.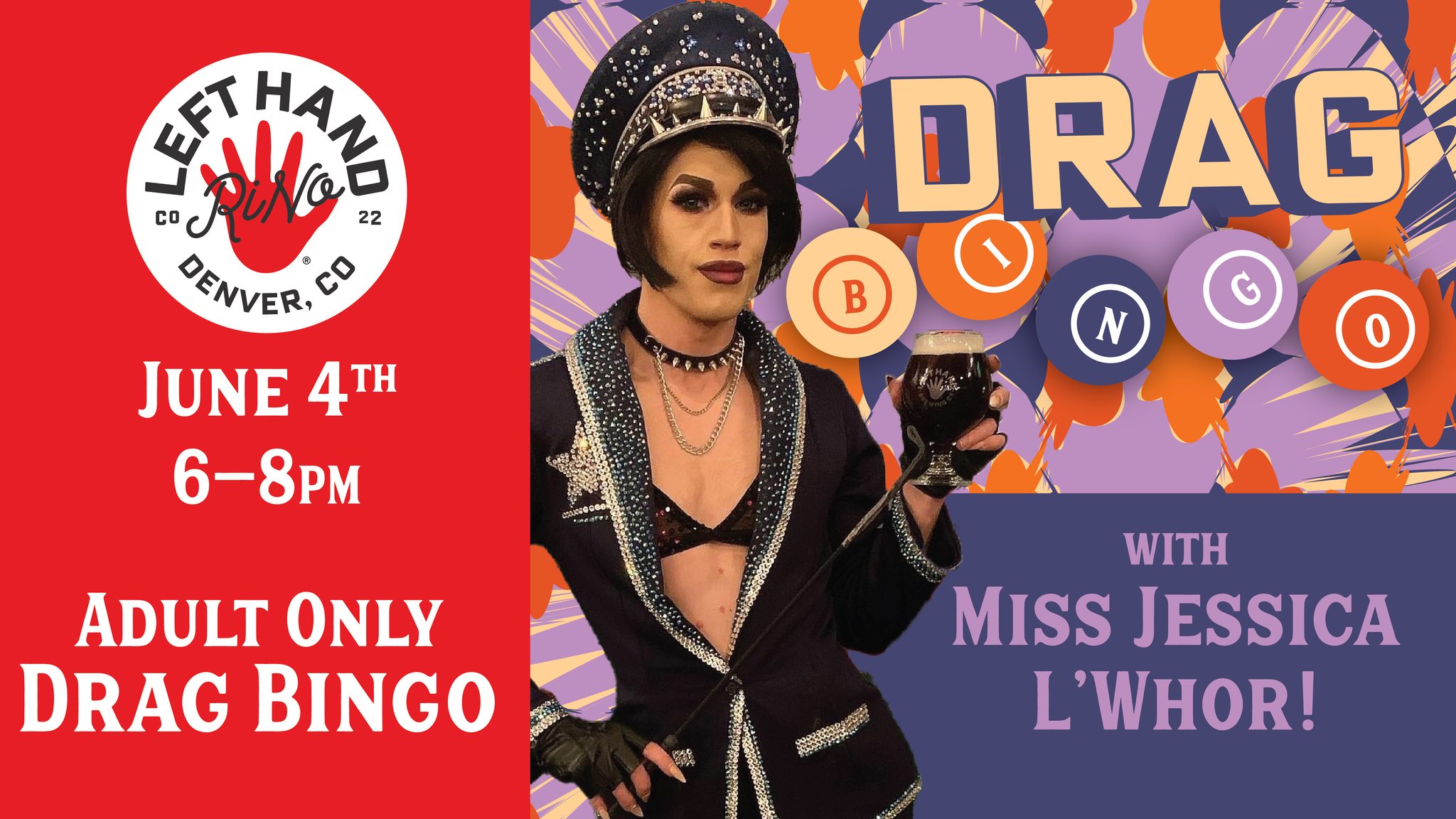 Time to embrace a little more of your wilder side! Join us for this special adults-only version of Drag Bingo with the sassy and sultry Miss Jessica. Leave your kiddos at home for this one!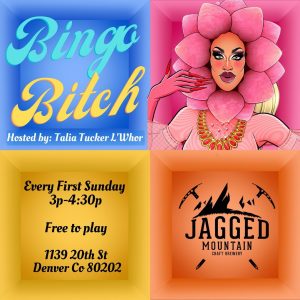 It's Bingo B**ch! Kicking Pride month off w/ bingo hosted by the lovely Talia Tucker 
Join us June 4th and every first Sunday after for Drag Bingo to win beer and prizes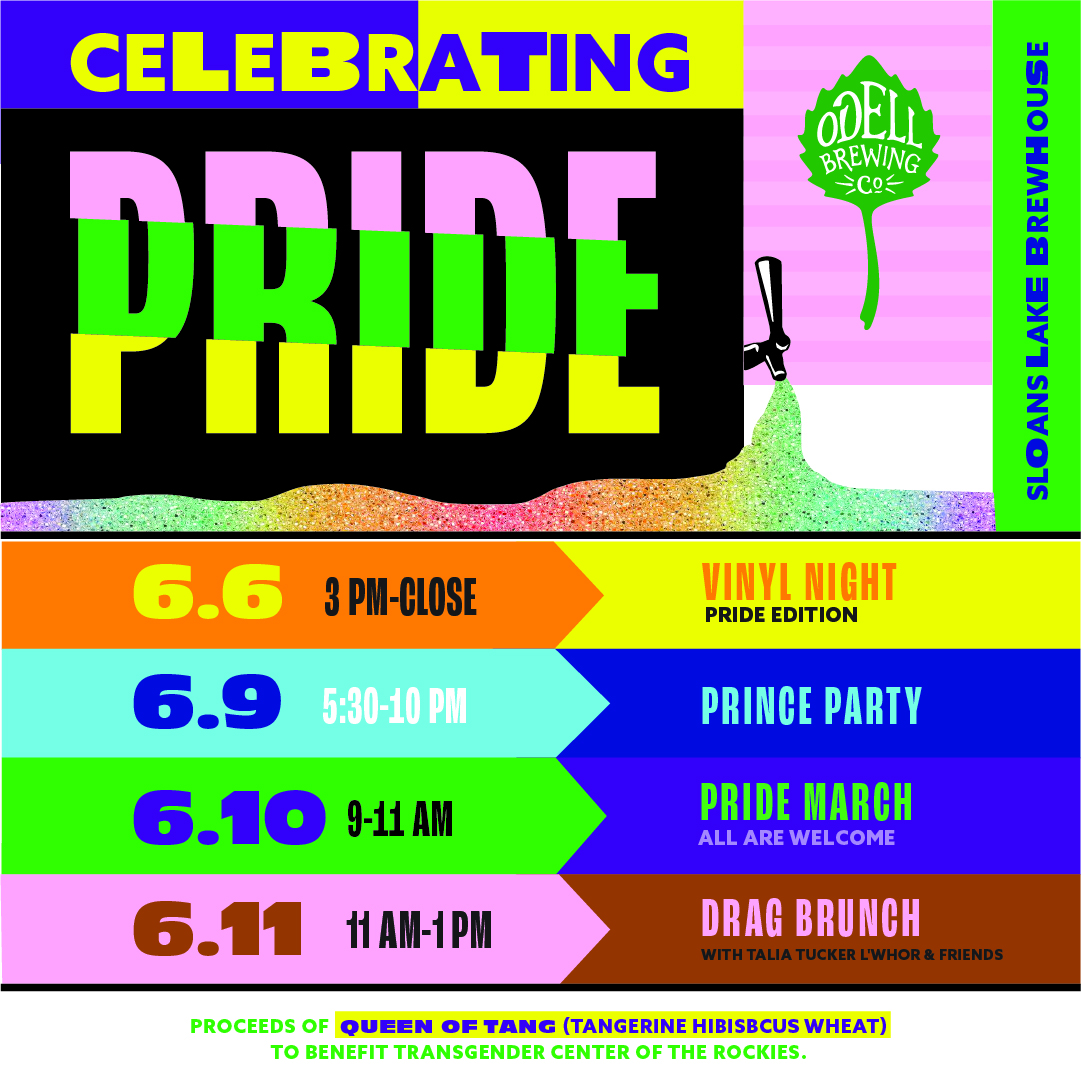 Details TBA – Stay up to date with Odell Pride happenings on their site: PRIDE 2023 – Odell Brewing Co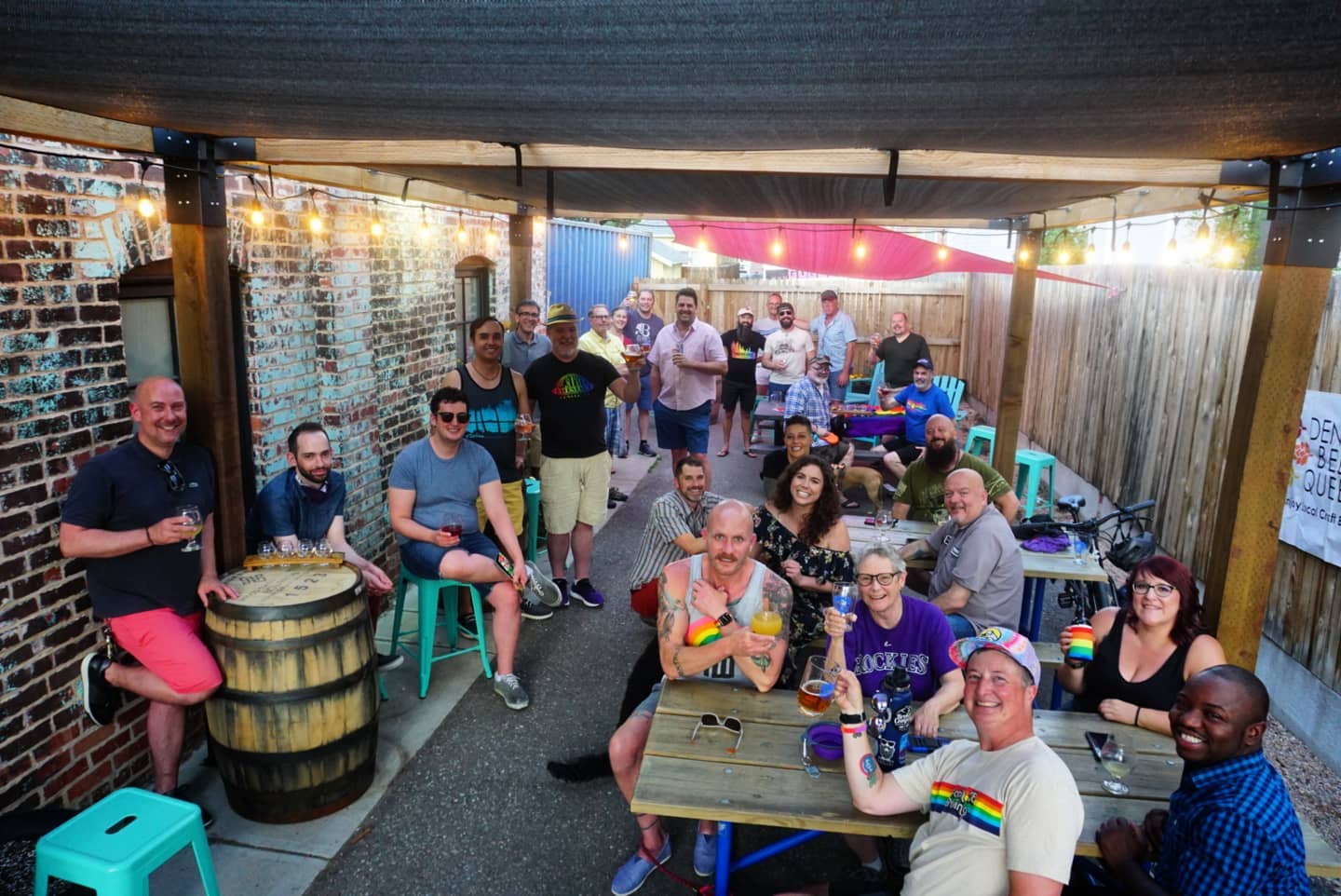 The Denver Beer Queers will hold their first Pride month MeetUp at Goldspot Brewing on 07 June starting at 6:30pm.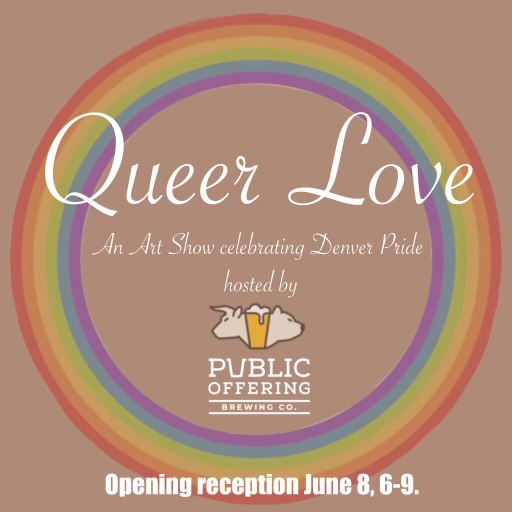 Our Pride Art show will feature works for art in various medium, sizes and styles from 25-30 different, local artists all connected through the theme of Queer Love – what Pride means to each individual artist. We are asking each artist, at their discretion, to donate a portion of the proceeds from any sale to The Gathering Place.
TGP offers services to combat poverty and address the impacts of marginalization and oppression that are often contributing factors to poverty or homelessness. By offering low-barrier access to a broad range of basic necessities and wrap-around care options, TGP guides women, transgender folx and children living in poverty from a place of crisis and instability to one of stability and security.
Opening night for the art show is June 8th from 6-9PM with the artists on hand to display their work. The art will be hung on our walls through the first week of July.
We will be donating $0.50 for every full pour of our Give and Gose fruited sour to The Gathering Place throughout the month (and a little beyond) as well as all profits from our Pride t-shirts.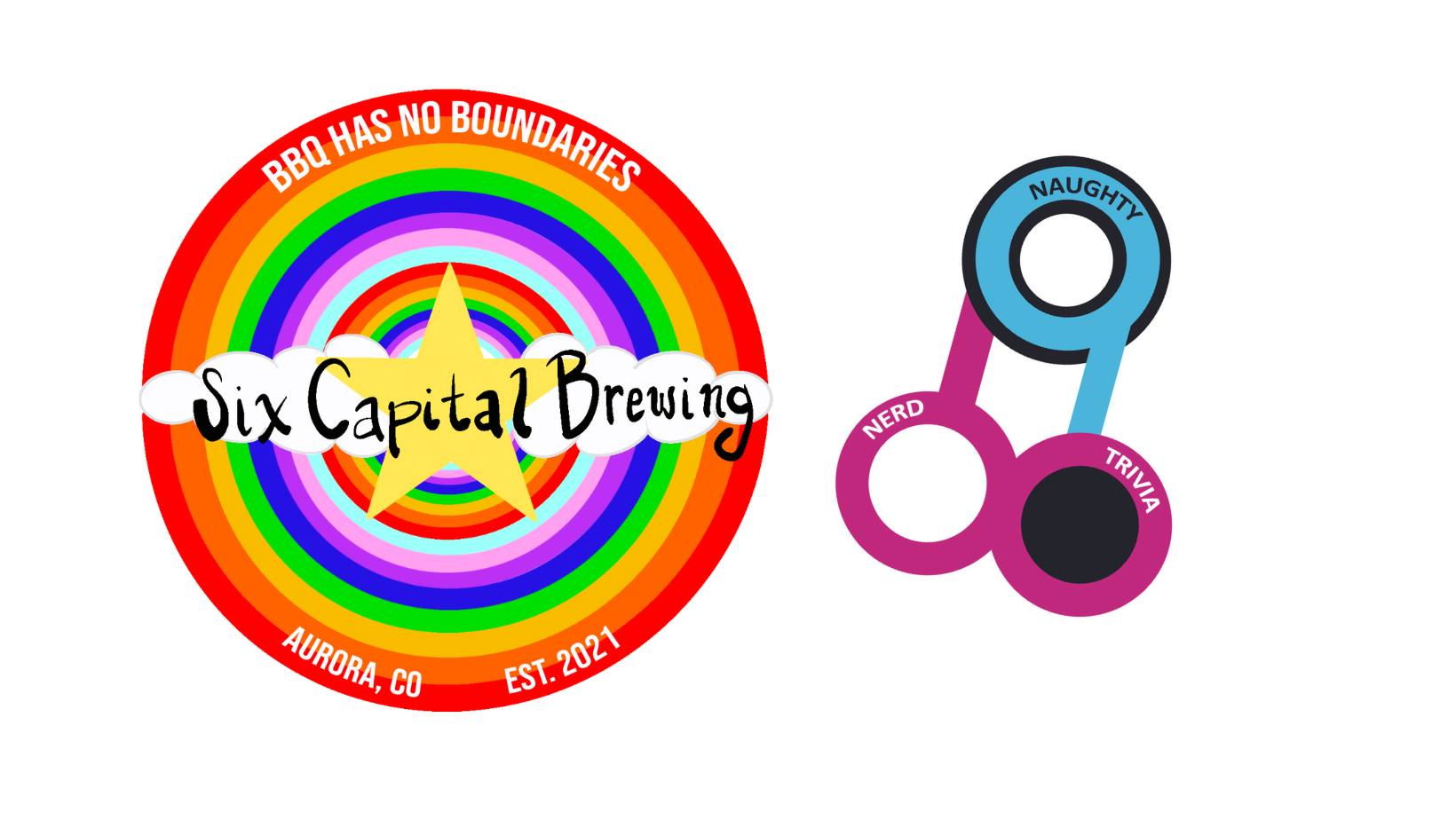 Come get naughty with us the second Friday of every month!
Naughty Nerd Trivia combines entertainment with education to talk and learn about America's least discussed topic: SEX!
This is not your Momma's bar trivia! Test your Sex IQ with useful, outrageous, and hilarious trivia questions about human sexuality. Be prepared to learn, laugh, gasp, and occasionally groan! It's free to play. We have 5 rounds of 5 naughty, nerdy questions each – highest overall team scores win. This event supports select, local sex-positive charities. This is a 21+ only event.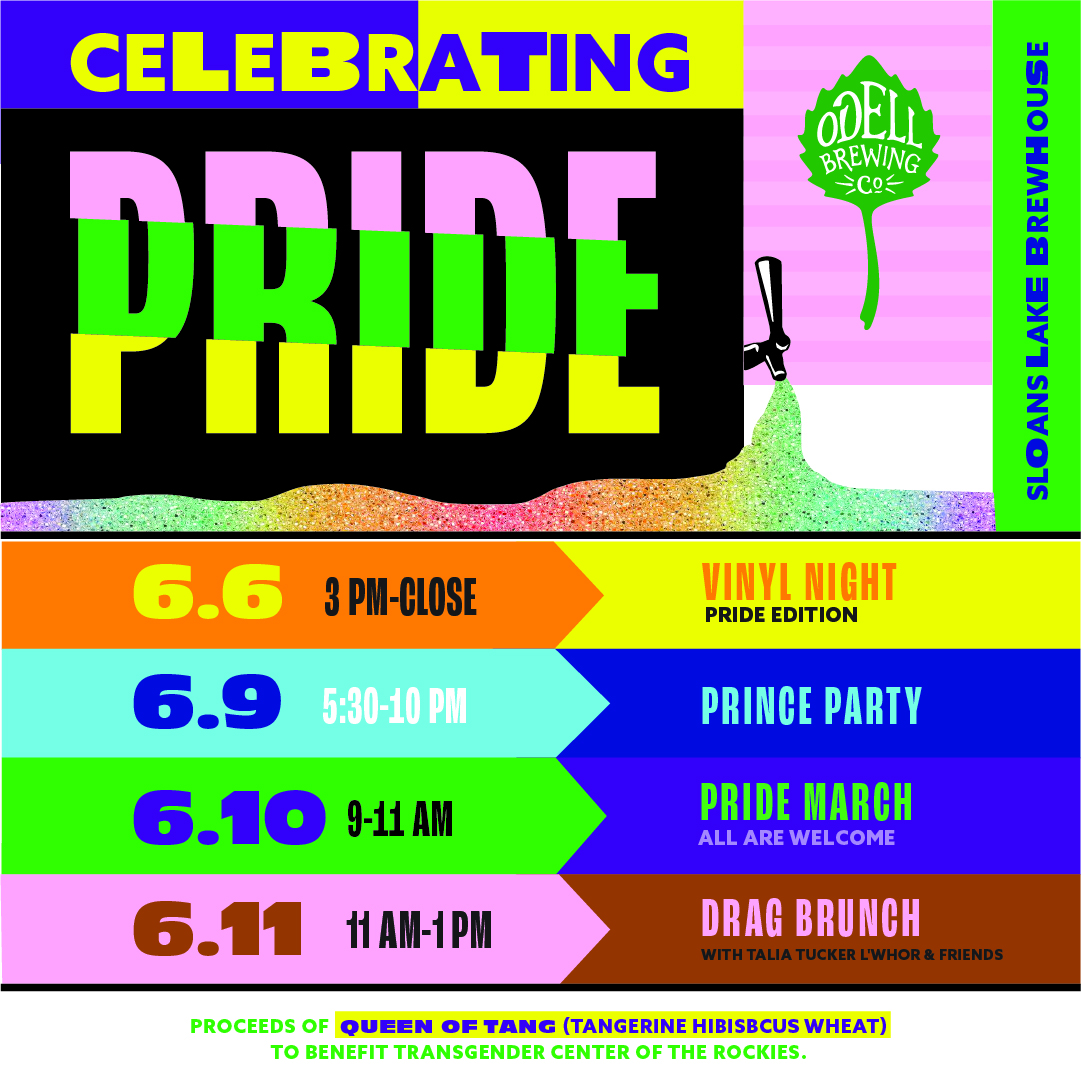 Details TBA – Stay up to date with Odell Pride happenings on their site: PRIDE 2023 – Odell Brewing Co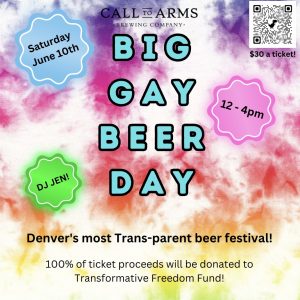 Check out the brewery line up!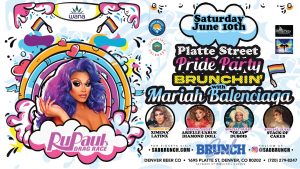 Hold onto your wigs, clutch those pearls, and come party with us as we close down 17th street to kick off Pride Month! On Saturday, June 10th from 11 am – 8 pm, we're featuring unbelievable performances from Denver's best drag queens AND – all the way from Rupaul's Drag Race – Mariah Paris Balenciaga!
Our entertainment lineup includes:
10:30: VIP Brunch and Meet & Greet!
Gain special access to breakfast with our queens including RuPauls' Mariah Balenciaga. $35 VIP tickets include one-on-one time with the queens, a full brunch, and a beermosa!
GA doors open at 11:00 am.
12:00 – 2:00 pm: SadBrunch Drag Show
An electric show featuring Mariah Balenciaga and hosted by our own fabulous queen, Ximena Latinx. Including special guests Arielle Larue Diamond Doll, Deja Dubois, and Stack of Cakes. Snag your tickets below!
3:00 – 4:00 pm: Doggie Drag Show
Time to get your pups runway ready! Dress to impress and hit the stage together with your best dog-walk. Ximena will be judging the contestants and deciding who will take home the GRAND PRIZE from Kong. Stay tuned for Doggie Drag Show sign-ups!
4:30 – 7:00: Ximena's Party
Our beloved Cerveceria and DBC queen, Ximena Latinx, is bringing the house down with a FREE finale performance. Featuring Denver's best local Drag talent, stick around for a full show that includes guest participation, dozens of drag outfits, and, of course, lots of craft beer!
Featured DJs:
11 – 2 pm: DJ Jon Krunk
2 – 8 pm: DJ Tall Angel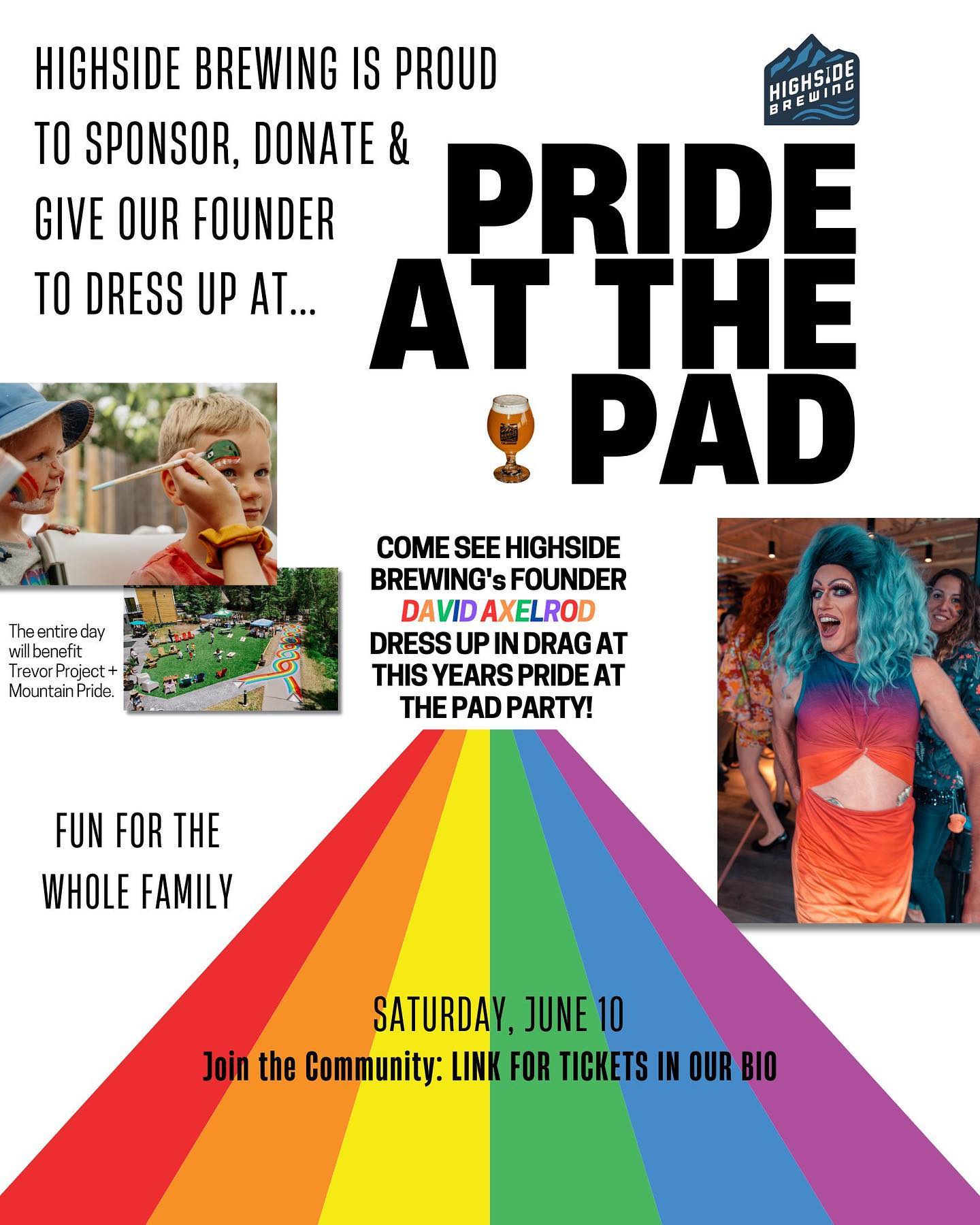 We are proud to announce our good friend and founder of HighSide Brewing, David Axelrod will be attending Pride at The PAD Silverthorne this weekend dressed in Drag!
Get your tickets today – link in our bio! See you this weekend!!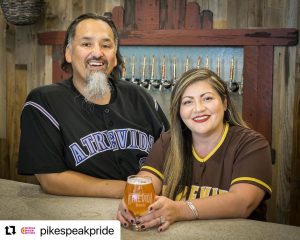 From the Pikes Peak Pride Organizers:
Let's hear some applause and fan clacks for the Grand Marshall of our Pride parade on Sunday, a hero to our local community, Rich Fierro!
A decorated Veteran with three combat tours and owner of Atrevida Beer Co. with his wife Jessica, Rich and his family were at the scene of the Club Q tragedy, where Rich was credited with helping subdue the gunman with the shooters' own weapon. Rich recently received the 2023 Congressional Medal of Honor Society's Citizen Honors Valor Award for those actions.
Help us say thank you to Rich and come see him for yourself during our parade on June 11!
More information about Pikes Peak Pride. 
11 June: Blue Moon RiNo: Pride Kick Off Party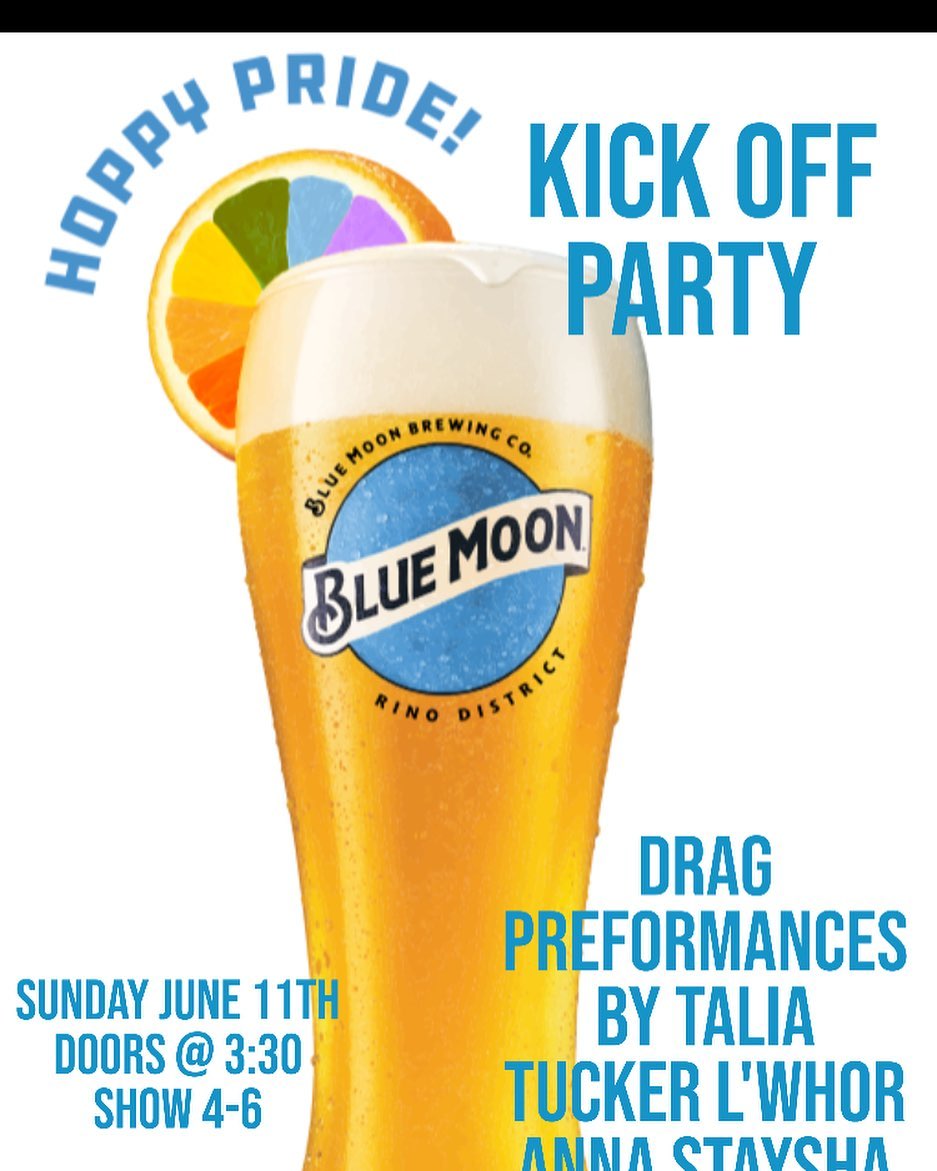 Come Party for Pride with us! Drag performance, beer and food, Sat June 11th doors at 3:30pm show starts at 4. Tickets available at our website $15.00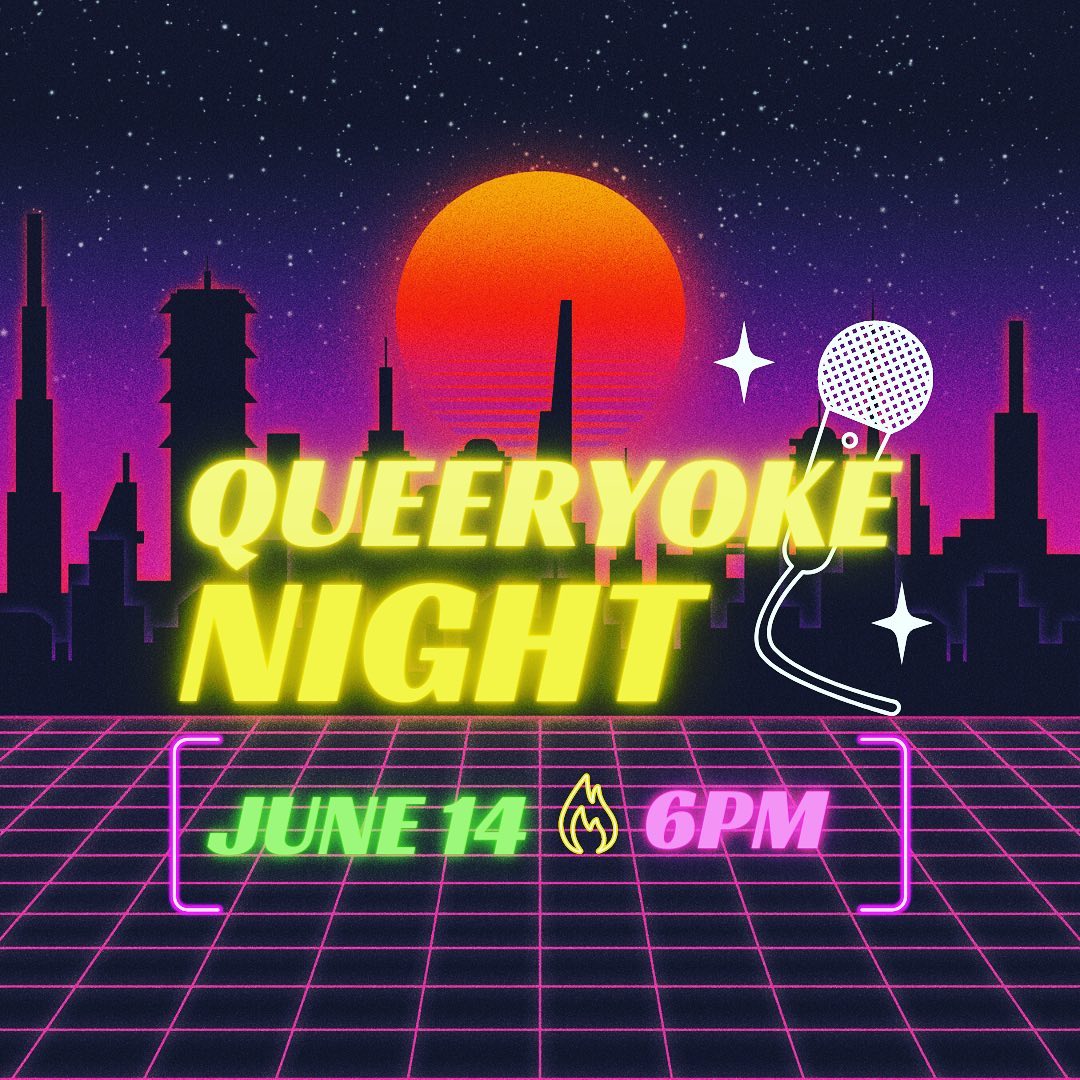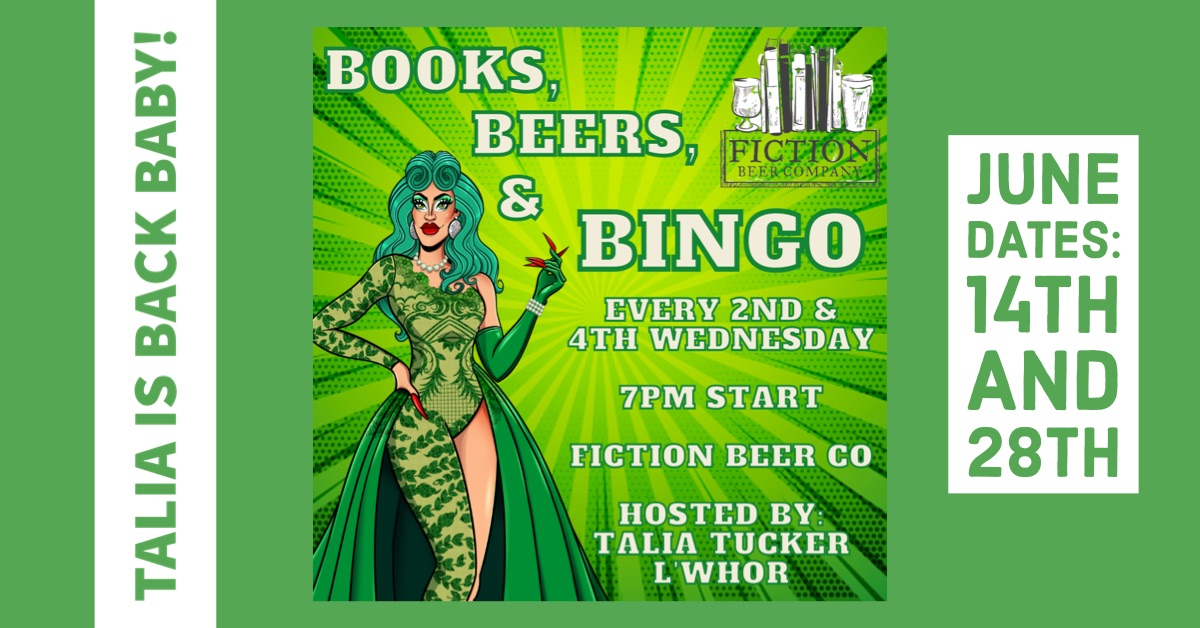 Drag performer Talia Tucker returns to the taproom for Books, Beers & Bingo!
The Unabridged Details:
Shenanigans and good times are guaranteed!
Join us for a Rainbow Brite – themed PRIDE party on June 16th 2023, from 6p – 10p.
Shine your rainbow in all the corners of the world!
LGBTQIA+ & Allies celebration of PRIDE!
Costume contest (or come as you are!) & cake, plus a Big Screen surprise!
NO COVER.
FIRST 30 attendees will receive a rainbow light-up coaster with their first pour.
21+, with ID. We are a hate-free, safe space.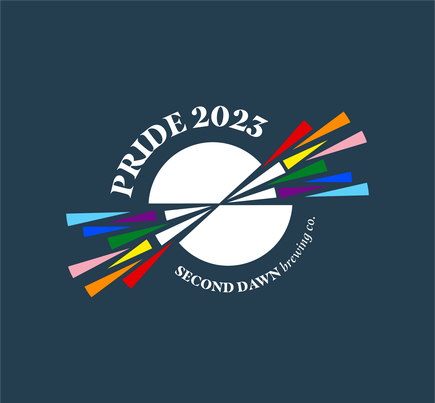 Second Dawn is hosting a Pride Beer Tap Takeover on June 16th, serving up specially made beers for the month from Lady Justice, Cerebral and Cheluna.
Proceeds go to Vivent Health and One Colorado. If you bring in canned food for Vivent Health's food pantry, get a discount on beer!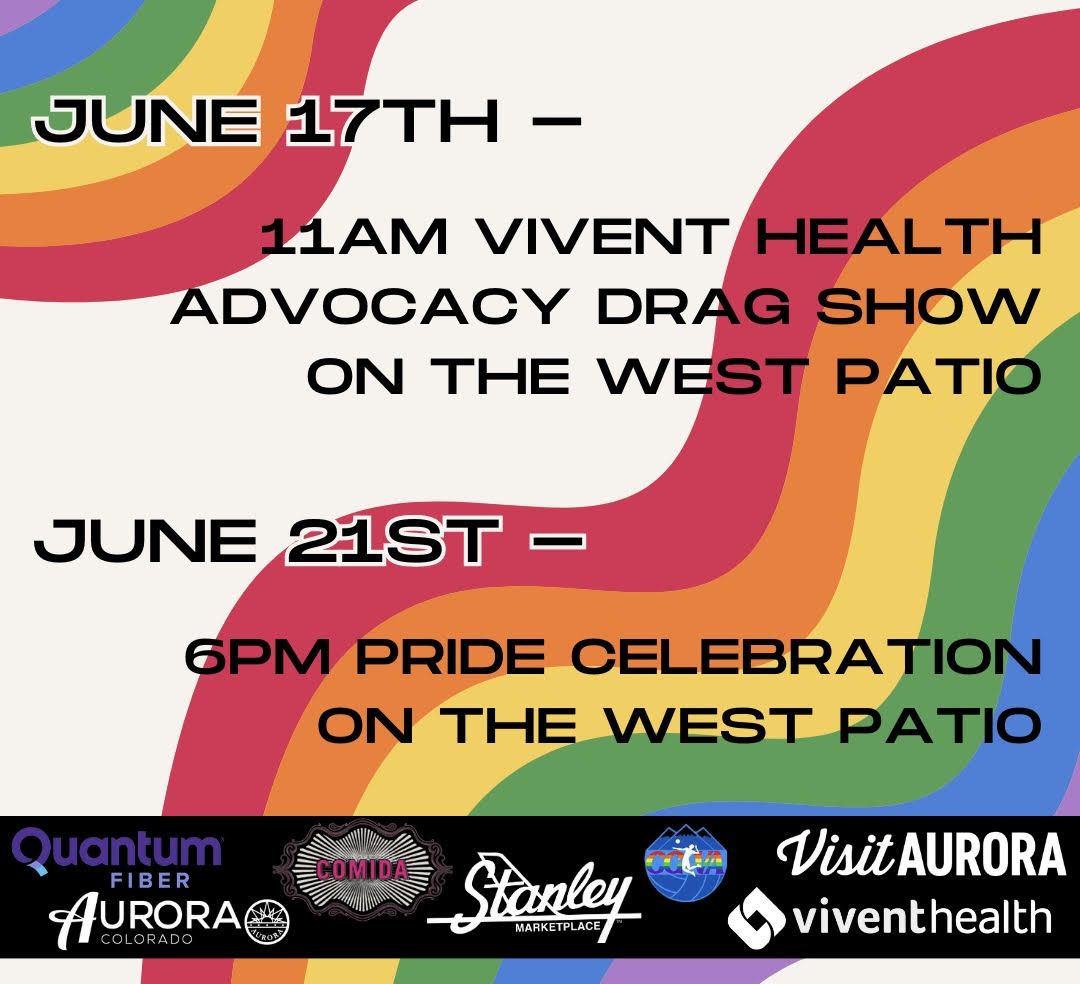 17 June: Goldspot Brewing: Queer Movie Night – Paris Is Burning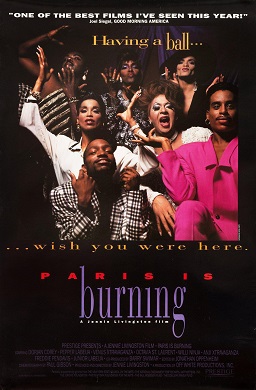 Come to Goldspot to watch Paris Is Burning, a chronicle of New York's drag scene in the 1980s, focusing on balls, voguing and the ambitions and dreams of those who gave the era its warmth and vitality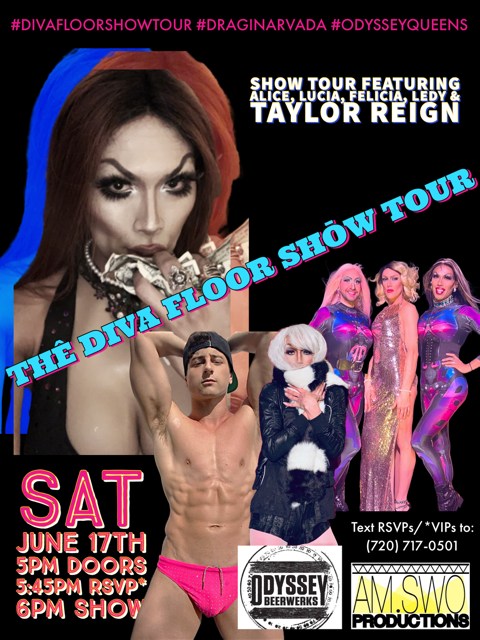 Back at Odyssey Beerworks for Another Pop-Up Show, Our "Diva Floor Shōw" is coming On-Tour, where drag in Arvada is happening amidst the Odyssey Queens!
Call-A-Sitter and Come Out for Our Pop-Up Show with Haus Queens AND ESG (extra-special-guest) Taylor Reign, Designer & Stylist of 'The Royal Rejects' & among other specialties [like being a riveting adult film star]!!
> 5:30PM RSVP* Seating | 6:00PM Pop-Up FLOOR SHŌW Performances
>>>> DIVA FLOOR & GROTTO BINGO Admission Packages are available (with Bingo inspired by The Little Mermaid in our rendition of what takes place 'Under The Sea') <<<<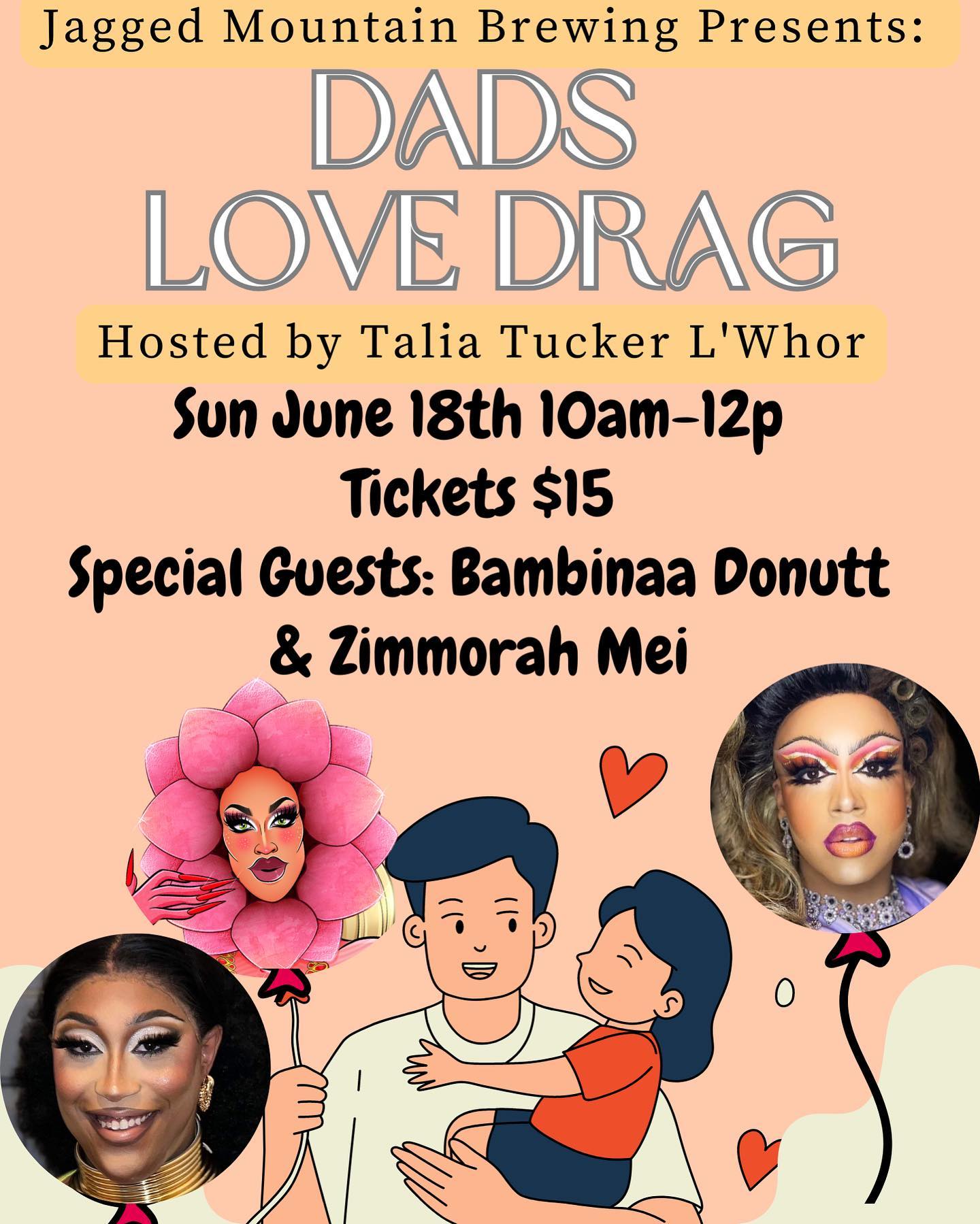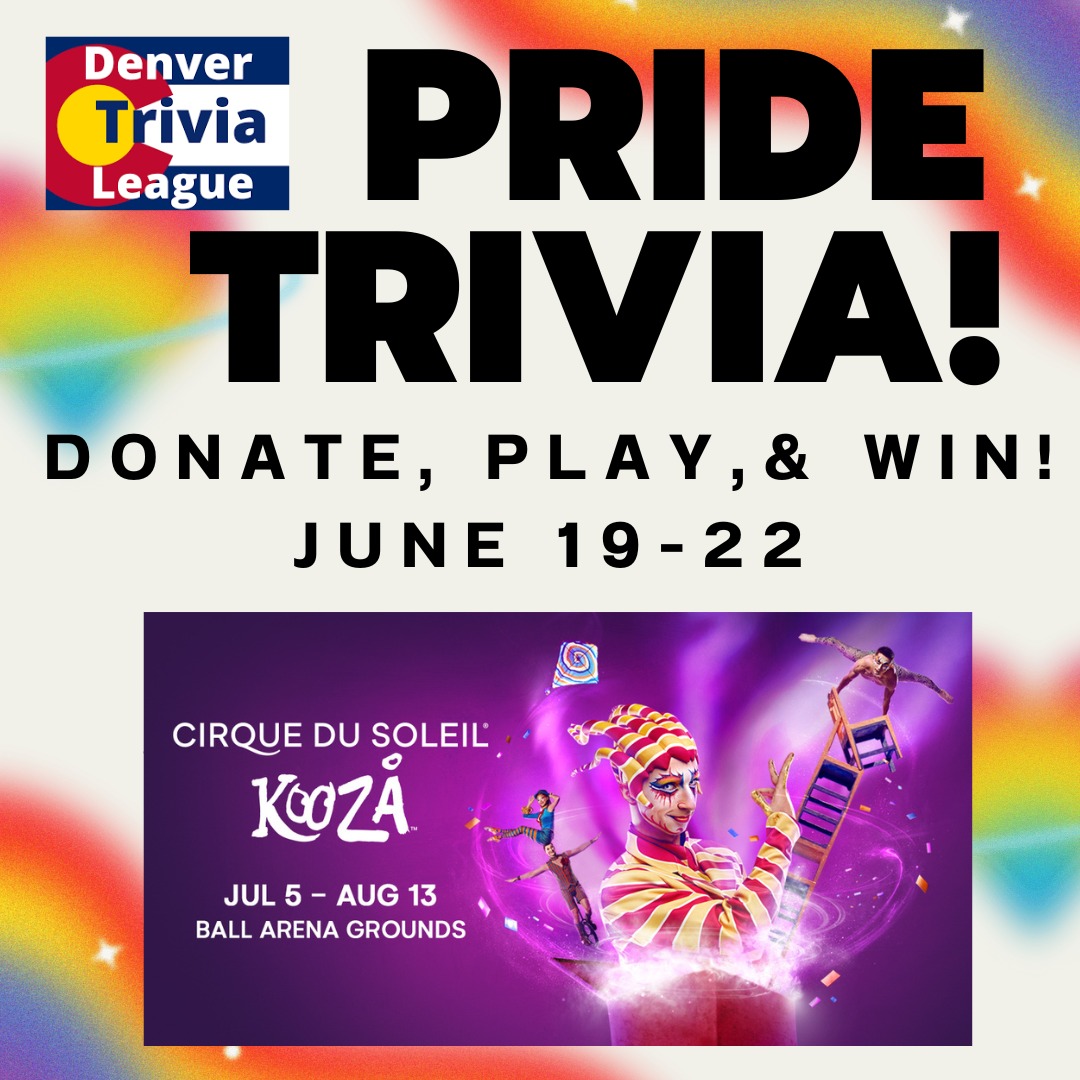 This week (June 19th-22nd) Denver Trivia League presents Pride Month Trivia at all of our venues. Celebrate and learn about LGBTQ+ history, pop-culture, music and more.
If your team wins, you could be eligible for two tickets to see Cirque du Soleil's amazing KOOZA at Ball Arena when they pitch their tent July 5th-August 13th. All you need to do put your e-mail when you register your team at any Denver Trivia League venue.
We're also encouraging donations to ACLU's Drag Defense Fund (https://action.aclu.org/give/support-drag-defense-fund). ACLU is on the front lines of our justice system fighting against anti-LGBTQ legislation nationwide. It's more important than ever to stand up for our LGBTQ+ families and ensure free expression. That's why any team that donates (yes it's tax-deductible!) at least $10 to the ACLU's Drag Defense Fund will receive an extra 5 points for trivia this week. It's very easy to donate (see the link on here or on our Instagram) and you'll immediately get a donation receipt. Simply show that receipt to the host to get your five bonus points.
We'll pick one winning team this week to win the KOOZA tickets! Good luck.
Monday (6/19):
6pm DNVR Bar
7pm Living The Dream Brewing Co.
Tuesday (6/20):
6pm Holidaily Brewing Company NEW VENUE! (DTC location)
6pm Renegade Brewing Company
7pm I HOP IPA Beer Bar
7pm Town Hall Collaborative
Wednesday (6/21)
6:00pm Lady Justice Brewing
6:30pm Six Capital Brewing and BBQ
6:30pm Cohesion Brewing Company
7:00pm Novel Strand Brewing Company
7:00pm Bierstadt Lagerhaus
7:00pm Locavore Beer Works
Thursday (6/22)
7:00pm Elevated Seltzer
7:00pm Table Public House
7:00pm Old 121 Brewhouse
7:00pm Comet Brews
Details TBA – Stay up to date with Odell Pride happenings on their site: PRIDE 2023 – Odell Brewing Co
Zenon TeaVee is BACK for our annual FREE Punk Rock Drag Show!
Join us for back-to-back events during Denver Pride weekend for a special performance by some of Denver's finest Queens and Kings!
NIGHT ONE: OVERLAND – " Zenon's TeaVee Dinner". Take a tasty trip through the history of TV with Zenon and her all-star cast.
10% of all bar sales will be donated to Denver Film in direct support of their CinemaQ series!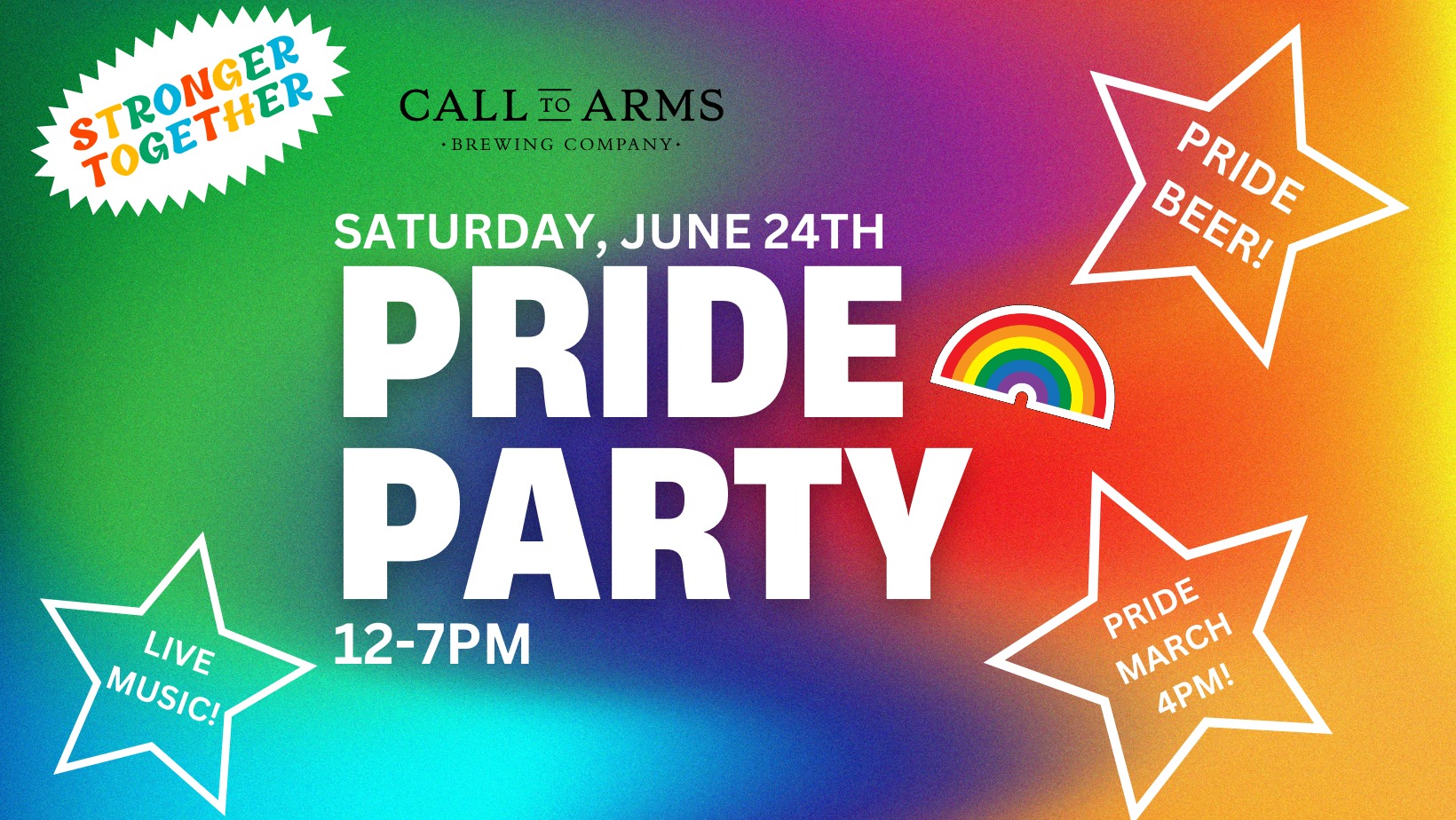 24 June: Goldspot Brewing: Queer Movie Night – But I'm a Cheerleader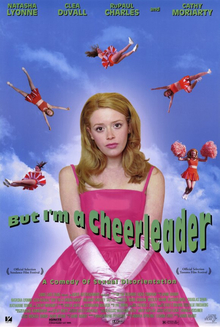 Come to Goldspot to watch But I'm a Cheerleader, a satirical comedy in which a naive teenager is sent to rehab camp when her straitlaced parents and friends suspect her of being a lesbian.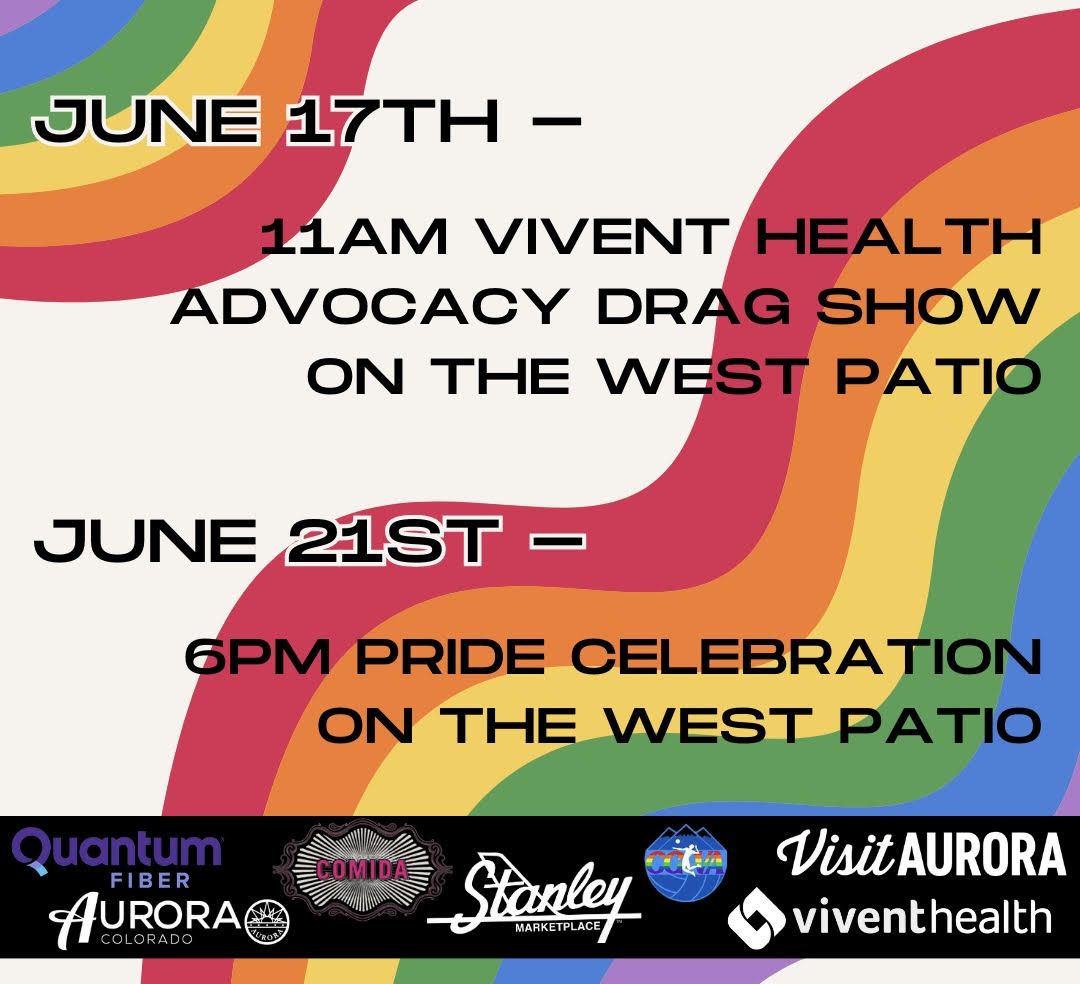 "Summer of 69". Swinging through an especially saucy summer of Love with Zenon and her retro array of performers!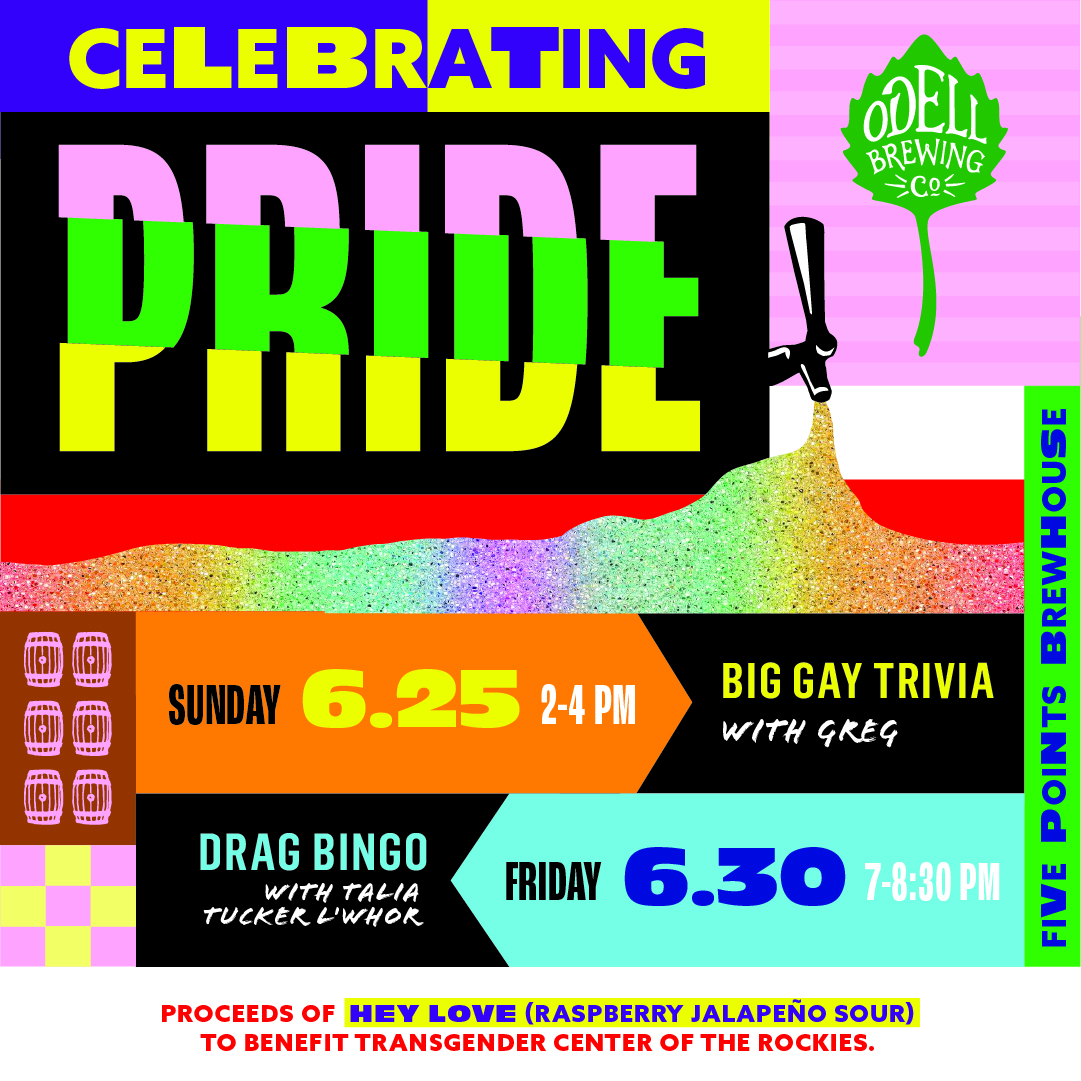 Details TBA – Stay up to date with Odell Pride happenings on their site: PRIDE 2023 – Odell Brewing Co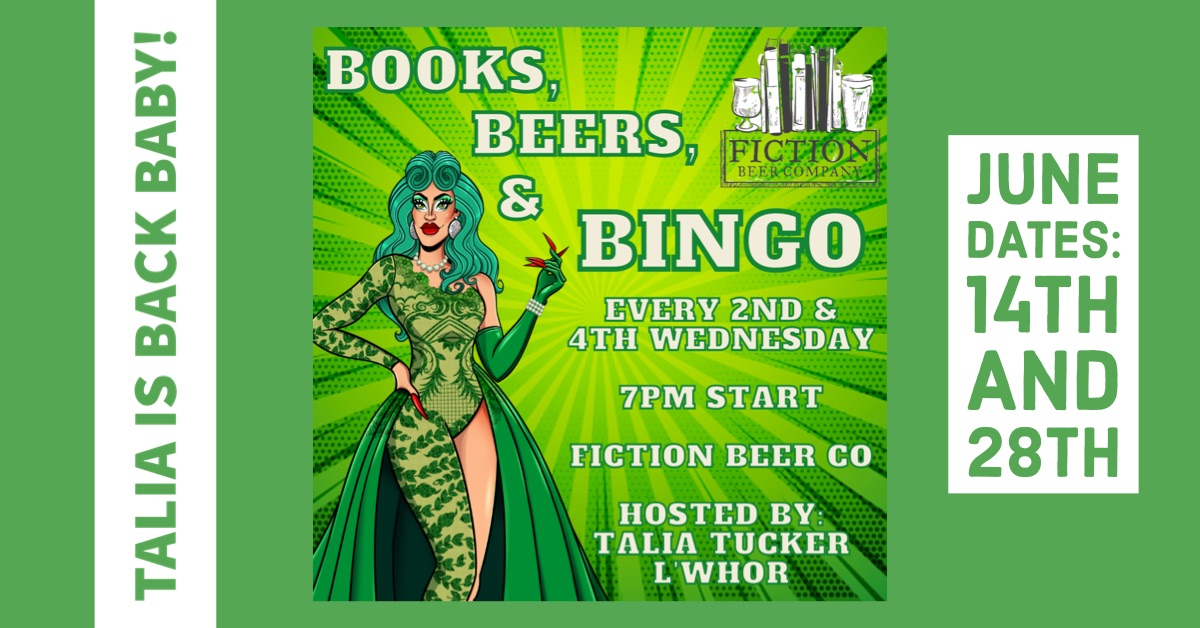 Drag performer Talia Tucker returns to the taproom for Books, Beers & Bingo!
The Unabridged Details:
Shenanigans and good times are guaranteed!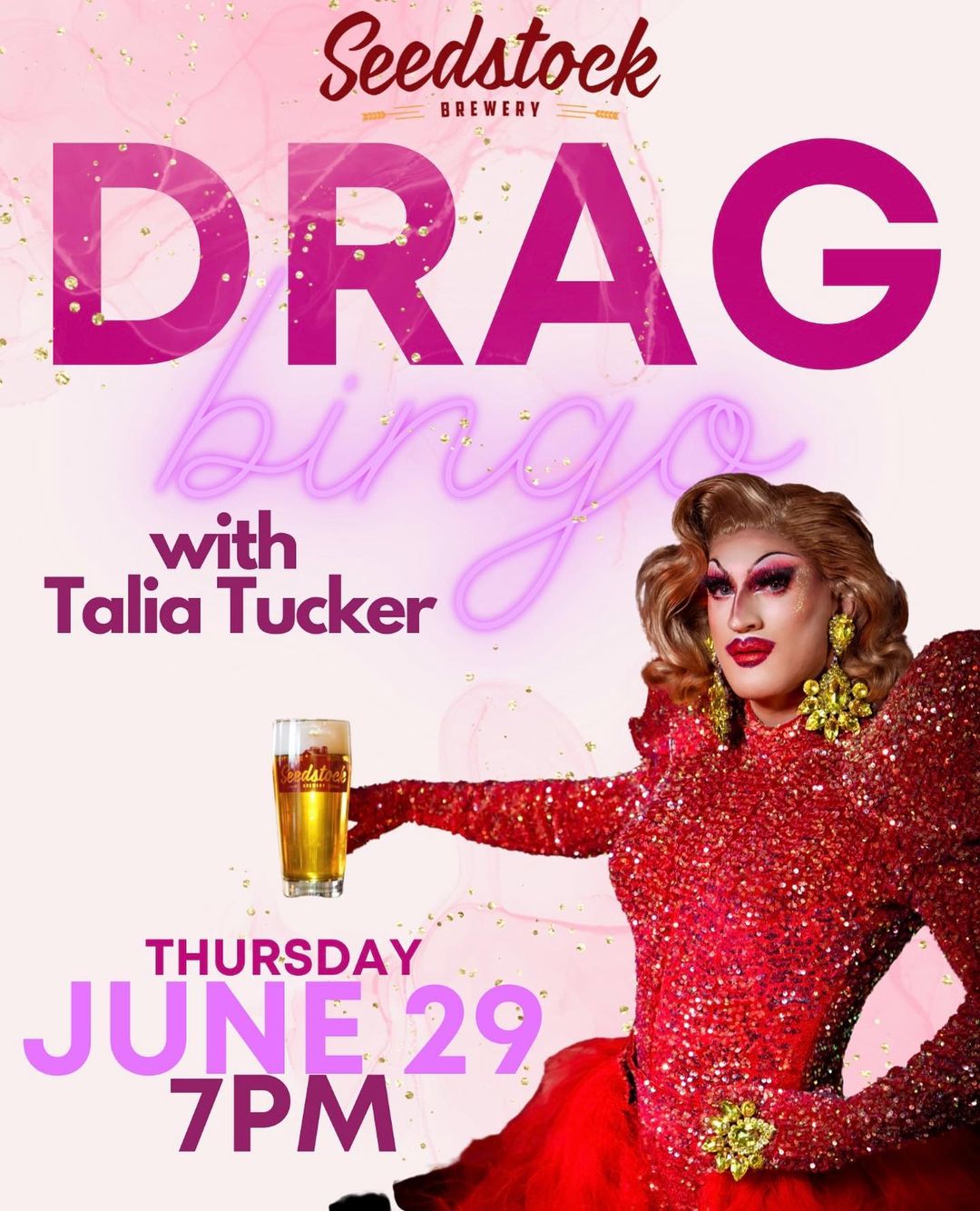 DRAG. BINGO. JUNE 29. With the amazing, talented, beautiful Talia Tucker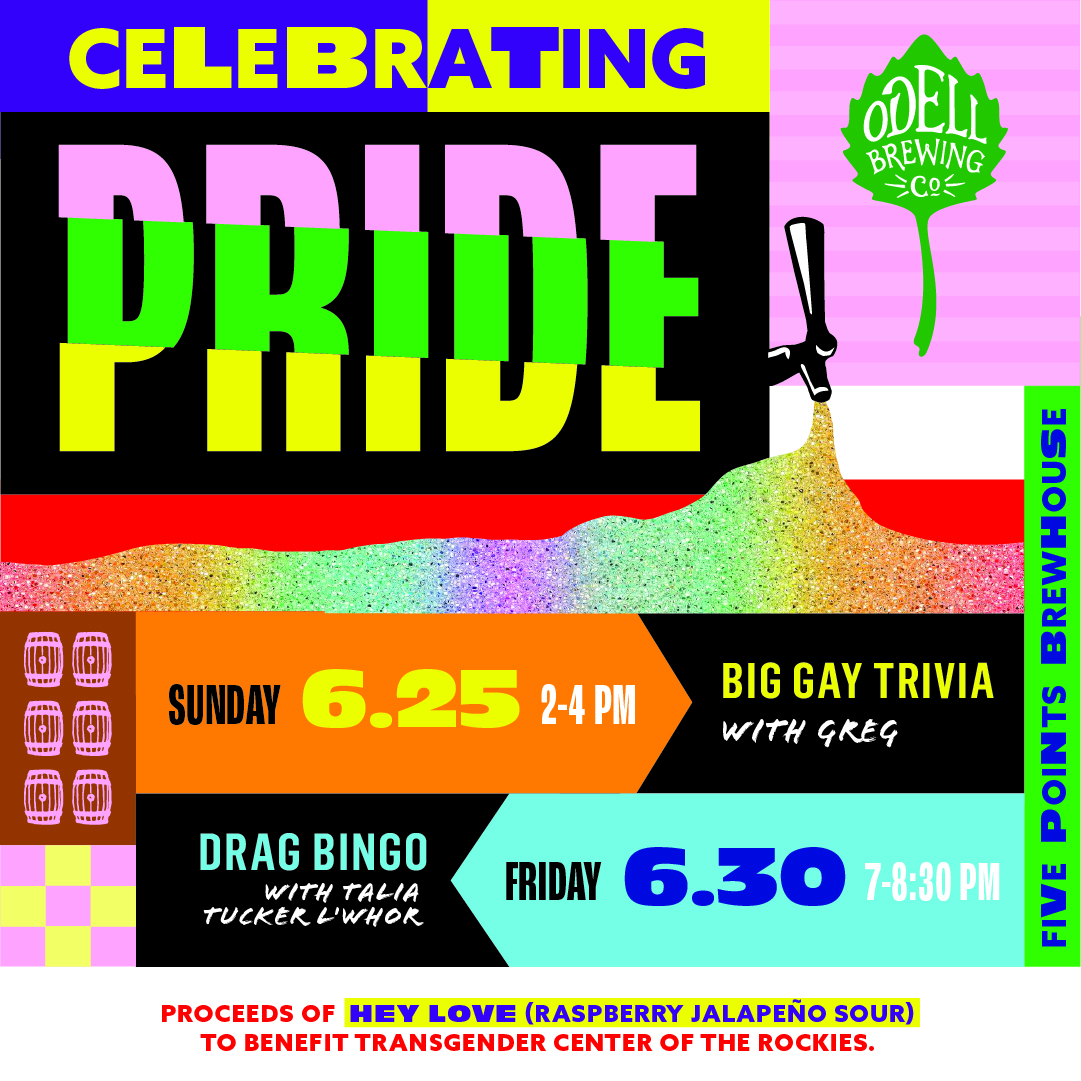 Details TBA – Stay up to date with Odell Pride happenings on their site: PRIDE 2023 – Odell Brewing Co
*************
Brewery Pride Shirts
*************
The Colorado Brewery List team is proud to show our support of the LGBTQ+ community!
ALL profits from the CBL & CBG Pride shirts will go to The Trevor Project.
The following breweries offer a brewery pride shirt often with proceeds going to an LGBTQ+ charity.
$15 from each shirt sold is donated to The Trevor Project, providing 24/7 crisis intervention for LGBTQ youth.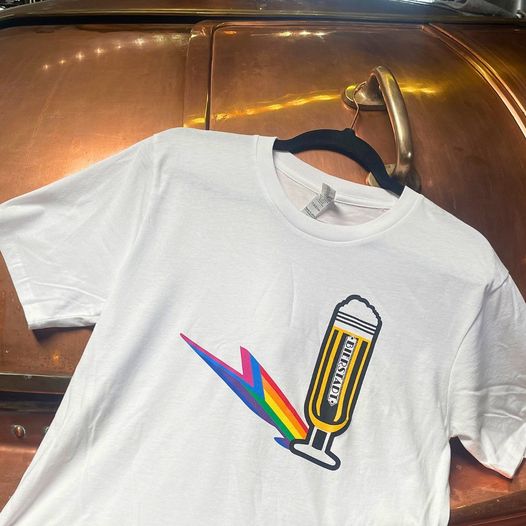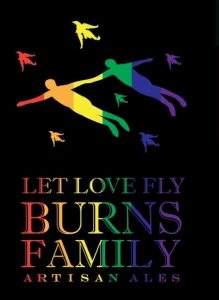 It's
pride month
. As a brewery that's bitch owned and bitch brewed, just having a progressive pride flag up in our window is not enough. Our community is made of wonderful, vibrant people. Your community is our community. We now have the pride flag on glasses, and employee shirts (which you can buy- but not the reason they were made). We made these shirts to make it clear that we are a safe place. For anyone and everyone, we support and welcome you!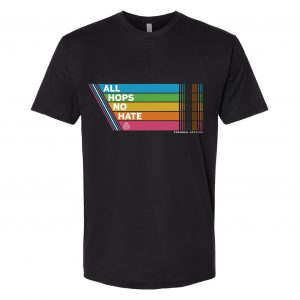 (Was Pre-order Only)
For our Pride designs this year, we were thrilled to partner with local queer artist, Cameron at The French Dip Design, who created our annual Pride tee graphic!
ALL proceeds donated to this year's partner, Envision:You.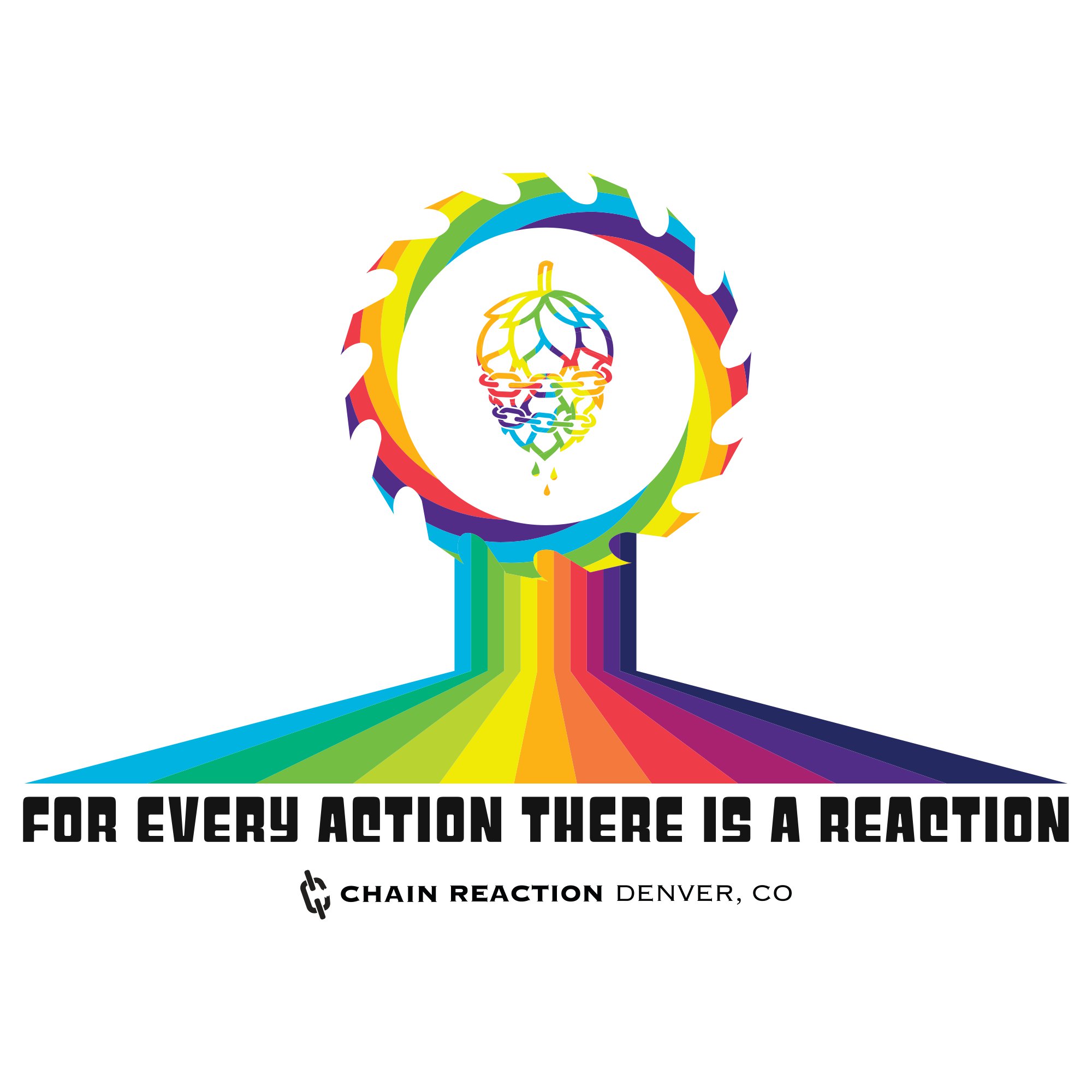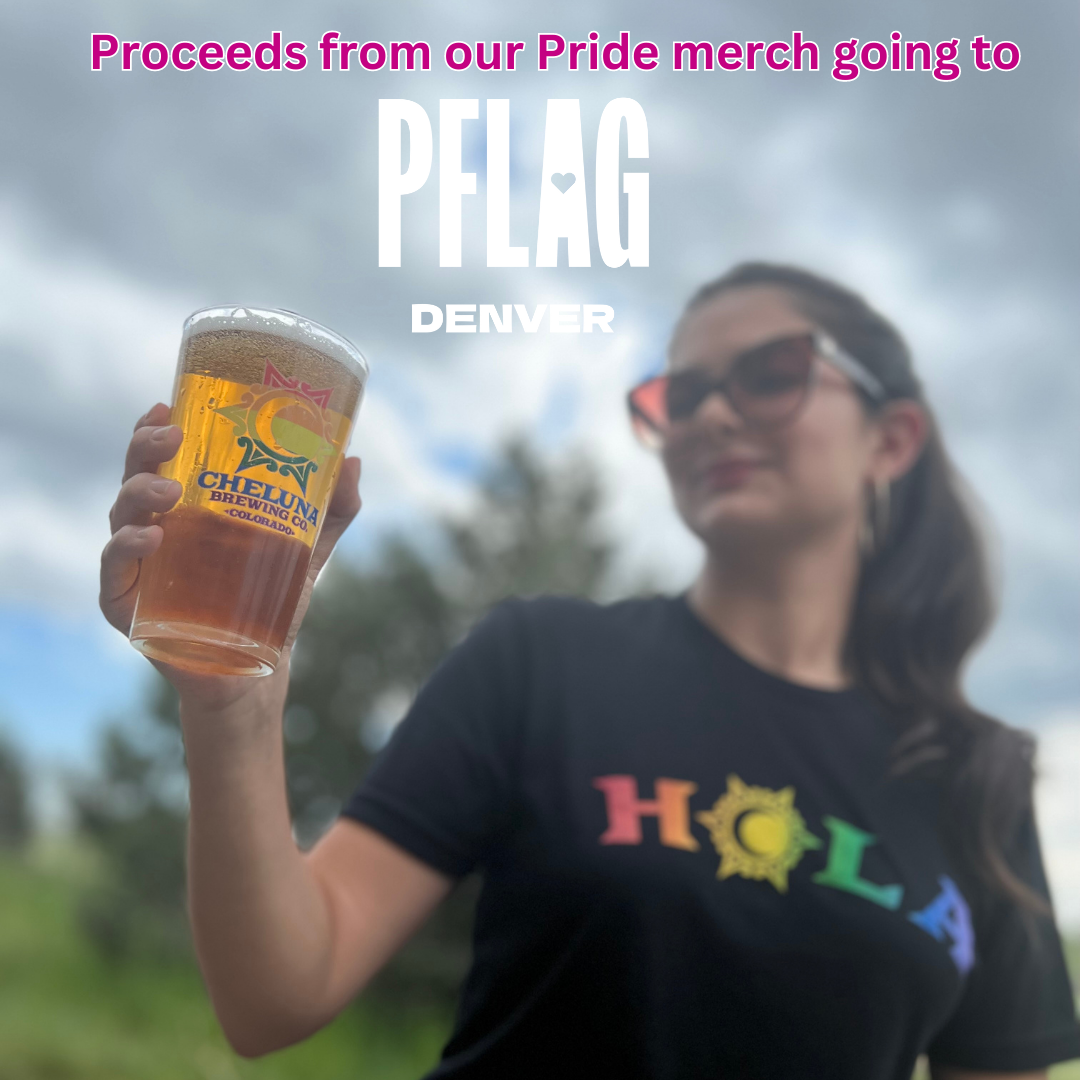 Our new Hola Pride playeras are super soft tri-blend crews, perfect for active wear, and during the month of June we're donating proceeds from sales of our Pride glassware + t-shirts to our friends PFLAG Denver 🌈❤️🌈
Founded in 1973, PFLAG is the first and largest organization dedicated to supporting, educating, and advocating for LGBTQ + gente and their families ~ many educators and counselors (como Jen) have witnessed the profoundly positive impact of the support that PFLAG provides people in need.
Stay tuned for more information about June Pride events at Stanley Marketplace ~ we're gearing up for a super summer ahead and look forward to allll of the many upcoming eventos!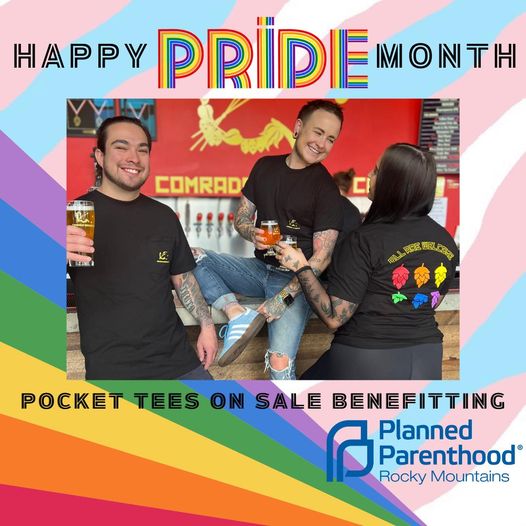 Happy Pride Month!
We are so excited to show you the new Pride tees!
We decided to donate proceeds to Planned Parenthood of the Rocky Mountains this year!
Trans and Queer people have been under attack recently and our friends at Planned Parenthood fight hard to ensure access to hormone therapy, birth control, abortion care, STI & STD testing as well as other gender affirming services regardless of sexual orientation, race, religion or gender identity.
Limited shirts available! See you soon!
Remember to be kind to one another, everyone deserves delicious beer and a safe space.
The t shirts are unisex style and very soft! They're a red color featuring a full colored design on the front and they are $25 each. We also have matching stickers for sale for $3! 15% of every shirt and sticker purchase will be donated to The Center on Colfax which is an amazing organization that supports the LGBTQ+ communities with resources and programs.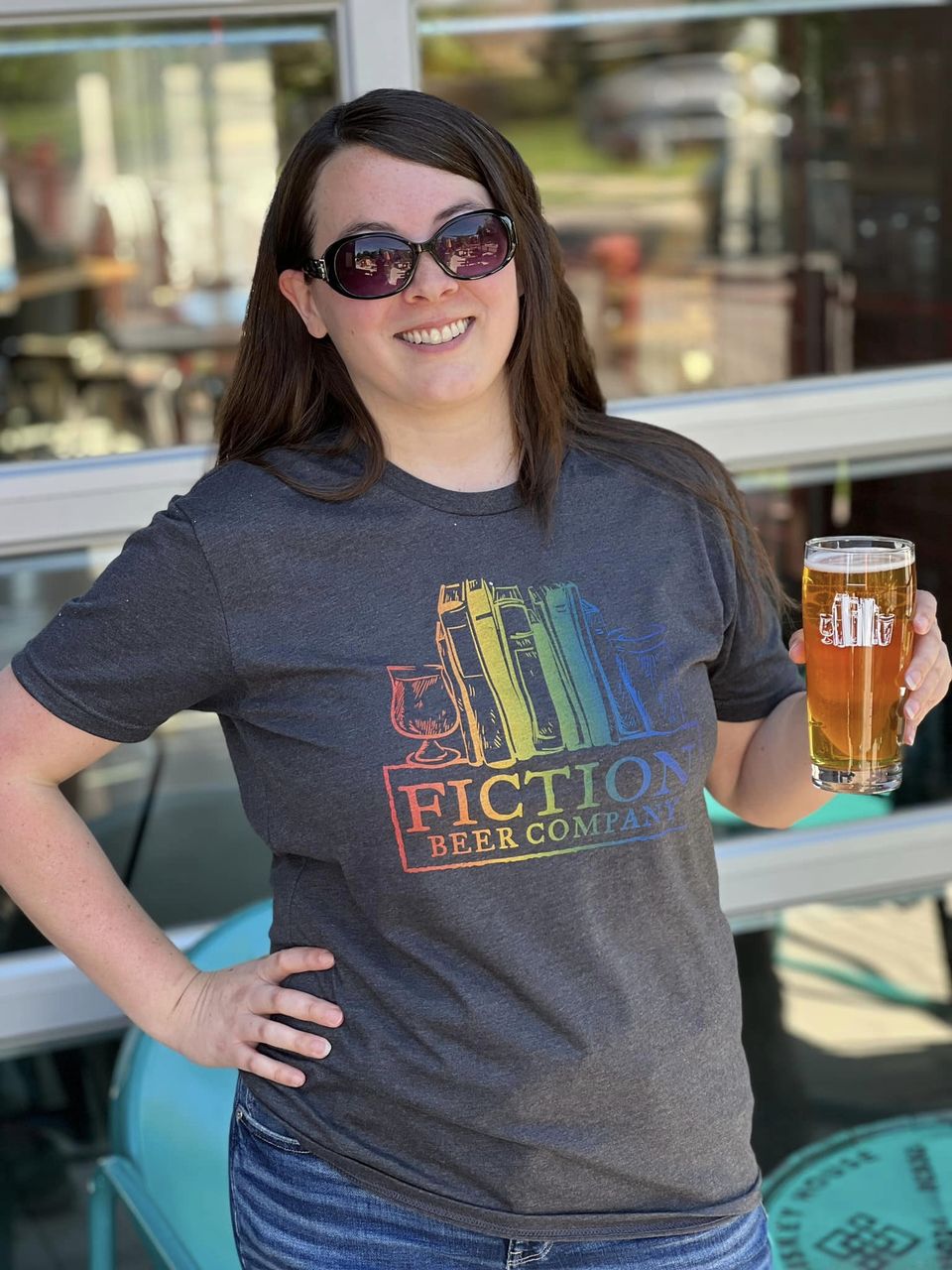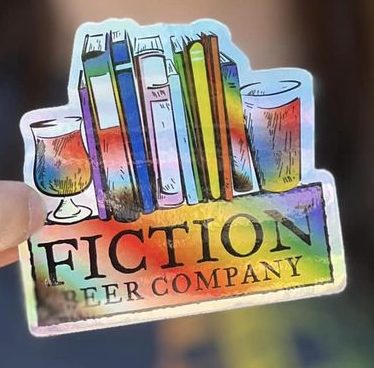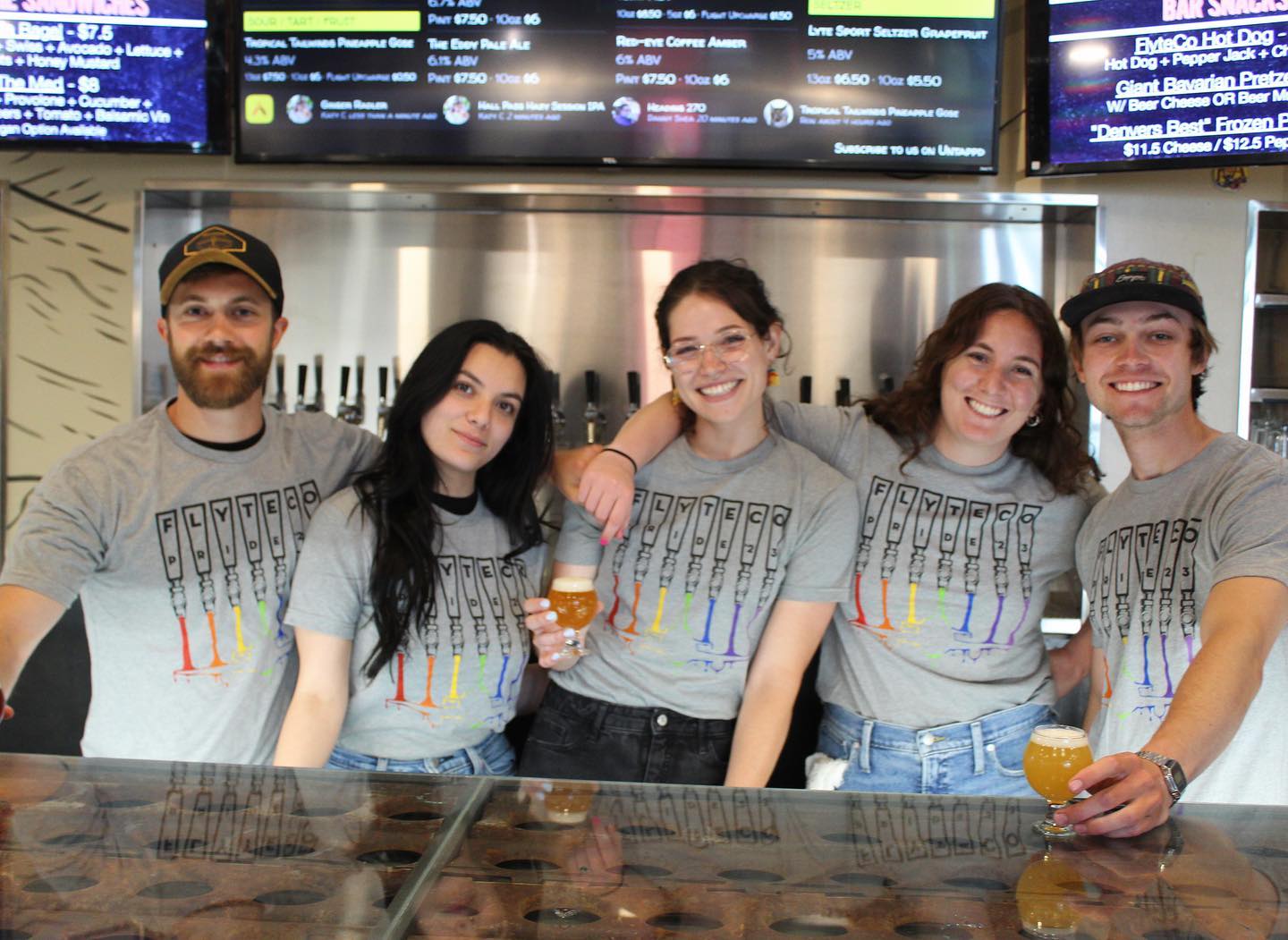 All proceeds from the sales of our pride shirts will benefit the National Gay Pilots Association and their mission to build, support, and unite the LGBT aviation community worldwide!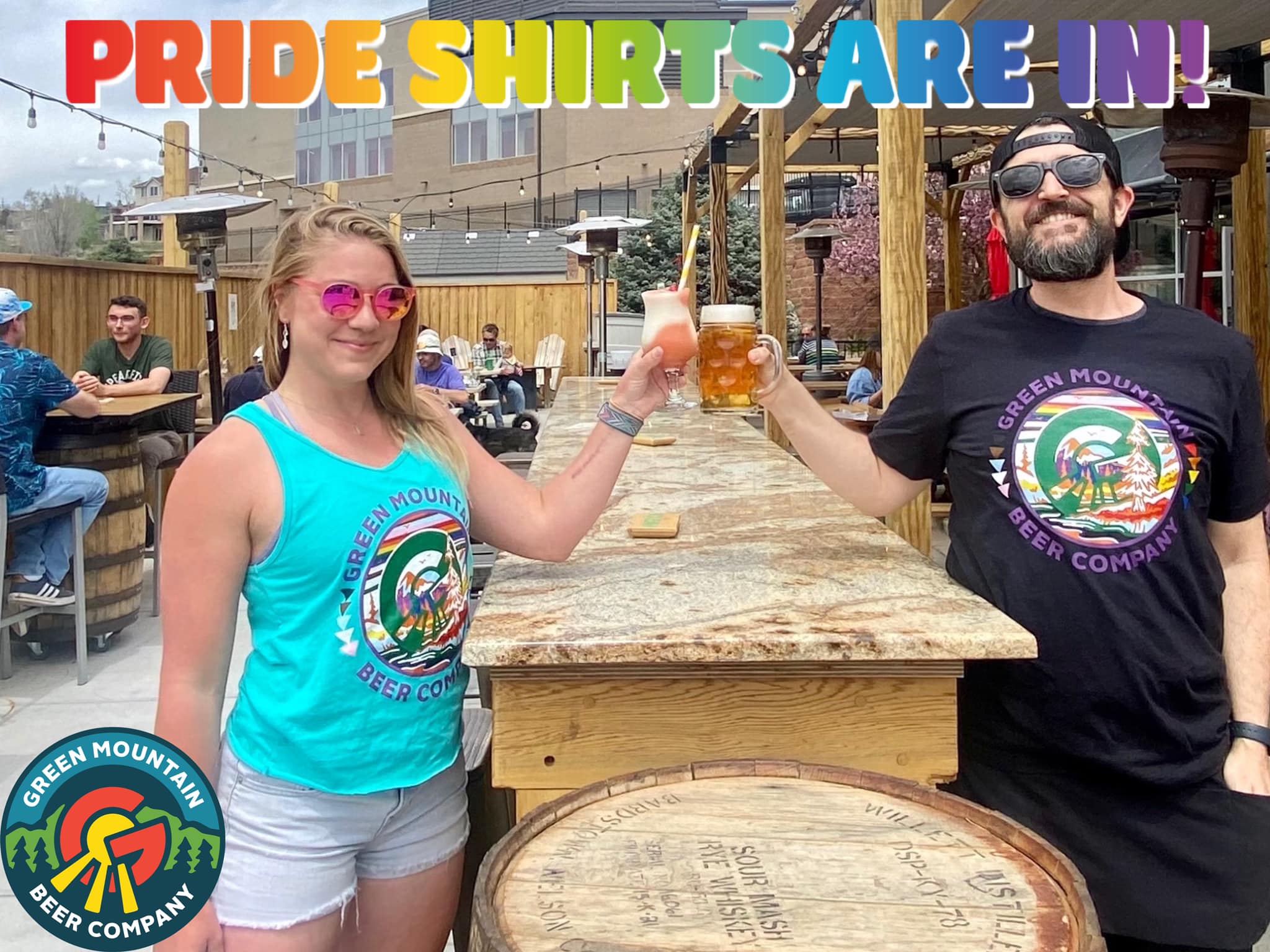 Pride Shirts Are In!!
Available in :
Uni-Sex Black Tees $28
and
Uni-Sex Teal Tanks $25
100% Proceeds benefit:
The Center on Colfax
Engaging, Empowering, Enriching & Advancing the LGBTQ Community of Colorado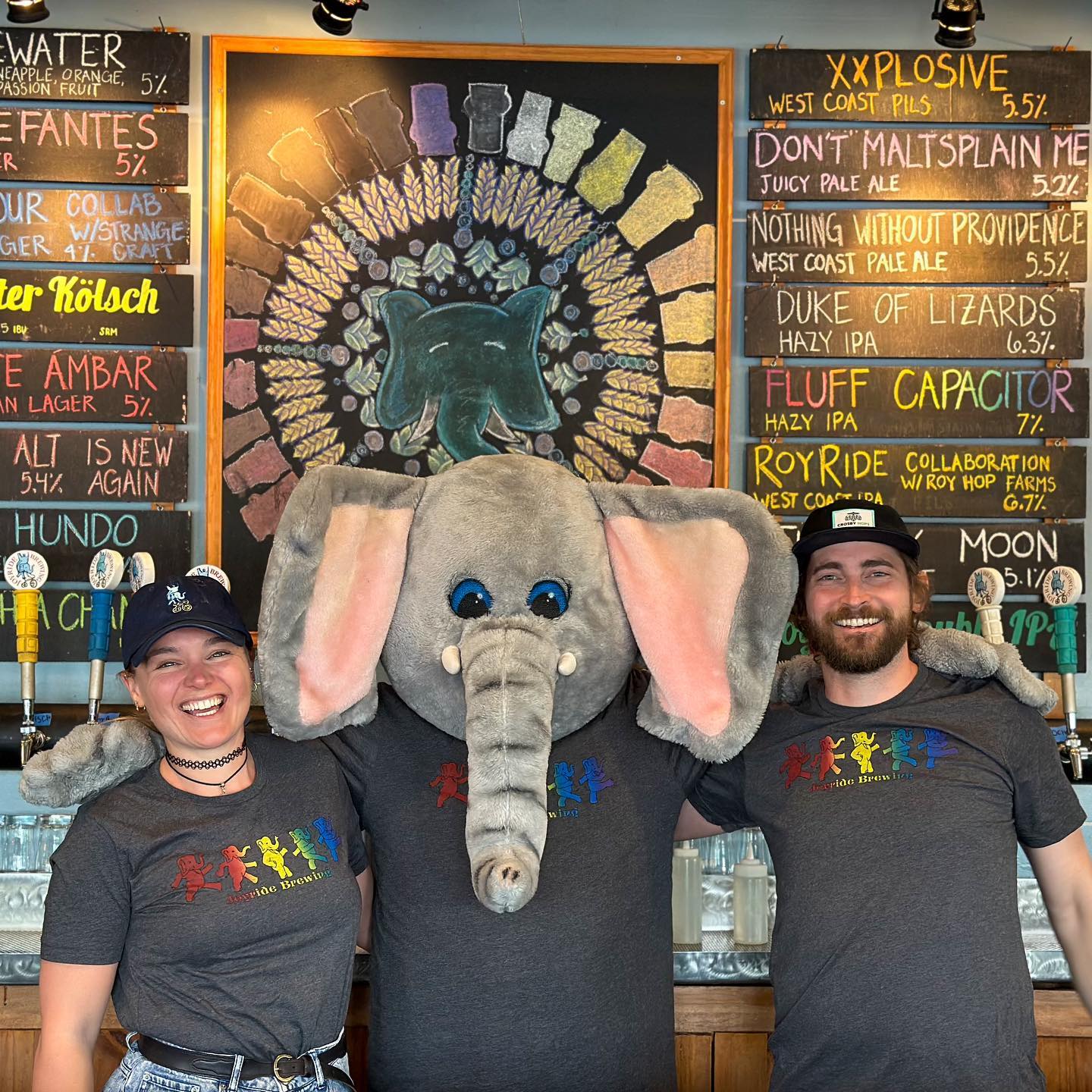 It's still May, but June is right around the corner, and we're excited to announce that we'll once again be offering limited-edition Pride shirts! These beauties were designed by Kelsey Mccalla and printed by Tiny Planet Ink, and we'll be donating $5 from every shirt sold to The Center on Colfax so they can continue their work supporting the LGBTQ community. Available taproom only, starting June 1st. Grateful for all.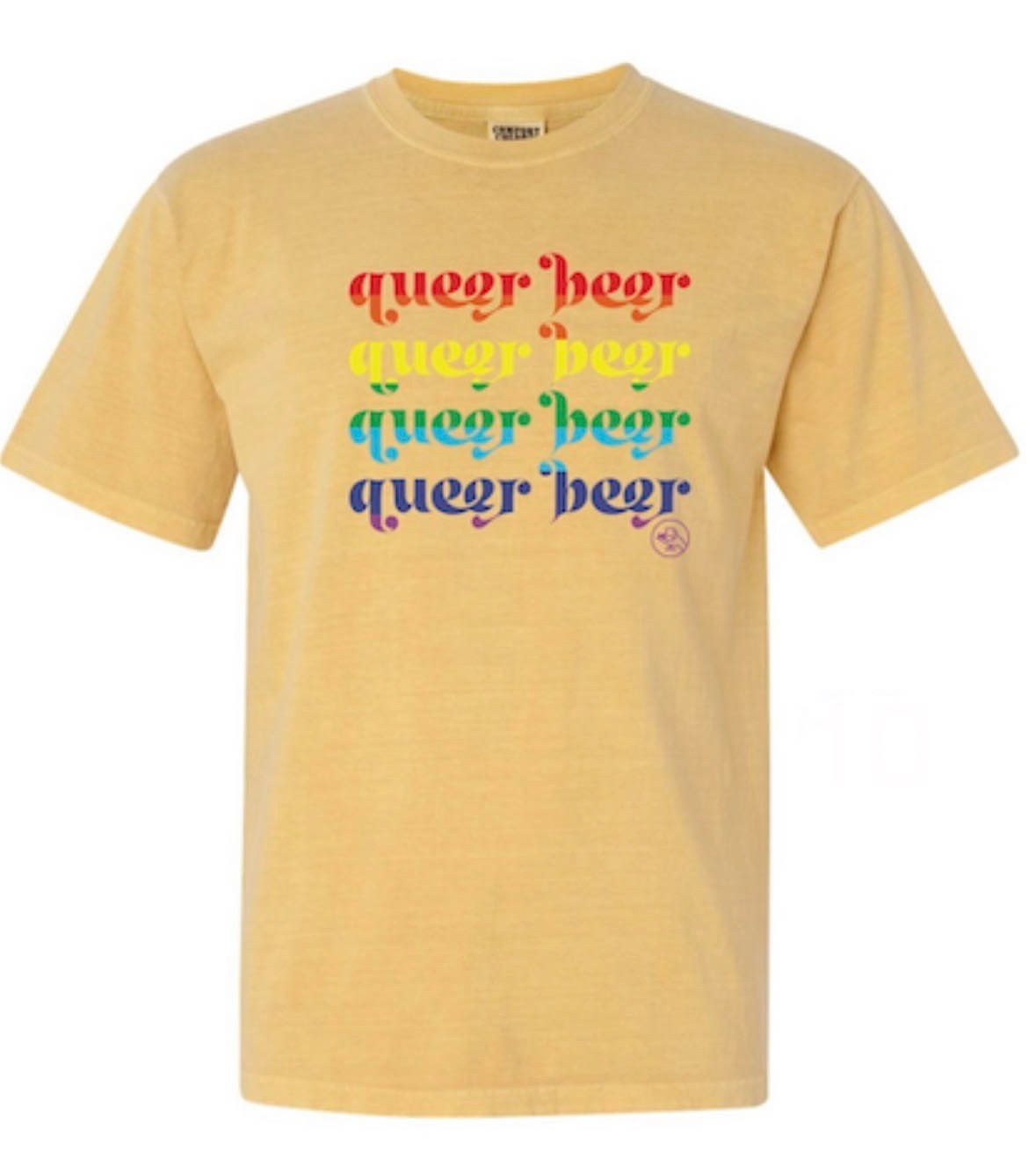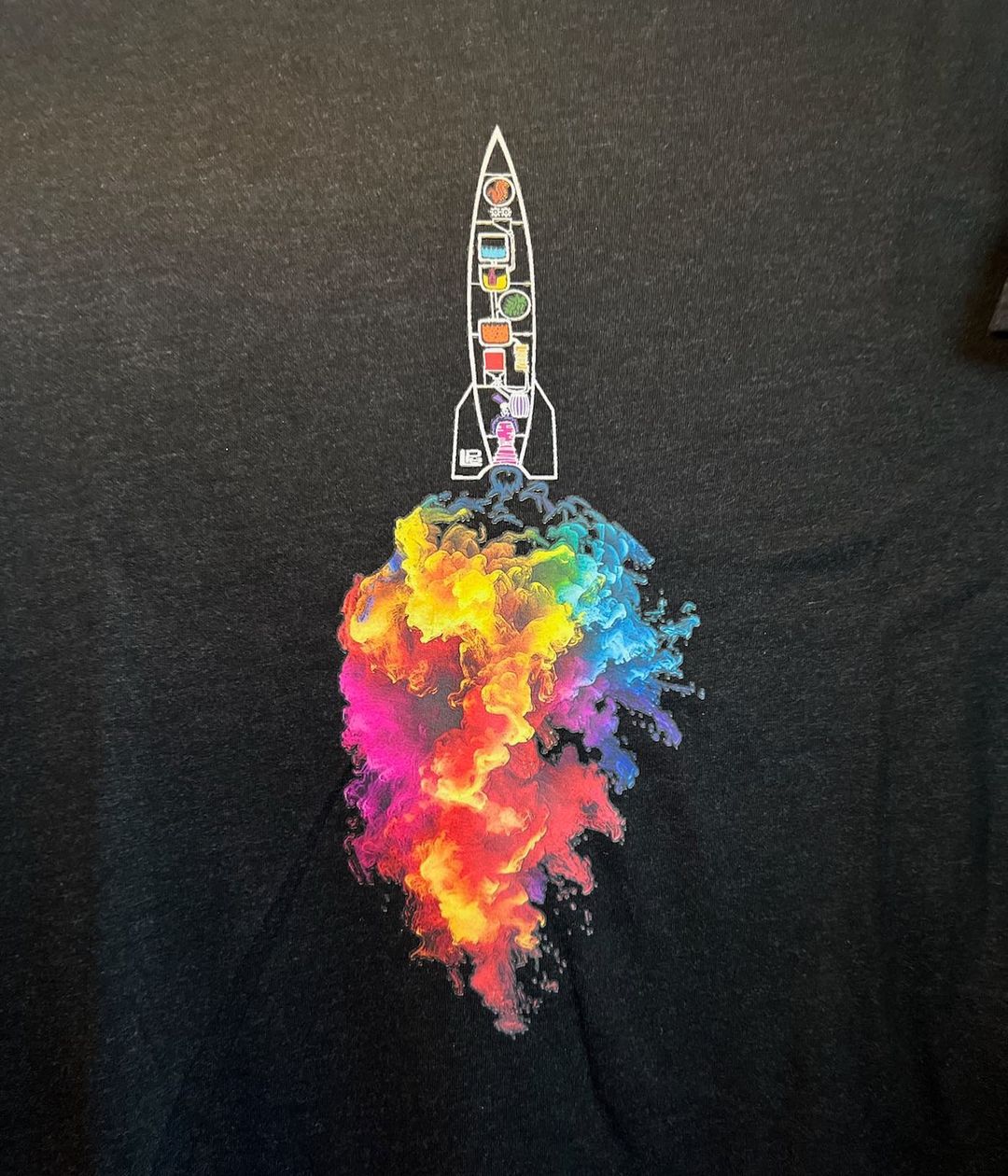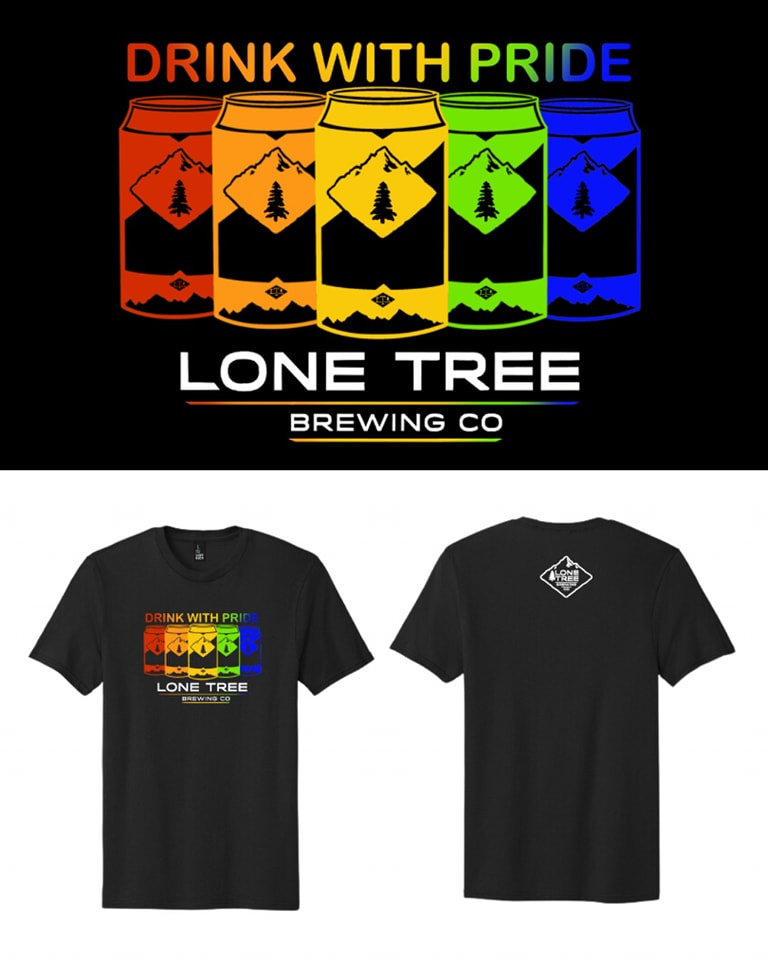 Better late than never, right? We got our Pride Month 2023 shirts in! Pick up yours during this week's taproom hours:
M-Th 3pm to 9pm
Fr & Sat 12pm to 11pm
Sunday 12pm to 9pm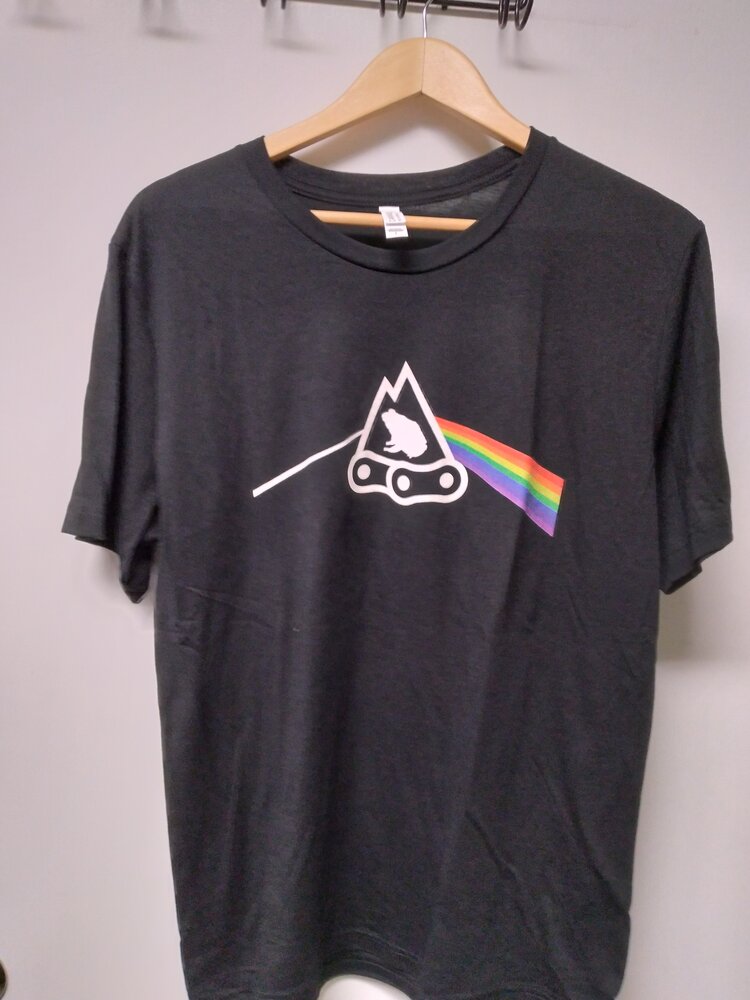 Buy the Dark Side of the Toad shirt now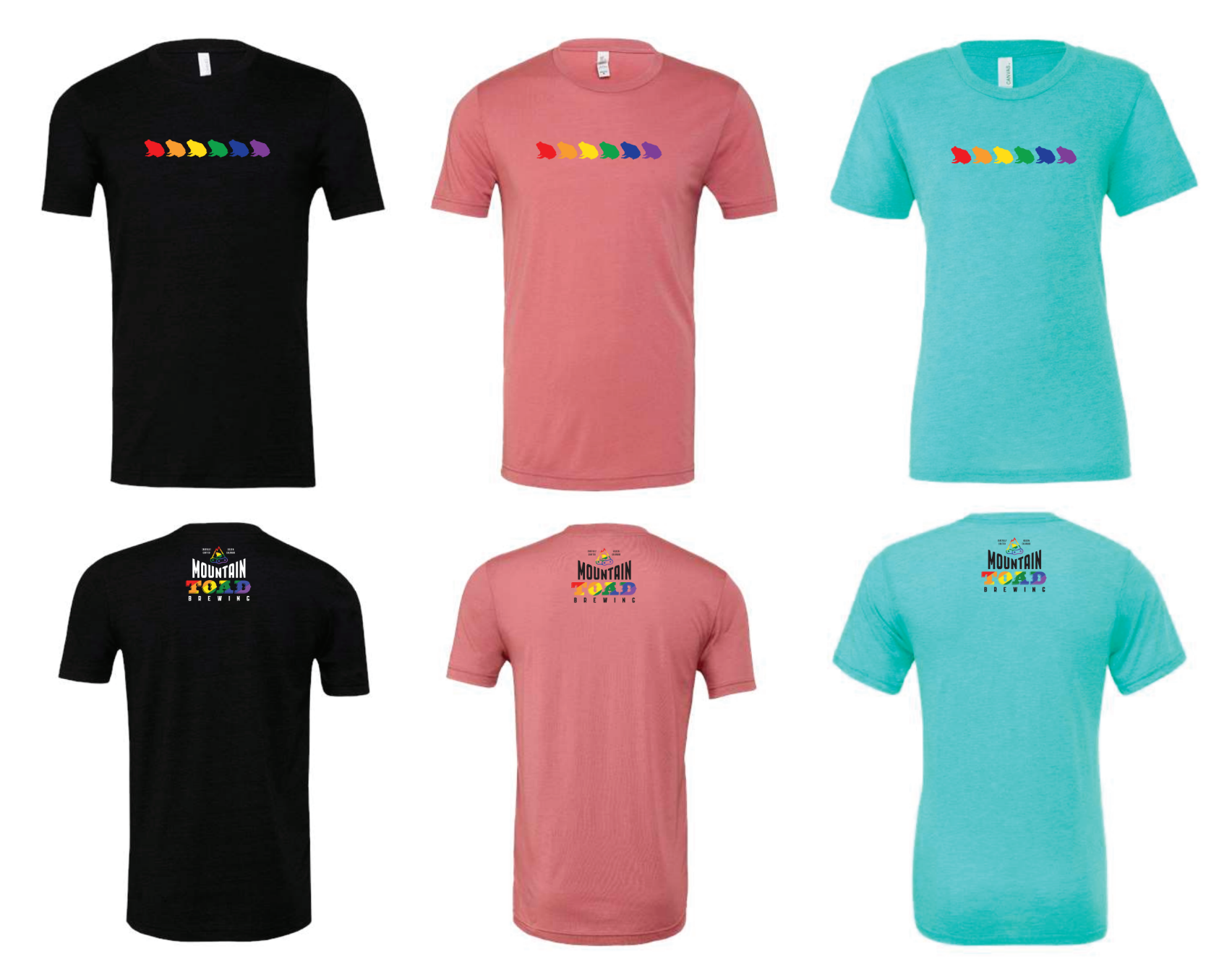 Abbey Toad Pride shirts will be available soon.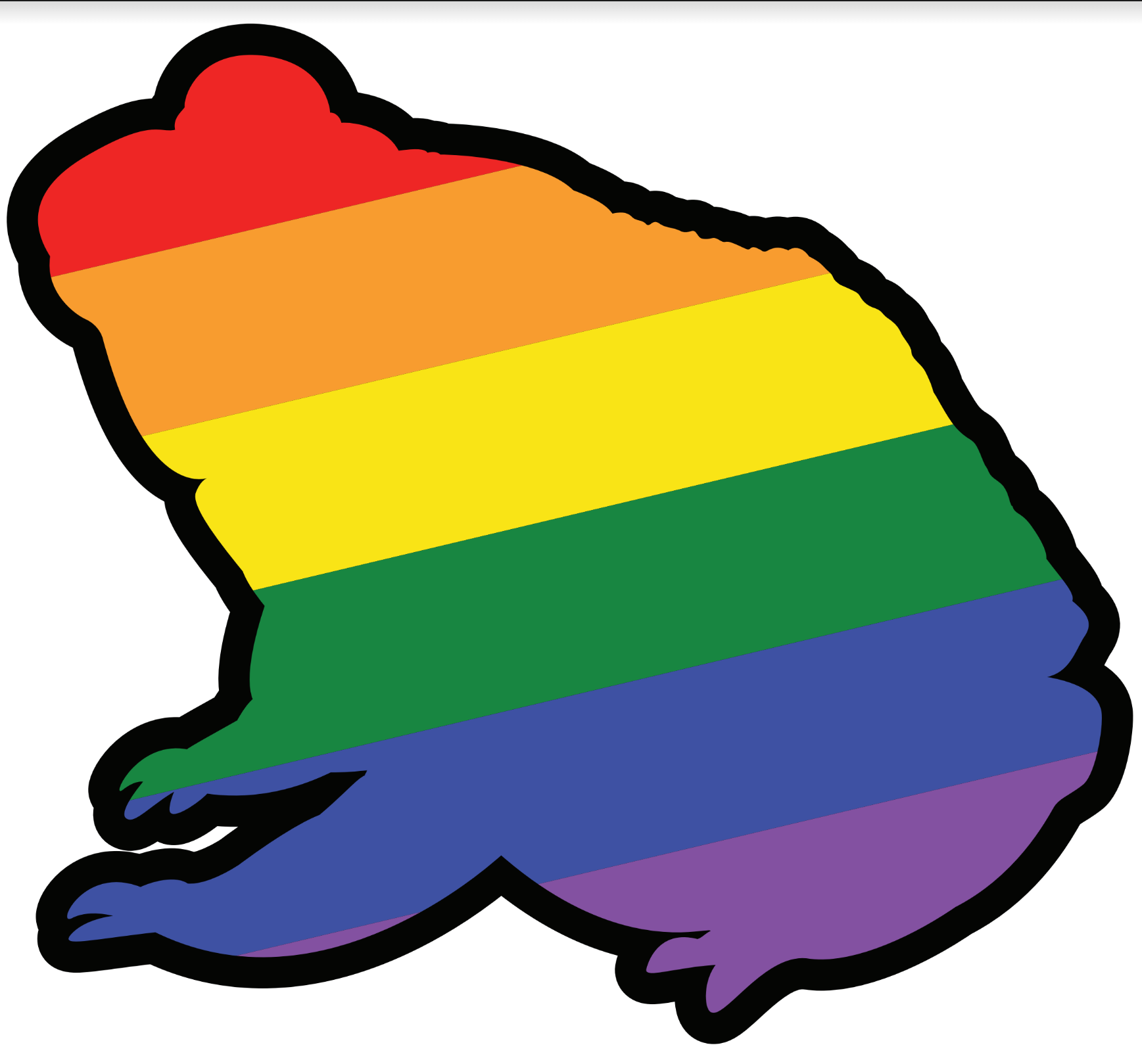 Stickers of Dark Side of the Toad and Rainbow Toad also available.
Proceeds supporting the Transformative Freedom Fund and The Center on Colfax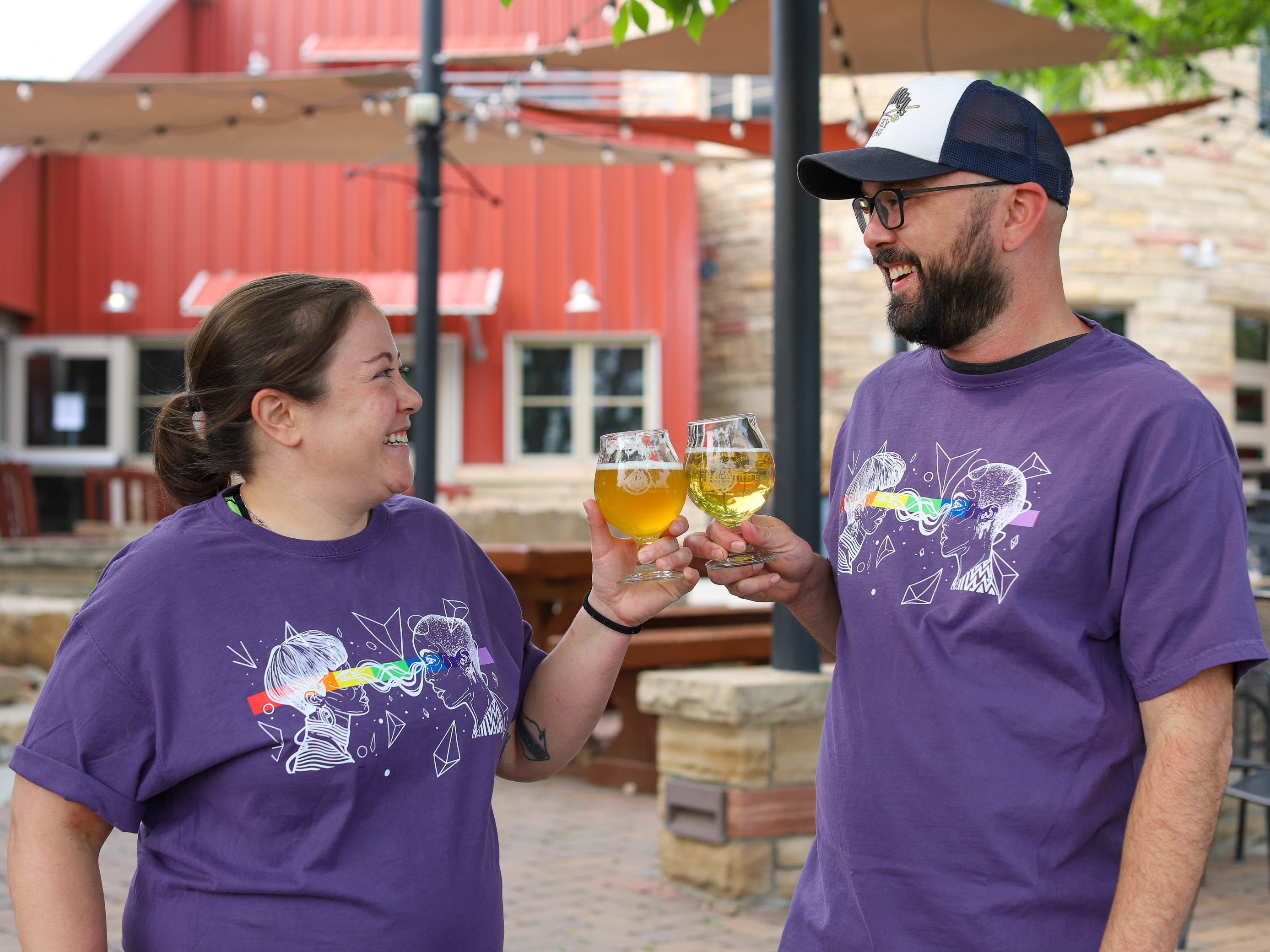 Odell Pride shirt proceeds from both of the Denver taprooms will support the Transgender Center of the Rockies.
Proceeds from the Fort Collins taproom will support Club Q Survivors through the Victim's First Fund.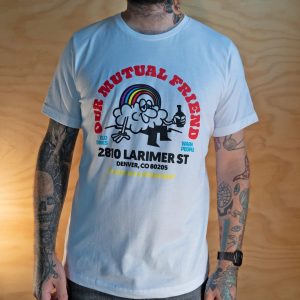 OMF has these pride shirts available and $5 of each shirt sold will be donated to Inside Out Youth Services in Colorado Springs.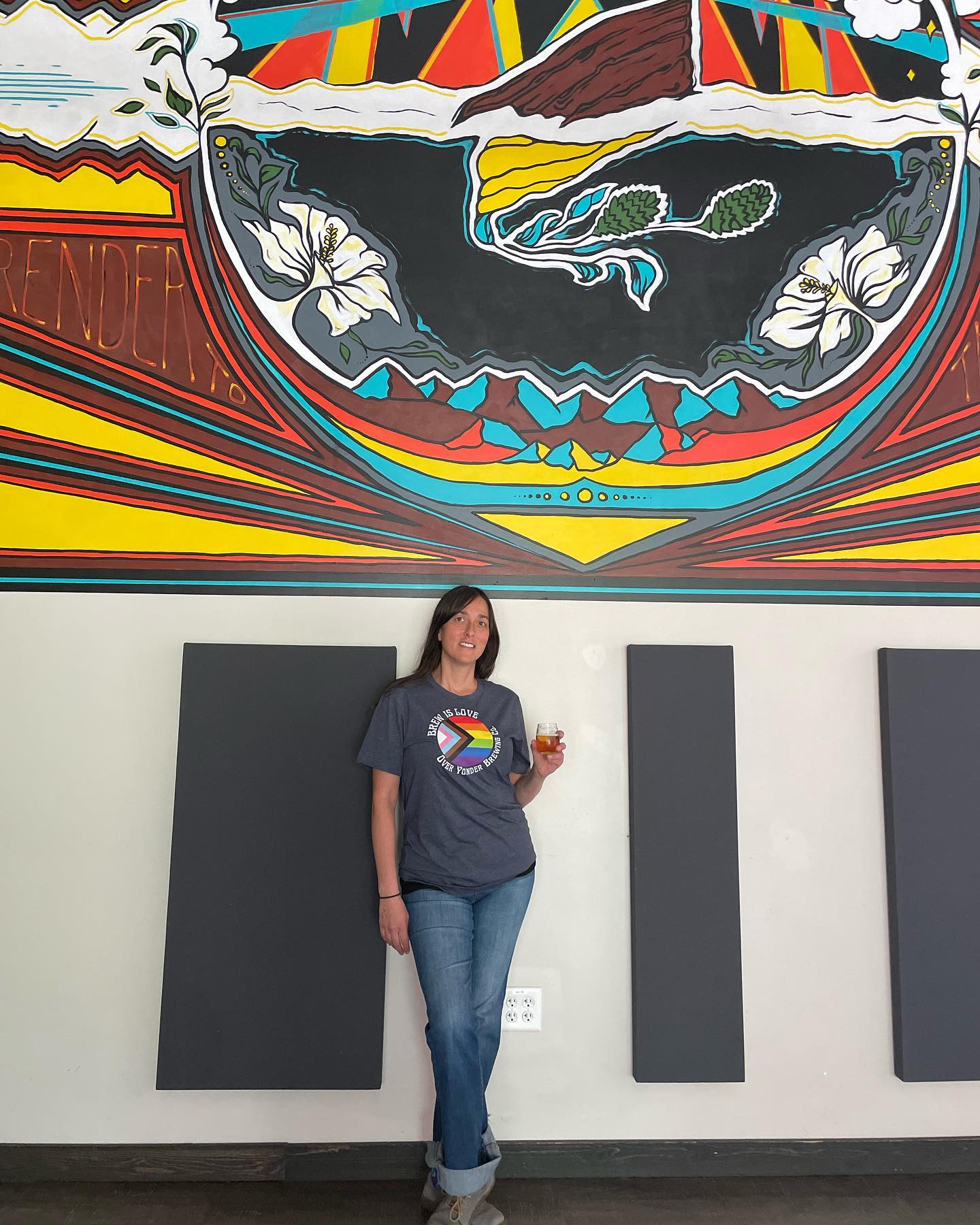 "One Colorado is the state's leading advocacy organization dedicated to advancing equality for lesbian, gay, bisexual, transgender, and queer (LGBTQ) Coloradans and their families."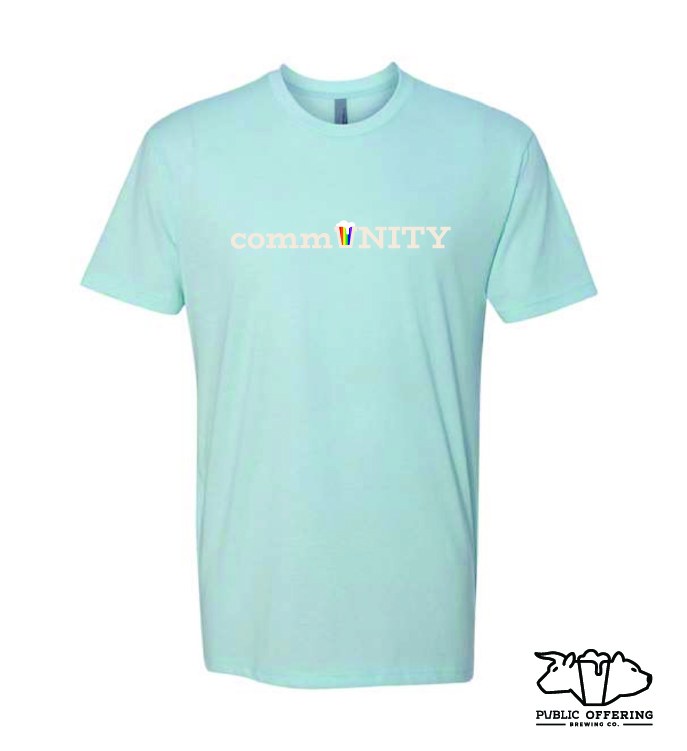 All profits from Public Offering Pride shirts are going to The Gathering Place.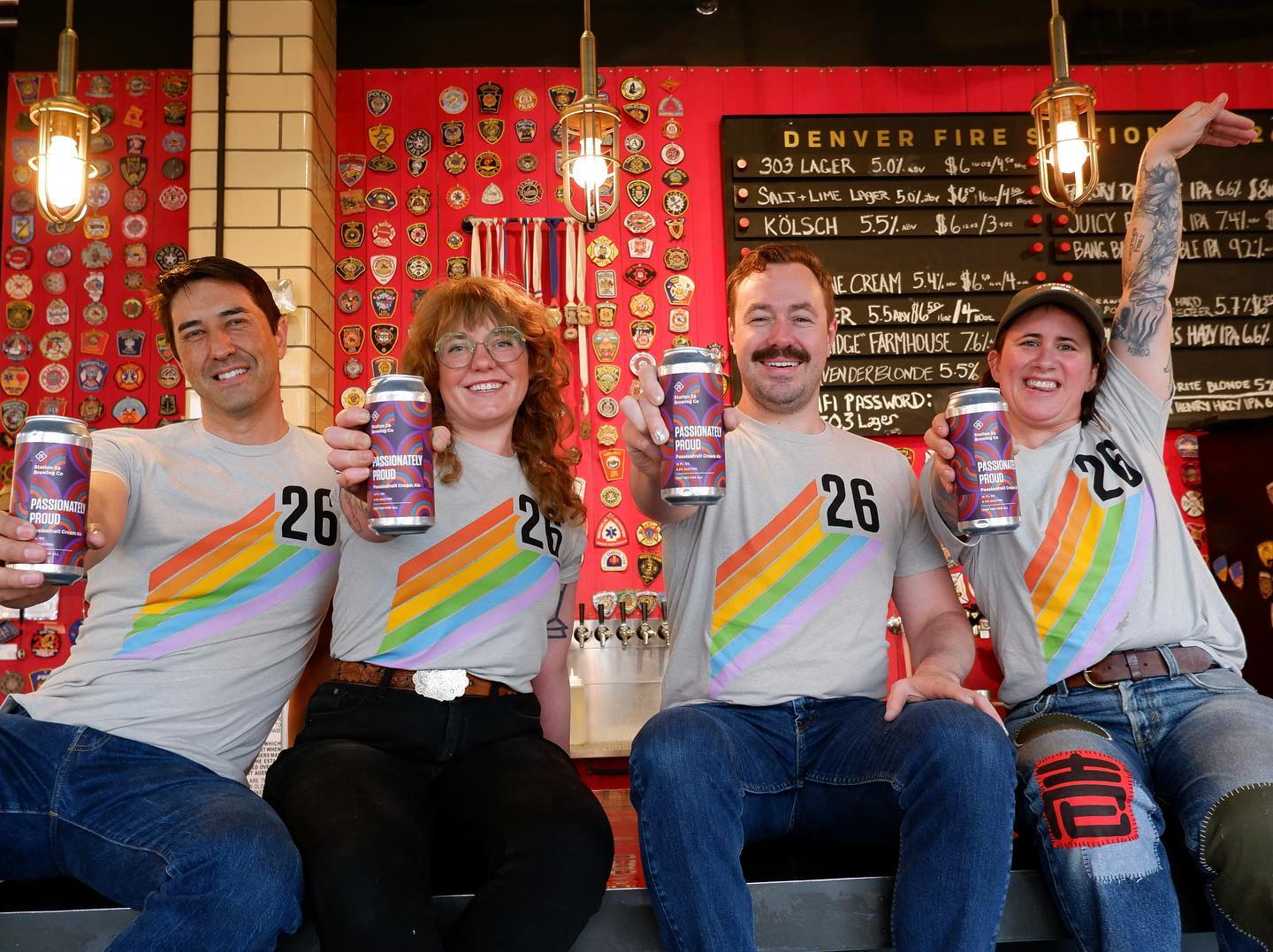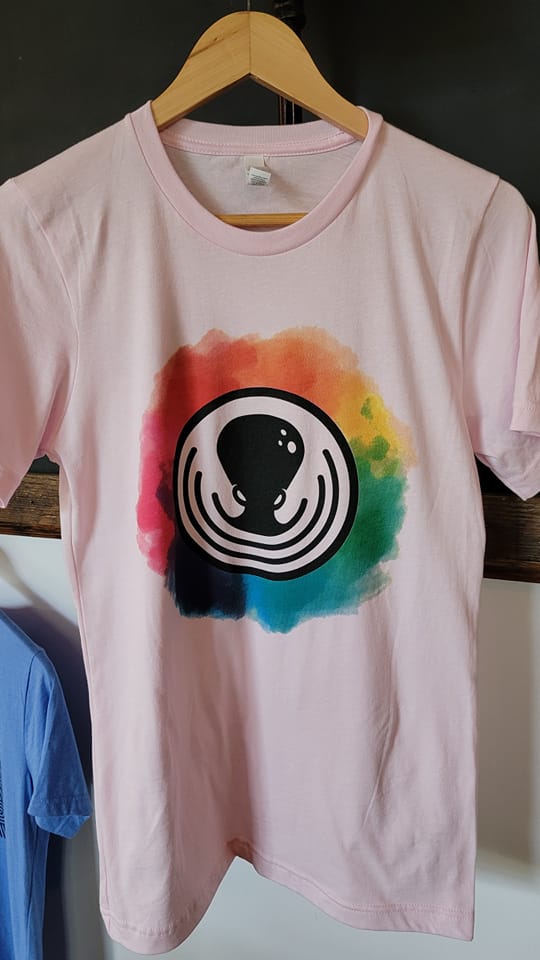 This year's pride shirts are in and on sale NOW! We have a very limited quantity and they always move quickly so stop by the taproom asap to snag yours.
*************
Pride Beers
*************
The following breweries are brewing a special beer for Pride month often with proceeds going to an LGBTQ+ charity.
Atrevida Beer Company: Hibis-Kiss Whoever You Want & Christopher Street SMaSH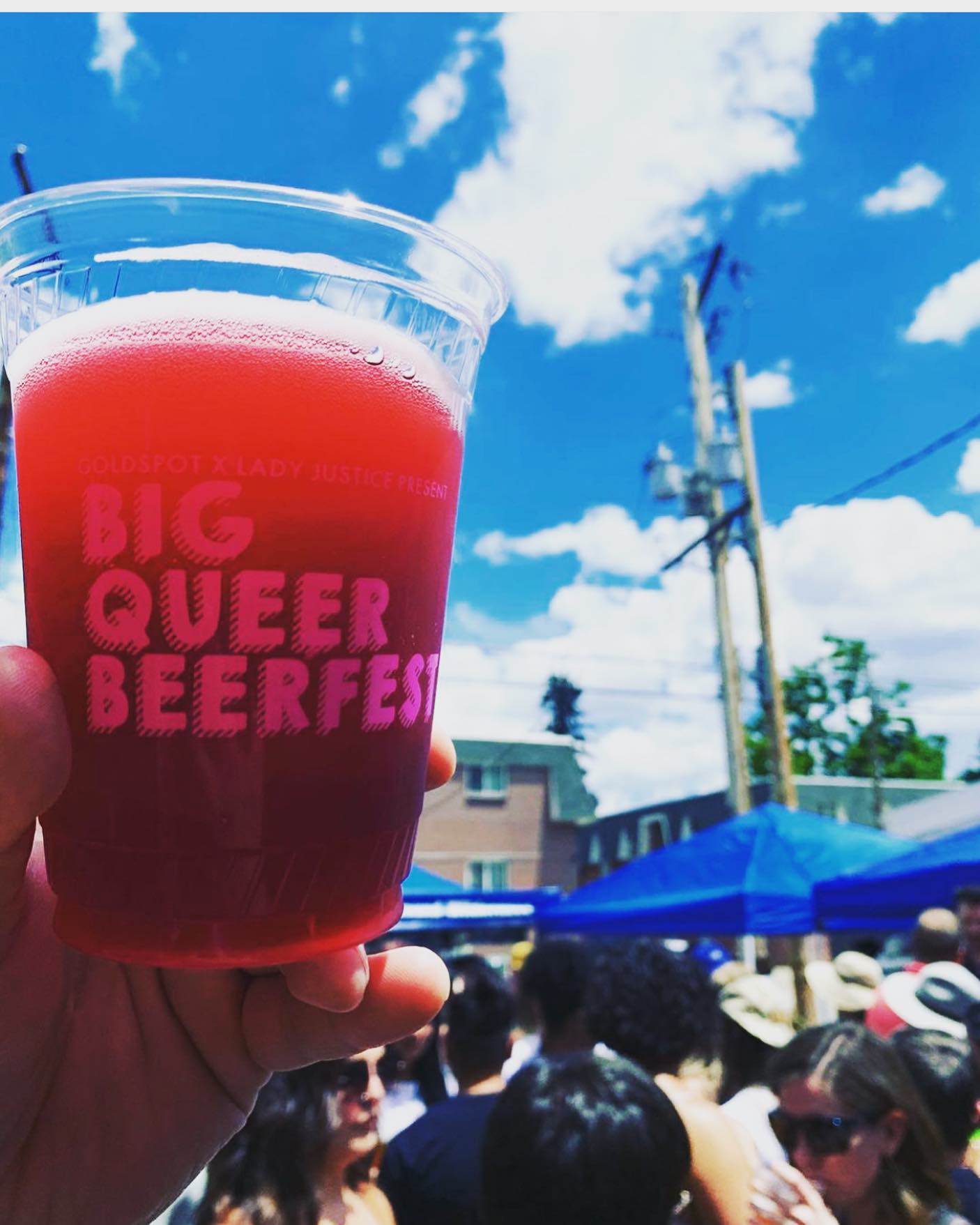 Hibis-Kiss Whoever You Want is a sangria style blonde with hibiscus, citrus and cinnamon.
Christopher Street is our yearlong pride beer, a SMaSH (Single Malt & Single Hop) pale ale made with Rakau hops.
Baere Brewing: Free to Transform – Saison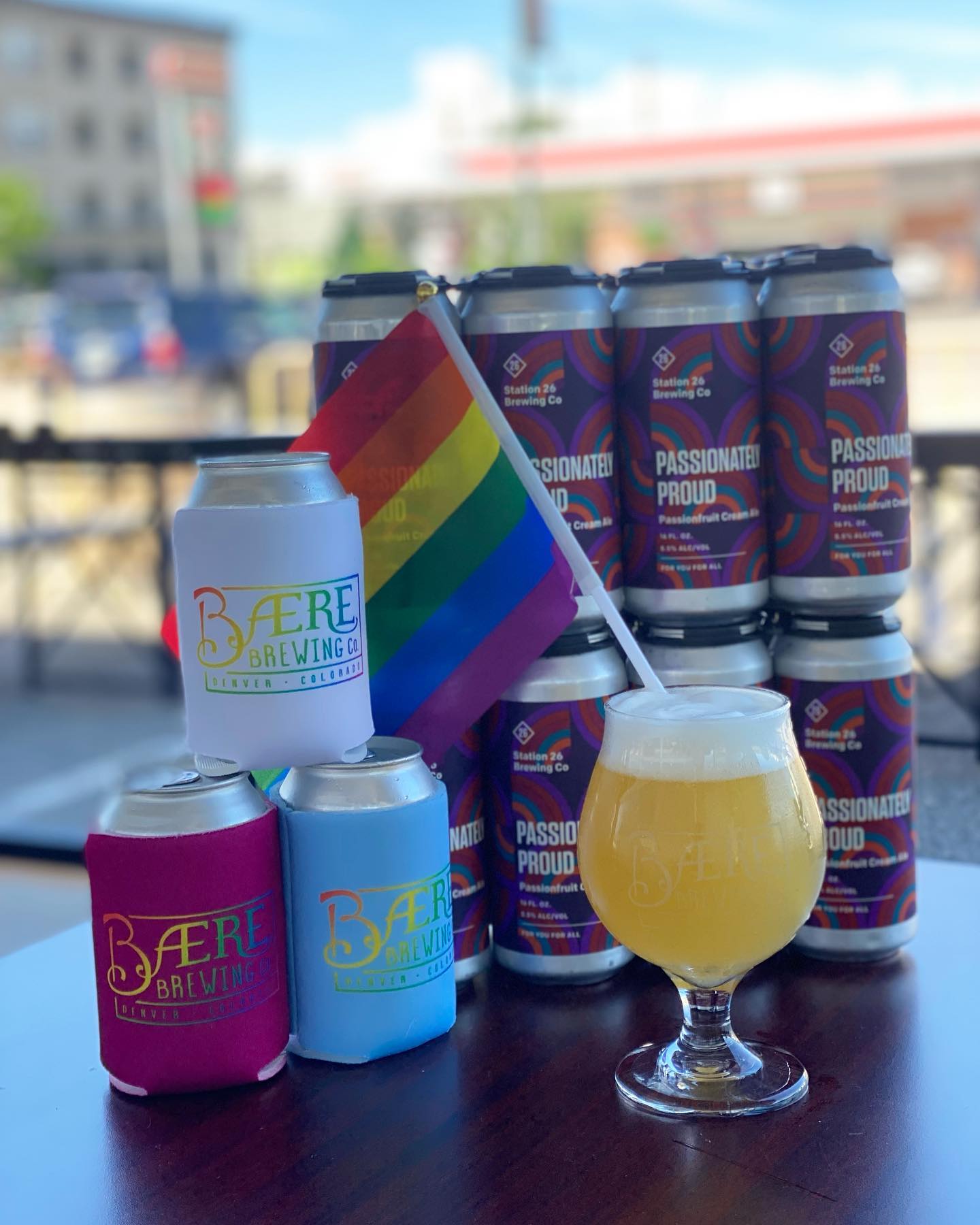 Free To Transform is back!
This version of our pride Saison is dry hopped with Hallertau Blanc and is tasting delicious, we're all sorts of excited about it.
Snag a free pride coozie to go with when you purchase a pint!
A handful of 4 packs of Passionately Proud are still available to go as well.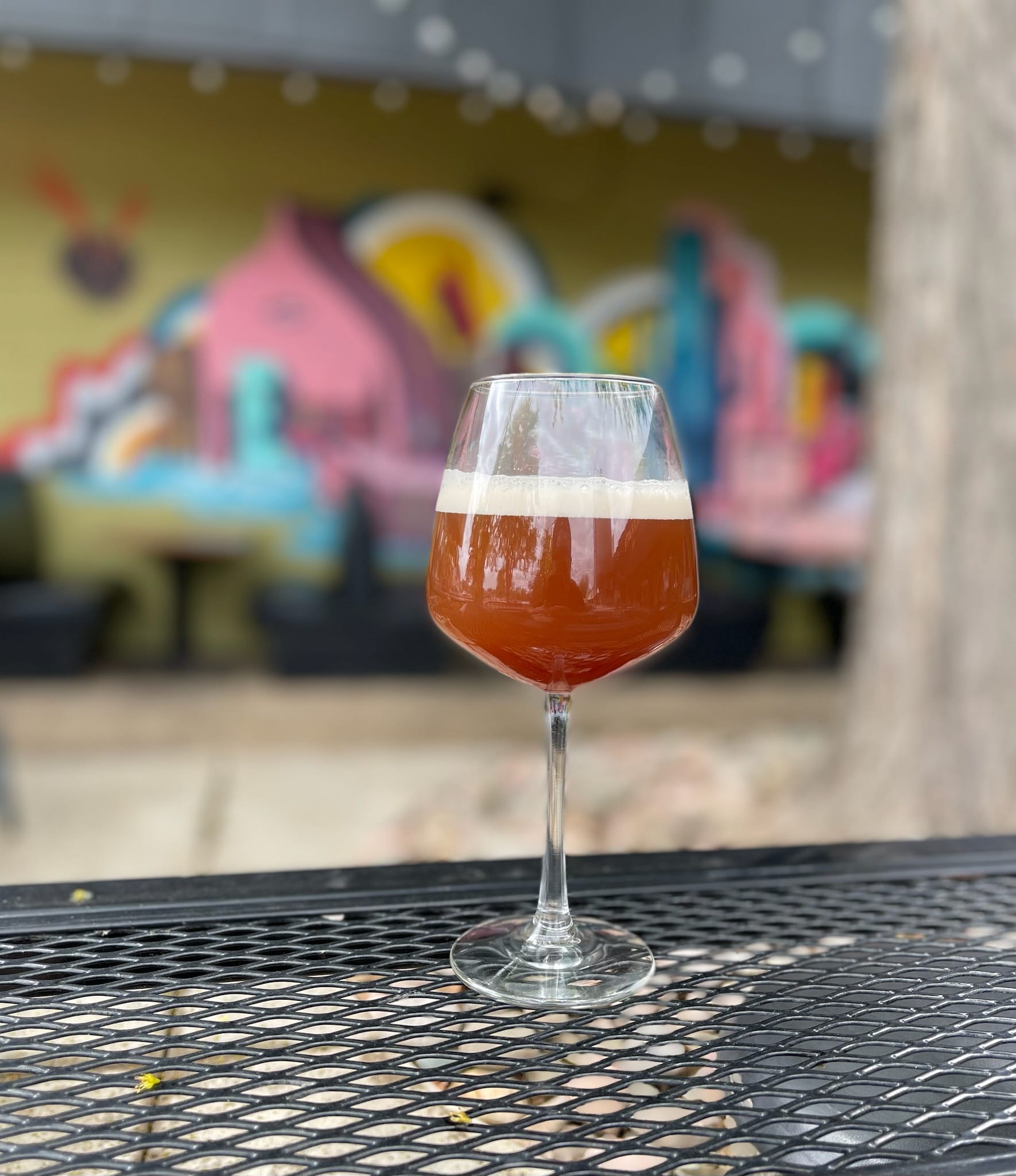 Burns Family Artisan Ales:  Coming Out From Under – Australian Sparkling Ube Ale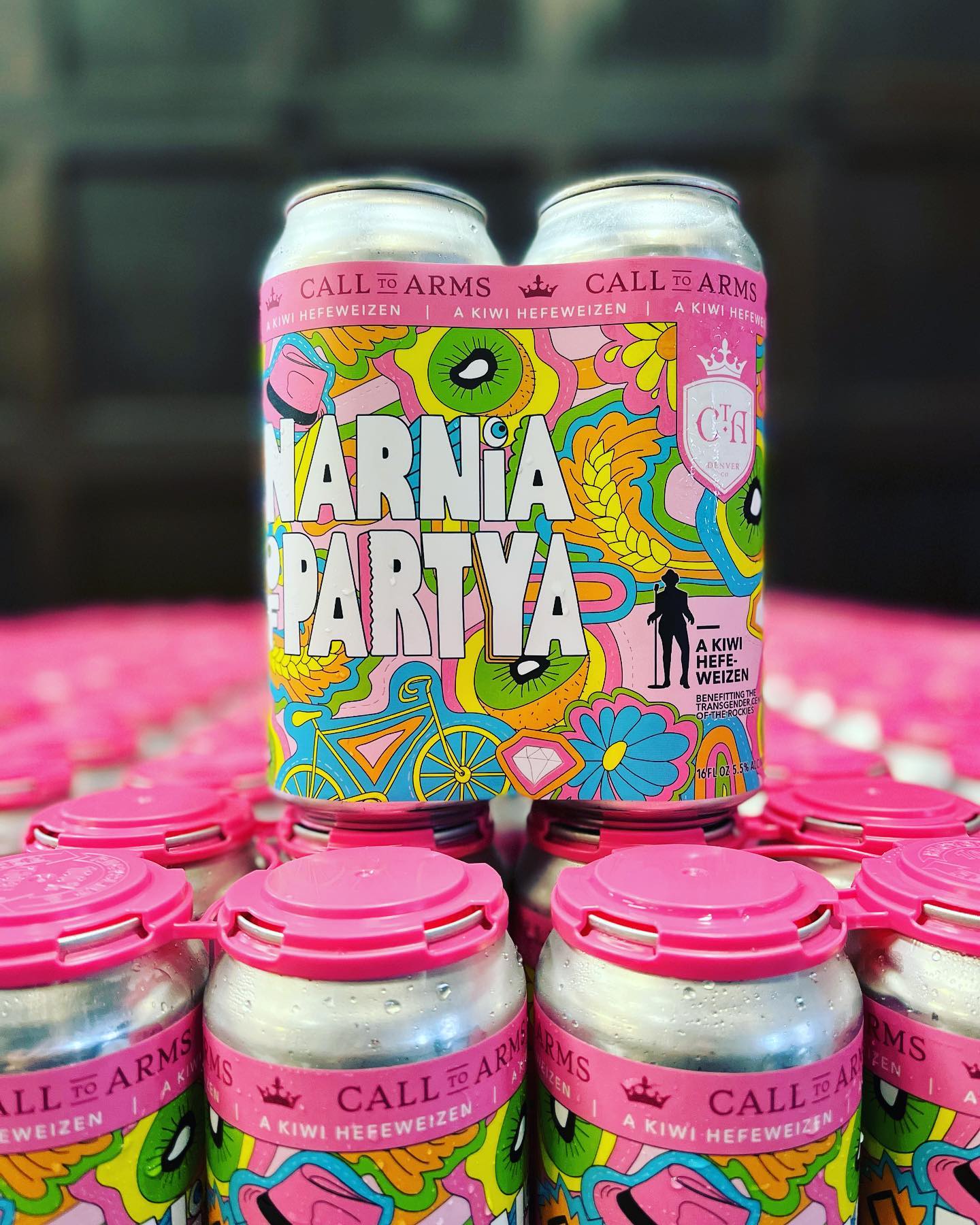 Call to Arms Brewing is excited to announce the return of "Narnia of Partya", a Kiwi Hefeweizen which will once again serve as this year's official beer for the brewery's Pride Month fundraiser.
10% of sales of Narnia of Party throughout the month of June will be going to support The Transformative Freedom Fund.
Cerebral Brewing: All Hops No Hate – Pineapple IPA