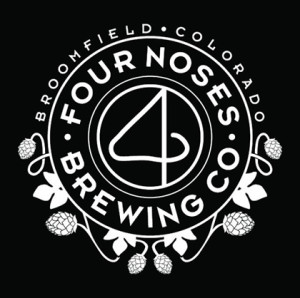 Description
The 4 Noses Brewery is a family owned and operated craft brewery and tasting room. 4 Noses has a passion for creatively brewing our unique interpretation of classic styles. Using ingredients from around the world, 4 Noses combines traditional styles with nontraditional flavor profiles to give the beers our own distinct personality.
4 Noses Brewing will open today in Broomfield by Jonathan Shikes of Westword – 8 May 2014
Beers Brewed by 4 Noses Brewing Company
This list includes beers brewed currently, previously, or seasonally by 4 Noses Brewing Company. Contact the brewery for current beer availability.
| Name | Style | ABV | Availability |
| --- | --- | --- | --- |
| 'Bout Damn Time IPA | American IPA | 7.3 | Rotating |
| Hiker's Helles | Munich Helles | 4 | Rotating |
| Sierra Madre Pale Ale | American Pale Ale | 6.2 | Rotating |
| Goldilocks | Milk Stout, Nitro | 5.5 | Seasonal |
| Raspberry Blonde Ale | Fruit Beer | 6.3 | Seasonal |
| Bonaparte Barley Wine | American Barley Wine | 9.5 | Rotating |
| Vier Neuzen Tripel | Belgian Tripel | 10 | Rotating |
| 4 Noses: Russian Imperial Stout | Russian Imperial Stout | 9.8 | Rotating |
| 4 Noses: Doppelbock | Doppelbock | 8.5 | Seasonal |
| 4 Noses: Imperial Pumpkin Ale | Other Imperial Beer, Pumpkin Beer | 8.8 | Seasonal |
| Pump Action Pumpkin Ale | Pumpkin Beer | 6.4 | Seasonal |
| Fresh Hopped Proboscis Pale Ale | Wet Hop Beer | 6.1 | Seasonal |
| Bourbon Barrel Imperial Pumpkin with Vanilla | Other Imperial Beer, Pumpkin Beer, Wood / Barrel Aged Beer | 8.9 | Special Release |
| Pirate's Booty | Other Imperial Beer, Pumpkin Beer, Wood / Barrel Aged Beer | 8.9 | Special Release |
| .44 Magnum Double IPA | American Double / Imperial IPA | 8.1 | Year-Round |
| Reciprocal Imperial Stout | American Double / Imperial Stout, Wood / Barrel Aged Beer | 9.8 | Special Release |
| Ritual Rivers Porter | Coffee Porter | 5.3 | Year-Round |
| Whole Grain Lager | American Amber / Red Lager | 5.5 | Rotating |
| Coffee Vanilla Russian Imperial Stout | Coffee Stout, Russian Imperial Stout | 9.8 | Rotating |
| Oktoberfesht | Oktoberfest / Märzen | 5.5 | Seasonal |
| Citra Wheat Ale | American Wheat Ale | 6.1 | Seasonal |
| When Helles Freezes Over | Munich Helles | 5.5 | Seasonal |
| Anarchy Ale | Strong Ale | | Rotating |
| Charles IPA | English IPA | 7.1 | Year-Round |
| Make My Day Session IPA | American IPA | 4.9 | Year-Round |
| Proboscius Pale Ale | American Pale Ale | 5.8 | Year-Round |
| Bareback Blonde Ale | Golden or Blonde Ale | 6.3 | Year-Round |