The first rule of Beer Fight Club is to definitely talk about Beer Fight Club. This exciting blind-tasting event, which pits some of Colorado's best craft breweries against one another, is back in action for round four on October 21st from 4:00 – 7:00 pm at Tap Fourteen (1920 Blake Street). This fun competition is the perfect way to wrap up all the fall beer events and just hang out and vote on your favorite beers and cheer on your favorite breweries. The October installment will feature Bruz Beers, Elk Mountain, Little Machine, Lone Tree, New Terrain, Renegade, and Resolute.
We were lucky to catch one of the rounds of the event on May 20th at Larimer Beer Hall at 2012 Larimer Street in Denver. This particular round featured Boulder Beer, Gravity, Fate, Bootstrap, Odd 13, Liquid Mechanics, 4 Noses, and Avery.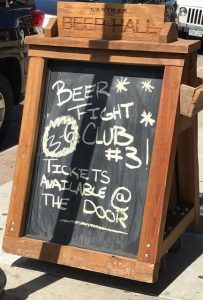 Each participating brewery brought one beer, which was paired up with another beer of similar style. The beers were presented in clear pitchers only labeled with an identifying letter that corresponded with the basic beer description in the event flyer that accompanied the souvenir tasting glass. The tastings, the fun, and the competition began and the endless tastings were served. Votes were counted by way of applause-o-meter due to some technical difficulties with the website, and recounts were needed a couple of times due to the people loudly cheering for the beer that they thought should come out ahead. But, the crowd was enthusiastic and accommodating to the change of plans, and the applause votes were metered and tallied.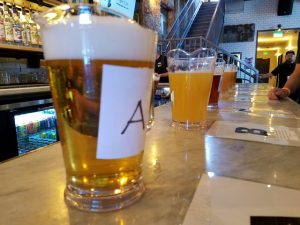 Adam Schell, designated as "The Instigator" of Beer Fight Club and organizer of the event, came up with the idea after attending Great American Beer Festival. After spending the day at the monstrosity that is GABF and the amassment of beers from around the country, Schell felt a need to promote Colorado beers and allow them to stand out. "Colorado has the best beer – you don't have to look any further than here." Schell stated, savoring the sense of community that Beer Fight Club and the Colorado beer scene exemplifies. Schell wasn't the only one enjoying the sense of community at the event, Steve Kaczeus from Bootstrap Brewing and Sage Swink from Fate echoed the same feelings – this event was a fun competition that imparted a community feel, along with a little bit of friendly competition.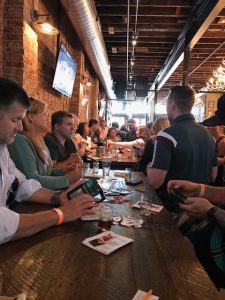 From the perspective of an event attendee and beer nerd, a blind tasting is always intriguing. Beers and breweries can get fairly hyped up by their regular customers and fan bases. So, the chance to try a beer and not know entirely what brewery it is from – maybe not even know what style it is – can be very interesting and a true test of beer-drinking prowess. It is a good way to test knowledge of style and hop profiles, and to perhaps find a new favorite beer or brewery.
Though eight beers entered Beer Fight Club on that afternoon in May, only one was left standing at the end. The final round matched 4 Noses' Bout Damn Time against Bootstrap's Stick's Pale Ale. The volume of the cheers for each beer were very close but, in the end, Bootstrap emerged victorious. Round three was wrapped up with Steve Kaczeus accepting the trophy for his Niwot brewery while other participants congratulated him.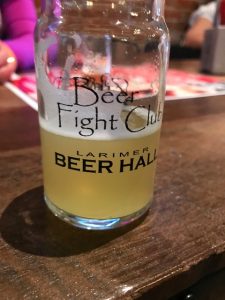 This event is fun and exciting, and shows the sense of community that is the Colorado craft beer scene. The only rule of Beer Fight Club is to buy your tickets early, and have a great time tasting and judging tasty beers from all across Colorado. Tickets are on sale now, and there is a discount for buying multiple tickets, so bring your friends and support our craft community.
Photo Credit: Rich Smerker