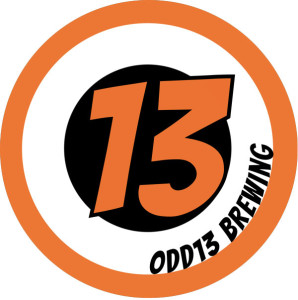 Description
We are a microbrewery located in Lafayette, Colorado. We focus on hoppy American styles, Belgian styles and experimental styles. Odd13 was founded by Kristin and Ryan Scott, with the help of understanding family members. Why the name Odd13? Kristin grew up in area code 513 and Ryan grew up in 313.
Beers Brewed by Odd13 Brewing
This list includes beers brewed currently, previously, or seasonally by Odd13 Brewing. Contact the brewery for current beer availability.
| Name | Style | ABV | Availability |
| --- | --- | --- | --- |
| Colonel Hopsenchops | American Pale Lager | 6.7 | Rotating |
| Hawaiian Bartender | American Wild Ale, Fruit Beer | 6.7 | Seasonal |
| Friendly Neighbor | Dark American Lager | 7.8 | Special Release |
| Barrel Series #5: Patches O'Houlihan | American Wild Ale, Irish Dry Stout, Wood / Barrel Aged Beer | 5.0 | Special Release |
| Barrel Series #4: Barrel Aged Succubus | Belgian Golden Strong Ale, Wood / Barrel Aged Beer | 10 | Special Release |
| Barrel Series #3: Doctor Wildcat | Sour Ale, Wood / Barrel Aged Beer | 6.97 | Special Release |
| Frigid (Sometimes Grumpy) Busboy | Belgian Pale Ale | 4.2 | Rotating |
| Party Ron | American Wheat Ale | 5 | Seasonal |
| Mama Koliakos | American IPA | 7.2 | Rotating |
| Eric and the Hipster | American Double / Imperial IPA | 10.2 | Seasonal |
| Saint Petersburg Brett | American Wild Ale | 10.5 | Rotating |
| Boulder Brett | American Wild Ale | 6.6 | Special Release |
| Blucifer | American Wild Ale, Fruit Beer, Wood / Barrel Aged Beer | 6.5 | Seasonal |
| Humulus Kalecumber | American Wild Ale, Spice / Herb / Vegetable Beer | 5.0 | Seasonal |
| Super Sneak | American Wild Ale | 6.9 | Seasonal |
| Love Machine | American Wild Ale | 6.5 | Seasonal |
| Master of Unrelated Science | American Wild Ale | 6.7 | Rotating |
| Vincent van Couch | Sour Ale | 4.6 | Year-Round |
| The Derplomat | American Brown Ale | 5.8 | Special Release |
| Atahsara | American Barley Wine | 9.50 | Rotating |
| Chainsaw the Princess of Karate | American Wild Ale | 6.0 | Rotating |
| Barrel Release #2: Hollywood | Flanders Red Ale, Wood / Barrel Aged Beer | 6.4 | Special Release |
| Anniversoury | American Wild Ale | 5.11 | Special Release |
| Ol' Dity Orton C.R.E.A.M Ale | Cream Ale | 5.5 | Special Release |
| Coal Miner's Uncle | Baltic Porter | 7.21 | Special Release |
| Barefoot Runaway | American IPA | 5.6 | Rotating |
| Odd13: Single Hop IPA | American IPA | 6.29 | Rotating |
| Munchen Brett | American Wild Ale | 5.1 | Seasonal |
| Pepo the Picker | Pumpkin Beer | 4.4 | Special Release |
| Barrel Series #1 | American Wild Ale, Belgian Blonde Ale, Wood / Barrel Aged Beer | 7.4 | Special Release |
| Sir Joshua | Black IPA / American Black Ale | 6.2 | Rotating |
| Spruce Campbell | American Brown Ale, Other Imperial Beer | 7.0 | Seasonal |
| Lafayette Brett | American Wild Ale | 5.7 | Rotating |
| Papa Silenus | American Double / Imperial IPA | 8.5 | Year-Round |
| Big Jim | Belgian Quadrupel Ale | 9.5 | Seasonal |
| Succubus | Belgian Golden Strong Ale | 8.5 | Rotating |
| Zed the Zorcerer | American IPA | 4.3 | Rotating |
| Hanuman Single Hop IPA | American IPA | 6.29 | Rotating |
| Doctor Cougar | American Wild Ale, Saison / Farmhouse Ale | 5.3 | Year-Round |
| Coal Miner's Cuzzin | Oatmeal Stout | 5.3 | Rotating |
| Eric the Red | American Amber Ale / Red Ale | 7.1 | Year-Round |
| Professor Hops | American Wild Ale, Belgian IPA, Saison / Farmhouse Ale | 7.2 | Rotating |