With a total of 313 currently open and unique breweries in the state of Colorado, determining which ones stand out from the crowd can  be daunting. But, who better to help choose the top five than Colorado's own professional brewers and brewery staff? We emailed all of the breweries in Colorado with a list of questions about their favorite breweries. Over 100 breweries responded and here is what they had to say about their favorites…
#5: Odd13 Brewing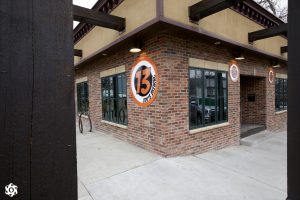 Odd13 Brewing opened in August of 2013 in Lafayette and was founded by Kristin and Ryan Scott. Their comicbook-style branding and artwork helps them stand out on the shelf, and their delicious beers, which include a large rotating selection of IPAs alongside sours barrel-aged beers, make them stand out from the crowd.
Erica Baca, one of the owners of upcoming Coal Mine Avenue Brewing, explained how Odd13 helped her experience beer styles she was previously not a fan of – such as IPAs:  "Odd 13 N00b as well as many other New England Style IPAs have completely opened my palate. I am now trying the west coast IPAs I used to turn my nose up at because they all tasted the same to me. Not anymore! While I still don't care for the super hop bombs, I can appreciate the flavor profiles in a way I hadn't before. Now on to the sours… Again, Odd 13 came through with Lafayette Brett. I'm struggling with sours more than IPAs, but beers like this are helping me forge new paths on my craft beer adventure!"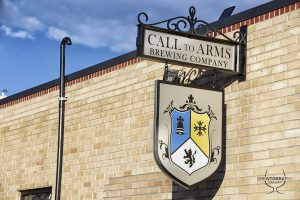 Call to Arms Brewing Company was founded by three guys: Jesse Brookstein, Jon Cross, and Chris Bell. Like so many friends you meet later in life, these three struck up a friendship while partaking in a shared passion – in this case, brewing, cellaring, and packaging beer at Avery Brewing Company in Boulder, CO.  Call to Arms focuses strongly on a love of local, traditional food and drink to create a timeless, moody, neighborhood-friendly brewery focusing on craft beers, artisan provisions, and community awareness.
Tamir Danon, owner/brewer at Novel Strand Brewing, obviously enjoys Call to Arms:  "What I like about CTA is that they still have fun. They'll brew up fantastic examples of any style of beer, from a Czech dark pilsner to a wine-barrel fermented Brett saison, but they do it without taking themselves too seriously, and it makes their beer genuine and fun. Beer has always been a drink that was for the people- was for everyone, and CTA's taproom definitely has something for everyone, and every something is brewed well. They don't worry about replicating past tradition, they don't worry about setting the next future trend. They just hang out on Tennyson and quietly go about making fantastic beer. You can't do anything other than respect (and enjoy) that."
#3 ( or #1*): Bierstadt Lagerhaus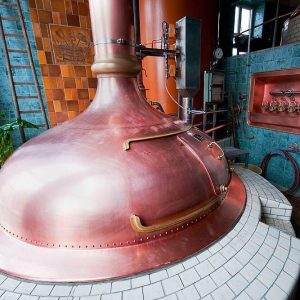 Bierstadt Lagerhaus was the Colorado Brewers' Favorite New Brewery in 2016 (in a tie with Resolute Brewing). Bill Eye and Ashleigh Carter resurrected an 84-year-old brew kettle from Germany and follow a strict Reinheitsgebot process in making their lagers. The Reinheitsgebot is a German beer purity law which only allows four ingredients in brewing beer: water, yeast, malted grains and hops. They have impressed everyone with the quality of their beers.
Alex Liberati recently moved to Denver from Rome to open the upcoming Liberati Restaurant & Brewery and had this to say about his favorite brewery here: "For a Denverite, it is a blessing and an honor to have access to a brewery that is so respectful to tradition and attentive to detail. The knowledge, skill and the dedication of Bill and Ashleigh to their craft shines through every single one of their perfectly crafted brews. They will experience tremendous growth, if they want to, because on top of having a killer product they are planning very meticulously so to always assure unparalleled products in any of the venues where they will be found. If you think of Volvo you think of safety. If you think of Bierstadt you would think, tradition authenticity and innovation. I mean: they brew on an actual German brewhouse from 1932 you know. And they have laser edged the date on the bottom of their perfectly studied Slow Pour Pils glasses"
[*Author's note:  The top two breweries chosen by their fellow breweries are repeats from last year's survey.  It is no surprise that these Colorado favorites returned here and we don't wish to take away from the appreciation that we have for these giants of our community.  However, in future years we will likely adjust our survey to create a separate regional-sized brewery category (BA defined as over 15,000 barrels/year) in order to give more attention to smaller Colorado breweries.  This being said, Bierstadt can claim #1 for the title of "Colorado Brewers' Favorite Microbrewery" for 2017.]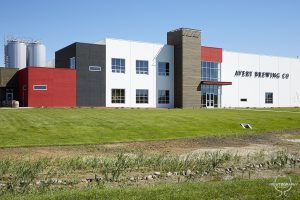 Avery Brewing first opened their doors in Boulder in 1993 and have long shown greatness in making amazing beers such as White Rascal, Tweak, and Uncle Jacob's. In 2015, after many years of serving their beers from their small Boulder taproom, they opened the doors to a spectacular 67,000-square-foot, $27 million facility in Gunbarrel with an eventual brewing capacity of 150,000 barrels a year. Besides the huge brewery that you can see from a catwalk, there is a full-service restaurant and an additional taproom with a patio and 30 taps of Avery beers.
Andrew Wasson, owner of Wild Blue Yonder Brewing, praised them: "Avery pushes the beer envelope while always paying homage to the core beers.  Avery recognizes the necessity of constant evolution; as beer tastes change, Avery raises the bar. They reinvent their beer lineup without completely alienating their original customers and appeasing up and coming tastes. They produce beers you can truly bring to the family holiday table and please every beer drinker in the family."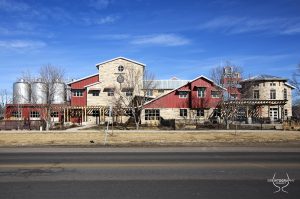 Odell Brewing opened in 1989 in Fort Collins and was the sixth Colorado craft brewery. They have grown to be the 34th largest craft brewery in the US. Odell offers a wide selection of beers including the iconic 90 Shilling Amber Ale, the Woodcut Series of beers, a slew of experimental and one-off beers available on tap at the brewery only, and seasonal favorites like St Lupulin and Runoff Red IPA. Odell Brewing is able to offer such a wide array of excellent beers partly due to their rigorous quality control and sensory programs and partially because staff is actively encouraged to try out their beer ideas on the in-house pilot system. Odell Brewing has come a long way from being a draft-and-growler-only brewery in an old grain elevator to the craft beer powerhouse in Colorado and beyond that we have come to know and love so well.
Davin Helden, owner of Liquid Mechanics Brewing is a huge fan of Odell: "I've yet to have a beer from Odell that I didn't like.  They hold true to their past (Odell IPA) while proving they can innovate.  Rupture is a great example of them quickly responding to consumer demand."
Thank you to all the breweries that participated in our survey.  We are so lucky to have so many wonderful breweries in Colorado – making it hard to choose a favorite. We look forward to another great year of brewery exploring in 2018 and choosing more favorite locations and beers.