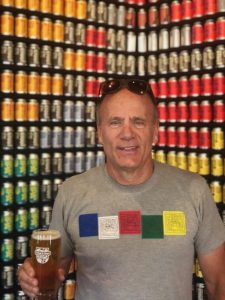 Congratulations to Bob Cole on completing the quest to visit every currently open Colorado brewery!  He has now earned the title of "Colorado Brewery Master," joining a very small group of beer enthusiasts who have also accomplished this feat.
I had the pleasure of meeting with Bob twice recently, just before he finished "the Quest" and then to celebrate his accomplishment at the finish line.  I enjoyed getting to know him and his journey to climb every CO 14er and visit every CO brewery and in doing so he has embraced the "Best of Both Worlds"!
As I have done previously with the other Masters, I was happy to ask him some questions about his journey…
Who is Bob Cole?  (Tell us a bit about yourself.)
I grew up in eastern Pennsylvania, moved to Colorado, got my MBA and CPA license here and have been living in this great state since 1982.  I spent the last 24 years of my career as an executive at Terumo BCT, a global leader in blood banking and cellular technologies.  I retired in 2012 but still serve on the Boards of Vitalant (the second largest company in the U.S. that collects blood and blood products from volunteer donors) and Creative Testing Solutions (the world's largest non-profit blood testing company).  I've been married 38 years (Nancy) and have two daughters (Ciara and Emily) and we live in Lakewood.
Where I grew up, there were many small breweries, each with their unique and colorful branding.  When I was 12 years old, I started collecting beer cans and amassed a collection of over 2,000 cans before I had ever even consumed my first beer.  When that eventually changed (for the better), I was always interested in trying new beers.  When I moved to Colorado, the craft beer industry was just beginning to gain traction, which created a lot of interesting possibilities.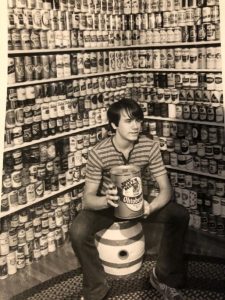 Another passion of mine, and one of the primary reasons I moved to Colorado was for access to, and adventure in the mountains.  In 1986, I finished climbing all of the 54 14ers and in 2012, I completed summiting the highest 300 peaks in the state.  While scrambling up mountains was a great way to see Colorado, visiting all the breweries has been similarly rewarding!  A mantra my daughter Ciara (who has accompanied me on many peaks and breweries) and I have long joked about is "No mountain has been climbed until the celebratory beer has been drunk; and no beer has been drunk until the next mountain adventure is on the calendar."  This cartoon says it all!
When and what was the first Colorado brewery that you remember visiting?
It was Boulder Beer Co., shortly after moving west in 1982.  I remember Buffalo Gold being like nectar after those early days of Schlitz and PBR.  After so much consolidation in the industry, it was a breath of fresh air to see craft breweries begin to take off.  I also remember visiting Wynkoop fairly often once it opened in 1988, and Coopersmiths and Ironworks were early "go-to's" for me as well.
When and where did you accomplish the status of having visited every Colorado brewery?
It was at MobCraft dee Tacko on October 24th.  The homestretch was quite the challenge as no sooner than when I had just a couple of breweries remaining, then T Road opened which sent me bee-lining out to Crestone.  Then, a week later, Trail Life opened so I was off to Grand Junction.  Then it was Wackadoo in the Springs.  It was a regular case of brewery whack-a-mole!  A few stats – I've been to 490 breweries (not counting taprooms, meaderies, seltzeries, and distilleries) located in 108 different Colorado cities.  Unfortunately, 79 of those visited have since closed or have been bought out and rebranded.  My family, along with Stephen Adams (aka "The Colorado Beer Geek") and the Malones (fellow CO Brewery Masters) were there to help celebrate the grand finale at MobCraft.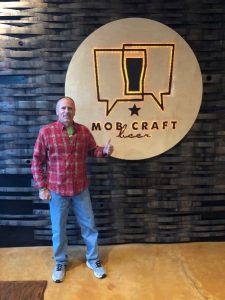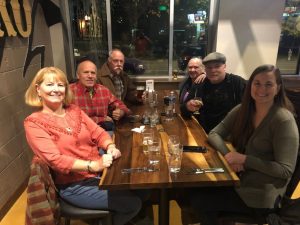 What are some of your favorite memories of your quest?
I have great memories of long days hiking remote peaks and then limping into town, showing up at a local brewery, and, oh man, how good that beer tasted!  Eddyline, Elevation, Vail, High Alpine, Outer Range, Animas, Cabin Creek, Knotted Root – they've always been a sight for sore eyes after a tough day on the trail!  I remember once getting off the Narrow-Gauge train in Durango after nearly a week of summitting peaks in the San Juans and racing to Carvers for an Ironhorse Stout.  It was so tasty that I stuck around for an extra night just so I could have another one (or two) with a huge breakfast burrito there the next morning.  Other great memories are of some of the multi-brewery tours in Fort Collins, Longmont, Loveland, Colorado Springs and Grand Junction.
What are your favorite styles of beer and your top breweries in the state of Colorado in terms of your beer taste?
At the top of my list are hoppy IPAs.  I'm a big fan of the citra and certain New Zealand hops.  Pale Ales, Kolschs (mostly in the summer), and Stouts (winter) rank high.  Belgians are coming up the curve for me as well.
My personal favorite breweries in the state are:  #1 Weldwerks and the next five in no particular order — Cannonball Creek, Verboten, City Star, Outer Range and Odd13.  However, it's truly tough to narrow this list down as there are so many outstanding breweries in Colorado.
What are some of your favorite destination breweries?  (In CO but also out of state if you'd like.)
My favorite destination brewery in Colorado again, is Weldwerks.  It's off the charts for quality and variety.  Cabin Creek is a destination brewery for me as I stop there every time, I'm on my way home while coming down I-70 after doing a hike in the mountains.  Eddyline has been equally rewarding when I'm further west in the mountains.  Fort Collins has some fantastic breweries, so the occasional tour up there has become a destination.  Out of state – Sierra Nevada (Asheville) offers the full package (great beer, tour, food, music, gardens, etc.).  Lakefront (Milwaukee) has a unique and fun tour (you will be both staggering and laughing on your way out the door), and Yuengling (Pottsville PA), the oldest brewery in America, offers an interesting tour, and is close to where I grew up.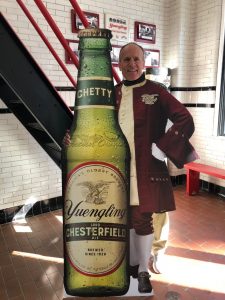 What is your favorite hang-out brewery?  (Where are folks most likely to run into you?)
I live in Lakewood so I often visit Cannonball Creek, Coda, and New Terrain in Golden, all of which are nearby.  Otherwise, most of all, I continue to enjoy moving around, meeting up with friends, and re-visiting breweries to see what's new on tap.  Since I still fairly regularly scramble up peaks near the Divide, I almost always stop in at Cabin Creek on my way home.  Again, "no peak has been climbed until the beer has been drunk . . . . ."
What advice would you offer others trying to become a Colorado Brewery Master?
Well, it's an interesting challenge and a wonderful journey.  Unlike the Colorado 14ers where there is a fixed number of peaks, with the breweries, the list continues to grow.  I may have finally gotten to them all for the moment, but I expect that within just a few days, there will be a new one opening (and calling my name).  I look forward to staying current with the list.  About five years ago when I was about half-way to the goal, there were "only" about 350 Colorado breweries in operation.  But that's when I decided this was an achievable target, even though it now takes a lot more effort to pull off, just given the number of breweries that are open and keep opening.  I was sitting on the deck at Eldo in Crested Butte, having hit brewery #200 when I feel like I made the commitment to visit them all.
I owe a debt of gratitude to Ryan, Ashley, Stephen and the rest of the Colorado Brewery List team for keeping the list alive, for without this data base, I never could have gotten to this point.  They've been invaluable in helping me with criteria, logistics, etc. when I had questions.   I am also very fortunate to have a great wife (who also likes beer) who continued to cheer me on as I pursued this crazy objective, and she has demonstrated outstanding patience when we took many a detour from our travel plans to visit some obscure brewery.  And the beauty of the challenge is that it's a goal that will never be fully attained, other than for the moment.  It's the gift that keeps on giving!  My advice is to enjoy the beer, take the time to meet the brewers and the locals while there, and absorb the beautiful Colorado scenery while cranking the tunes along the way!  And remember, the very best beer ever … is one you haven't tried yet!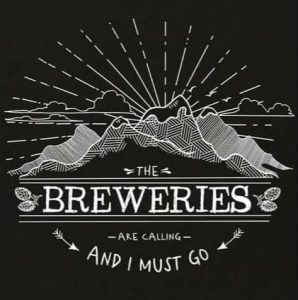 Welcome Bob to the ranks of the Colorado Brewery Masters!  
Are there any other Colorado Brewery Masters out there that I have missed?  If you have been to every Colorado brewery or are close to doing so, I would love to hear from you!  Do you want to learn more about the other Colorado Brewery Masters?  Check out this CBM blog page which has all of the articles about us, (except me but you can read a bit about my initial quest here).