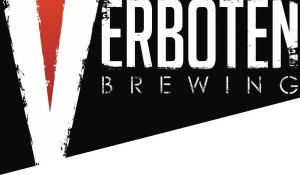 Description
Verboten Brewing derives its name from the "forbidden" ingredients that were rejected by the German Purity Law for beer, the Reinheitsgebot. Under the purity law, beers could only be made with three ingredients: barley, water and hops. Yeast, once its fermentation properties were clearly understood, was added later. Verboten's beers will embrace the trend of incorporating fruit and spice, barrel aging and other distinctive ingredients and processes to make our craft beers.
Verboten Brewing Re-Opens in Downtown Loveland by Tristan Chan of PorchDrinking.com – 22 March 2016
Loveland's Verboten Brewing tells a craft-beer trademark story with a happy ending by Jonathan Shikes of Westword – 10 Jan 2013
Beers Brewed by Verboten Brewing
This list includes beers brewed currently, previously, or seasonally by Verboten Brewing. Contact the brewery for current beer availability.
| Name | Style | ABV | Availability |
| --- | --- | --- | --- |
| Silent Guardian | American Double / Imperial IPA | 9.0 | Seasonal |
| Plethora | Belgian Quadrupel Ale, Wood / Barrel Aged Beer | 11 | Special Release |
| To The End | Russian Imperial Stout, Wood / Barrel Aged Beer | 10.5 | Special Release |
| Bourbon Barrel Angry Banjo With Cherries | Cream Ale, Fruit Beer, Wood / Barrel Aged Beer | 7.0 | Special Release |
| Roll in Ze' Cherry Tree | Gose | 5.5 | Rotating |
| I'm on a Boat | Fruit Beer, Witbier | 5.6 | Special Release |
| I'll Have What She's Having | American Stout | 6.1 | Special Release |
| In Love With Summer | Fruit Beer | 5.2 | Seasonal |
| Nuclear A-poca-liss | Black IPA / American Black Ale | 6.0 | Rotating |
| Fat Penguin | American Stout, Other Imperial Beer, Smoked Beer | 8.5 | Rotating |
| Walking the Parapet | English Porter, Wood / Barrel Aged Beer | 7.5 | Special Release |
| Two Fives | American IPA | 5.5 | Rotating |
| Never Lose | Coffee Stout, Russian Imperial Stout, Wood / Barrel Aged Beer | 10.5 | Special Release |
| Rum BBL Aged I'm All Right Jack | Cream Ale, Other Imperial Beer, Wood / Barrel Aged Beer | 11.5 | Special Release |
| Got the Knife | Golden or Blonde Ale | 5.3 | Rotating |
| Mountain Man | Rye Beer, Strong Ale, Wood / Barrel Aged Beer | 11.8 | Special Release |
| Bourbon BBL Aged Pure Imagination | Oatmeal Stout, Other Imperial Beer, Wood / Barrel Aged Beer | 9.0 | Special Release |
| Not the Irish- Nitro | American Amber Ale / Red Ale, Nitro | 5.8 | Rotating |
| Between Worlds | Witbier | 5.0 | Rotating |
| Killer Boots- Gluten Removed | English Porter | 6.0 | Rotating |
| Pure Imagination | Oatmeal Stout | 5.8 | Rotating |
| Cherry Darling | Fruit Beer | 4.2 | Rotating |
| Angry Banjo | Cream Ale | 5.8 | Rotating |
| Good Day To You | American Stout | 5.2 | Rotating |
| Killer Boots | English Porter | 6.0 | Rotating |
| Roll in Ze' Hay | Gose | 5.2 | Rotating |
| Thinking of Something Orange | American Wheat Ale, Nitro | 5.2 | Rotating |
| Midnight Expresso | Coffee Stout, English Stout, Nitro | 5.7 | Rotating |
| Five Second Frencher | Witbier | 5.5 | Rotating |