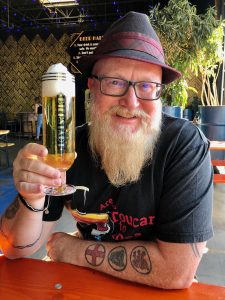 Congratulations to Paul Myhill on completing the quest to visit every currently open Colorado brewery!  He has now earned the title of "Colorado Brewery Master," joining a very small group of beer enthusiasts who have also accomplished this feat.
Paul Myhill has made quite the name for himself in the Colorado brewing industry.  What he has achieved is nothing short of spectacular!  He embarked upon a challenge to visit "365 Breweries in 365 Days", a "46-day Beer Only Fast", and finally visiting every Colorado brewery (and taproom) in 18 months.  Wow!  I am in awe of what Paul has accomplished.
Read more about these quests in this article by The Gazette (Colorado Springs): Castle Rock man, known as Colorado Beer Guy, on track to hit big craft beer goal and this one by Castle Rock CO News (CRCO):  Castle Rock, CO Man Completes Two Impressive "Beer Marathons".
As I have done previously with the other Masters, I was happy to ask him some questions about his quest…
Who is Paul Myhill?  (Tell us a bit about yourself).

I was born in the late 60's and have had a love of beer ever since. The end.
Ha!  Maybe a little more?
I live in Castle Rock, CO with my bride, (Lisa) son, (Caleb) and daughters, (Hannah & Naomi). We're on 20 acres southwest of town with an unobstructed view of the front range, from Pike's Peak to Long's Peak. That daily view always has me peering out wondering, "What's the next adventure?"
I'm a serial entrepreneur and philanthropist, having created numerous for-profit ventures (primarily dietary supplements / nutraceuticals, but also many beer-related businesses) and non-profit charities (primarily orphan and child trafficking prevention, rescue & care) over the years.
But about the beer . . .
I was a little reluctant to call myself the "Colorado Beer Guy" on Facebook, especially with over-qualified existing monikers inherent in "Colorado Beer Geek" and "Colorado Beer Man." It felt somewhat pretentious to include myself with them, but then I looked back on my life and how important beer – good beer, that is – has been a part of it. Plus, I was about to embark on an adventure to visit every brewery in Colorado and needed a page to simply park all my proof photos, and I was already running a number of beer-related Facebook groups.
So, beer has been a common thread in my life. I went to an ultra-strict private school in England from age three to ten. The only daily respite was PE time on the soccer pitches behind the school that were owned by Whitbread Brewery. For me, the smell of malt in the air became synonymous with fun and freedom. My father was a successful executive at Texas Instruments and worked / traveled constantly. My fondest memories of him during those childhood years were of going to the pub and having a shandy initially, and then graduating to half pints. It was a different time back then.
We moved to Texas in 1978, to a dearth of good beer options. By the time I was 14, I was homebrewing with my brother, primarily using extracts we would cart back from our trips to England. Charlie Papazian's original The Joy of Homebrewing came out in 1984 and that changed everything! Michael James Jackson's World Guide to Beer was given to me as a gift that same year and I couldn't stop looking at its pages in wonder. I dreamed of being a brewer, designing my own labels loosely fashioned after Whitbread beers.
My 16th birthday party involved 20 English beers (again, a different time back then), which began a bottle-collecting journey that topped 6,000 different beers (each personally consumed) by the time I finished college. This also spurred other brewerania collections including hundreds of steins, beer trays and signs… and thousands of bottle caps, labels and stickers.
My post-graduate work at The University of Texas at Austin involved a Master's Marketing Thesis on the changes going on in the UK Beer Industry. After graduating with my MBA, I then moved to Cambridgeshire, UK for a couple of years to take advantage of what I'd learned through my research. I opened up a large US-themed pub which was very craft-beer centric, with numerous taps and bottles of beers not readily available in the area. This also involved importing a number of new beers from Europe and Mexico. I was basically a beer pub owner and importer.
In 1995, I started one of the first beer-of-the-month clubs in America, which got me connected to many brewers during the golden age of craft beer exposure and expansion. I attended beer festivals almost weekly throughout the year and had samples arriving to me practically every day. I got to the point where I really felt "in the know" concerning the local and regional breweries who were doing something right.
This involvement eventually resulted in me becoming an owner in a production brewery in Wilmington, Delaware – the first post-prohibition brewery to open there. We eventually had distribution into seven states and also did contract brews for a number of clients. Although I was in charge of marketing, I frequently helped out in the brewhouse and don't wish to ever scoop out spent grains ever again. Sam Calagione opened up Dogfish Head very shortly after us (the same month, actually) and, admittedly, I liked his beers better.
I now channel my love for craft beer into the beer Facebook groups and travels to various breweries and taprooms around the country. I am also in the planning stages for a 100+ taphouse in Castle Rock.
When and what was the first Colorado brewery that you remember visiting?
I've lived in Colorado for 21 years now, but first started visiting the state over 30 years ago – initially to see my Texas Longhorns play the Colorado Buffs at Folsom Field in 1989. We lost that game pretty badly, but I absolutely loved that trip because, in part, it included taking the tour at the Coors brewery in Golden, plus multiple visits to the truly remarkable and ahead-of-its-time Boulder Liquor Mart to grab bombers and 12oz singles of craft beer. My first Colorado craft beer was from Boulder Beer Co in the mid 80's, but my first visit to an actual Colorado craft brewery wasn't until 1991 – the (now closed) Walnut Brewery in Boulder. That was quickly followed by a stop at Wynkoop Brewing in Denver. Boulder was also the home of my principal investor in the beer-of-the-month club I started in 1995 (The North American Beer Odyssey), so multiple visits followed with a focus on the burgeoning craft beer scene in Boulder and Denver. 1995 was also my first GABF, which totally blew my mind. Hard to think that was over 25 years ago now.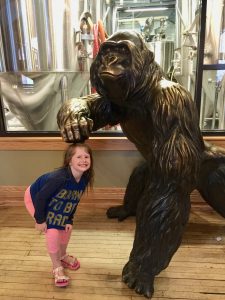 When and where did you accomplish the status of having visited every Colorado brewery?
I expanded the brewery quest to also include brewery taprooms and restaurants (including all the BJ's, Rock Bottom, Post Brewing, Oskar Blues, etc.) and contracted-brew locations. I guess I wanted a deeper and broader understanding of the whole Colorado craft-brewing scene and didn't want to do anything in half measures. Therefore, "every Colorado brewery" meant 467 stops in total for me, which includes those that closed or moved into a new location during the journey. I wanted to make sure that my last stop, though, was a true brewery that crafted their own recipes on site. Although Strawberry White Chocolate Truffle Raisin Cheesecake Sour IPA's have their place, and I certainly don't judge people who drink them, I wanted to also end with a brewery that is doing what I love best – traditional styles done right! That brewery was Fritz Family Brewers in Niwot, this past Saturday, Jan 15th. That was almost ten days before my deadline of Jan 24th to hit all Colorado breweries (whether visited before or not) within an 18-month period.  I was joined there by my friend AJ Murray who was with me for over 30 stops, including #1, #100, #365 and the finish line #467.
What are some of your favorite memories of your quest?
When you consider a whirlwind 18-month quest that zig-zagged all over Colorado, there are simply too many great memories. I'm still processing them all. I tried to make the milestone stops have more special meaning, though. Peculier Ales in Windsor was stop #100 shortly after they opened and I loved hanging with founder/brewer Nick Armitage during that time, sharing in the excitement of the new venture and his incredible beers. Paradox Beer Co in Divide was stop #150 and it was great to just spend a couple of hours drinking beers and eating tacos with Jeffrey Airman. Howlin Wind Brewing & Blending in Rollinsville was stop #365 to close out the "365 Breweries in 365 Days" challenge. Owners, Zach Delashmit and Melissa Nicholson, were on hand to celebrate with me, along with some dear friends and family. We drove to that one in my son's Jeep with top down, the wind howling through us the whole time. Seemed appropriate.
I guess the favorite memories all involved people and the meeting of goals, but I'd be remiss if I didn't also mention the amazing diversity of the Colorado scenery. Whether it was Independence Pass, the Black Canyon and Blue Mesa Reservoir through Gunnison National Park, Glenwood Canyon, the Alpine Loop, Flat Tops Trail, or driving through the San Juan Mountains, I was constantly in awe of my adopted home state. In fact, I fell in love with Colorado all over again as I traveled her byways and highways to hit every brewery.
What are your favorite styles of beer and your top breweries in the state of Colorado in terms of your beer taste?
Although I left when I was ten years old, I'm originally from England (with Scottish and Irish grandparents), and all my relatives are still there in the UK. I also went back in the early 90's and opened up a pub in Cambridgeshire – with far more taps and bottled-beer options than was the custom back then. In the mid-90's, I was also an owner/operator in a brewery in Delaware that focused on English-style ales. Good English cask-conditioned Bitters / ESB's, served using a beer engine (hand pump) at cellar temperature, are therefore a nostalgic reference for me – taking me back to the motherland with each sip. Hogshead Brewery in Denver is an obvious favorite and I'm lamenting the recent loss of McClellan's Brewing in Fort Collins.
For traditional German and Czech-style lagers, it's hard to beat Denver's Bierstadt Lagerhaus and newly-opened Cohesion Brewing… although I'm also a sucker for Zwei Brewing in Fort Collins and a few other breweries doing exceptional examples as part of a broader product line.
Given my background, it took me a little while to accept New England IPA's as nothing more than a fad deviation, but now I absolutely love them. My go-to's there probably aren't very surprising – Outer Range Brewing in Frisco (we ordered a flight of ALL 23 beers when I was last there), Knotted Root in Nederland, Odd13 Brewing in Lafayette, and WeldWerks Brewing in Greeley.
As far as other styles go, Colorado has a plethora of breweries knocking them out of the park. Colorado has a steep bell curve with many breweries doing a really great job, with a few outliers on the bottom end and a few (ok, maybe more than a few) absolutely world-class breweries on the upper end. We are spoiled, to say the least. Given this large number of great breweries doing a very satisfying job with core styles, I have to say this adventure really made the barrel-aged guys stand out for me, especially at the Belgian / Farmhouse-style end of the spectrum. Black Project Spontaneous & Wild Ales, Burns Family Artisan Ales, Casey Brewing & Blending, Cellar West Artisan Ales, Chrysalis Barrel Aged Beer, Crooked Stave, Jessup Farm Barrel House, Local Relic Artisan Ales, Primitive Beer, Purpose Brewing & Cellars, TRVE Brewing, Verboten Brewing, and Wild Provisions Beer Project, just to name a few! I'm definitely unintentionally leaving a few out. Colorado really shines in this area.
And I have to say that Woods Boss Brewing in Denver is definitely one of my favorite all-around breweries.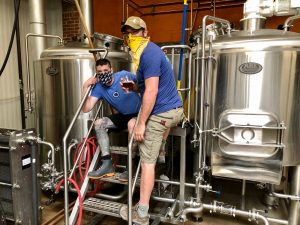 The other thing that really became a point of joy for me on this journey was the exploration of the additional ethnic takes on craft beer. Raices Brewing, Cheluna Brewing, Dos Luces, and Cerveceria Colorado all expanded my perceptions of Latino beer; Spice Trade Brewing definitely scratched my itch for South-Asian flavors; Wah Gwaan Brewing had me wanting to book a flight to the Caribbean; Jade Mountain Brewing was very surprising – an utter South China delight. Breweries like these put the color in Colorado and truly expand what makes Colorado beer so great.
What are some of your favorite destination Colorado breweries?
Well, a "destination" brewery could be a world-class one in an industrial area. You specifically go to them because of the beer, not necessarily the location. But true destination breweries for me personally include that broader experience – a revered barrel house isolated in the mountains; a great brewery sitting on a sprawling lake; a perennial favorite located in a ski town. I could mention too many at this point, too many that I'd like to visit again as a specific destination, but a few that immediately come to mind are Chrysalis Barrel Aged Beer in Paonia, Cabin Creek in Georgetown, Elevation Beer Co in Poncha Springs, Paradox Beer Co in Divide, Outer Range Brewing in Frisco, and Casey Brewing and Blending in Glenwood Springs. Give me a scenic drive. Give me an adventure. Give me great beer.
What is your favorite hang-out brewery?  (Where are folks most likely to run into you?)
Besides being the admin for the "Colorado Beers & Breweries" group on Facebook, I also manage the "Castle Rock CO Breweries" group. Interestingly (to me, anyway), is that I choose Castle Rock as a place to live in 2001 because it had two breweries at the time – Rockyard Brewing and Jarre Creek Ranch Brewery (now defunct). As a town of almost 75,000 now, we definitely have more than our fair share with six craft breweries and one craft meadery. There are also some more breweries-in-planning slated for the area. I tend to hang out at most of the Castle Rock breweries, to spread the love and support. But if I were to pick one as my local it'd definitely be 105 West Brewing. I wasn't there on opening day, but I dropped in during opening week. Six years later, it feels how your local pub should feel – a place where you can always find a friend, a familiar face, and a listening ear.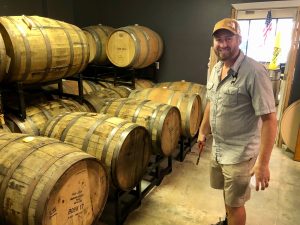 What was your record number of breweries in a day or weekend?
Because I live in Castle Rock, which is very conveniently situated between Denver and Colorado Springs, it was very easy for me to hit that corridor over and over again without overdoing it on any one day. I've lost count of how many times I headed north or south, frequently on successive days, to visit just a couple of breweries. I also have the great advantage of being able to work from anywhere, so I had the flexibility to space things out over days people are normally restricted by work schedules. Sometimes I got pretty far behind in posting my Colorado Beer Guy proof albums on Facebook, though, so it'd look like I hit 30 breweries in one day. Ha!
There were three separate days where I did ten visits in one day, typically over 12 hours from an 11am opening to a 11pm closing. One was of course the RiNo District in Denver with all those excellent breweries within walking distance of each other. My wife Lisa was the designated driver, as she was on many of my trips, but enjoyed bouncing between all of them with me. She was treated with a stop at the Stem Ciders taproom also. Another time was a loop starting at Loveland Pass, from a morning drop in at Steep Brewing in Keystone and on to the all Silverthorne, Frisco and Breckrenridge-area breweries, before returning by 285 to visit breweries in Fairplay and Bailey. My buddy Jonathan and his son joined me for that trip and he hired a driver for us for the day. We ordered a flight of every beer on the menu at each stop! A third time was in the Boulder area, where my love for Colorado beer first began. My 18-year-old son Caleb was checking out CU Boulder so we took a family trip where I took advantage of him driving to reach ten once again. Granted, the family was really sick of visiting breweries by the end of the day, but we had a lot of fun together. I got pretty close on some other days also with Caleb visiting CSU and Fort Collins twice, the School of Mines in Golden, and with him driving back from GCU in Phoenix, entering Colorado through the Four Corners.
The thing to note here is that this isn't Ireland's "Twelve Pubs of Christmas" where you try to down a pint at 12 successive stops. If that's you, this quest isn't for you. Rather, it's journey of exploration and moderation. Besides using designated drivers, Uber and Lyft, allowing an hour for each stop, and consuming plenty of water and food along the way, I typically ordered flights and told the beertender beforehand, "Please don't judge me if I only drink all these halfway down. I'm on a mission and have a few more stops today." As a craft beer geek, it's painful to leave beer on the table, but you also have to be responsible when doing an undertaking like this, plus you want to keep your taste buds and senses sharp to truly appreciate each visit.
What advice would you offer others trying to become a Colorado Brewery Master?
For aspiring Colorado Brewery Masters, my primary advice sounds a little trite, but true – just enjoy the journey! Don't get too caught up in the spreadsheets and logistics (although these are pretty necessary to avoid delays and disappointment.) Focus on simply taking it all in – every detail and every moment. Collect experiences. Collect memories. Talk to people. Make new friends. Enjoy the views along the way.
Try as many beers as possible, no matter how you feel about flights and tasters. How else will you be able to determine the full flavor of any one brewery? Over the past 18-months, my 467 visits in Colorado, and almost 100 visits in other states, has resulted in trying over 2,400 different beers. Quite frankly, that count is as satisfying to me as the overall brewery count. It has really deepened my knowledge of the variations within styles. That education has been priceless to me.
Logistically, don't trust posted opening days and hours, so call in advance as you plan out your trips. If a brewery is closed on your way through a specific area, don't be afraid to call and ask the owner / brewer if you can drop in regardless, because there's a pretty darn good chance they're there anyway. Most are very sympathetic to our quest and are eager to welcome us in. If you miss one because they're closed, don't worry. Expect to have to do a fair amount of backtracking anyway as new breweries open. It's not as easy as hitting Denver first, then COS, then Grand Junction. You'll probably be covering a fair amount of the same territory more than once, no matter how well you plan it out beforehand.
When visiting a brewery, don't hesitate to share what you're doing and to ask to meet the brewer or owner – to see the brewhouse and hear the stories. Many are more-than-happy to chat with you and this further enhances the overall experience. Sit at the bar for the same reason. Ask. Learn.
Oh, and another small thing – If/when posting proof photos of you with a beer at each location, don't have it default to being the photo album cover. Nobody wants to see your face 467 times when scrolling through your albums. Lesson learned. Ha!
Try to work breweries into family day trips, instead of simply going down the list. For us, family trips to Steamboat, Beaver Creek, Winter Park, Grand Lake, Estes Park, Georgetown, Old Town Fort Collins, and many others, meant I could visit breweries in the midst of stops into historic buildings, cafes, antique shops, and craft stores. Plus it meant I had a designated driver!
For planning and logistics, Colorado Brewery List is an absolute must! Quite frankly, there is no way I could have completed this task with confidence without that amazing resource. It's far more accurate than Google searches or industry trade group lists. Hats off to Stephen Adams (Colorado Beer Geek) and the rest of the team for putting it all together and staying on top of it. They now have a new version where you can check into each brewery and give breweries an overall rating as well as specific ratings according to their beer, food, service, atmosphere. There is also a section to add notes. I gave up on Untappd quite a while ago and this is a much better resource if you're looking to complete many or all Colorado breweries. I only wish the new version was available when I first started!
[Author's note:  As of the publication of this article we haven't yet publicly announced Colorado Brewery List version 2.0.  We've done a soft release and let some beer geeks know about it along with letting folks find it naturally while we work out a few final kinks.  However, since Paul let the cat out of the bag, let me tell you a little bit about it.  The major feature with CBL v2.0 is that, after creating an account on CBL, you will be able to check into breweries and rate them as Paul described (for personal use; ratings are not publicly shared).  After doing this, the map icons will change to show which breweries you have checked into as visited and which ones you still need to visit.  Expect a public announcement with even more information about this soon.  A huge thank you to Dave Sorenson for all of your hard work on this version!]
What's Next for the Colorado Beer Guy?
There's a couple of more folks getting ready to cross the finish line to become a Colorado Brewery Master. I'd like to be there when they do, plus have the chance to meet more of the current people who have achieved the task. Beyond that, my plan is to stay current with all the new breweries expected to open. Colorado Brewery List is where you go for that info also. I'm also close to completing CBL's cidery and meadery categories… so on to the next adventure!
Paul, thank you very much for all of this wonderful information about you, your thoughts on the brewery jewels of Colorado, (plus all the pictures you provided) and advice to future Colorado Brewery Masters.  It has been a pleasure to follow your quest!
Are there any other Colorado Brewery Masters out there that I have missed?  If you have been to every Colorado brewery or are close to doing so, I would love to hear from you!  Do you want to learn more about the other Colorado Brewery Masters?  Check out this CBM blog page which has all of the articles about us, (except me but you can read a bit about my initial quest here).
Better yet!  Do you want to meet Paul (I sure do!) and many more of the Colorado Brewery Masters?  Stay tuned to my Colorado Beer Geek Facebook page for more information about an upcoming "Meet the Masters" event!  (Spoiler Alert:  Feb 3rd at 6pm at Woods Boss Brewing)