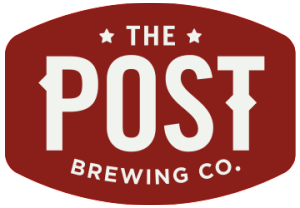 Brewery Details
105 W Emma St.
Lafayette, CO 80026
303-593-2066
www.postbrewing.com
Hours:
Mon-Thurs: 4:00pm-9:00pm :: Fri-Sat: 11:00am-10:00pm :: Sun: 9:00am-9:00pm
Visitors:
Private Tastings Available
,
Visitors Welcome
Tours:
On Request
Food:
Breakfast / Brunch
,
Full Service Restaurant
,
Gluten Free Food
,
Southern Fare
Other drinks:
Coffee
,
Full bar
,
Guest Beers
,
Hard Cider
,
Non-alcoholic
,
Wine
Beer to go:
Bottles or cans
,
Growlers
,
Kegs
Merchandise:
Beanies
,
Bottle openers
,
Coasters
,
Gift Cards
,
Glassware
,
Hats
,
Hoodies
,
Koozies
,
Mugs
,
Shirts
,
Stickers
Parking:
Parking Lot
,
Street Parking
Dog Friendly?
No Dogs Allowed
Outdoor seating/Patio:
Yes
Opening Date:
January 9, 2014
Description
The Post Brewing Company brews beers that are gosh darn delicious, memorable, and something you will want to put in your mouth repeatedly. Our beers have been purposefully designed to pair perfectly with your meal. Our kitchen, run by Chef Brett Smith, serves you delicious comfort food cooked with the love of your grandma and the skill of passionately trained chefs that is meant to be shared like a family supper. Featured by Guy Fieri on Food Network's Diners Drive-Ins & Dives, our bird is better than the rest–humanely raised, all natural chickens are brined for hours, dipped in buttermilk, seasoned with gluten-free flour, and then fried to crispy golden perfection, just like your grammy used to make.
The Post also has a second brewing location in Boulder along with multiple non-brewing restaurant locations.
Beers Brewed by The Post Brewing Company
This list includes beers brewed currently, previously, or seasonally by The Post Brewing Company. Contact the brewery for current beer availability.
| Name | Style | ABV | Availability |
| --- | --- | --- | --- |
| Full Circle | American Wheat Ale | 5.0 | Seasonal |
| Otter Pop | American Pale Ale | 4.3 | Rotating |
| GSD | American Pale Ale | 3.5 | Year-Round |
| #KnowFilter | New England IPA | 6.6 | Year-Round |
| Backyard Saison | Saison / Farmhouse Ale | 5.6 | Seasonal |
| Ski Tan | American Amber / Red Lager | 5.4 | Rotating |
| Dry Stout | Irish Dry Stout | 4.9 | Rotating |
| Summer Teath | American IPA | 4.1 | Seasonal |
| Prost To Post | Baltic Porter | 8.5 | Rotating |
| Sip-N-Rotate | American IPA | 6.8 | Rotating |
| Abbey Dubbel | Belgian Dubbel | 7.0 | Rotating |
| Tripel | Belgian Tripel | 9.0 | Rotating |
| Lil' Buddy | English Bitter | 3.5 | Rotating |
| Right Side IPL | American Pale Lager | 5.6 | Rotating |
| The Town Tart | American Wild Ale | 4.2 | Rotating |
| Extra Special Buddy | Extra Special / Strong Bitter (ESB) | 5.7 | Rotating |
| Wet Hop Ale | Wet Hop Beer | 6.2 | Seasonal |
| Weizenbock | Weizenbock | 7.3 | Rotating |
| Imperial Stout | American Double / Imperial Stout | 9.2 | Rotating |
| Happy Times | American Malt Liquor | 6.8 | Rotating |
| The Schwartz Awakens | Schwarzbier (black beer) | 5.3 | Special Release |
| Birra Vintastica | Specialty Beer | 8.6 | Special Release |
| Rooster Cruiser | American Double / Imperial IPA | 8.8 | Year-Round |
| El Corn Lager | American Amber / Red Lager | 5.5 | Rotating |
| Achtertuin Seizoen | Saison / Farmhouse Ale | 5.6 | Seasonal |
| Cul-de-sac | Oatmeal Stout | 6.0 | Seasonal |
| Baseline Ultra | American IPA | 4.5 | Rotating |
| Berliner Weiss | Berliner Weissbier | 3 | Special Release |
| Friendly Neighbor | Dark American Lager | 7.8 | Special Release |
| Large Marge | American Double / Imperial IPA | 9 | Rotating |
| Èfite | Saison / Farmhouse Ale | 6 | Special Release |
| Bulky Oxen | English Barley Wine | 7.4 | Seasonal |
| LuYu | Golden or Blonde Ale | 5.2 | Rotating |
| 1771 IPA | American IPA | 7.3 | Year-Round |
| Best Buddy | Special / Best Bitter | 4.7 | Rotating |
| Fodor Lager | Rye Beer, Standard American Lager | 5.5 | Rotating |
| East County Brown | American Brown Ale | 6.0 | Rotating |
| Top Rope | Mexican Lager | 5.0 | Rotating |
| Right Side Amber | American Amber Ale / Red Ale | 5.6 | Year-Round |
| Townie Ale | English IPA | 6.2 | Year-Round |
| Howdy Beer | Classic American Pilsener | 4.5 | Year-Round |
| Emersum Oyster | American Stout | 4 | Rotating |
| Big Rosie | American Porter | 6.8 | Rotating |
| Wet Panda | American Amber Ale / Red Ale, Wet Hop Beer | 7.8 | Seasonal |
| Meathooks | English Mild | 4.1 | Year-Round |
| Lovey Dovey | Biere de Garde | 6.9 | Rotating |
| Domestic Pils | Classic American Pilsener | 5 | Year-Round |
| Ol' Zippy | American Pale Ale | 5.0 | Year-Round |