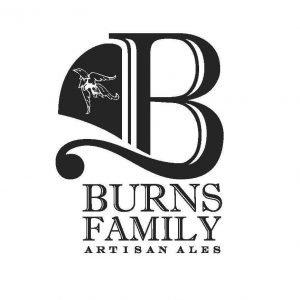 Description
Burns Family Artisan Ales is "A celebration of brewing history, style, invention and skill; in a glass." The company runs on the power of kinship and identity, drawn from inherited relationships of time-honored tradition and ones of newly-forged expectancy. We think these relationships generate celebrations, where high-quality, specialty beer can be a focal point.
Founded by Wayne Burns and Laura Worley, Burns Family Artisan Ales' hallmarks are high gravity beers at and well over 10% ABV. They are to be bottled "to go" and for distribution, and will occupy roughly half of the taps in the taproom. Designed to be consumed in company, at celebrations and when the occasion calls for relaxing with a "sipping" beer, Burns Family Artisan Ales' high ABV beers mature with time. Quaffable beers between 3.5% and 10% alcohol by volume [ABV] are to fill out the rest of our taps. Using techniques developed over 25 years professionally brewing, High-Octane Wayne's brews are set to advance the current perception of venerable beer while growing an under-represented niche of the craft beer marketplace.
They will take over the location previously occupied by Wit's End and open their own operation in 2018.
Burns Family Artisan Ales Set to Open in Denver by PorchDrinking.com – 17 Aug 18
Previously, Wayne was the head brewer at Holidaily Brewing Company – Holidaily press release
Beers Brewed by Burns Family Artisan Ales
This list includes beers brewed currently, previously, or seasonally by Burns Family Artisan Ales. Contact the brewery for current beer availability.
| Name | Style | ABV | Availability |
| --- | --- | --- | --- |
| Carouse | American Barley Wine, Wood / Barrel Aged Beer | 16.7 | Rotating |
| Bumblebee Feet | Braggot (barley Mead) | 16.2 | Rotating |
| Auld Lang Syne | English Barley Wine, Wood / Barrel Aged Beer | 16.5 | Rotating |
| Stolen Kiss | American Brown Ale, Other Imperial Beer, Wood / Barrel Aged Beer | 14.5 | Rotating |
| 23 Karat | Russian Imperial Stout, Wood / Barrel Aged Beer | 14.2 | Rotating |
| Ship of Theseus | Old Ale | 11.5 | Rotating |
| Old Norway/New England | American Double / Imperial IPA, New England IPA | 12.5 | Special Release |
| Quad CBC Collab | Belgian Quadrupel Ale | 11.0 | Rotating |
| Show, Don't Tell | Belgian Tripel | 9.9 | Rotating |
| Last Cry | American IPA | 6.7 | Rotating |
| Mr. Bloom | Foreign Export Stout | 7.2 | Rotating |
| Isch Han Disch Jan | Altbier | 5.6 | Rotating |
| Ponytail Blonde | Golden or Blonde Ale | 5.2 | Rotating |
| Bacchanal | American Barley Wine | 12 | Rotating |
| Santhrax | Brut IPA | 7.0 | Rotating |
| Tourist Economy | New England IPA | 7.1 | Rotating |
| Thunder Kolsch | Kölsch, Other Imperial Beer | 9.3 | Rotating |