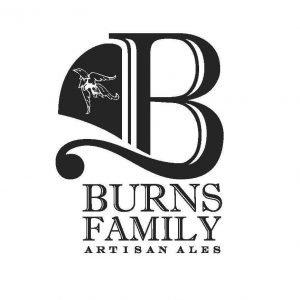 Description
A professional brewer since 1991, Wayne Burns is also a graduate of two professional brewing schools: Siebel Institute (1994) and Doemens Academie (1998.) His excellent research and development work early earned him the moniker "Big-Beer King."  Wayne is a specialist in crafting delicious, cellarable 10%-22% alcohol by volume [ABV] beers and wildly appreciated, award-winning lower-ABV offerings.
Burns Family Artisan Ales' High-Octane Wayne Burns and partner Laura Worley, a chef, brewer, and seasoned entrepreneur, welcome you to the Burns family, where artisan ales are created with passion, care, and respect.
Our beers are a celebration of brewing history, style, invention and skill; in a glass.
Tackling experimental, new, traditional and revival styles with a professional approach, we create experiences. Our beers are designed to be delicious fresh from our tanks and with maturation. We belong at the family picnic as well as your fine dining table. Our expectations and standards are high. Your own journey into the appreciation of excellently crafted beer should be no less. Let us be your companion; you too can celebrate our Denver-home Mile-High heights in beer appreciation.
Burns Family also has a Taphouse on South Broadway
Beers Brewed by Burns Family Artisan Ales BarrelHouse
This list includes beers brewed currently, previously, or seasonally by Burns Family Artisan Ales BarrelHouse. Contact the brewery for current beer availability.
| Name | Style | ABV | Availability |
| --- | --- | --- | --- |
| Carouse | American Barley Wine, Wood / Barrel Aged Beer | 16.7 | Rotating |
| Bumblebee Feet | Braggot (barley Mead) | 16.2 | Rotating |
| Auld Lang Syne | English Barley Wine, Wood / Barrel Aged Beer | 16.5 | Rotating |
| Stolen Kiss | American Brown Ale, Other Imperial Beer, Wood / Barrel Aged Beer | 14.5 | Rotating |
| 23 Karat | Russian Imperial Stout, Wood / Barrel Aged Beer | 14.2 | Rotating |
| Ship of Theseus | Old Ale | 11.5 | Rotating |
| Old Norway/New England | American Double / Imperial IPA, New England IPA | 12.5 | Special Release |
| Quad CBC Collab | Belgian Quadrupel Ale | 11.0 | Rotating |
| Show, Don't Tell | Belgian Tripel | 9.9 | Rotating |
| Last Cry | American IPA | 6.7 | Rotating |
| Mr. Bloom | Foreign Export Stout | 7.2 | Rotating |
| Isch Han Disch Jan | Altbier | 5.6 | Rotating |
| Ponytail Blonde | Golden or Blonde Ale | 5.2 | Rotating |
| Bacchanal | American Barley Wine | 12 | Rotating |
| Santhrax | Brut IPA | 7.0 | Rotating |
| Tourist Economy | New England IPA | 7.1 | Rotating |
| Thunder Kolsch | Kölsch, Other Imperial Beer | 9.3 | Rotating |