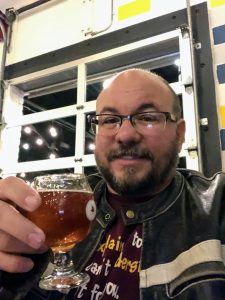 Congratulations to David Sorenson on completing the quest to visit every currently open Colorado brewery!  He has now earned the title of "Colorado Brewery Master," joining a very small group of beer enthusiasts who have also accomplished this feat.
As he will say later, I first met Dave years ago and we have enjoyed many beers together in that time.  I am very happy to welcome him to the Colorado Brewery Master family and, as I have done previously with the other Masters, I was happy to ask him some questions about his journey…
Who is Dave Sorenson?  (Tell us a bit about yourself.)
I'm originally from SoCal – I grew up near LA and then lived for 12 years in San Diego. I had a roommate who had spent time in Germany in the Army who introduced me to the idea that there was other beer besides Miller and Bud, and we started buying whatever we could find to do beer reviews on. We originally planned to make a website about it, but we ended up spending more time drinking than coding so nothing came out of it, other than a love of various styles of beer. In 2002 I moved to Michigan where I lived for 17 years. During that time, I visited over 270 of the nearly 300 breweries in the state. I was trying to get to all of them, but then in 2017 my wife and I had a baby and we moved to Colorado to be closer to family. I was frustrated to lose my progress in Michigan, but excited to start tackling Colorado. After looking at my records, I realized I had already been to 47 which gave me a nice little jumpstart. When I'm not drinking beer and visiting breweries, I'm having fun with my wife and my 6-year-old daughter or leading a team of developers in my day job. I'm also a diehard Rapids fan, so you can catch me at most of the home games!
Another fun thing I do is development for the Colorado Brewery List. I met Ryan and Ashley (founders of CBL) in line for the very first WeldWerks Invitational Beer Festival. We were in line directly behind them and, after noticing their CBL t-shirts, I struck up a conversation to talk about how awesome the site was and that I was using it to track all the places I wanted to visit. After using the site so much and getting to know the team, I decided I'd like to give something back and volunteered to help out. One of the features I'm most proud of was the addition of brewery check-ins. It was really nice as I worked through the end of the quest to be able to visualize on the map what places I had left to go.
Without question, my favorite style is the West Coast IPA. I'm also very partial to fruited sours and barrel aged stouts. My top five Colorado breweries, in no particular order, are:
Three things…
Second, make detailed plans but be prepared to be flexible. There were a few times where a multi-stop day became a stop shorter because we met some great new friends at a brewery and blew past the time I'd allocated for that stop. Since it's really about the journey for this, you should always prioritize fun over hitting the exact set of locations.
Third, be prepared to be frustrated a lot. Not only are hours not always followed, but some places are only open on certain days and certain times which can make planning a visit a challenge if there are multiple locations to visit. In addition, as new places open you'll find yourself having to drive hours to hit a single brewery or watching your percent completed go in the wrong direction. I swear I was at 90% for the longest time ever. I'd knock a couple places off at far flung cities only to find two new ones opening up that same week. It's frustrating, but I really felt like I got to know the state pretty well driving all over the place.
Congratulations again to Dave for finishing "The Quest."  It has been a pleasure working with you on the Colorado Brewery List team.  Your help with CBL has been outstanding!
Are there any other Colorado Brewery Masters out there that I have missed?  If you have been to every Colorado brewery or are close to doing so, I would love to hear from you!
Do you want to learn more about the other Colorado Brewery Masters?  Check out this CBM blog page which has all of the articles about us, (except me but you can read a bit about my initial quest here).