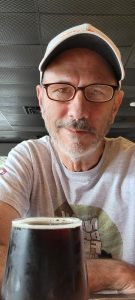 Congratulations to Liam O'Beirne on completing the quest to visit every currently open Colorado brewery!  He has now earned the title of "Colorado Brewery Master," joining a very small group of beer enthusiasts who have also accomplished this feat.
As I have done previously with the other Masters, I was happy to ask him some questions about his journey…
Who is Liam O'Breine?  (Tell us a bit about yourself.)  
I grew up in New Mexico and then went to Northwestern University in Evanston, IL as a music major, way back in the seventies. I was never much of a beer drinker back then because, well what was available was, by my tastes, pretty horrible. In the early 80s, I lived in Cincinnati for a few years. Across the street from where I worked, there was a little wine store. Back in the corner, there was a small fridge that housed some international beers, and I found a dusty bottle or two of Samuel Smith's Taddy Porter. I discovered that I like beer!
I've had a bunch of different jobs over the years but finally settled in, for the last 22 years, at a Lockheed Martin. Through all of that, I've always been a musician, playing classical, jazz and now, for over 13 years, running the Celtic rock band, Indigent Row. Playing at breweries was always part of the plan for the band and we've played at a lot.
I live in Firestone, CO with my amazing wife Alice Vienneau, with our two cats, Seamus & Whiskey, and our little dog Meabh.
When and what was the first Colorado brewery that you remember visiting?
This is an easy one. I moved to Boulder to go to graduate school for music composition and French Horn (or just the horn as it's called officially cuz it ain't French). Within a week, I found out about this cool little hangout on Wilderness Place in Boulder and if I took the free tour, I got a free beer! I was hooked! I did the tour a lot of times. The second brewery? I'm pretty sure it was Oasis as I remember the night it opened. It was pouring down rain and the line ran around the corner with people waiting to get in. I waited until the next day. Then probably Avery back in the days that you could go to the old hidden location off Arapahoe and drink beer for free. Those were the days!
When and where did you accomplish the status of having visited every Colorado brewery?
Sunday, July 3rd at Hello Brewing in Fort Collins. My plan had been to finish up at the Colorado Boy Depot in Ridgeway, but midway through the final run, three breweries opened and somehow, with a car that was dying as I pulled my little teardrop camper, I managed to cover the ground from way south at Mountain Merman in La Veta, to Father & Sons Tap & Brewery in Colorado Springs, to Hello Brew Co. in Fort Collins. I was VERY tired at the end of that trip which had started eleven days earlier.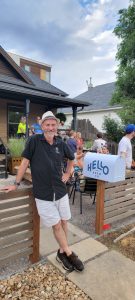 What are some of your favorite memories of your quest?
This is a hard question because it has been a very slow roll over almost 40 years. Somewhere around 2004, I came across the Colorado Brewers Guild list and so, like any good nerd, I created a spreadsheet. Then came Fermentedly Challenged and finally, my beer bible, the Colorado Brewery List made keeping track of all of this possible.
Some moments? In 2011, I visited Copper Kettle Brewing, which was my 100th in Colorado. I decided to try the Mexican Chocolate Stout thing that they had. I proclaimed to Jeremy (owner and brewer) that this was "the strangest beer I had ever loved". He insisted I cross the street to the 7-Eleven and purchase and ice cream sandwich while he brought me a second small glass of the beer. The plan? Dip the ice cream sandwich in the beer. It was delicious!
My favorite trip to any brewery was without question, to West Flanders in Boulder where I met Alice Vienneau on our first date. Yup, that was a good one. We would go back every year on April 11th while they were still open, even during the pandemic, picking up food and beer in the alley behind the restaurant. We will miss that annual ritual more than you know.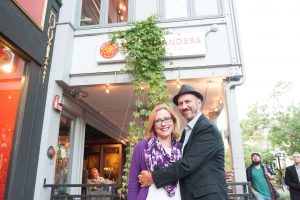 What are your favorite styles of beer and your top breweries in the state of Colorado in terms of your beer taste?
I'm a lover of big stouts and Belgian beers and if you put it in a barrel, it's even better. Burns Family Artisan Ales and River North are at the top of my list. I don't get to Launch Pad enough but now that the quest is done (okay, it's never done), I'm looking forward to getting back there. Avery Brewing is 841 steps (according to my Fitbit) from my office in Boulder so that gets love from me too and they certainly are good at making big barrel aged beers.
[Author's note:  Wow!  I didn't realize how much we had in common!  Not only do we share the same favorite breweries, but we actually worked in the same building for a few years.  It's amazing that we haven't actually met in person yet.  LOL]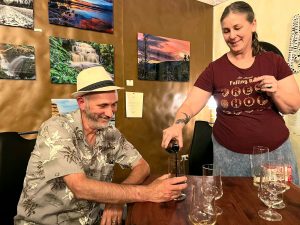 What are some of your favorite destination Colorado breweries?
Colorado is a big state and there is great beer made all around.  It's really hard to pick favorites but I'll try. Traveling into the mountains, a pause at Elevation Beer Company is a must stop and, on a cold, cold night last February, I had some delicious beers at Tres Litros, in Salida. I left really impressed. The lineup at Telluride Brewing was fantastic last month, and they always seem to be solid. Copper Club was a new visit for me on my final tour and I really enjoyed a couple of their beers. Not so far afield, and it's been too long since I was there, give Avant Garde a try in Estes Park. Yeah, I know I left some folks off, but that means I just need to visit again.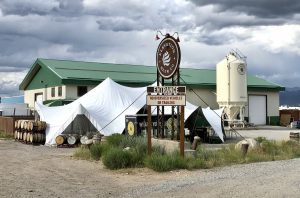 What are some of your favorite spots outside Colorado?
I used to travel to Los Angeles a lot and I found some real favorites in that area. The Bruery, not far from where my sister lives, is truly a favorite. Their tap lineup, especially around the holidays is always exceptional. The Lost Abbey/Port location in San Marcos is not to be missed and I have a special place in my heart for Three Weavers near LAX as I always made them a first or last stop on any trip.
Pelican Brewing in Pacific City may have some of the most spectacular views you'll ever find but oddly, I don't really remember the beer. It was Memorial Day weekend, and the place was mobbed. I need to go back if nothing other than the views. Oh, and I'll be in New York next month so Evil Twin is gonna get a visit!
Outside the US? De Halve Maan (Half Moon) in Bruges and Mikkeller in Copenhagen.
What is your favorite hang-out brewery? (Where are folks most likely to run into you?)
I'll need to reestablish where I'm hanging out now that I'm not on the quest. Burns and River North are still my favorites, but they aren't terribly close. None the less, they will remain my happy places and you will find me there as often as any place. I will certainly spend some time at Avery again because great beer and proximity but I'm really hoping to go back and visit some places that I just haven't had time to stop by in a while. It's a pretty long list.
What advice would you offer others trying to become a Colorado Brewery Master?
If you're doing a mountain tour which includes a lot of breweries, which you will inevitably have to do, be sure to pay close attention to opening and closing times. Have a good list with you and follow up with the breweries right before your trip. Those times vary wildly and change seasonally so you'll need to be on top of it. Also, don't be afraid to order just one or two small pours. I did seven breweries in a day and the 4 oz pour kept me sober and out of prison!
Welcome Liam to the ranks of the Colorado Brewery Masters!  I very much look forward to meeting you in person and sharing a beer or three while swapping stories of our journey.
Are there any other Colorado Brewery Masters out there that I have missed?  If you have been to every Colorado brewery or are close to doing so, I would love to hear from you!  Do you want to learn more about the other Colorado Brewery Masters?  Check out this CBM blog page which has all of the articles about us, (except me but you can read a bit about my initial quest here).