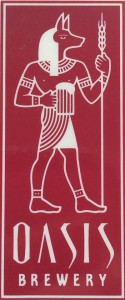 Description
Oasis Brewery was founded in 1991 By George Hanna and his wife Lynne, and opened the Oasis Brewer Pub in Boulder CO. Oasis Brewery quickly became one of Colorado's biggest producing and award winning breweries. By 1995 they made plans to open a state of the art facility and in 1997 opened the Oasis Annex a 12,000 square foot facility also located in Boulder. Between the two locations they had 22,000 square feet of brewing mania. The late 1990's and into the 2000's saw micro beer sales take a downturn and decided that it was time to move on. During the time they were open Oasis was proud to have served tens of thousands of beer and food lovers and developed a loyal following, of which many have waited for the return.
The Oasis was, and still is dedicated to produce fresh, full bodied beers for all levels of beer connoisseurs.
Former Boulder brewery, Oasis, rises again in Denver by Daily Camera – 9 Oct 2017
Boulder brewery Oasis to reopen in former Denver church by Denver Post – 10 Oct 2017
Beers Brewed by Oasis Brewing Company
This list includes beers brewed currently, previously, or seasonally by Oasis Brewing Company. Contact the brewery for current beer availability.
| Name | Style | ABV | Availability |
| --- | --- | --- | --- |
| Zoser Stout | Oatmeal Stout | 7.5 | Year-Round |
| Capstone E.S.B. | Extra Special / Strong Bitter (ESB) | 6.7 | Year-Round |
| Tut Brown Ale | American Brown Ale | 5.8 | Year-Round |
| Pale Ale | American Pale Ale | 5.6 | Year-Round |
| Scarab Red | American Amber Ale / Red Ale | 5.5 | Year-Round |