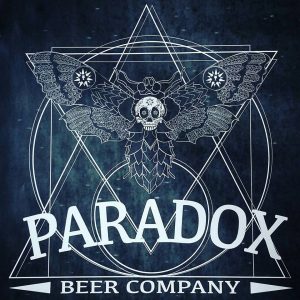 Description
With their brew- and barrel-houses in Divide, a tiny town about 30 minutes west of Colorado Springs, Paradox focuses on barrel-aged wild and sour beers. Their motto is "wayward beers, barrel bound" and they follow the ethos of Passion + Palate + Patience = Paradox. 2021 saw a couple of big changes for Paradox with departure of longtime head brewer Jeff Airman, but with change comes opportunity, and opening their Paradox Trinidad Outpost fills a craft beer void in that thriving, southern Colorado community.
Beers Brewed by Paradox Beer Company
This list includes beers brewed currently, previously, or seasonally by Paradox Beer Company. Contact the brewery for current beer availability.
| Name | Style | ABV | Availability |
| --- | --- | --- | --- |
| Skully Barrel No. 4 | Sour Ale, Wood / Barrel Aged Beer | 7 | Special Release |
| Skully Barrel No. 2 | American Stout, American Wild Ale, Wood / Barrel Aged Beer | | Special Release |
| Skully Barrel No. 1 | Fruit Lambic, Wood / Barrel Aged Beer | 8 | Special Release |
| Whiskey Barrel Hell For Stout | American Stout, Wood / Barrel Aged Beer | | Special Release |
| Hell For Stout | American Stout, Wood / Barrel Aged Beer | | Year-Round |
| The Trapper | Belgian Dark Strong Ale, Wood / Barrel Aged Beer | | Year-Round |
| Self Esteem | American Amber Ale / Red Ale, Wood / Barrel Aged Beer | | Year-Round |
| Pepitas Grande | Pumpkin Beer | 6.5 | Seasonal |
| Candid Kaiser | American Pale Ale, Wood / Barrel Aged Beer | 6.5 | Year-Round |
| Bandeau Artiste | Strong Ale, Wood / Barrel Aged Beer | | Seasonal |