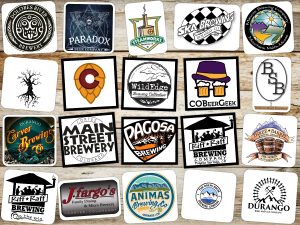 Do you love craft beer?  Want to get out and see the beautiful state of Colorado?  Want to visit far-flung Colorado breweries but aren't sure how to go about it?  For those who answered "Yes!" to these questions, continue to watch this site because I am preparing a Colorado Brewery Tour article series that maps out a route of 10 to 18 breweries you easily can visit over an extended-weekend trip.
Denver is the starting point for each tour since the majority of Colorado Brewery List members are from this metropolitan area.  However, you can adjust the maps quite easily to start your tour from another location. Each day includes a Google Maps™ link for that day's destinations.  These are a great springboard for planning your personal itinerary.
Most of the tours that I've designed are for a full three-day weekend.  This allows for full enjoyment of four to six breweries on each day with time to spare for other activities.  The Southwest tour is the only one that adds Thursday to the weekend because you need the additional time to cover the distance and the large number of breweries in the region.  While I did not include each brewery's hours of operation, in many cases I start each day at the earliest opening brewery and finish it at the last to close location.  Before your tour, be certain to double check that the breweries you want to visit will be open at the time of your visit because operation hours have a tendency to change depending on season, holiday, and anticipated traffic volume.
The best way to undertake these tours is to have a designated driver who you should shower with praise, free meals, and gifts.  Regardless, I have designed these tours to include no more than two or three breweries before checking into your hotel and then walking (or Lyft/Uber) to the rest of the locations where you and your designated driver can enjoy yourselves fully.
For this tour, you'll visit all of the breweries in the beautiful southwest corner of Colorado.  This encompasses the towns of Pagosa Springs, Durango, and Cortez, and nearby surrounding areas.
Thursday (4 Breweries in Del Norte & Pagosa Springs)
The very first stop on this brewery tour is about four hours from Denver in the San Luis Valley town of Del Norte.
There you will find Three Barrel Brewing which utilizes the regional malt house Colorado Malting Company and locally sourced ingredients. They have 5 consistent core beers with 7 seasonal beers on tap at all times. In addition to their good beer they have tasty wood-fired pizza, strombolis and calzones, salads, soups, panini sandwiches, desserts, and house made root beer and cream soda.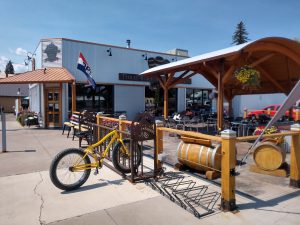 Note:  If you have extra time for this trip, from Del Norte you can head North to Creede where you will find the Spare Keg Brewerks taproom.
From Del Norte you will head into the San Juan Mountains and over Wolf Creek Pass (El 10,857 ft).  In just a little over an hour (plus the time you spend to take in the views) you will reach the town of Pagosa Springs.
After arriving in Pagosa Springs, I recommend heading to the western side of town first before coming back into the town center and walking to the last couple of breweries from your hotel.
Toward the west side of town, you'll find The Break Room Brewing Company.  Branding themselves as "The Cheers of Pagosa" they are a friendly local's bar and brewpub with a great patio and music venue.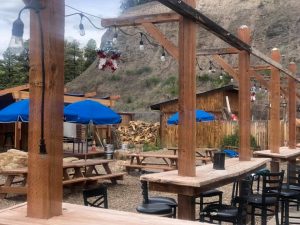 After returning to downtown Pagosa Springs and settling into your hotel, you'll have the choice of visiting one or both of the Riff Raff breweries.
Located in an historic 1898 Victorian house in downtown Pagosa Springs, the original Riff Raff Brewing location opened in 2013 and provides a perfect cozy spot to relax and enjoy a craft beverage, lamb burger or signature Riff Raff nachos.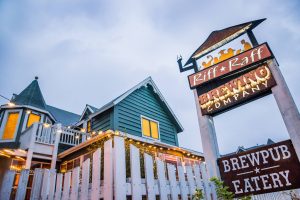 Riff Raff on the Rio sits on the majestic San Juan River featuring beautiful river and mountain views framed below Wolf Creek Pass. Sip a craft beer or cocktail and enjoy a creative appetizer while contemplating a unique and creative food menu highlighting a plethora of gastropub-esque salads, burgers and fun-fried items.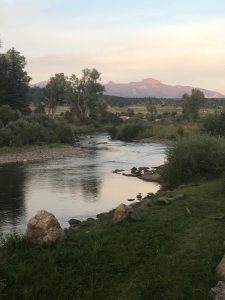 Friday (7 Breweries in Bayfield & Durango)
Friday is the day that you will get to experience all of the Durango breweries!  This is a lot of breweries so pace yourself.
Just before you get to Durango, you should stop at Bottom Shelf Brewery which is located in the heart of the Pine River Valley, nestled in the quaint downtown area of Bayfield, Colorado (about 45 minutes from Pagosa Springs). BSB is currently in operation with a 3½ barrel brew house, with six BSB beers on tap year-round, and two seasonal BSB rotating taps. With their in-house smoked meats and specialty entrees, the brewpub also offers more for the customer's palette than only tasty beer.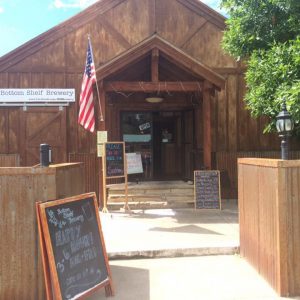 Your next stop is less than half an hour away at the southern edge of Durango: the famous Ska Brewing. Ska is the only Colorado regional brewery (defined by the Brewers Association as over 15,000 barrels per year) outside the front range and is known for great beer and great parties featuring ska concerts.  This is their story…
"Somewhere out in Colorado, in the year nineteen hundred and ninety-five, two guys named Dave and Bill learned that while they loved gulping down good beer, they weren't yet old enough to buy it. They figured an answer to their quandary would appear if they drank enough and listened to enough thinking music, also known as Ska. On the second Skaturday of Skatember it hit them. If they brewed their own beer they'd have all the beer they could ever want. And while they were at it, why not brew the most magnificent suds ever quaffed in their neck of the woods… or any other neck for that matter.  Oh, and there's a beer garden too, featuring The Container Restaurant!"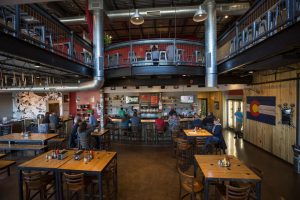 After enjoying Ska, check out Durango's newest brewery, Anarchy Brewing Company where "In a world of chaos, at least we have good beer!"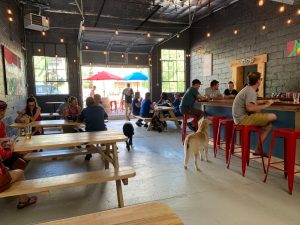 Next, I suggest heading to the northern side of Durango to visit Durango Beer & Ice Company which serves beer made by High Trestle Brewing.  They are a brew house that provides local beer and good food with relaxed and friendly vibes. Inspired by the heritage of railroad and mining in the southwest and the old Durango Beer and Ice Brewery.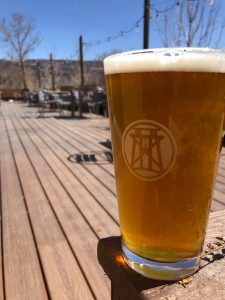 If you settle in a hotel in the downtown area, you can then easily walk to the remaining three Durango breweries.
Animas Brewing offers a variety of flavorful craft beer and compliments it with a spin on comfort food. All in a relaxed family friendly atmosphere with a beautiful patio right on the Animas River.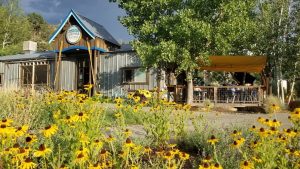 Next is Carver Brewing.  In 1988 Carver Brothers Bakery opened the brewery – making it the first brewery in the four corners region since prohibition and now the second oldest Colorado craft brewery (opening mere weeks after Wynkoop in Denver). Although still known affectionately by the locals as "Carvers", Carvers then became Carver Brewing Company. They offer a variety of award-winning beers to try alongside amazing food and incredible service. It isn't a trip to Durango without a stop at Carvers.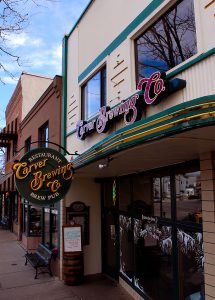 Steamworks Brewing opened its doors in Durango in September 1996. A favorite watering hole for locals and visitors alike, this brewpub has much more to offer than award-winning craft beer. Known as a town meeting place, Steamworks enjoys a bustling, fun environment.  Steamworks also tends to stay open rather late into the night so is ideal for your last stop on your Durango tour.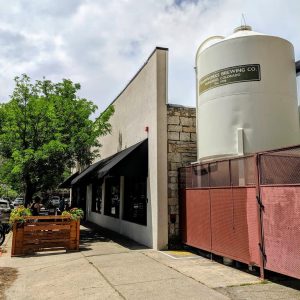 Saturday (5 Breweries in Mancos, Dolores, & Cortez)
On Saturday you will tour the five breweries in the Southwest corner of the state along with having time to visit some local landmarks.
Half an hour East of Durango is the town of Mancos where you will find Mancos Brewing which is a nano brewery (crafting beers in 2 to 7 barrel batches) and provides great beer in a relaxed setting. They aim to be a true public house — a place to meet a friend, or make a new one — a place to gather together for any and all reason.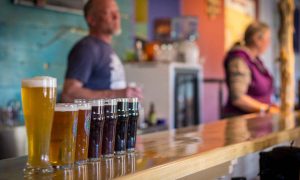 After Mancos Brewing (or before if you get an early start), I would suggest spending the afternoon at one of the well-known national landmarks in the area.
Only 10 minutes outside of Mancos is Mesa Verde National Park which was established to preserve archaeological sites built by the Ancestral Puebloans who inhabited Mesa Verde for more than 700 years (550 A.D. to 1300 A.D.). Currently Mesa Verde has over 4,700 archaeological sites including 600 cliff dwellings and the mesa top sites of pithouses, pueblos, masonry towers, and farming structures, with many more yet to be revealed. These sites are some of the most notable and best-preserved dwellings in the United States.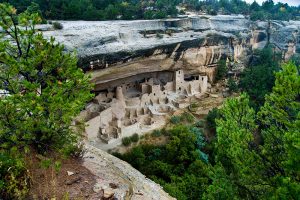 Another option is to head down (just over an hour) to the Four Corners Monument which is the only place in the U.S. where four states meet (Arizona, New Mexico, Colorado and Utah). There you will find a vendor market where you can purchase native artwork directly from the artisan. Note: The monument is located in a rural area where there are no accommodations and services are limited.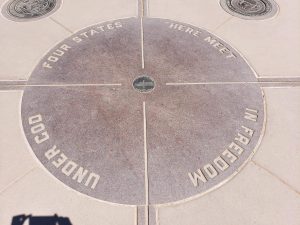 Following your sightseeing, I recommend heading up to Dolores, which is 20 minutes from Mesa Verde or just over an hour from the Four Corners. There you will find Dolores River Brewery which was founded under the premise that everybody needs somebody, and every community should have a comfortable place to hang out with that somebody! They strive every day to create that place. A place where you can meet old friends and new ones over a beer, and some good conversation in a comfortable and inspiring setting with a fabulous beer garden.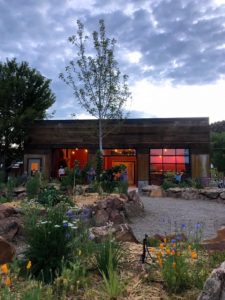 From Dolores it is a quick trip down to Cortez where you will find the remaining three breweries of the day.
J Fargo's Family Dining & Micro Brewery has a relaxed family atmosphere, with a full bar and micro-brewed beer. Their menu includes sirloin hamburgers, char-broiled steaks, southwestern favorites, homemade desserts and also a kids menu.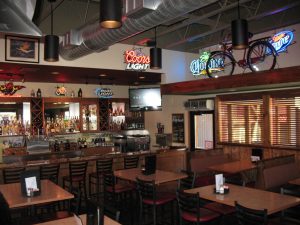 Located in downtown Cortez, Main Street Brewery has been open since 1995 as a casual dining restaurant for the whole family. They have nine original brews on tap including their famous Schnorzenboomer (an Amber Dopplebock).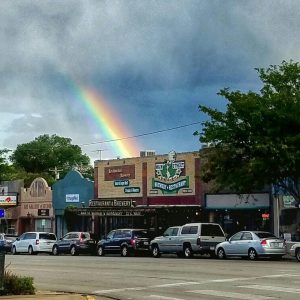 I suggest saving the excellent WildEdge Brewing Collective as the last stop of the day.  While the other Cortez breweries are well established, WildEdge (which opened in 2017) has brought brewing innovation and some outstanding beers to the Southwest corner of Colorado.
When asked to say a few words about his place, Tucker Robinson, Owner/Brewer at WildEdge said, "After enjoying our amazing corner of the state, whether biking at Phil's World or exploring Mesa Verde National Park, stop by our taproom to sample one of our 11 house made beers on tap. We always have a wide variety of beer styles waiting to be poured from massively dryhopped IPAs, to barrel aged sours, and dark beers as well."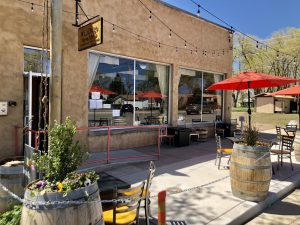 Sunday (2 Breweries in Florissant & Divide)
While not part of the Colorado Southwest collection of breweries, the final breweries in this trip are a couple spots to stop on your way home.
Funky Town Brewing is part of Iron Tree Table & Taps restaurant and resides in one of the smallest Colorado towns with a brewery (Florissant has a population of 172 people).  Here is how they describe their philosophy:
"We set out to hone classic brewing techniques while putting our culinary backgrounds to the test for flavor profiles that will push the boundaries of what you thought beer could be.  Working with local farms to source as much as we can and what.  Our inspirations lay in the Rockies where we forage for wild herbs, roots, barks and leaves to spice our beer.  We brew our beer 2 barrels at a time to ensure the beer is always fresh."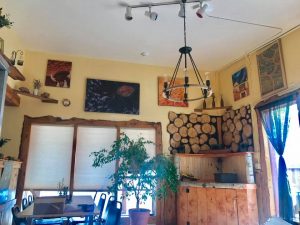 Finally, last but certainly not least and located in the second smallest Colorado town with a brewery (Divide has 143 people), Paradox Beer specializes in barrel aged American wild ales, sours, & lagers.  They have a huge outdoor space with an awesome firepit and a spectacular view of the "backside" of Pikes Peak.
Jeff Airman, owner & brewer at Paradox put it simply:  "Paradox is a brewery and an experience."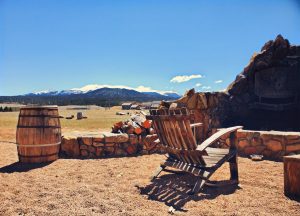 Note:  Another option, if you want to take a different route home or you have already been to Funky Town & Paradox, is to take Highway 285 to Fairplay and visit South Park Brewing and Highside Brewing there.  See more about these breweries at the end of my South Central Colorado Tour article.
I hope you enjoy your trip through the beautiful Colorado Southwest and all of the great breweries in the area.  If you take this tour or a similar route, please drop us a note and let us know how it went!
Next Up:  South Central Colorado Tour featuring all of the breweries in Canon City, Florence, Pueblo, Walsenburg, Alamosa, Poncha Springs, Salida, Buena Vista, Fairplay, & Bailey.