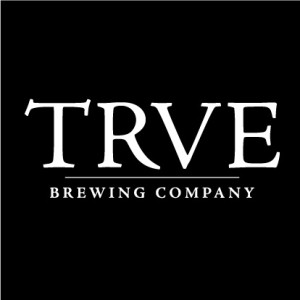 Description
Taproom: Brewing operations are located at The Acid Temple which is currently not open to the public.
Our goal is to give you a rad place to hang out and drink killer beer. Founded on the Summer Solstice of 2011, our mission has always been to create beers that are beyond the pale. To us this implies new ideas, channeling Loki, and embracing chaos. It means drawing from the sounds and sights that inspire us most in life.
Our beers may or may not exactly adhere to any particular guidelines – we're style blasphemers and category agnostics – but you can count on the fact that we'll always brew damn good beer.
To us, TRVE represents being a part of a counter culture without immersing yourself to the point of taking it too seriously.
Beers Brewed by TRVE Brewing Company Taproom
This list includes beers brewed currently, previously, or seasonally by TRVE Brewing Company Taproom. Contact the brewery for current beer availability.
| Name | Style | ABV | Availability |
| --- | --- | --- | --- |
| Burning Off Impurities | American Wild Ale | | Rotating |
| Unholy Upheaval | Belgian Dubbel | | Rotating |
| Epiklesis | American Wild Ale | | Rotating |
| Warmoon | American Wild Ale | | Rotating |
| Ostara | American Wild Ale | | Rotating |
| Suffering Soul | American Wild Ale | | Rotating |
| Melissa | American Wild Ale, Wood / Barrel Aged Beer | | Rotating |
| Prairie Collaboration | Gose, Wood / Barrel Aged Beer | | Special Release |
| Dhumavati | American Wild Ale, Smoked Beer | | Rotating |
| Currant Mouth | American Wild Ale, Wood / Barrel Aged Beer | | Rotating |
| Red Chaos | American Wild Ale, Wood / Barrel Aged Beer | | Rotating |
| Ancient Bole | American Wild Ale | | Rotating |
| Revengeance | American Wild Ale | | Rotating |
| Buried Sun | Saison / Farmhouse Ale | | Rotating |
| Cursed | American Wild Ale | | Rotating |
| Paradise Gallows | American Wild Ale, Wood / Barrel Aged Beer | | Rotating |
| Jewel Throne | American Wild Ale, Wood / Barrel Aged Beer | | Rotating |
| Black Celebration | American Wild Ale, Wood / Barrel Aged Beer | | Rotating |
| Departure of Consciousness | American Wild Ale, Wood / Barrel Aged Beer | | Rotating |
| Ecate | Golden or Blonde Ale, Wood / Barrel Aged Beer | | Rotating |
| Brain Transplant | American Wild Ale | | Special Release |
| Restarter | American Wild Ale | | Rotating |
| Life's Trade | Saison / Farmhouse Ale, Wood / Barrel Aged Beer | | Rotating |
| Crown of Eyes | American Pale Ale | | Rotating |
| Violation | American Double / Imperial IPA, Sour Ale | | Rotating |
| Ecdysis | Saison / Farmhouse Ale | 5.6 | Seasonal |
| Crimson Death | Sour Ale, Wood / Barrel Aged Beer | 8 | Special Release |
| Liquid Funeral | American Double / Imperial Stout | 10.8 | Rotating |
| N.P.O.N. | American Pale Ale | 6.70 | Rotating |
| Prehistoric Dog | Gose | 4.30 | Rotating |
| Hollow Idol | American IPA | 5.70 | Rotating |
| Grey Watcher | Saison / Farmhouse Ale | 4.80 | Rotating |
| Circle The Wagons | Saison / Farmhouse Ale | 6.10 | Rotating |
| Diotima | Saison / Farmhouse Ale, Smoked Beer | 5.70 | Rotating |
| Aura | English Mild | 4.7 | Rotating |
| Scorn | American Pale Ale | 5.10 | Rotating |
| Dunwich | American Porter | 5.4 | Rotating |
| Tiphareth | American Wild Ale, Wood / Barrel Aged Beer | 6.8 | Rotating |
| Winter Zephyr | American Wild Ale, Wood / Barrel Aged Beer | 6.2 | Rotating |
| Manannan | American Wild Ale, Wood / Barrel Aged Beer | 7.3 | Special Release |
| Eastern Candle | American Wild Ale, Wood / Barrel Aged Beer | 6.5 | Rotating |
| Crossover | Saison / Farmhouse Ale, Wood / Barrel Aged Beer | | Special Release |
| Nazareth | American Double / Imperial IPA | 10 | Special Release |
| Tunnel of Trees | American IPA | 6.6 | Year-Round |
| Black Cascade | Black IPA / American Black Ale | 6.60 | Year-Round |
| Stout O))) | American Stout | 6.8 | Rotating |
| Death Ripper | California Common / Steam Beer | 4.20 | Rotating |
| Atma | Belgian Golden Strong Ale | 8.6 | Year-Round |
| Hellion | American Amber Ale / Red Ale | 3.50 | Year-Round |
| Wanderlust | Belgian Pale Ale | 5.50 | Year-Round |