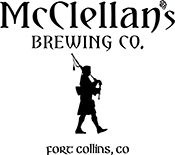 Description
We are a 7 barrel craft brewery specializing in cask conditioned ales. We serve high quality charcuterie, gourmet hot sandwiches ,and paninis, We have a full bar complete with Fort Collins craft distilleries and assorted scotches. We offer a large variety of Colorado exclusive guest taps. Comfortable family oriented pub for any age.
Beers Brewed by McClellan's Brewing Company
This list includes beers brewed currently, previously, or seasonally by McClellan's Brewing Company. Contact the brewery for current beer availability.
| Name | Style | ABV | Availability |
| --- | --- | --- | --- |
| Fluffy Clouds | Cream Ale | 5.8 | Year-Round |
| Pinky & The Brain | Other Imperial Beer, Rye Beer | 8.5 | Rotating |
| Sesh | American Pale Ale | 4.3 | Year-Round |
| Sassenach | Strong Ale | 6 | Year-Round |
| Velvet Donkey | American Barley Wine | 10 | Year-Round |
| Tom Hennessy | Oatmeal Stout | 8 | Year-Round |
| Pierce Brosnan | Irish Red Ale | 6.3 | Year-Round |
| Wulver | India Pale Ale | 7.7 | Year-Round |
| Impale Ale | American IPA | 6.0 | Year-Round |
| Porter | American Porter | 5.5 | Rotating |
| Kilt Tilter | Scotch Ale / Wee Heavy | 7.0 | Year-Round |