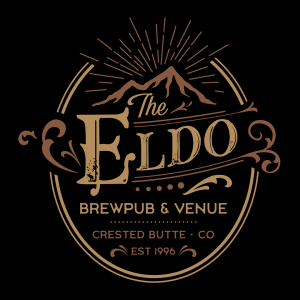 Description
Welcome to Crested Butte's only brewery/brewpub! We were voted "The Best Bar" in Crested Butte's annual "Best of the Butte" vote 3 years in a row (2008, 2009, 2010)! Come see what the locals are raving about…
The Eldo Brewery and Taproom has been providing food, libations, and nighttime entertainment for Crested Butte locals and visitors, since 1998. Located on Elk Avenue in downtown Crested Butte, we've got a sunny deck for you to soak up the Colorado sunshine while tipping back a few of our homemade brews. Drive, walk, or ride, but don't forget to stop by – we're a favorite hang-out among the locals and you're sure to meet a few colorful and shady characters. We open at 3pm and encourage you to stay a while and enjoy the show!
The Eldo features live music most weekend nights and some weeknights during peak seasons. Tickets are sold at the door the night of the show; tickets are also available online for select shows.
Beers Brewed by The Eldo Brewpub & Venue
This list includes beers brewed currently, previously, or seasonally by The Eldo Brewpub & Venue. Contact the brewery for current beer availability.
| Name | Style | ABV | Availability |
| --- | --- | --- | --- |
| Eldo: Stout | American Double / Imperial Stout, Nitro | 8.1 | Year-Round |
| Sledgehammer Porter | American Porter, Nitro | 5.6 | Year-Round |
| Abominable Strong Ale | Strong Ale | 7.2 | Seasonal |
| Sock-it-to-me Scottish Ale | Scottish / Irish Ale | 7.1 | Year-Round |
| Beckwith Brown Ale | American Brown Ale | 6.5 | Year-Round |
| Hooligan IPA | American IPA | 7.5 | Year-Round |
| Paradise Pale Ale | American Pale Ale | 6.5 | Year-Round |
| Secret Trail Ale | American Amber Ale / Red Ale | 5.6 | Year-Round |
| Wildfire ESB | Extra Special / Strong Bitter (ESB) | 6.5 | Year-Round |
| Pivo Blonde Ale | Golden or Blonde Ale | 6.0 | Year-Round |
| Eldo: Session Ale | American Ale | 4.5 | Year-Round |
| Northside Ale | Extra Special / Strong Bitter (ESB) | 5 | Year-Round |
| Breakfast Ale | Light Hybrid Beer | 4.2 | Year-Round |
| King's Kolsch | Kölsch | 5 | Year-Round |
| Snowblind Maibock | Maibock / Helles Bock | 6.4 | Year-Round |
| Helles Bells Lager | Munich Helles | | Year-Round |