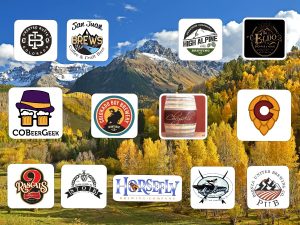 Do you love craft beer?  Want to get out and see the beautiful state of Colorado?  Do you live along the Front Range and want to visit western Colorado breweries, but aren't sure how to go about it?  For those who answered "Yes!" to these questions, this is the fourth article in a series of Colorado Brewery Tours that maps out a route of 10 to 18 breweries you can easily visit over an extended-weekend trip.  The previous articles included a Southwest CO Tour, a South Central CO Tour, and a San Juan Mountains Tour.
Denver is the starting point for each tour since the majority of those that read the Colorado Brewery List blog are from this metropolitan area.  However, you can adjust the maps quite easily to start your tour from another location.  Each day includes a Google Maps™ link for that day's destinations.  These are a great springboard for planning your personal itinerary.
Most of the tours that I've designed are for a full three-day weekend.  This allows for full enjoyment of four to six breweries per day with time to spare for other activities.  Note:  the year-round version of this tour starts on a Thursday evening while the summer route can start on Friday.
While I did not include each brewery's hours of operation, in many cases I start each day at the earliest opening brewery and finish it at the last to close.  Before your tour, be certain to double check that the breweries you want to visit will be open at the time of your visit because operating hours have a tendency to change depending on season, holiday, and anticipated traffic volume.
The best way to undertake these tours is to have a designated driver, who you should shower with praise, free meals, and gifts.  Regardless, I have designed these tours to usually include no more than three or four breweries before checking into your hotel and then walking to the rest of the locations where you and your designated driver can enjoy yourselves fully.
Central Western Colorado Brewery Tour (11 breweries)
For this tour, you'll visit all of the breweries in the Central Western portion of Colorado.  This tour encompasses 11 breweries in the towns of Crested Butte, Gunnison, Montrose, Olathe, Delta, and Paonia.
Note:  This route can be done year round.  However, I have mapped my preferred summer option at the end when more mountain pass roads are open.
Thursday (2 Breweries in Crested Butte)
Your tour starts in the beautiful mountain town of Crested Butte which is about 4.5 hours from Denver over Monarch Pass.
First up is Irwin Brewing which was dreamed up in a snowcat and brought to fruition in Colorado's last great ski town. At Irwin Brewing Co, they craft a wide selection of award-winning ales and lagers at 8,888 feet. They have been harvesting the sun, turning snowmelt into beer, and fueling outdoor adventures since 2017. Be it après ski, post-climb, or simply sitting around the campfire, their beer pairs best with good friends and adventure in exceptionally beautiful and truly wild places.
While you can also visit the Irwin Brewing production site for beers to go, all Irwin Brewing beers are served at Public House, a modern Colorado saloon.  A trusted meeting place in the heart of Crested Butte, Public House celebrates local food and drinks, welcoming accommodations, and the community of live music.  You can even spend the night in one of the rooms upstairs.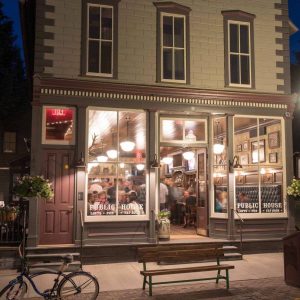 Next is The Eldo Brewpub & Venue which has been providing food, libations, and nighttime entertainment for Crested Butte locals and visitors, since 1996. Located on Elk Avenue in downtown Crested Butte, they have a sunny deck for you to soak up the Colorado sunshine while tipping back a few of their homemade brews. Drive, walk, or ride, but don't forget to stop by – they're a favorite hang-out among the locals and you're sure to meet a few colorful and shady characters. The Eldo features live music most weekend nights and some weeknights during peak seasons. Tickets are sold at the door the night of the show; tickets are also available online for select shows.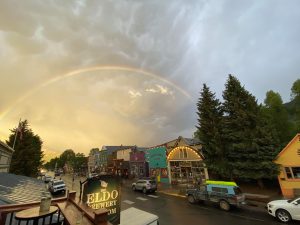 Note:  Coming to Crested Butte in the summer of 2022 is Zuni West Brewing & Taproom.
Friday (5 Breweries in Gunnison & Montrose)
The first stop of the day is at High Alpine Brewing Company which opened its doors in the summer of 2015.  They are located in downtown Gunnison, surrounded by epic terrain that locals embrace all year round.  Scott started HABC as a way to bring the community together one delicious pint at a time.
You may want to plan on stopping at High Alpine for lunch as nothing goes better with beer than pizza, which is why they feature a full menu of delicious brick oven pizzas. The menu also includes fresh salads with homemade dressings and enticing appetizers to start your meal off.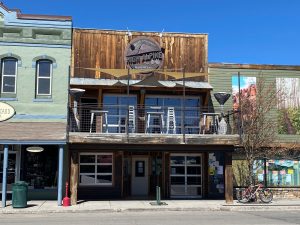 The rest of the Friday breweries are 1.5 hours away in Montrose and are all within one mile of each other along Main Street.
Named after the Horsefly Peak and established on September 9th, 2009,  Horsefly Brewing Company is now Montrose's oldest brewery.  Located in the heart of Montrose on Main Street, Horsefly Brewery is a family oriented brewery with a large selection of handcrafted beers, great pub food and an awesome patio with a large stage for live music.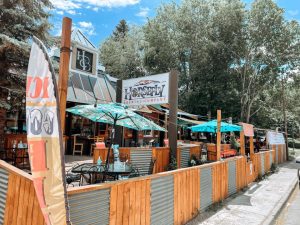 Next is Colorado Boy Pizzeria & Brewery who has British and American style ales with two casks always on a beer engine.  Colorado Boy also serves Neapolitan style pizza in a warm bistro atmosphere.  In addition to pizza and beer, Colorado Boy is known for its immersion course which has helped open over 80 breweries in the US, and around the world.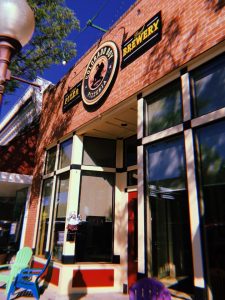 Silver Basin Brewing is a fun little brew pub serving craft beer, wine, basic mixed drinks and small bites.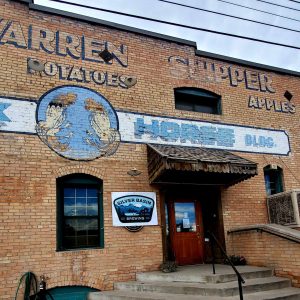 Finally, the newest brewery in Montrose is Pomona Brewing which has a 7 BBL brew house that produces a wide variety of lagers and ales along with a kitchen offering chicken and other sandwiches.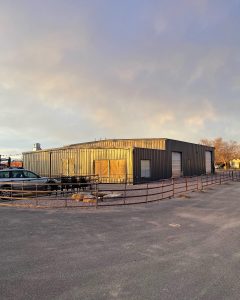 Saturday (4 Breweries in Olathe, Delta, & Paonia)
Only 15 minutes north of Montrose is the Western Slope town of Olathe.  There you will find Mad Russian Brewing Company which has European style beer with local ingredients which are named after their favorite Black Canyon trails.  They have a very large outdoor event area along with 14 camping spots with water and electric hookups.  Fill up a growler for your next hike, and enjoy the taste of the Gunnison.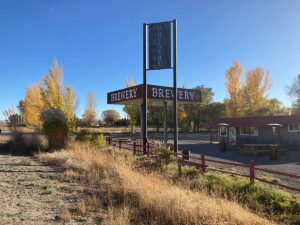 Another 15 minutes north is Delta where you will find Stōik Beer Company.  They have a 7 BBL system with focus on Belgian/American style ales with a focus on ABC (Always Buy Colorado).  Purchasing as much as possible from local farms; hops, grain, corn, fruit and yeast.  Stōik is also a military vet owned business and encourage the employment and support of Vets in the community.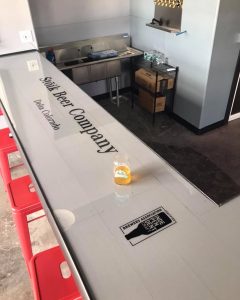 Heading back east from Delta, in less than an hour you'll arrive at the final stops of this tour in the lovely little town of Paonia.  Before you go to the Paonia breweries you could consider visiting Big B's Hard Cider or one of the many wineries in the area.
Paonia United Brewing (PUB) is dedicated to making and serving high quality, small-batch craft beer.  Their tasting room, patio, and beer garden are family friendly, smoke-free, and dog-free areas to enjoy our hand crafted ales and lagers.  They strive to create a welcoming and inclusive atmosphere where locals and visitors can gather to enjoy quality craft beer, live entertainment, community-centered events, fare from local vendors, and each other's company.  Note:  In 2022, Chrysalis Barrel Aged Beer purchased the PUB.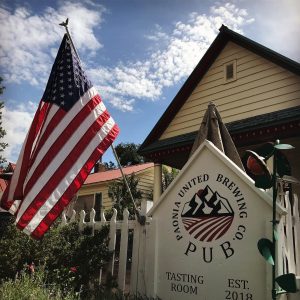 At Chrysalis Barrel Aged Beer they believe in time honored traditions and historic processes.  All of their beers are aged in vintage oak barrels, from used wine or port casks to bourbon, gin and whiskey barrels.  Many of their beers are aged along with local North Fork valley's amazing fruit; from apples and cherries to peaches, grapes, apricots, wild plums and rosehips.  This technique helps impart local terroir and allows them to use the best ingredients Colorado has to offer.  In addition to traditional beer yeast varieties, they use locally harvested wild yeast, mixed cultures of Brettanomyces and lactic acid bacteria. Taking it slow and utilizing time, age, oak and local ingredients allows them to create one of a kind masterpieces.
Personal note:  This hidden gem is one of my personal favorite breweries in the state of Colorado (many other Colorado Brewery Masters agree).  Even if you don't do this full tour, I highly recommend making your way to Paonia to check them out!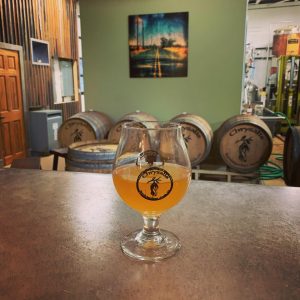 Sunday (Return Trip)
The most direct path back to Denver is over McClure Pass into the Roaring Fork (Aspen) Valley.  While there are no specific plans built into this itinerary there are lots of breweries along the way back along I-70 (that will be included in future tour articles).  If you decide to avoid I-70, I'd recommend going through the beautiful Black Canyon of the Gunnison National Park just south of Paonia.
Summer Route*:  The map in this link shows my ideal route between these breweries which can only be done in the summer since Kebler Pass between Paonia and Crested Butte along with Cottonwood Pass from Crested Butte to Buena Vista are closed in the winter months. *Note:  The map in this link won't show this route correctly unless these passes are open.
Using this route, you can easily start on Friday for lunch at High Alpine Brewing, follow the same Friday and Saturday plans above, and then on Sunday drive over these beautiful mountain passes to visit the two Crested Butte breweries on your return trip.
I hope you enjoy your trip through Western Colorado and all of the great breweries in the area.  If you take this tour or a similar route, please drop us a line and let us know how it went!
Next Up:  Grand Junction area Tour