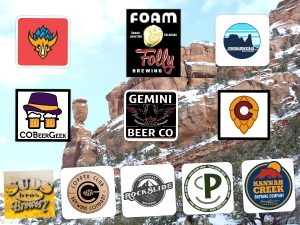 Do you love craft beer?  Want to get out and see the beautiful state of Colorado?  Do you live along the Front Range and want to visit western Colorado breweries, but aren't sure how to go about it?  For those who answered "Yes!" to these questions, this is the fifth article in a series of Colorado Brewery Tours that maps out a route of 10 to 18 breweries you can easily visit over an extended-weekend trip.  The previous articles included a Southwest CO Tour, a South Central CO Tour, a San Juan Mountains Tour, and a Central Western CO Tour.
Denver is the starting point for each tour since the majority of those that read the Colorado Brewery List blog are from this metropolitan area.  However, you can adjust the maps quite easily to start your tour from another location.  Each day includes a Google Maps™ link for that day's destinations.  These are a great springboard for planning your personal itinerary.
Most of the tours that I've designed are for a full three-day weekend.  This allows for full enjoyment of multiple breweries per day often with some time to spare for other activities.
While I did not include each brewery's hours of operation, in many cases I start each day at the earliest opening brewery and finish it at the last to close.  Before your tour, be certain to double check that the breweries you want to visit will be open at the time of your visit because operating hours have a tendency to change depending on season, holiday, and anticipated traffic volume.
The best way to undertake these tours is to have a designated driver, who you should shower with praise, free meals, and gifts.  Regardless, I have designed these tours to usually include no more than three or four breweries before checking into your hotel and then walking to the rest of the locations where you and your designated driver can enjoy yourselves fully.
For this tour, you'll visit all of the breweries in the Grand Junction area of Colorado.  This tour encompasses 11 currently open breweries in the towns of Palisade, Grand Junction, and Fruita.
There has been a recent explosion of new breweries in Grand Junction!  In 2019 there were only two breweries in Grand Junction, (plus an additional location).  Two more breweries opened in 2020 amid the COVID-19 pandemic, then another two opened in 2021, and the growth continued with two more opening in 2022/2023!
Friday (4 Breweries in Palisade & Grand Junction)
We begin our tour just a little east of Grand Junction in the town of Palisade.  Amid numerous wineries and nearby Meadery of the Rockies, is Palisade Brewing.  Palisade Brewing opened back in 2010 and are probably best known for their flagship Dirty Hippie, a dark wheat beer.  They have a kitchen, plus regular food trucks and consistently have live music on the weekends.  If time allows, be sure to also stop by Peach Street Distillers which is the sister distillery to Ska Brewing in Durango.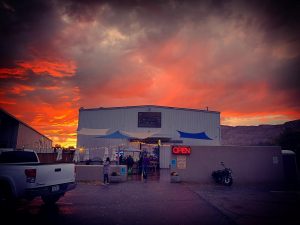 The first stop in Grand Junction is the original location of Kannah Creek Brewing.  Kannah Creek, open since 2005, is the largest brewery in the region.  This family friendly neighborhood brewpub offers 15 beers along with brick oven pizza, calzones, stromboli, salads and more in their comfortable dining room or shady patio.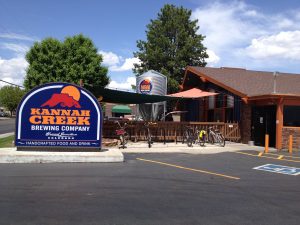 Next up is Mama Ree's Pizza + Brewhouse. Great-grandma "Mama Ree" embraced her Italian heritage when she cooked for her family. They are bringing those same tastes to you with their slow-rise dough and one-of-a-kind specialty pizzas along with their own ales.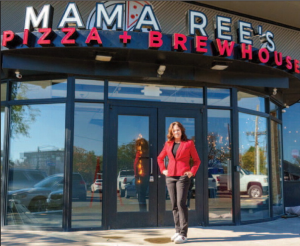 The final stop on Friday night is at Grand Junction's oldest brewery in the heart of downtown, (a convenient walk from many hotels).  Rockslide Brewery & Restaurant opened way back in 1994, making it one of the oldest breweries in all of Colorado.  Housed in a historic building, they have a full menu from burgers to steaks along with multiple in-house beers.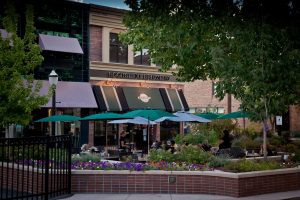 Saturday (7 Breweries in Fruita & Grand Junction)
Saturday starts out with a very short trip to the town of Fruita which has the two western-most Colorado breweries, (only 20 miles from the Utah border).  Suds Brothers Brewery in downtown Fruita has been around since 2012, opening soon after their sister brewery located in Evanston, Wyoming.  They have a good sized brewpub menu including fresh pizzas and Waygu beef burgers along with a full bar.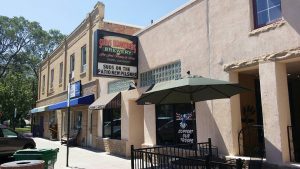 A couple blocks down the street is Copper Club Brewing.  Copper Club originally opened not long after Suds Bros. and has been providing excellent beers ever since. They specialize in traditional style beers with Colorado grown ingredients, but always throw in a few seasonal and experimental brews to keep things interesting.  Their beautiful new taproom, (after having recently moved from their original spot) known as "the living room of Fruita" also has a large dog friendly patio.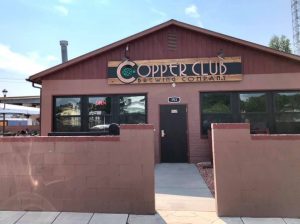 Also, in Fruita is Base Camp Provisions.   A taproom for Base Camp Beer Works (the next stop)
Heading back into Grand Junction and just a short distance Northwest of downtown is Base Camp Beer Works.  Opening in the middle of the COVID-19 pandemic with to-go beers, they overcome this challenge and has grown to gather a substantial local following.  They have a comfortable taproom, a huge patio, and many interesting beer styles, including the occasional Oenobeer, or as they call them, "Vine Beers" brewed with wine grapes.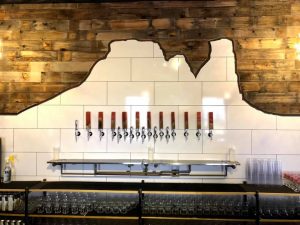 The final four breweries are all conveniently located within short walking distance from each other in downtown Grand Junction.  Here is a walking map for ease.  You can of course visit them in any order but I recommend starting at Foam & Folly, (close to many hotels). Then head to the north end for Gemini, then Trail Life, and finally finishing at Ramblebine which is open the latest, amidst the heart of the downtown nightlife, (and again very close to many hotels).
Foam & Folly Brewing opened in 2021 by Jeff & Joy Reid.  Joy has created one of the most visually intriguing and fun brewery tasting rooms in the state, with some very unique pieces such as framed collections of cassette and 8-track tapes and some really amusing bottle cap artwork.  On top of that, Jeff is making some very tasty brews.  I really enjoyed their Saison along with their company.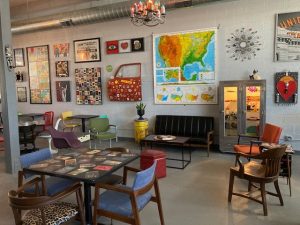 Next is another great 2021 addition to the Grand Junction scene.  While Gemini Beer Co is technically listed as a contract brewery, it is only because their owner/brewer uses the equipment at a friend's brewery on the Front Range to make the beer.  He then transports the beer himself over the mountains every week to his Grand Junction taproom bringing some amazing beers to town.  He makes a wide range of outstanding beers but I was blown away by the Sanctuary Golden Strong, (a Silver winner at World Beer Cup).  In 2023 they moved into the historic Lowell School.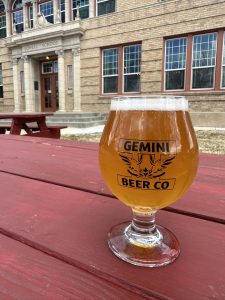 A new addition in 2022 to the downtown Grand Junction brewery scene is Trail Life Brewing.  Located next to outdoor gear consignment store Gear Junction, Trail Life is an outdoor hub complete with craft beer, cocktails, food, bike repair, rafting supplies, rental gear, and so much more.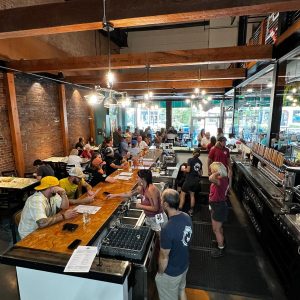 Opening in the summer of 2020, Ramblebine Brewing has become a popular nightlife spot in downtown Grand Junction with large open spaces inside and out that's great for large gatherings.  Whether you want a NEIPA or West Coast IPA or a great barrel aged stout, you're sure to find a beer or three to enjoy here.  Ramble on by and check it out!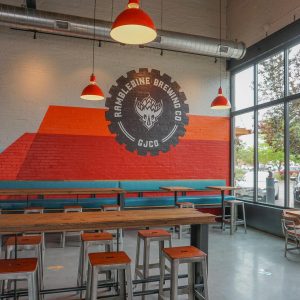 Sunday (2 Breweries in Grand Junction and Rifle)
For this tour I purposely left Sunday very light in the number of breweries in order to potentially shift one or two from Friday or Saturday or to possibly visit some of the many great breweries along I-70 if traveling back to Denver.  (Such as those in my next article -a Vail & Aspen Tour.)
A great spot to start off your Sunday is at the Kannah Creek Edgewater Brewery.  Edgewater is the second and much larger production facility for Kannah Creek which also features a huge outdoor space along the Colorado River with great views of the Mesa.  They have a full menu of tasty pub food along with a great selection of beers.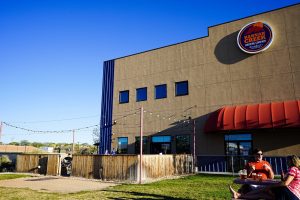 Heading back east in the town of Rifle, is one of Colorado's newest breweries, Brew Zone Rifle.  Owner and brewer, Richard Lynch, ran Brew Zone San Diego and after moving to Colorado decided he wanted to open a Brew Zone here as well where he offers multiple taps of small batch non-filtered craft beers.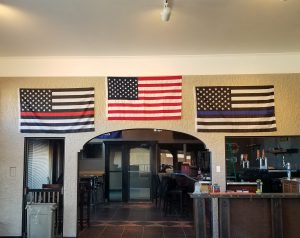 I hope you enjoy your trip to Grand Junction and all of the great breweries in the area.  If you take this tour or a similar route, please drop us a line and let us know how it went!
Next Up:  Vail & Aspen Tour