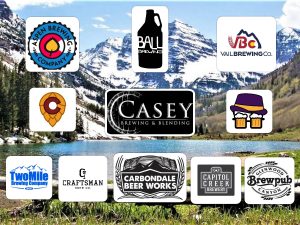 Do you love craft beer?  Want to get out and see the beautiful state of Colorado?  Do you live along the Front Range and want to visit western Colorado breweries, but aren't sure how to go about it?  For those who answered "Yes!" to these questions, this is the sixth article in a series of Colorado Brewery Tours that maps out a route of 10 to 18 breweries you can easily visit over an extended-weekend trip.  The previous articles included a Southwest CO Tour, a South Central CO Tour, a San Juan Mountains Tour, a Central Western CO Tour, and a Grand Junction Area Tour.
Denver is the starting point for each tour since the majority of those that read the Colorado Brewery List blog are from this metropolitan area.  However, you can adjust the maps quite easily to start your tour from another location.  Each day includes a Google Maps™ link for that day's destinations.  These are a great springboard for planning your personal itinerary.
Most of the tours that I've designed are for a full three-day weekend.  This allows for full enjoyment of multiple breweries per day often with some time to spare for other activities.
While I did not include each brewery's hours of operation, in many cases I start each day at the earliest opening brewery and finish it at the last to close.  Before your tour, be certain to double check that the breweries you want to visit will be open at the time of your visit because operating hours have a tendency to change depending on season, holiday, and anticipated traffic volume.
The best way to undertake these tours is to have a designated driver, who you should shower with praise, free meals, and gifts.  Regardless, I have designed these tours to usually include no more than three or four breweries before checking into your hotel and then walking to the rest of the locations where you and your designated driver can enjoy yourselves fully.
For this tour, you'll visit all of the breweries from Vail to Aspen, (along with one in Leadville).
This tour encompasses the currently open breweries in the towns of Leadville, Glenwood Springs, Carbondale, Basalt, Aspen, Edwards, and Vail.
Friday (2 Breweries and a Taproom, Leadville & Glenwood Springs)
The tour starts in Leadville which is about two hours from Denver.
Two Mile Brewing which opened in 2020, is the highest elevation brewery in the United States at an altitude of 10,152 feet! Another interesting fact, this brewery resides in a former gas station. When the weather permits, you can sit outside on the patio where the gas pumps used to be and take in the views, maybe play a round of corn hole.  Two Mile also has snacks and sandwiches to enjoy with your beer.
From Leadville, take the beautiful drive up Highway 24 and be sure to check out Red Cliff Bridge before you get back to I-70, then cruise through the scenic Glenwood Canyon.  You'll then arrive in Glenwood Springs where your first stop is Glenwood Canyon Brewpub.  The brewpub was built in the historic Hotel Denver, which, since 1914 has had its own history of bottlers, bars and brews.  In 1996, Glenwood Canyon Brewing Company opened its doors serving hand crafted beer, as well as a wide variety of pub fare.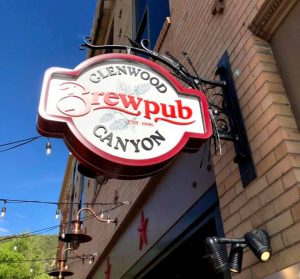 While not the primary brewing location, Casey Brewing & Blending Taproom is a short walk from Glenwood Canyon Brewpub and is a great spot to sample their amazing beers.  Casey Brewing and Blending focuses on barrel aged sour ales made with local Colorado ingredients. They also make a rotating selection of lagers, IPAs and stouts and were named the best new brewery in the world in 2015 by Rate Beer. Be sure to grab some of these special bottles to-go.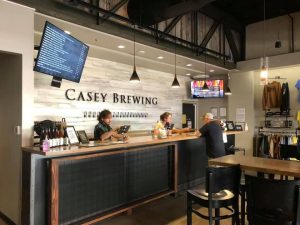 Saturday (5 Breweries in Glenwood Springs, Carbondale, Basalt, & Aspen)
There are two ways to tour the Roaring Fork Valley, either visit the breweries as you drive down the valley and spend the night in the town of Aspen or drive down to Aspen and visit the breweries on your way back up to Glenwood Springs.  Unless your plan is to spend some time in Aspen, I recommend the latter so you can keep the same hotel in Glenwood Springs, (much cheaper than Aspen) and have more time on Sunday for your return trip.  Note: Casey Brewing & Blending Barrel Cellar has very limited hours so you may have to be content with their taproom.
It should only take a bit over an hour from Glenwood Springs to the beautiful town of Aspen.  Aspen Brewing Company was founded in 2008 with one simple goal: make world-class beer, downstream from nobody.  Aspen Tap is located just steps from Aspen Mountain, where guests can enjoy a beer, pizza, and a gorgeous view at their taproom. As the only licensed brewery in Aspen, they provide an experience unlike any other in town. With beers to suit any palate—from creative, limited-edition IPAs to classic German-style pilsners, they have something for everyone.  All of the brewing operations happen at the Aspen Brewing production facility, (near the airport) which is planning a major renovation to eventually add a taproom.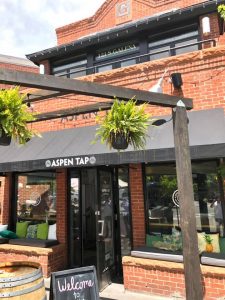 In the middle of the valley in the town of Basalt is Capitol Creek Brewery, an up-scale brewpub serving a wide variety of excellent beers and food. They also have a full bar and wine for anyone looking for something other than beer. If the weather is nice, be sure to sit out on the comfortable patio.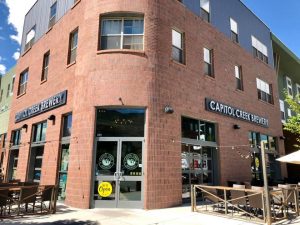 In the town of Carbondale you will find Carbondale Beer Works, a friendly local brewpub serving small batch beers. If you happen to end up here on a Thursday, prepare for Whiskey Thursday where they feature two to four whiskeys for $5.00 each. If there's space, have your food and beer out on the patio, which has a chill, garden vibe.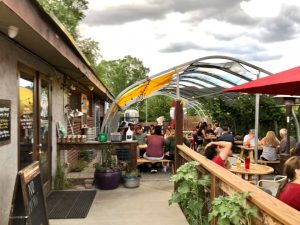 On the south side of Glenwood Springs is Ball Brewing, a brewery and taproom along with an attached homebrew supply store.  Enjoy a pint or two in the fun taproom with their very friendly staff.  Play some arcade games, shuffle board, and admire their old skool Mario mural.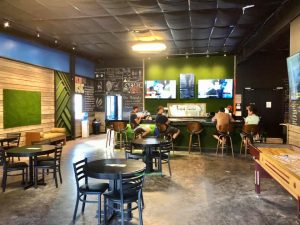 Back at the edge of Glenwood Springs is the Casey Brewing & Blending Barrel Cellar.  This is Casey's main production facility where Troy Casey performs his magic. Closed during the winter, and with limited hours during warmer months, make sure to check their hours before visiting.  Once there, you can either sit inside amongst the barrels or out on the patio that overlooks the Roaring Fork river. Casey also hosts private ticketed experiences featuring some extra special collabs and vintage bottles from the cellar.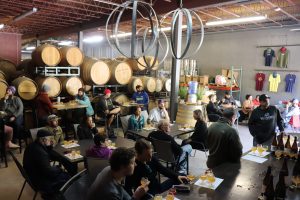 Sunday (2 Breweries in Edwards and Vail)
On Sunday, you can visit the breweries in the Vail valley heading back East.
Note:  If you're heading west check out the Grand Junction Area Brewery Tour or the Central Western Colorado Brewery Tour.
Craftsman Brew Co in the town of Edwards took over the location of Gore Range Brewery after being open as a sandwich shop just across the street, (as Craftsman Vail) for 5 years previously.  In December 2022, they brewed their first beer to open officially as a brewpub.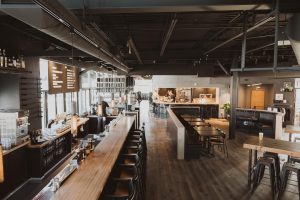 Finally, in Eagle-Vail, (East of the resort) is Vail Brewing Company's main brewery and taproom.  Vail Brewing is "veteran & ski bum owned."  "VBC uses mountain fed water and the finest ingredients to brew multiple award-winning styles with an emphasis on IPA's.  Our atmosphere is relaxed and comfortable with mountain views and plenty of indoor and outdoor seating.  After a day on the slopes or on your bike, VBC welcomes locals and tourists alike." – Garrett Scahill, Head Brewer & Co-owner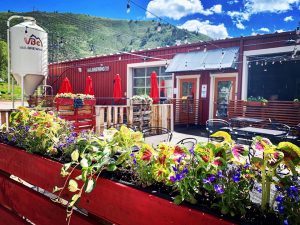 Note:  While not a brewing location, Vail Brewing also has a Vail Brewing – Vail Village taproom for a selection of beers that are much closer to the slopes.
That's it for this tour.  If you're heading further east, you could also easily visit some of the many great breweries in Summit County.  (A Summit County tour will be coming soon.)
I hope you enjoy your trip through the Vail & Aspen valleys and all of the great breweries in the area.  If you take this tour or a similar route, please drop us a line and let us know how it went!
Next Up:  Summit County Tour