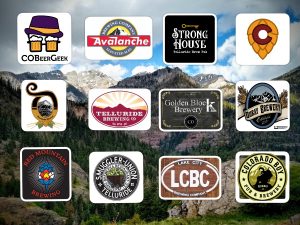 Do you love craft beer?  Want to get out and see the beautiful state of Colorado?  Do you live along the Front Range and want to visit the western Colorado breweries, but aren't sure how to go about it?  For those who answered "Yes!" to these questions, this is the third of a Colorado Brewery Tour article series that maps out a route of 10 to 18 breweries you can easily visit over an extended-weekend trip.  The first article was a Southwest CO Tour and the second was a South Central CO Tour.
Denver is the starting point for each tour since the majority of Colorado Brewery List members are from this metropolitan area.  However, you can adjust the maps quite easily to start your tour from another location.  Each day includes a Google Maps™ link for that day's destinations.  These are a great springboard for planning your personal itinerary.
Most of the tours that I've designed are for a full three-day weekend.  This allows for full enjoyment of four to six breweries on each day with time to spare for other activities.
While I did not include each brewery's hours of operation, in many cases I start each day at the earliest opening brewery and finish it at the last to close location.  Before your tour, be certain to double check that the breweries you want to visit will be open at the time of your visit because operating hours have a tendency to change depending on season, holiday, and anticipated traffic volume.
The best way to undertake these tours is to have a designated driver, who you should shower with praise, free meals, and gifts.  Regardless, I have designed these tours to usually include no more than three or four breweries before checking into your hotel and then walking to the rest of the locations where you and your designated driver can enjoy yourselves fully.
For this tour, you'll visit all of the breweries nestled in the stunningly beautiful San Juan Mountains and Uncompaghre National Forest in South West Colorado.  This tour encompasses the breweries (along with a couple additional locations) in the towns of Ridgway, Ouray, Silverton, Telluride, and Lake City.
Note:  Some may ask why I don't include the Montrose breweries in this tour since you will be driving through it.  The main reason is to limit this tour to a three day weekend.  If you have more time, you can easily add the four Montrose breweries on the Thursday prior to this tour.  I'll cover more details about these breweries the upcoming Central Western Colorado tour.
Friday (4 Breweries in Silverton & Ouray)
The first day starts in Silverton which is about a 7 hour drive from Denver.  Instead of a super early Friday start, I'd recommend driving to Montrose or Ouray on Thursday evening (about 6 hours) and then you will be set up to enjoy the scenic views and breweries on Friday.
Although the entire 25 mile stretch of U.S. 550 between Silverton and Ouray has been called the Million Dollar Highway, it is really the twelve miles south of Ouray through the Uncompahgre Gorge to the summit of Red Mountain Pass which gains the highway its name.  This stretch through the gorge is challenging and potentially hazardous to drive; it is characterized by steep cliffs, narrow lanes, and a lack of guardrails; the ascent of Red Mountain Pass is marked with a number of hairpin curves used to gain elevation, and again, narrow lanes for traffic—many cut directly into the sides of mountains.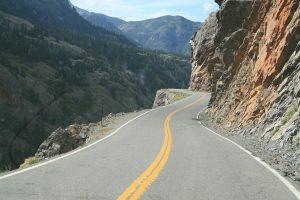 There are two breweries in Silverton, located only one block from each other, Golden Block Brewery and Avalanche Brewing Company.
Golden Block Brewery provides an experience that's fresh and bursting with flavor.  Serving Silverton, CO they offer great tasting craft beer brewed on premise.  You can create the perfect meal by combining an artisan wood fired pizza from their delicious menu and pairing it with the perfect brew.  At Golden Block Brewery you are sure to enjoy the great atmosphere, friendly service, and affordable prices.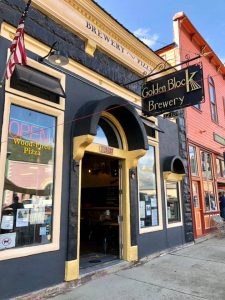 The Avalanche Brewing Company has been brewing beer amongst the mighty San Juan Mountains in Silverton, Colorado since late 2011.  Their beers are the obsession of owner and brewmaster Austin Lashley.  Like making the ascent to any one of the peaks that surround Silverton, there's a lot of hard work behind pouring beer into your glass.  They, "Hope you find your first sip through the head of foam as rewarding as that first turn from the top through light fluffy powder and the empty glass as satisfying as the amazing view from the top of the peak!"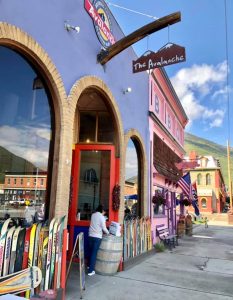 Upon returning to Ouray there are three breweries to visit in this beautiful mountain town.
The first stop in Ouray is the Ourayle House (aka Mr. Grumpy Pants Brewery).  A simple brewery that few people have ever heard of snuggled somewhere in the spectacular high country of the Colorado San Juan Mountains, where they brew by the single barrel.  Thus, their beers are continuously changing.  This brewery is perhaps best known for Hutch, the owner/brewer/beertender, who very much plays the role of Mr. Grumpy Pants, but that should be taken with a sense of humor.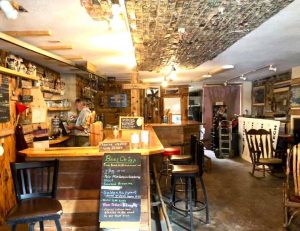 Just up the street is Ouray Brewery. Family owned and operated, they provide award-winning craft beers and hearty pub-style American cuisine in their restaurant.  Ouray Brewery offers craft beers for every taste.  Their ingredients are locally sought and sourced, providing the rich character that is unique to the region.  They seek the best ingredients and vary them according to season and selection.  Ouray Brewery has a very picturesque rooftop patio for dining, along with a bar that features fun ski chairlift swings.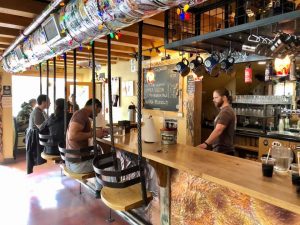 Colorado Boy Southwest Pub (Taproom)
While not included in the brewery count for this tour, Colorado Boy recently opened a new restaurant in Ouray focusing on great food, craft lagers, tequilas, margaritas and more.  All of their Colorado Boy beers are made at their Ridgway brewery locations (which are both included tomorrow).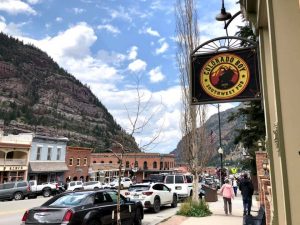 Saturday (4 Breweries in Ridgway & Telluride)
Just north of Ouray is the small town of Ridgway where you will find Colorado Boy (and its additional location).
Colorado Boy Pub & Brewery is a wee humble pub in a wonderful 1915 brick building in the old section of downtown Ridgway.  The brewery is in full view from the antique oak bar, so that you can watch the brewing process while enjoying your pint.  All of their electricity is wind powered and the hot water for brewing comes from solar collectors on the roof.  All spent brewing grain and yeast is fed to local cattle.  There are usually 5 or 6 ales on tap, as well as cask versions of real ale.  They serve artisan pizzas and salads, plus wines by the glass and beer to go.
A second Ridgway location for Colorado Boy is the Colorado Boy Depot. This space features a 7 BBL Forgeworks system.  The Depot is also a brewpub with a small seating area, free popcorn and a small food menu.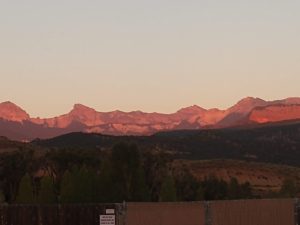 Just an hour from Ridgway, after a gorgeous drive you'll arrive in Telluride and can visit its three breweries; Telluride Brewing (along with its additional location), StrongHouse Brew Pub, and Smugglers Union.
Telluride Brewing Company is located just outside of town and is a craft production brewery dedicated to producing bad ass artisan brews.  Their beer comes straight from Rocky Mountain snowmelt and is made from premium malts, hops, and yeasts that create rich aromas and smooth-tasting flavors.  Join them in celebrating the special spirit of Telluride from one of the highest microbreweries in the world.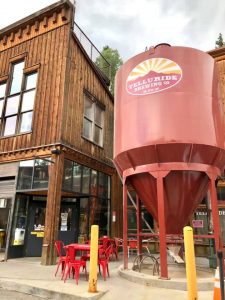 After visiting Telluride Brewing, I suggest settling into your hotel and then taking the Telluride and Mountain Village Gondola up to Mountain Village to visit Telluride Brewing's second location.  The Gondola offers free, seasonal transportation for the public with handicap accessible and pet-friendly cars for your furry friends.  The ride is approximately 13 minutes in length, and eliminates the 20 minute, 8-mile drive between Telluride and Mountain Village.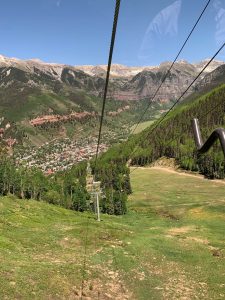 New to the Mountain Village Core, the Telluride Brewing Brew Pub & Taqueria features award-winning beer, tasty tacos from Los Buenos Tacos and good times aplenty.  Located at the base of the Telluride Ski Resort, they're ready to quench your thirst and serve up delicious fare before you return to the slopes.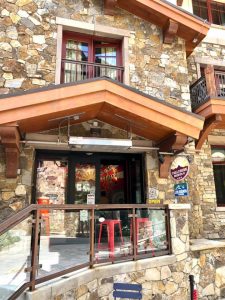 Upon returning to Telluride on the gondola, there are two more brew pubs within very close walking distance.
Located in downtown Telluride, StrongHouse Brew Pub occupies an historic stone building from 1892.  StrongHouse Brewmaster Sam Enders is excited to introduce the Telluride community to his unique mix of original ales and lagers, drawing influence from brewing traditions all over the world.  StrongHouse has an exceptional roster of seasonally rotating beers utilizing local Colorado ingredients whenever possible and the latest in craft brew technology.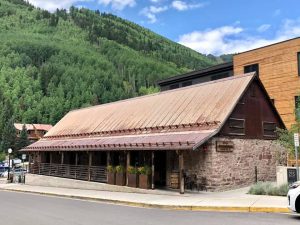 In a town rich with history, Smuggler Union Restaurant and Brewery is locally owned and operated with the same commitment and determination of those who settled this majestic canyon.  They serve handcrafted beers from the downstairs brewery and feature fresh homemade dishes daily. Smugglers Brew Pub is the quintessential ski town pub.  Step inside the friendliest bar in town or dine outside on the incredible patio where the mountains kiss the sidewalk.  Smugglers features an affordable, family friendly menu and accommodations for parties of any size.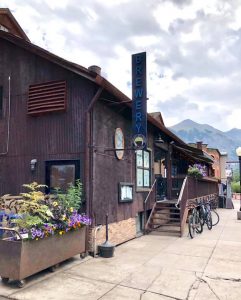 Sunday (1 Brewery in Lake City)
On Sunday, you'll make the journey to Lake City.
Back in the 1880's Lake City was a bustling mining town with over 3,000 people and three breweries.  Now that the mines are gone, Lake City is a small tourist town of just over 400 folks and in 2018 gained its first new brewery in 130 years.  While Lake City Brewing may be one of the most remote Colorado breweries, you will enjoy the beautiful drive there and be able to relax with friendly company over some good beers.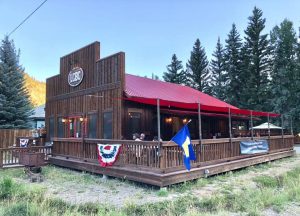 I hope you enjoy your trip through the San Juan Mountains of Colorado and all of the great breweries in the area.  If you take this tour or a similar route, please drop us a line and let us know how it went!
A big thank you to Paul Myhill AKA Colorado Beer Guy for the use of many of his photos.
Next Up:  Central Western Colorado Tour featuring all of the breweries in Montrose, Olathe, Delta, Paonia, Crested Butte, & Gunnison.