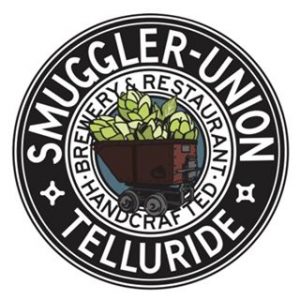 Description
In a town rich with history, Smugglers Brew Pub is the only brewpub in Telluride. Smugglers Brew Pub is locally owned and operated with the same commitment and determination of those who settled this majestic canyon. We serve handcrafted beers from the downstairs brewery and feature fresh homemade dishes daily. Smugglers Brew Pub is the quintessential ski town pub.
An outstanding beer menu, including festival favorites such as Shroom Beer, served during the Mushroom Festival. Step inside the friendliest bar in town or dine outside on the incredible patio where the mountains kiss the sidewalk. Smugglers features an affordable, family friendly menu and accommodations for parties of any size. Come see for yourself what makes Smugglers Brew Pub a "must see" during your stay in Telluride.
Beers Brewed by Smuggler Union Restaurant & Brewery
This list includes beers brewed currently, previously, or seasonally by Smuggler Union Restaurant & Brewery. Contact the brewery for current beer availability.
| Name | Style | ABV | Availability |
| --- | --- | --- | --- |
| Abbey Weiss | Hefeweizen / Weiss bier | 6.4 | Year-Round |
| Smugglers: Oatmeal Stout | Nitro, Oatmeal Stout | 6.3 | Year-Round |
| Chanterelle Ale | Belgian Blonde Ale | 6.2 | Seasonal |
| Juniper Rye Pale Ale | Rye Beer, Spice / Herb / Vegetable Beer | 5.4 | Seasonal |
| Smugglers Christmas Ale | Christmas / Winter / Specialty Spiced Beer | 5.5 | Seasonal |
| Black Betty Imperial Black IPA | American Double / Imperial IPA, Black IPA / American Black Ale | 8.1 | Seasonal |
| Daly's Dubbel | Belgian Dubbel | 7.2 | Seasonal |
| Smugglers: Oktoberfest | Oktoberfest / Märzen | | Seasonal |
| Dominator Doppelbock | Doppelbock | 7.9 | Seasonal |
| Smugglers: Winter Warmer | Christmas / Winter / Specialty Spiced Beer, Wood / Barrel Aged Beer | 7.5 | Seasonal |
| Pumpkin Plunge | Pumpkin Beer | 6.3 | Seasonal |
| Turkey Tail Steam Ale | California Common / Steam Beer | 5.9 | Seasonal |
| Shred Betty Raspberry Wheat | Fruit Beer | 5.2 | Year-Round |
| Ingram's IPA | American IPA | 6.4 | Year-Round |
| Road Rash Red | American Amber Ale / Red Ale | 5.3 | Year-Round |
| Palmyra Pils | German Pilsener (Pils) | 5.5 | Year-Round |
| Debauchery | Belgian Tripel | 9.3 | Year-Round |
| The Reckoning | American Pale Ale | 6.6 | Year-Round |
| Blonde Betty | Golden or Blonde Ale | 5.0 | Year-Round |
| Powder Night Espresso Porter | Coffee Porter | 5.5 | Year-Round |
| Wildcat Wheat | American Wheat Ale | 5.2 | Year-Round |
| Smugglers Strong Scottish Ale | Scotch Ale / Wee Heavy | 6.8 | Year-Round |
| San Juan Skyhop | American Pale Ale | 6.1 | Year-Round |
| Rocky Mountain Rye | Rye Beer | 5.3 | Year-Round |