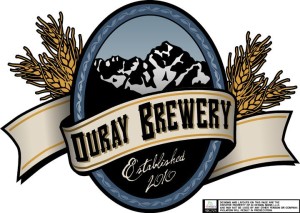 Brewery Details
Hours:
| | |
| --- | --- |
| Sunday | 11:00 AM - 8:00 PM |
| Monday | 11:00 AM - 8:00 PM |
| Tuesday | 11:00 AM - 8:00 PM |
| Wednesday | 11:00 AM - 8:00 PM |
| Thursday | Closed |
| Friday | 11:00 AM - 8:00 PM |
| Saturday | 11:00 AM - 8:00 PM |
Visitors:
Visitors Welcome
Tours:
On Request
Food:
Brewpub Fare
,
Full Service Restaurant
Other drinks:
Coffee
,
Full bar
,
Hard Cider
,
Non-alcoholic
,
Single Malt Whiskey
,
Wine
Beer to go:
Bottles or cans
,
Crowlers
,
Growlers
Merchandise:
Beanies
,
Bottle openers
,
Gift Cards
,
Glassware
,
Hats
,
Hoodies
,
Koozies
,
Mugs
,
Other
,
Shirts
,
Stickers
Parking:
Street Parking
Dog Friendly?
No Dogs Allowed
Outdoor seating/Patio:
Yes
Opening Date:
August 1, 2010
Description
People come from all around the world to visit Ouray Colorado and to experience what makes it great. Whether it's ice climbing, world-class Jeeping or hiking in the San Juan Mountains, Ouray Colorado is a true mountain gem. At the Ouray Brewery, we're happy to be a small part of each visitor's experience, providing great beers, great food and rooftop views from our restaurant that are unparalleled.
Family owned and operated, Ouray Brewery sits in the heart of Ouray Colorado, providing award-winning craft beers and hearty pub-style American cuisine in our restaurant. Tucked at the base of Million Dollar Highway and nearly in ear-shot of Box Canyon Falls, the Ouray Brewery is an unassuming brew pub and restaurant with the best food and home-grown beer of any restaurant in Ouray, Colorado.
Ouray Brewery offers craft beers for every taste. Our ingredients are locally sought and sourced, providing the rich character that is unique to our region and to Ouray, Colorado. We seek the best ingredients and vary them according to season and selection, resulting in some of the finest beer on the Western Slope of Colorado.
Beers Brewed by Ouray Brewery
This list includes beers brewed currently, previously, or seasonally by Ouray Brewery. Contact the brewery for current beer availability.
| Name | Style | ABV | Availability |
| --- | --- | --- | --- |
| Summer Saison | Saison / Farmhouse Ale | | Seasonal |
| Honey Rye | Rye Beer | | Rotating |
| Desperado Imperial Red | American Imperial Red Ale | 8 | Rotating |
| Stormy's Imperial Stout | American Double / Imperial Stout | 8 | Rotating |
| Red Mountain Rye | Rye Beer | 5.28 | Seasonal |
| Bluegrass Pale Ale | American Pale Ale | 6.23 | Year-Round |
| Silvershield Stout | American Stout | 5.6 | Year-Round |
| Mountainweizen | Hefeweizen / Weiss bier | 5.65 | Seasonal |
| Kayle's Scottish Ale | Scottish / Irish Ale | 5.62 | Seasonal |
| Portland Porter | American Porter | 4.76 | Seasonal |
| Pick Axe Pilsner | Classic American Pilsener | 4.73 | Seasonal |
| Mountainbock | Maibock / Helles Bock | 6.5 | Seasonal |
| Dallas Creek Dortmunder | Dortmunder / Export Lager | 5.5 | Seasonal |
| Black Lake Dark Lager | Dark American Lager | 5.32 | Seasonal |
| San Juan IPA | American IPA | 6.6 | Seasonal |
| Backcountry IPA | American IPA | 7.56 | Year-Round |
| Box Canyon Brown | American Brown Ale | 5.6 | Year-Round |
| 550 Red Ale | American Amber Ale / Red Ale | 5.43 | Year-Round |
| Camp Bird Blonde | Golden or Blonde Ale | | Year-Round |