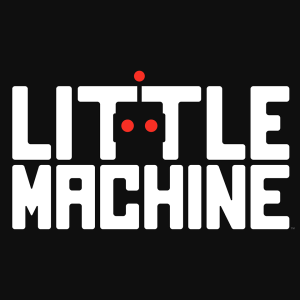 Brewery Details
2924 W 20th Ave.
Denver, CO 80211
303-284-7893
www.littlemachinebeer.com/
Hours:
Mon-Thurs: 12:00pm-11:00pm :: Fri-Sat: 11:00am-11:00pm :: Sun: 11:00am-10:00pm
Visitors:
Visitors Welcome
Tours:
Food:
Bring Your Own / Order In
,
Food Trucks
,
Snacks
Other drinks:
Non-alcoholic
Beer to go:
Growlers
Merchandise:
Baby Wear
,
Beanies
,
Glassware
,
Hats
,
Hoodies
,
Shirts
Parking:
Parking Lot
,
Street Parking
Dog Friendly?
Outdoor seating/Patio:
No
Opening Date:
October 29, 2015
Description
It's inevitable. Robots will take over the earth some day. If it starts here, that will be a good thing. That's because our machines (and our humans) make beer. A variety of tasty standards and some exceptional seasonal and unique offerings. Here, we embrace the local, from our home in Jefferson Park right next to Mile High Stadium, to the only Colorado-made complete brewing system in the state.
Stop by for a draw from our 10 barrel system, and there's a good chance you'll start to believe.
What's in a Name? by The Brewtography Project
Beers Brewed by Little Machine Beer
This list includes beers brewed currently, previously, or seasonally by Little Machine Beer. Contact the brewery for current beer availability.
| Name | Style | ABV | Availability |
| --- | --- | --- | --- |
| Sully | Irish Red Ale, Nitro | 5.0 | Rotating |
| Chicken Suit | Munich Helles | 5.4 | Rotating |
| Sky-Wired | Wet Hop Beer | 5.8 | Seasonal |
| Hey Hey, Hay! | Wood / Barrel Aged Beer | 11 | Special Release |
| Rosie | American IPA | 6.8 | Rotating |
| Backstreet | Fruit Beer | 4.9 | Rotating |
| Hyperdrive | American Double / Imperial IPA | 8.1 | Rotating |
| Racerback | English Pale Ale | 5.5 | Rotating |
| Tanger Brown | American Porter | 5.8 | Rotating |
| Diffuser | American Brown Ale | 5.7 | Rotating |
| Staycation | Belgian Pale Ale | 6.1 | Rotating |
| Yafi IPA | American IPA | 7.4 | Rotating |
| Marzen Attacks | Oktoberfest / Märzen | 5.4 | Seasonal |
| Razz Against the Machine | Fruit Beer | 5.3 | Rotating |
| Pinch | Classic American Pilsener | 4.9 | Year-Round |
| The Reason | Saison / Farmhouse Ale | 4.5 | Year-Round |
| Colorado Stock Ale | American Pale Ale | 5.3 | Year-Round |
| Sniff | American IPA | 6.0 | Year-Round |
| Turbocharger | American Double / Imperial IPA | 8.2 | Year-Round |
| B.B. Rodriguez Double Brown | American Brown Ale, Other Imperial Beer | 8.5 | Rotating |
| Alternating Currant Black Currant Kettle Sour | Sour Ale | 4.8 | Rotating |
| Tractor Beam | Oatmeal Stout | 5.8 | Rotating |