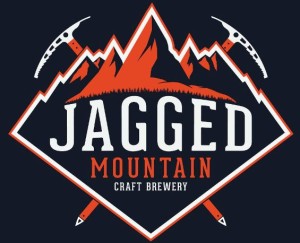 Description
Jagged Mountain Craft Brewery is a brewery based out of Denver, Colorado. We're adventurous people, and we make adventurous beer.
OUR MISSION
"Is to create the most innovative, unique, and distinctive specialty beers, enjoyable in any scenario, which will change beer enthusiasts' idea of what is possible in specialty craft beer. We will use the best quality, locally-sourced ingredients, superior knowledge, and crafting to deliver a distinguished product created by honest means."
Beers Brewed by Jagged Mountain Craft Brewery
This list includes beers brewed currently, previously, or seasonally by Jagged Mountain Craft Brewery. Contact the brewery for current beer availability.
| Name | Style | ABV | Availability |
| --- | --- | --- | --- |
| Sky Pond | American Pale Ale | 4.8 | Rotating |
| Sawatch | American IPA | 6.7 | Rotating |
| Grizzly Peak | American Porter | 3.8 | Rotating |
| Wolfpack | Saison / Farmhouse Ale | 7.0 | Rotating |
| Ptarmigan Ridge | Black IPA / American Black Ale | 7.5 | Rotating |
| Cougar Slayer | Fruit Beer | 6.8 | Rotating |
| Barrel-Aged Cocoa Grizzly Peak | American Porter, Wood / Barrel Aged Beer | 3.8 | Special Release |
| Mountain Town | American Brown Ale | 4.3 | Rotating |
| Timberline | American Barley Wine | 11.4 | Rotating |
| Thunder Thighs | Belgian Quadrupel Ale | 12.8 | Rotating |
| Redpoint | American Double / Imperial IPA, Rye Beer | 8.4 | Rotating |
| Verglas | American Stout | 8.7 | Rotating |
| The Wilkinson Exit | American Porter, Other Imperial Beer, Wood / Barrel Aged Beer | 11.5 | Special Release |
| Voodoo Goat | American Barley Wine | 10.9 | Rotating |
| BrettBagger | American Wild Ale, Wood / Barrel Aged Beer | 10.1 | Special Release |
| Hop Sponge II | American IPA | 7.5 | Rotating |
| Hop Sponge I | American IPA | 7.5 | Rotating |
| First Descent | Old Ale, Wood / Barrel Aged Beer | 15.5 | Rotating |
| Isabella Bird | English Mild, Other Imperial Beer | 6.5 | Rotating |
| Dreamweaver | American Double / Imperial IPA | 9.3 | Rotating |
| Spearhead | Saison / Farmhouse Ale | 8.0 | Special Release |
| Zero Gravity | Saison / Farmhouse Ale | 4.75 | Year-Round |
| Imlay | American IPA | 7.0 | Rotating |
| Vallecito | Belgian Dark Strong Ale | 10.8 | Rotating |
| Barking Marmot | Black IPA / American Black Ale | 7.0 | Rotating |
| Keyhole | American IPA | 5.2 | Year-Round |
| Globetrotter | American Pale Ale | 6.5 | Year-Round |