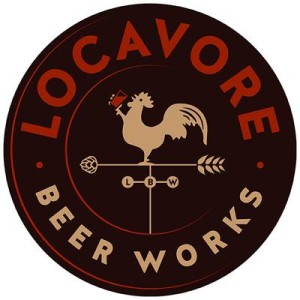 Brewery Details
5950 S Platte Canyon Rd.
Littleton, CO 80123
720-476-4419
locavorebeerworks.com/
Hours:
Sun-Wed: 12:00pm-9:00pm :: Thurs: 12:00pm-10:00pm :: Fri-Sat: 11:00am-11:00pm
Visitors:
Visitors Welcome
Tours:
On Request
Food:
Bring Your Own / Order In
,
Snacks
,
Soft Pretzels
Other drinks:
Craft Root Beer
,
Craft Soda
,
Kombucha
,
Non-alcoholic
Beer to go:
Bombers
,
Growlers
Merchandise:
Beanies
,
Glassware
,
Hats
,
Hoodies
,
Shirts
Parking:
Parking Lot
Dog Friendly?
Dogs Welcome
Outdoor seating/Patio:
Yes
Opening Date:
November 9, 2014
Description
What's a Locavore? Put simply, a person who chooses to support local industry, whether it be food or general services and products. In the end it comes to this, support your mom and pop shops before the big box guys.
Locavore Beer Works is a craft brewery located in Littleton just west of Santa Fe Dr. on Bowles. Nestled in the Columbine neighborhood, Locavore Beer Works is the first brewery in Littleton to be established in a business zone. While our microbrewery specializes in handcrafted beers, we keep our focus on our Colorado residents providing a comfortable, friendly, and inviting atmosphere. The brewery is family and pet friendly with ample seating inside and outside on the patio complete with a fire pit. If you are looking for fresh beer and a great brewery experience in Littleton this is the place to be!
Beers Brewed by Locavore Beer Works
This list includes beers brewed currently, previously, or seasonally by Locavore Beer Works. Contact the brewery for current beer availability.
| Name | Style | ABV | Availability |
| --- | --- | --- | --- |
| Hey Guy! | American IPA | 5.6 | Rotating |
| Foo's Gold | English Mild | 4.7 | Rotating |
| 5th Season Pale | American Pale Ale | 5.2 | Rotating |
| Sister Christian | Belgian Blonde Ale | 9.3 | Rotating |
| Edward's Wee Demise | Scotch Ale / Wee Heavy | 9.3 | Rotating |
| Short Stack | Belgian IPA | 6.8 | Rotating |
| Oncorhynchus T. IPA | American IPA, Wet Hop Beer | 6.5 | Rotating |
| Old Red | Irish Red Ale | 5 | Rotating |
| Heisenberg Green Chile Pale | Chili Beer | 5.7 | Rotating |
| Replacement Killer Pumpkin Ale | Pumpkin Beer | 6.4 | Seasonal |
| Cobblestone Porter | English Porter | 5 | Year-Round |
| Lil' Dirty Blonde | Golden or Blonde Ale | 5.5 | Year-Round |
| The Dude | American Brown Ale | 5.5 | Year-Round |
| Überweizen | Hefeweizen / Weiss bier | 4.5 | Year-Round |
| Tooth and Ale ESB | Extra Special / Strong Bitter (ESB) | 5.5 | Year-Round |
| Bloch's Bounty Stout | Milk Stout, Nitro | 5 | Year-Round |
| Lilly Hammer IPA | American IPA | 6.5 | Year-Round |
| Estate IPA | American IPA, Wet Hop Beer | 6.5 | Seasonal |
| Lager Head | Standard American Lager | 4.5 | Year-Round |
| Sugar Magnolia | Witbier | 4.5 | Year-Round |
| Armistice Amber Ale | American Amber Ale / Red Ale | 6 | Year-Round |