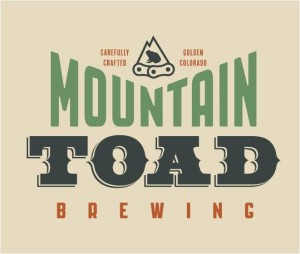 Brewery Details
900 Washington Ave.
Golden, CO 80401
720-638-3244
mountaintoadbrewing.com
Hours:
Mon-Thurs: 12:00pm-10:00pm :: Fri-Sat: 11:00am-11:00pm :: Sun: 11:00am-9:00pm
Visitors:
Visitors Welcome
Tours:
On Request
Food:
Bring Your Own / Order In
,
Food Trucks
,
Snacks
Other drinks:
Gluten Free/Gluten Reduced Beer
,
Kombucha
,
Non-alcoholic
Beer to go:
Crowlers
,
Growlers
Merchandise:
Glassware
,
Hats
,
Hoodies
,
Other
,
Shirts
Parking:
Street Parking
Dog Friendly?
Patio Only
Outdoor seating/Patio:
Yes
Opening Date:
May 25, 2013
Description
Mountain Toad Brewing is a small microbrewery specializing in handcrafted, creative beers. Our focus is on providing a place for the community to gather and unwind. The taproom offers a quaint and comfortable atmosphere for locals and visitors alike to grab a pint and make a new friend. Good vibes and high fives are always on tap.
Our building at the corner of 9th and Washington in historic downtown Golden, was an old machine shop that we have restored and transformed into a small brewhouse and taproom, with a beer garden in the adjacent yard. The building offers the elements of historic Golden charm and modern renewal, which has set the foundation for the brewery's character.
Behind the Brew: Mountain Toad Brewing by 5280 – 9 June 2014
Beers Brewed by Mountain Toad Brewing
This list includes beers brewed currently, previously, or seasonally by Mountain Toad Brewing. Contact the brewery for current beer availability.
| Name | Style | ABV | Availability |
| --- | --- | --- | --- |
| Paradise Pale Ale | American Pale Ale | 6.4 | Year-Round |
| Pedal On! Pale Ale | American Pale Ale | 5.6 | Year-Round |
| Butternut Brown Ale | American Brown Ale, Spice / Herb / Vegetable Beer | 5.9 | Rotating |
| Extra Special Bitter (ESB) | Extra Special / Strong Bitter (ESB) | 5.8 | Rotating |
| Curie Saison | Saison / Farmhouse Ale | 6.3 | Year-Round |
| Dunkelweizen | Dunkelweizen | 4.8 | Year-Round |
| Kippstander Kölsch | Kölsch | 4.7 | Year-Round |
| Infra-Red IPA | American IPA | 7.2 | Rotating |
| Grainshed Farmhouse Ale | Saison / Farmhouse Ale | 7.9 | Rotating |
| Ullr IPA | American IPA | 6.4 | Special Release |
| Paradise Hop | American Pale Ale | 5.8 | Rotating |
| Craft CREAM | Golden or Blonde Ale | 5.8 | Rotating |
| Fall Hop | American Pale Ale, Extra Special / Strong Bitter (ESB) | 5.6 | Seasonal |
| Pandan Porter | American Porter | 5.9 | Seasonal |
| Coal Creek Black IPA | Black IPA / American Black Ale | 6.3 | Rotating |
| Un Deux Belgian Brew | Belgian Dubbel | 6.8 | Rotating |
| Ryrish Stout | Irish Dry Stout, Rye Beer | 6.4 | Rotating |
| Mt. Zion IPA | American IPA | 7.5 | Year-Round |
| White Ranch Wit | Witbier | 7.0 | Year-Round |
| Apex Amber | American Amber Ale / Red Ale | 5.5 | Year-Round |