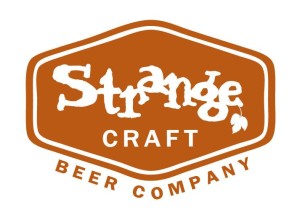 Brewery Details
1330 Zuni St
Denver, CO 80204
720-985-2337
strangecraft.com/
Hours:
Mon-Thurs: 3:00pm-8:00pm :: Fri-Sat: 12:00pm-9:00pm :: Sun: 1:00pm-6:00pm
Visitors:
Visitors Welcome
Tours:
On Request
Food:
Food Trucks
,
Occasional Food Pairings
,
Snacks
,
Soft Pretzels
Other drinks:
Craft Root Beer
Beer to go:
Bottles or cans
,
Growlers
Merchandise:
Beanies
,
Glassware
,
Hats
,
Hoodies
,
Shirts
Parking:
Parking Lot
Dog Friendly?
Patio Only
Outdoor seating/Patio:
Yes
Opening Date:
May 19, 2010
Description
Strange Brewing Company is the realization of a dream shared by two out-of-work IT Techs. Two avid homebrewers, worked together at the Rocky Mountain News before that newspaper closed in February, 2009. Suddenly unemployed, they needed a Plan B. So with their combined retirement savings, homebrew recipes, and Tim's 20-gallon homebrew equipment, they set out to open Strange Brew.
Strange opened on May 19th, 2010, as a one-barrel microbrewery. Starting out small allowed them to focus more on the recipes than on running and building a small business. Brewing one barrel at a time allowed them to experiment and tweak, refining recipes for the day when a larger brew system would be employed.
Strange shares their location with Wit's End Brewing Company
2 Denver craft-beer pioneers will combine taprooms, brewing operations by Denver Business Journal – 21 Oct 2017
Strange Craft Marks Five Years in Business as Denver's Brewery Tap Room Pioneer by Jonathan Shikes of Westword – 19 May 2015
Trademark fight over, Strange Craft Beer Company is born by The Denver Post – 21 Mar 2014
Beers Brewed by Strange Craft Beer Company
This list includes beers brewed currently, previously, or seasonally by Strange Craft Beer Company. Contact the brewery for current beer availability.
| Name | Style | ABV | Availability |
| --- | --- | --- | --- |
| Chocolate Raspberry Love Stout | Belgian Dark Ale, Fruit Beer | 9.5 | Special Release |
| Pumpkin Porter | Pumpkin Beer | 5.8 | Seasonal |
| 151 Anniversary Tripel | Belgian Tripel | 8.5 | Special Release |
| (James) Brown Porter | Brown Porter | | Rotating |
| Choke Cherry Cream Ale | Cream Ale | | Rotating |
| Zucchini Bread Cream Ale | Cream Ale | | Rotating |
| Dubbel Jeopardy | Belgian Dubbel | 7.6 | Special Release |
| Strangely Epic | American Double / Imperial Stout, Fruit Beer, Wood / Barrel Aged Beer | 7.1 | Special Release |
| StrangeTail | American IPA | 7.5 | Special Release |
| Simultaneous Saison | Saison / Farmhouse Ale | 5.2 | Special Release |
| Heather's Ale | Wet Hop Beer | 7.0 | Special Release |
| Second Runnings Pale | Wet Hop Beer | 5.5 | Special Release |
| Gingerbread Man | American Brown Ale | 6.7 | Seasonal |
| Breakfast Grapefruit IPA | American IPA | 7.0 | Rotating |
| Big Malty Winter Brew | Christmas / Winter / Specialty Spiced Beer | 7.6 | Seasonal |
| Pumpkin Saison | Pumpkin Beer | 4.8 | Seasonal |
| Watermelon Hefe | Fruit Beer | 5 | Seasonal |
| Dr. Strangelove | American Barley Wine | 11.5 | Rotating |
| Jack Stout | Irish Dry Stout | 4.3 | Rotating |
| Cherry Kriek | Fruit Beer | 5.0 | Rotating |
| Cherry Bomb Belgian Stout | Belgian Dark Ale, Fruit Beer | 5.2 | Rotating |
| Le Bruit du Diable | Saison / Farmhouse Ale | 8.3 | Rotating |
| Strange Wit | Witbier | 5.4 | Year-Round |
| IPAphany Ale | American IPA | 7.0 | Year-Round |
| Strange Pale Ale | American Pale Ale | 5.5 | Year-Round |
| Zora Rosemary Pale | Spice / Herb / Vegetable Beer | 6.5 | Rotating |
| 1000 Barrels Imperial IPA | American Double / Imperial IPA | 8.25 | Rotating |
| Powerhouse Porter | American Porter | 5.5 | Rotating |
| Juliette Belgian Pale | Belgian Pale Ale | 5.5 | Rotating |