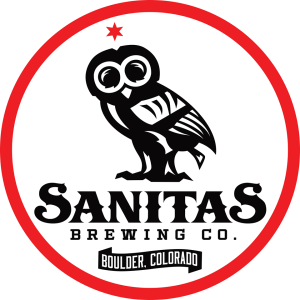 Description
Our mission is to brew continually enjoyable products that challenge people's perception on beer and manifest our respect for brewing. We craft beers that rely on traditional processes, yet, display our passion for innovation. Our products are inspired by the spirit of Colorado, therefor, we use local and organic ingredients wherever possible. In short, we've set out to make unique beers that recognize the past, represent the future, respect the environment, and rejoice our fans.
Beers Brewed by Sanitas Brewing Company
This list includes beers brewed currently, previously, or seasonally by Sanitas Brewing Company. Contact the brewery for current beer availability.
| Name | Style | ABV | Availability |
| --- | --- | --- | --- |
| Lover's Scorn | Biere de Garde | 7.4 | Special Release |
| Autumn Quad | Belgian Dark Strong Ale | 10 | Rotating |
| Sunday Stroll | American Wild Ale, Wood / Barrel Aged Beer | 4 | Rotating |
| Sanitas Abbey Ale | Belgian Dubbel | 8 | Rotating |
| Sunburn | American IPA | 5.5 | Rotating |
| Sanitas Grand Cru | Grand Cru | 10 | Seasonal |
| Lost Peach | American Wild Ale, Wood / Barrel Aged Beer | 6 | Special Release |
| Topaz | American Wild Ale, Wood / Barrel Aged Beer | 6.2 | Special Release |
| Balaton Cherry Saison | Fruit Beer | 5.9 | Rotating |
| Ceres | Belgian IPA, Other Imperial Beer | 8.1 | Rotating |
| Saison Reposado | Saison / Farmhouse Ale, Wood / Barrel Aged Beer | 6 | Special Release |
| Rail Tie | Nitro, Rye Beer | 6.2 | Special Release |
| Screech Owl | American Double / Imperial Stout, Wood / Barrel Aged Beer | 8.5 | Special Release |
| Sauvignon Blanc Wise Bird | Other Imperial Beer, Saison / Farmhouse Ale, Wood / Barrel Aged Beer | 10 | Special Release |
| Sesh-o-Rado | American IPA | 5 | Special Release |
| Bramble | American Wild Ale, Fruit Beer, Wood / Barrel Aged Beer | 4 | Special Release |
| Immure | American Wild Ale, Other Imperial Beer, Wood / Barrel Aged Beer | 10 | Special Release |
| General Admission | American IPA | 7.7 | Rotating |
| S.O.P. Stout | American Stout | 5.8 | Special Release |
| Rio Common | American Pale Lager | 5.5 | Special Release |
| Sanitas White IPA | Witbier | 7.1 | Seasonal |
| Brother's Farm | Fruit Beer, Saison / Farmhouse Ale, Wood / Barrel Aged Beer | 6.5 | Special Release |
| Cinnilla Stout | American Stout, Nitro, Wood / Barrel Aged Beer | 5.5 | Seasonal |
| Special Cargo Wet-Hopped Belgian Red Ale | Belgian Pale Ale, Wet Hop Beer | 6.6 | Seasonal |
| 'Tor | American Double / Imperial IPA | 9.5 | Rotating |
| Saison De La Grange | Saison / Farmhouse Ale | 7.1 | Rotating |
| Jim's English Bitter | English Bitter, Nitro | 4.8 | Rotating |
| Train 8 Patersbier | Belgian Pale Ale | 4.5 | Rotating |
| Hellcat Barleywine | American Barley Wine | 12 | Rotating |
| Sanitas: IPA | American IPA | 7 | Year-Round |
| Déluge | American Wild Ale, Saison / Farmhouse Ale, Wood / Barrel Aged Beer | 6.8 | Rotating |
| 360º Tripel | Belgian Tripel | 8.4 | Special Release |
| Boulder Common | California Common / Steam Beer | 6.6 | Special Release |
| Dark Dream | American Double / Imperial Stout, Fruit Beer, Wood / Barrel Aged Beer | 9 | Seasonal |
| Winter Saison | Christmas / Winter / Specialty Spiced Beer | 9 | Seasonal |
| Stocking Ale | Christmas / Winter / Specialty Spiced Beer | 8 | Seasonal |
| The Waker | Coffee Stout | 6 | Special Release |
| Special Cargo | Flanders Red Ale, Wet Hop Beer | 6.6 | Seasonal |
| Oso Grande | American Brown Ale, Other Imperial Beer, Wood / Barrel Aged Beer | 7.8 | Special Release |
| Bird of Prey | American Double / Imperial IPA | 10.7 | Year-Round |
| Sanitas: Saison | Saison / Farmhouse Ale | 5.8 | Year-Round |
| Sanitas: Black IPA | Black IPA / American Black Ale | 6.5 | Year-Round |