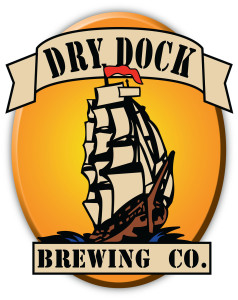 Description
Dry Dock started in 2005, working with a one-barrel system in the back of our sister company, The Brew Hut. Moving into our current location in 2009 – and expanding the tap room again in 2011 – we're now capable of brewing around 3000 barrels of beer per year, on a seven-barrel brew haus, and can accommodate over 200 guests at a time in our Tasting Room. We've had the good fortune of being recognized at both the Great American Beer Festival and the World Beer Cup, including winning "Small Brewery of the Year" in 2009. Throughout these nearly eight years of growth and evolution, Dry Dock has remained a close-knit family of employees and customers who are passionate about craft beer, and our community.
Dry Dock also has a taproom at their Northern production facility
Beers Brewed by Dry Dock Brewing Company South
This list includes beers brewed currently, previously, or seasonally by Dry Dock Brewing Company South. Contact the brewery for current beer availability.
| Name | Style | ABV | Availability |
| --- | --- | --- | --- |
| Cascara Imperial Stout | American Double / Imperial Stout, Wood / Barrel Aged Beer | 10.1 | Special Release |
| Dry Dock: Pilsner | German Pilsener (Pils) | 5.10 | Rotating |
| S.S. High Flyer | American Wheat Ale | 6.3 | Seasonal |
| The Devil You Know | Baltic Porter | 7.9 | Seasonal |
| Sugar Daddy | American Brown Ale | 6.3 | Seasonal |
| Rabbit in Red | American Wild Ale, Scottish Gruit / Ancient Herbed Ale, Wood / Barrel Aged Beer | 4.6 | Seasonal |
| Signature Series Bligh's Barleywine Ale | American Barley Wine, Wood / Barrel Aged Beer | 9.4 | Special Release |
| Signature Series Double Hazelnut Brown Ale | English Brown Ale, Other Imperial Beer, Wood / Barrel Aged Beer | 8 | Special Release |
| Signature Series Double Vanilla Porter | Other Imperial Beer, Vanilla Porter, Wood / Barrel Aged Beer | 9.3 | Special Release |
| Signature Series Double Coffee Porter | Coffee Porter, Other Imperial Beer, Wood / Barrel Aged Beer | 9.3 | Special Release |
| Chocolate Raspberry Porter | American Porter | 7 | Seasonal |
| Half Moon Pumpkin Ale | Pumpkin Beer | 5.6 | Seasonal |
| Captain Howdy | American Stout, Wood / Barrel Aged Beer | 6.9 | Seasonal |
| Citrus Summer Stout | American Stout | 4.9 | Seasonal |
| Dry Dock: Nitro Cream Ale | Cream Ale, Nitro | 6 | Seasonal |
| S.S. Minnow | English Mild | 3.5 | Seasonal |
| Dry Dock: Tripel | Belgian Tripel | 8.75 | Seasonal |
| Dry Dock: Imperial Pumpkin | Other Imperial Beer, Pumpkin Beer | 9 | Seasonal |
| Raspberry Porpoise Blonde | Fruit Beer | | Special Release |
| Dry Dock: Nitro Dry Irish Stout | Irish Dry Stout, Nitro | 3.8 | Seasonal |
| Signature Series Double Brown Ale | English Brown Ale, Other Imperial Beer, Wood / Barrel Aged Beer | 8 | Special Release |
| Ambassador | Sour Ale, Wood / Barrel Aged Beer | 6.5 | Special Release |
| Dry Dock: Wee Heavy | Scotch Ale / Wee Heavy | 9.5 | Seasonal |
| Signature Series Imperial Stout | American Double / Imperial Stout, Wood / Barrel Aged Beer | 9.2 | Special Release |
| Buddy | Belgian Dark Ale | 5.5 | Seasonal |
| Dry Dock: Biere de Garde | Biere de Garde | 8.2 | Seasonal |
| Cool Lime Lager | American Pale Lager | 5.2 | Seasonal |
| Albatross | American Brown Ale | 6.8 | Seasonal |
| H.M.S. Bounty | Old Ale | 6.9 | Seasonal |
| Hop Abomination | American IPA | 6.5 | Year-Round |
| Handpull Breakwater | American Pale Ale | 5.8 | Year-Round |
| Dry Dock: Double IPA | American Double / Imperial IPA | 9 | Seasonal |
| USS Enterprise | English IPA | 6.4 | Year-Round |
| Dry Dock: Vanilla Porter | Vanilla Porter | 5.4 | Year-Round |
| Apricot Blonde | Fruit Beer | 5.1 | Year-Round |
| Dry Dock: Hefeweizen | Hefeweizen / Weiss bier | 4.3 | Year-Round |
| Dry Dock: Amber Ale | Extra Special / Strong Bitter (ESB) | 5.8 | Year-Round |