Good Day and Good Beer, ladies and gentlemen! Nothing is better than a well-organized beer tour. Well, maybe some good food and some of the original craft breweries in the state could make it better.
Colorado Brewery List presents the total package: a tour of Aurora. This tour will include every brewery with an Aurora address, (sorry Centennial and Southeast Denver). It is recommended to split this tour over at least two days because while the dedicated beer drinker could conquer all TEN of these places in one day, we would recommend savoring the adventure and drinking responsibly.
Author's Note: The tour will be broken into roughly Southeast/Central and North/West, but some edits have been made to round out the tour quality.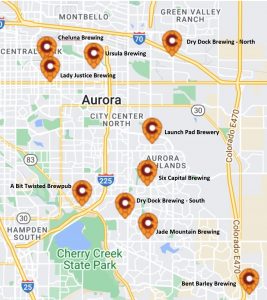 Day 1: Southeast/Central Aurora
Stop #1: Launch Pad Brewery
Address: 884 S Buckley Rd.
Aurora, CO 80017
Note: Located behind the 7-11
A staple of the Aurora beer scene, this space-themed brewery proudly boasts 30+ taps of their own brews with variety ranging from IPAs to Pastry Stouts, historical styles, and even a seltzer. Great for trying something familiar or new. Food trucks are available almost every afternoon. Above all else, Launch Pad excels at making every guest feel like a regular.
Stop #2: Six Capital Brewing and BBQ
Address: 16701 E. Illif Ave.
Aurora, CO 80013
New and on the rise, Six Capital has solid brews and tasty food options, (the tacos are my personal favorite). Locally sourced ingredients and products lend this brewery it's unique flavor, literally. The brews are no exception. No matter your preference, light, dark, or hoppy, there will be something to suit and pair with their incredible food.
Stop #3: Dry Dock Brewing Company South Dock
Address: 15110 E. Hampden Ave.
Aurora, CO 80014
The OG of craft beer in Aurora, Dry Dock has no equal in the area. Established in 2005 as a tiny one-barrel system in the back of their neighbor and sister shop, Brew Hut, Dry Dock has grown to a 200-seat taproom and has become an industry standard. With countless awards, titles, and admiring fans, Dry Dock maintains excellent quality and a friendly atmosphere. Don't forget to grab some popcorn.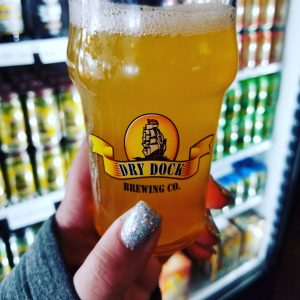 Stop #4: Jade Mountain Brewery and Teahouse
Address: 4233 S. Buckley Rd
Aurora, CO 80013
Probably one of the most unique breweries in the area, (and maybe even in the state) Jade Mountain combines their love of beer with the beautiful flavors of tea. This brewery originally began in the back of a small tea house in South China and that influence is still present in every sip. If you're ready for a break in the action, Jade Mountain also offers an impressive selection of teas and other non-alcoholic beverages to soothe the palate.
Stop #5: Bent Barley Brewing Company
Address: 6200 S. Main St.
Suite 110
Aurora, CO 80016
The locals and staff joke about their "beer flavored beer," but Bent Barley is showing the region how classic styles can still be the star of the show. This well-kept secret opened in 2018 and has made their mark on both the national and local award stages. Bent Barley is a comfortable brewery that feels like home and is a great way to end a day of great beer.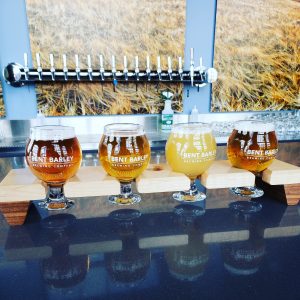 Day 2: North/West Aurora
Stop #1: A Bit Twisted Brewpub
Address: 3095 S. Peoria
Aurora, CO 80014
The newest brewery in the Aurora scene starts this tour strong. Central Texas BBQ smoked over oak, with homemade sauces and rubs. Is your mouth watering yet? A Bit Twisted proudly pairs their fantastic 'Que with their craft brews. Ever since opening in September of 2021, they have already expanded their brew space to accommodate the Aurora crowd. Make sure to go early to get your favorites, before they run out.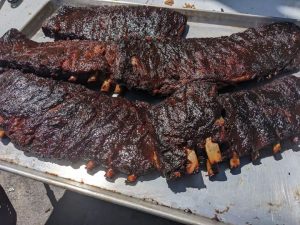 Stop #2: Dry Dock Brewing Company North Dock
Address: 2801 Tower Rd.
Aurora, CO 80011
Note: Check Hours before visiting.
Dry Dock's production facility tends to be overlooked by some of the beer crowd and that is a terrible mistake. North Dock was opened to the public in 2014 and became the place to find Dry Dock's specialty and rare beers. Take a step outside the "Canoe Room" and enjoy one of those brews on the patio inside the production space or enjoy a round of disc golf outside. Tours of the facility are offered on Saturdays starting at 2:00pm and 4:00pm for the curious and thirsty.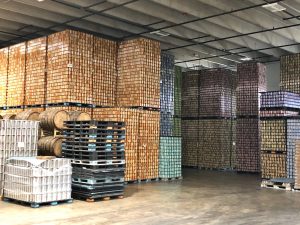 Stop #3: Ursula Brewery
Address: 2101 N. Ursula St.
Unit 10
Aurora, CO 80045
Note: Closed Sundays
Settled on the busy Anschutz Medical Campus, Ursula offers a calm and inviting taproom. The flavors that have been incorporated into the beer are unique and well done. The bar staff is friendly and knowledgeable. Best of all, Ursula is dog friendly so you can bring your best four-legged friend with you! If you can get it, try Bully Stole My Lunch, a PB&J Porter that will transport you straight back to your childhood.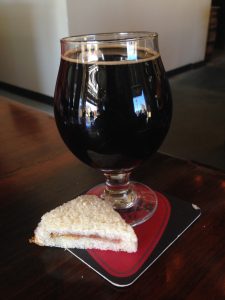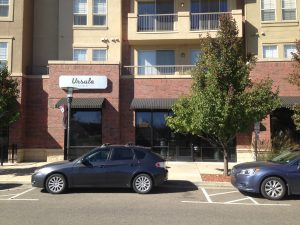 Stop #4: Lady Justice Brewing
Address: 9735 E. Colfax Ave.
Aurora, CO 80010
Note: Closed Sundays and Mondays
After opening the doors of their Colfax location shortly after the mandatory stay-at-home orders were enacted, Lady Justice was one of the first Colorado breweries to have a "canned opening." Since then, Lady Justice has made a positive impact not only on the beer industry but their community. With membership profits going to local nonprofit partners and fabulous brews, this is a place you can feel good about drinking at.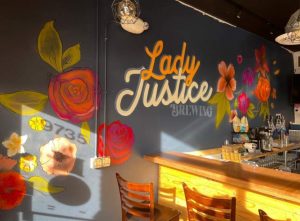 Stop #5: Cheluna Brewing Company
Address: 2501 Dallas St.
Aurora, CO 80010
Note: Located in the southwest corner of Stanley Marketplace.
To round out your adventure, Cheluna is the master of putting their spin on classic styles with flavor influences from Mexico. Take a seat in this colorful space or take your cup to-go and wander around Stanley Marketplace to find a place to eat, shop, or just relax. Don't forget to stop by Monday through Friday from 3:00pm to 6:00pm for Happy Hour to enjoy $1 off of your "Chelas!"
Upcoming in NW Aurora are:  Second Dawn Brewing & Cerebral Brewing (2nd location)
Now that you have experienced all of Aurora's craft brewery options, you have covered a lot of territory and surely had a large variety of beers and great food. Colorado is known for having so many breweries spread across the state, but touring the offerings in Aurora is a great reminder that you can have a beer adventure without leaving the city.