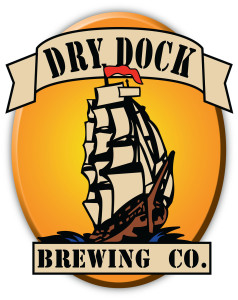 Description
Co-owners Kevin DeLange and Michelle Reding have opened a tasting room, (also referred to as The Canoe Room) inside the production warehouse, with about seventy seats and four beers on tap. Because of a lack of drainage, the taproom isn't able to use glassware or fill growlers, but relies on compostable plastic cups instead. There are some rare/unusual beers on tap, and they also sell canned beers to-go via their Crowler machine. The Crowler™ is a one-use, recyclable 32-oz can that is filled and seamed right at the bar.
Beers Brewed by Dry Dock Brewing Company North
This list includes beers brewed currently, previously, or seasonally by Dry Dock Brewing Company North. Contact the brewery for current beer availability.
| Name | Style | ABV | Availability |
| --- | --- | --- | --- |
| Cascara Imperial Stout | American Double / Imperial Stout, Wood / Barrel Aged Beer | 10.1 | Special Release |
| Heather Pale Ale | American Pale Ale | 5.4 | Seasonal |
| Signature Series Bligh's Barleywine Ale | American Barley Wine, Wood / Barrel Aged Beer | 9.4 | Special Release |
| Signature Series Double Hazelnut Brown Ale | English Brown Ale, Other Imperial Beer, Wood / Barrel Aged Beer | 8 | Special Release |
| Signature Series Double Vanilla Porter | Other Imperial Beer, Vanilla Porter, Wood / Barrel Aged Beer | 9.3 | Special Release |
| Signature Series Double Coffee Porter | Coffee Porter, Other Imperial Beer, Wood / Barrel Aged Beer | 9.3 | Special Release |
| Chocolate Raspberry Porter | American Porter | 7 | Seasonal |
| Half Moon Pumpkin Ale | Pumpkin Beer | 5.6 | Seasonal |
| Captain Howdy | American Stout, Wood / Barrel Aged Beer | 6.9 | Seasonal |
| Citrus Summer Stout | American Stout | 4.9 | Seasonal |
| Dry Dock: Nitro Cream Ale | Cream Ale, Nitro | 6 | Seasonal |
| S.S. Minnow | English Mild | 3.5 | Seasonal |
| Dry Dock: Tripel | Belgian Tripel | 8.75 | Seasonal |
| Dry Dock: Imperial Pumpkin | Other Imperial Beer, Pumpkin Beer | 9 | Seasonal |
| Raspberry Porpoise Blonde | Fruit Beer | | Special Release |
| Dry Dock: Nitro Dry Irish Stout | Irish Dry Stout, Nitro | 3.8 | Seasonal |
| Signature Series Double Brown Ale | English Brown Ale, Other Imperial Beer, Wood / Barrel Aged Beer | 8 | Special Release |
| Ambassador | Sour Ale, Wood / Barrel Aged Beer | 6.5 | Special Release |
| Dry Dock: Wee Heavy | Scotch Ale / Wee Heavy | 9.5 | Seasonal |
| Signature Series Imperial Stout | American Double / Imperial Stout, Wood / Barrel Aged Beer | 9.2 | Special Release |
| Buddy | Belgian Dark Ale | 5.5 | Seasonal |
| Dry Dock: Biere de Garde | Biere de Garde | 8.2 | Seasonal |
| Cool Lime Lager | American Pale Lager | 5.2 | Seasonal |
| Albatross | American Brown Ale | 6.8 | Seasonal |
| H.M.S. Bounty | Old Ale | 6.9 | Seasonal |
| Hop Abomination | American IPA | 6.5 | Year-Round |
| Handpull Breakwater | American Pale Ale | 5.8 | Year-Round |
| Dry Dock: Double IPA | American Double / Imperial IPA | 9 | Seasonal |
| Dry Dock: Vanilla Porter | Vanilla Porter | 5.4 | Year-Round |
| Apricot Blonde | Fruit Beer | 5.1 | Year-Round |
| Dry Dock: Hefeweizen | Hefeweizen / Weiss bier | 4.3 | Year-Round |
| Dry Dock: Amber Ale | Extra Special / Strong Bitter (ESB) | 5.8 | Year-Round |