I'm not exactly sure when I first met Dev Adams, AKA Miss Lupulin, as there very may well have been beer involved.  Regardless, we gradually became friends over our shared passion for craft beer.   Dev's knowledge and tasting ability is truly amazing.  She is the first person that I would turn to if I had any questions about beer.  I later met Dev's partner in life & beer, Josh Norton (whom Dev affectionately calls the Beerd Wrangler).  Simply put, Josh embodies the friendliness of the Colorado brewing industry.
Dev & Josh recently joined the small group of folks that have accomplished the feat of visiting every Colorado brewery.  At the time of their accomplishment there were 340 open Colorado breweries (by my count).  As I have done with the other Colorado Brewery Masters (Patrick Malone, Kevin Harris, The Colorado Beer Barons, Scott Young, John Vandewater, & Ruth Malone), I asked them some questions about their quest…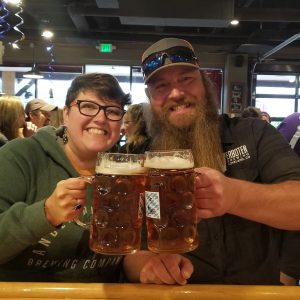 Dev & Josh at Locavore Oktoberfest
Who are Josh & Dev?  (Tell us a bit about yourselves.)
Dev: I am a Colorado native from Littleton, currently working full time for Colorado Parks and Wildlife as an Information Systems Manager and System Administrator. That pays the bills. In what I call my "real life" I am an Advanced Cicerone ® and Certified BJCP judge and consult and blog under the name Miss Lupulin. I also design craft beer-related jewelry called Beerings.
Josh: I'm mostly from Colorado (I came here when I was seven) and have been a professional brewer for five years. I am currently consulting for a brewery that will be opening in Frisco in the spring and looking for another permanent Brewing job. I just make the beer – Dev is the one who knows everything about it.
Both: we met during GABF week in 2006 when we were both working for the Flying Dog Brewery on Blake Street. Dev was the tour guide and tasting room manager and Josh worked on the bottling line. In the intervening 11 years, we have visited 637 breweries together, including (obviously) all of the breweries in Colorado.
When and what was the first Colorado brewery that you remember visiting?
Obviously, Flying Dog, September 26, 2006. Our second was
Great Divide
, when we took a couple of dollies worth of grain over to them when they were short. This industry has always been about camaraderie, which is what has fed our passion for it.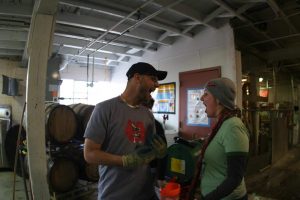 Josh & Dev at Flying Dog Brewery in 2007 (photo by Josh Mishell)
When and where did you accomplish the status of having visited every Colorado brewery? 
Our 2017 New Year's resolution was to finally visit every brewery in Colorado. As luck would have it, we discovered that our final Colorado brewery would also be our 600th brewery, and we wanted to make it a special one, so we chose
Mountain Cowboy
in Frederick, which had just opened. Our 600th brewery was almost
Coors
, but we just couldn't complete the quest and have our 600th brewery not be a craft brewery. We finished the quest on
December 30th
, just under the wire to hit my resolution. In 2017, we visited 142 new breweries, 72 of them in Colorado.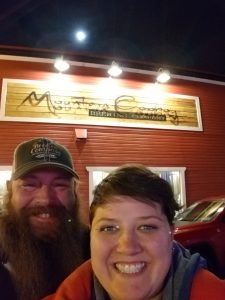 Josh & Dev at Mountain Cowboy
What are some of your favorite memories of your quest?
Josh: for my birthday in 2014, Dev surprised me by setting up private tours at the not-yet-open Casey Brewing & Blending and Roaring Fork Beer Co. It was awesome to meet the guys opening those places and get an early peek at what they were doing (and an early sip).
Dev: the whole journey has been special to me since it's essentially a story of our relationship. We don't count a brewery unless we have been there together, which I think makes our quest unique. I have so many amazing memories that it's hard to pick even a small handful, but they all come down to the relationships we've built:
– Meeting each other at Flying Dog (duh)
– Josh's birthday trip in 2015 where we brought our new family member, Brew Dog, to all of the breweries in Fort Collins
What are your favorite styles of beer and your top breweries in the state of Colorado in terms of your beer taste?
What are you favorite tap rooms in terms of aesthetics and atmosphere?
Del Norte (RIP) – the difficulty in finding and the literal folding table in the brew house
What are some of your favorite destination breweries?
What is your favorite hang-out brewery?  (Where are folks most likely to run into you?)
What advice would you offer others trying to become a Colorado Brewery Master? 
Enjoy it! The point of the quest isn't to stop at a brewery, shoot down a taster, and roll to the next one. Yeah, that means you've "been there", but you haven't really visited. Have some tasters, get a full pour, settle in, chat with staff. You can buy fantastic beer at any liquor store in Colorado; visiting breweries is about the experience. We live in an amazing state for craft beer, so take your time drinking it in.
I am truly lucky to know Dev & Josh and it is a joy to see their smiling faces when we run into each other at a brewery or fest.  I look forward to sharing many more beers together in the future.