Welcome John Vandewater as one of the Colorado Brewery Masters, those of us who have visited every Colorado brewery! I first heard about John a couple months ago when he let me know that he had been to over 300 Colorado breweries and wanted to confirm that he'd been to them all. We checked our lists and found out that he had indeed overlooked one at that point and he quickly rectified that oversight. Recently, I had the great pleasure of meeting John and his lovely wife, Sarita, for dinner and we talked at length about our travels and favorite (and not-so-favorite) Colorado breweries. He later apologized for talking so much but, on the contrary, I very much enjoyed the sharing of his passion for Colorado beer. Similar to other Colorado Brewery Masters I asked him to share his story with me. Instead of my regular Q&A, he sent me the following narrative of his Colorado brewery journey…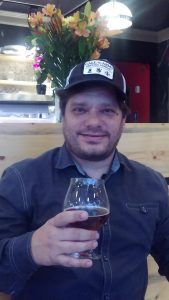 John Vandewater
The first brewery I can remember visiting in Colorado was way back in 2001 (Avery Brewing) a little tiny tap room where this super friendly guy named Adam would show me his beers now and then.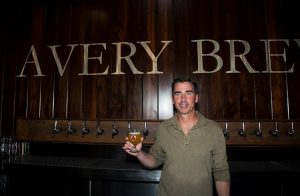 Adam Avery – picture courtesy of Facebook
I moved to Boulder after living in Manhattan for a few months after my mother passed away. I am originally from Jax Beach, Florida. My twin brother was living here with his wife one block away from the old Avery tap room. I never liked beer. It was always Bud or Corona till I visited Avery and was so impressed. I began visiting others like Boulder Beer, Walnut Brewing, and Oasis Brewing then occasionally visiting Wynkoop, Golden City, and others between Boulder and Denver. It wasn't a hobby or anything at that point, just a way to see Denver and Boulder. I ran my own web hosting proxy server company from 2001 to 2010. I ran it from a home office that I realized I could do it remotely and so one day in the Spring of 2002 I decided to hop on a plane to Ireland, where I spent about 2 weeks.  While I was there people would constantly want to buy me beers to listen to my accent, it was a good time and I began to really like beer. I decided to stay and backpack through Europe for almost 4 months visiting Ireland, England, France, Spain, Portugal, Germany, Switzerland, and Italy but it wasn't until I decided to go to Brussels that really began to enjoy beer. After seeing the pissing boy and Smurf museum, I was like "damn this sucks". I asked someone at my hotel "What's something fun to do?" They told me about an old tavern down the street called La Fleur En Papier Dore, a 15th century tap house. I went to check it out and I had my first Kuwak and Duvel. There, the bartender Micheal was so excited for me to try all of these Belgium beers that the next morning he met me at my hotel and took me all over Belgium to all these old monastery places. I had no idea where we were going but we end up at Westvleteren, Westmalle, and Achel. These monks at Westmalle just gave me free beers they kept saying "this is Trappist beer" and I was like "uh, ok… Just bring me more!".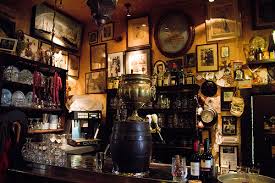 La Fleur En Papier Dore
I came back and began to visit more and breweries: New Belgium, Odell's, Bristol, Ska, Left Hand, Oskar Blues, so many… Not a lot of places where opening back in 2003-2005 not until Dry Dock came along and we began to see more places open just after this thing called GABF started getting popular. By about 2007 the amount of breweries opening began to just take off that I was unable to keep up so I was like I'll go if I can make it.  I would visit as many as I could but it was really only like three to four a month but my favorite since it was walking distance from me in Boulder was always Avery or Strange Brew in Denver when they opened in 2010. By then I'd probably been to well over 100 in Colorado.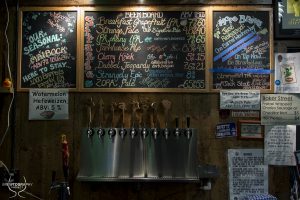 Strange Craft Brewing – Picture by Brewtography Project
In 2012 I began freelance network and IT support for retail, banks, and hotels all over Colorado. It takes me all over, if they pay me for the trip I'll do it most of the time. So after work I'd stop in do a couple of tasters and grab a growler or bottles to go before heading to my hotel or whatever. Sometime around this point I had realized I'd been to a lot of breweries and they just keep opening.  This is when I began to really make it a mission or hobby to visit them all and find out as much as I could about new places opening. Even back in 2012 it was still mostly word of mouth. No one was really taking count or making a list, at least that I knew about. I began volunteering with the guys at Avery doing charity work and pouring at events. You network a lot when you do these events and it fueled the Quest.  What's been great in the last few years is that I've been able to apply my skills to help out breweries. I've worked on networks and point of sale for BJ's, Denver Beer, Gordon Biesch, Wynkoop, Breck Farm House, Call To Arms, Walnut Brewery, Boulder Beer, Strange Craft, and a few others.
Little Machine Beer Call To Arms Brewing
Pictures by Brewtography Project
My absolute favorite breweries are more less in Denver now that I moved out of the Boulder bubble: Call To Arms, Ratio, Strange Craft, Little Machine, Station 26, Odd13, and Cerebral. It's so hard to pick just a few. I love Casey Brewing but it's so far and I don't often do work in Glenwood.