The "Colorado Brewery Masters", those who have been to every brewery currently in Colorado, is a small group of people.  In order of accomplishment they are Patrick Malone, Stephen Adams (The Colorado Beer Geek), Kevin Harris, and the three Colorado Beer Barons. Earlier this year a seventh person, Scott Young, joined our elite group.  I was happy to finally meet Scott at the Spice Trade Brewing Company celebration.  It was a pleasure to hang out with him and hope to enjoy many beers together in the future. As with the other Colorado Brewery Masters, I asked him some questions about his quest to visit all the breweries and his favorites that he found on the way…
Who is Scott Young? I moved to Denver, CO from Columbus, OH in the fall of 2011. I quickly discovered and embraced the craft beer scene. I started homebrewing and later earned my Certificate in Applied Craft Brewing from Regis University in 2015. I completed my internship at Declaration.  Since then I have become a Certified BJCP and am sitting for my Certified Cicerone this April.  I am currently a pharmacist by profession, but would love to open my own brewery at some point.

Declaration Brewing (picture courtesy of Facebook)
When and what was the first Colorado brewery that you remember visiting? The first CO brewery I remember visiting/touring was Great Divide in the summer of 2012.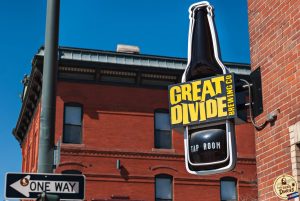 Great Divide Ballpark taproom (picture courtesy of Facebook)
When and where did you accomplish the status of having visited every Colorado brewery? I initially finished my quest on 2/10/17 by visiting both UTurn BBQ and finally Gilded Goat, but I recently "re-upped" at Zuni Street on 3/4/17.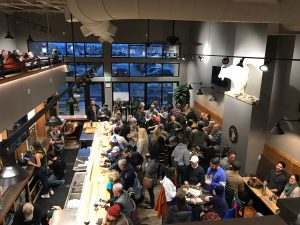 Gilded Goat Brewing (picture courtesy of Facebook)
What are some of your favorite memories of your quest? In October of 2012 a small group of friends and I had a Fort Collins birthday weekend extravaganza that included 4 breweries as well as some great restaurants and beer bars.  In August of 2016 I took a week-long southwest Colorado vacation to relax, sightsee, but most importantly to visit 25 breweries in a five day span! In general, I enjoy planning weekend running, biking, hiking or sightseeing trips to specific regions in order to check breweries off my list. It's a great way to see and enjoy the entire state of CO! Other highlights include using the Denver/Boulder/Colorado Springs Passports as a catalyst to visit breweries; planning my ski resort pass choices in order to visit breweries; and exploring random Colorado festivals (like Frozen Dead Guy Days in Nederland or Mike the Headless Chicken Festival in Fruita) to visit breweries.
What are your favorite styles of beer and what are your top breweries in the state of Colorado in terms of your beer taste? My current preferred styles (also always in flux) are IPA's and various Belgian styles My current top 5 (in no specific order): Avery – Solid flagship beers and their Barrel-Aged series are almost always amazing. New Belgium – Solid flagship beers and their Lips of Faith series is an obsession of mine.  Odd 13 – IPAs are top-notch and their other series are always experimental and enjoyable. Casey – Saison, sours, and fruit beers are all blended perfectly and very approachable. Dry Dock – Solid flagship beers and exemplary seasonal styles and flavored porters.
What are you favorite tap rooms in terms of aesthetics and atmosphere? My current top 5 (in no specific order): Odell – It's simply a gorgeous taproom and patio with plenty of room to visit with friends. Black Shirt – It has a great intimate/personal vibe with solid music and live bands regularly. Denver Beer – It's just a fun hangout space and patio, especially for their various special events. Jessup Farm – I love the main entrance through all the barrels and the chill upstairs taproom. Fiction – A very homey, warm and unique space filled with bookshelves to just sit and relax.
What are some of your favorite destination breweries? My current top 5 (in no specific order): WeldWorks – Some of the most flavorful and juicy IPA variants are well worth the drive. Three Barrel – A long trek will be rewarded with wood fired pizza/calzones and tasty beers.  Telluride – It's all about being in the taproom, enjoying a high ABV beer while snow gently falls. Manitou – The perfect place to refuel on good food and beer after attempting the famous Incline. Grimm Brothers – THE best theme for a brewery in CO paired with some great German beers. Honorable mentions to: Outer Range, Bonfire, Pike's Peak, Lariat Lodge, Mountain Tap, Tommyknocker
What is your go-to brewery on a day-to-day basis? Jagged Mountain – They are across the street so very convenient; the beer has gotten consistently better; the staff is always very friendly and remembers me; and I enjoy their run club, trivia night, live music, and food truck schedule 🙂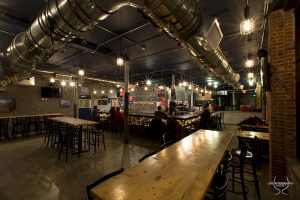 Jagged Mountain Craft Brewing (photo by The Brewtography Project)
In the first draft of this article I closed with asking "Who will be the next Colorado Brewery Master?". However, just this week while I was putting together this article another has joined our exclusive company.