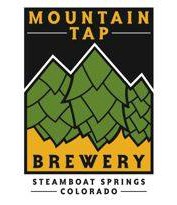 Description
Mountain Tap Brewery is be a small, casual brewpub located in Steamboat Springs, Colorado featuring fresh, locally crafted, premium quality, innovative beers and artisanal wood-fired cuisine in a family-friendly atmosphere.
Beers Brewed by Mountain Tap Brewery
This list includes beers brewed currently, previously, or seasonally by Mountain Tap Brewery. Contact the brewery for current beer availability.
| Name | Style | ABV | Availability |
| --- | --- | --- | --- |
| Cliffed Out | American Double / Imperial Stout | 9.1 | Rotating |
| Nite-ro Ride Porter | American Porter, Nitro | 5.9 | Rotating |
| Paddlers' Porter | American Porter | 5.9 | Rotating |
| Rendezvous Red | American Imperial Red Ale | 7.2 | Rotating |
| Fall Line | American Double / Imperial IPA | 7.7 | Rotating |
| Nitro Hop | American IPA, Nitro | 6.2 | Rotating |
| MacaRUM | American Brown Ale, Wood / Barrel Aged Beer | 6.0 | Special Release |
| Livin' the Steam | California Common / Steam Beer | 5.6 | Year-Round |
| Nitro Gold | Golden or Blonde Ale, Nitro | 5.3 | Rotating |
| Chasing Sunset Golden Ale | Golden or Blonde Ale | 5.3 | Year-Round |
| Locals' Lager | German Pilsener (Pils) | 5.2 | Year-Round |
| Zwickel | Kellerbier / Zwickelbier | 5.2 | Rotating |
| Passionate Pedal | American Wheat Ale | 5.0 | Rotating |
| Current IPA | American IPA | 6.2 | Rotating |
| Camp Clean | American Brown Ale | 6.2 | Rotating |
| Picking Hops | American IPA | 6.4 | Rotating |
| Mountain Macaroon | American Brown Ale | 5.5 | Rotating |