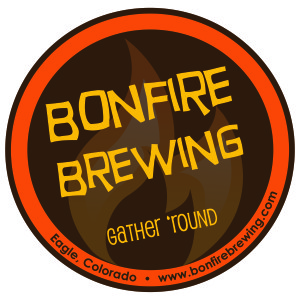 Brewery Details
127 W Second St.
Eagle, CO 81631
970-306-7113
bonfirebrewing.com
Hours:
Mon: 4:00pm-10:00pm :: Tues-Wed: 12:00pm-10:00pm :: Thurs-Sat: 12:00pm-12:00am :: Sun: 12:00pm-10:00pm
Visitors:
Visitors Welcome
Tours:
Food:
Bring Your Own / Order In
,
Popcorn
Other drinks:
Craft Root Beer
,
Craft Soda
,
Gluten Free/Gluten Reduced Beer
Beer to go:
Crowlers
,
Growlers
,
Kegs
Merchandise:
Gift Cards
,
Glassware
,
Hats
,
Other
,
Shirts
,
Stickers
Parking:
Street Parking
Dog Friendly?
Dogs Welcome
Outdoor seating/Patio:
Yes
Opening Date:
November 1, 2010
Description
Based in one of the coolest mountain towns of Colorado, Eagle, Bonfire Brewing makes beer (by "coolest" we mean, "neat," "nifty," and/or "fantabulous," not cold. It's actually fairly warm for the most part). We wouldn't describe our beer as face-meltingly good, maybe just face-warmingly delicious. It certainly encourages the use of non-existent adverbs. We started making beer because we needed more friends. Now our friends need more beer. So it goes.
Beers Brewed by Bonfire Brewing
This list includes beers brewed currently, previously, or seasonally by Bonfire Brewing. Contact the brewery for current beer availability.
| Name | Style | ABV | Availability |
| --- | --- | --- | --- |
| Dr. Floppy | American IPA | 5.1 | Rotating |
| Everything's Fine | American Double / Imperial IPA | 8.1 | Rotating |
| Praise Ullr | Witbier | 4.9 | Rotating |
| Bucket of Blood | American Amber Ale / Red Ale | 6.2 | Rotating |
| Closing Day | Kölsch | 4.8 | Special Release |
| Cattle Guard | American Amber Ale / Red Ale | 5.3 | Rotating |
| En Garde | Biere de Garde | 6.1 | Rotating |
| Hand Me Down | Brown Porter, Nitro | 4.5 | Rotating |
| Fixed Grip | Saison / Farmhouse Ale | 5.5 | Seasonal |
| Harvest | American Brown Ale | 5.0 | Rotating |
| Del's Spotted Bock | Bock | 5.5 | Rotating |
| Pregnant Panda | Rye Beer | 4.8 | Rotating |
| Roundabout | American Imperial Red Ale | 8.8 | Rotating |
| Kilt Dropper | Scotch Ale / Wee Heavy | 7.5 | Rotating |
| SS Hop Slap | Wet Hop Beer | 5.2 | Seasonal |
| Hop Eater IPA | American IPA | 6.6 | Special Release |
| Wood Splitter Pilsner | Czech Pilsener | 4.8 | Seasonal |
| Boom! Double IPA | American Double / Imperial IPA | 10 | Rotating |
| Pick Me a Winner | Dark American Lager | 4.8 | Rotating |
| SS Nitro Stout | American Stout, Nitro | 5.0 | Rotating |
| Red Canyon Chocolate Coffee Stout | Coffee Stout | 5.0 | Rotating |
| Swanky Anise | Spice / Herb / Vegetable Beer | 3.6 | Rotating |
| ColoRadler | Shandy | 6.1 | Rotating |
| Farmer Wirtz IPA | American IPA | 7.0 | Year-Round |
| Glutart | Fruit Beer | 5.0 | Year-Round |
| Demshitz Brown Ale | American Brown Ale | 5.8 | Year-Round |
| Firestarter | American IPA | 6.6 | Year-Round |
| Brush Creek Blonde Ale | Golden or Blonde Ale | 4.8 | Year-Round |
| Wirtzling Amber Lager | American Amber / Red Lager | 5.3 | Year-Round |
| Black-I Black IPA | Black IPA / American Black Ale | 7.1 | Special Release |
| Dirtbag Dunkel | Munich Dunkel | 4.9 | Seasonal |
| Pink I Raspberry IPA | Fruit Beer | 6.8 | Year-Round |
| Get Around Golden Ale | Golden or Blonde Ale | 4.6 | Year-Round |
| Screaming Eagle | Extra Special / Strong Bitter (ESB) | 4.8 | Year-Round |
| Kindler | American Pale Ale | 5.5 | Seasonal |
| BeWildeRed | Irish Red Ale | 4.8 | Year-Round |
| Awry Rye Pale Ale | American Pale Ale, Rye Beer | 6.1 | Year-Round |
| Mistress Winter Wheat | Christmas / Winter / Specialty Spiced Beer | 6.4 | Seasonal |
| Tent Pole | Vanilla Porter | 6.1 | Year-Round |