The trails taken on the way to opening a brewery are as varied as the people who open one: doctors, scientists, teachers, students, counselors, and now, a woods boss. Jordan Fink, co-founder and head brewer of Woods Boss Brewing in the Arapahoe Square neighborhood of downtown Denver, has held several jobs across the years, but they all seem to lead him back to sharing his passion for nature. As a forester, he built trails and discovered the joy of visiting local brewpubs; soaking up the community vibe and learning about the area he was in and the people who lived there. Those trails eventually lead him to a career in professional brewing from Idaho Springs to Nepal and back, and a determination to direct his own destiny, which he is doing with help of business partner and co-owner Chad Moore at Woods Boss.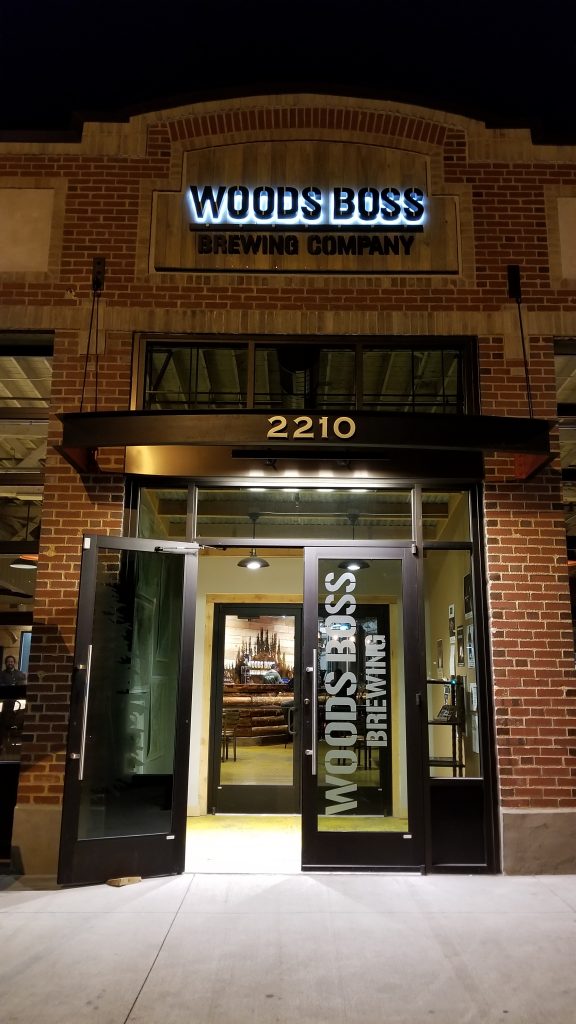 Even people with a dream sometimes need a shove in the right direction. For Jordan, that shove came in the form of his wife, Michelle Naujeck. Even though it meant thousands of miles (7,727 to be exact) and several months apart, she told him that he had to go to Nepal to help open that country's first craft brewery. When it came to naming the brewery Jordan was dreaming of starting back stateside, she informed him that there was clearly only one name: Woods Boss, which was Jordan's title when they met while working for the National Forest Service. The name also meant so much more as the woods were their home, literally and figuratively, and so many of the virtues imbued by their time working for the NFS are the same virtues held by Woods Boss Brewing today. They even dedicate a page on their website to the creed of the Woods Boss. https://www.woodsbossbrewing.com/woodsboss
When you name a brewery Woods Boss, it's imperative to deliver on the atmosphere, and despite being jammed between RiNo and Five Points, Jordan and Chad deliver. The entry airlock is a log cabin, a gigantic redwood log comprises the coffee table between four comfortable leather sofas, the bar is a handmade masterpiece of live-edge wood. "Trail closed" Forest Service signs separate the brewhouse from the taproom and hang above the "experimental forest" of barrels in the taproom. A magnificent metal backsplash with trees and the brewery name cut into it is the backdrop to an impressive 20 taps, all of which they intend to keep filled with a wide variety of beers ranging from classic styles to off-the-wall, inventive brews.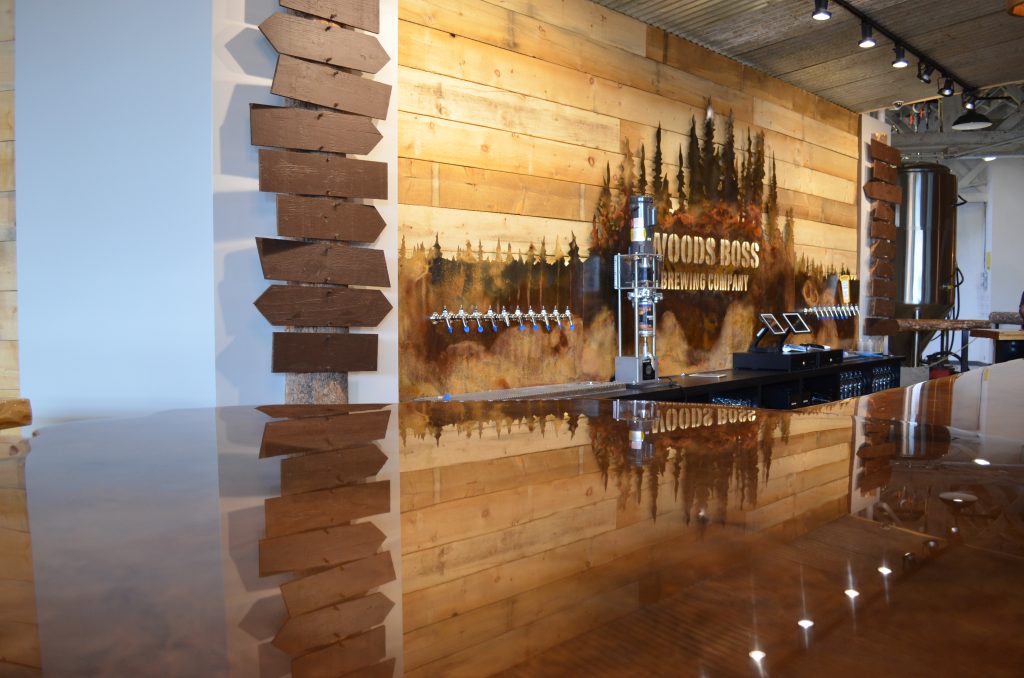 Jordan and Chad, with the help of their contractors, built-out Woods Boss in an astonishingly short 11 weeks. Beyond the impressive adherence to their theme, Woods Boss has made sure that the fact that they are a brewery is in the forefront. The brewhouse is open to the taproom and you can lean on the (log covered) railings to watch the brewers work their magic. There are also windows into the cooler, giving a glimpse into a part of the brewery few guests ever see.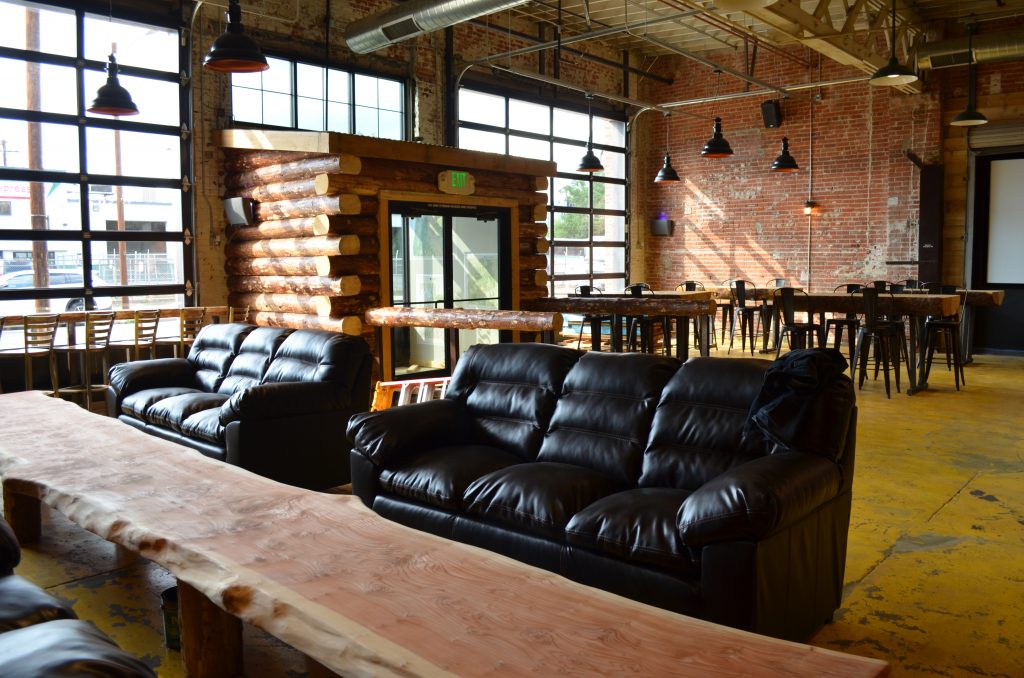 It's incredibly difficult in this craft beer industry – let alone Denver – to be unique and to find the niche. So Jordan and Chad aren't looking to do something that no one has done before, instead, they are looking to make a throwback to the type of brewery Jordan fell in love with during his time in college and afterward; a community-oriented gathering place for people of all ilks to feel welcome and find a beer (or 20) they enjoy. Even with that vision in mind, they aren't really concerned with finding their "thing". "We just opened and can't wait to take our time and develop who we really are," Jordan says. Their personality will develop with their beers and the people who choose to work and patronize at Woods Boss.
Jordan and Chad are determined to surround themselves with staff (and customers) as dedicated, enthusiastic, and off-kilter as they are, so they started by hiring Ryan Logan as the brewery huckleberry, or assistant head brewer and taproom manager. Ryan and Jordan met several years ago while working at Tommyknocker Brewery in Idaho Springs, shortly after Jordan returned from Nepal. Just two months after meeting and brewing together, Jordan told Ryan "when Woods Boss gets off the ground, I want you as my brewer." In the intervening years, the two friends have spent countless hours brewing together, both professionally and at home, and have developed a philosophy about beer that dictates quality above quantity and a commitment to pushing boundaries and taking risks. As Ryan puts it, he and Jordan share "a complementary kind of insanity" that helps them challenge each other to think differently and brew better beer.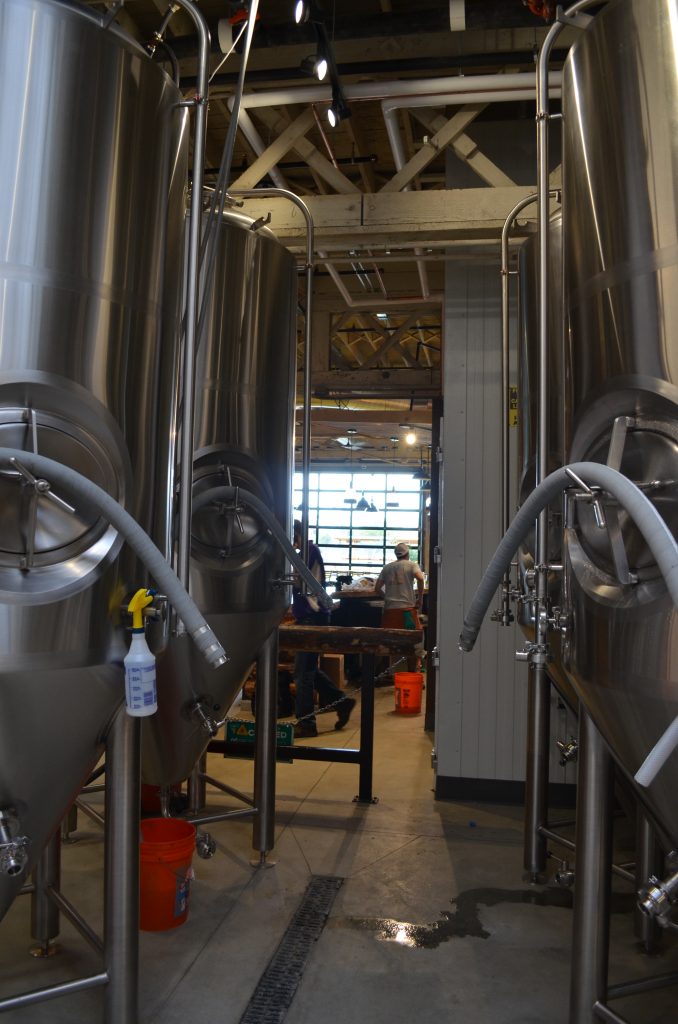 Unlike most new breweries, Jordan and Ryan brewed diligently to make sure that they had plenty of variety on tap for their grand opening, and enough of each of those beers so that their taps wouldn't run dry. It becomes immediately evident when perusing their menu that they have no desire to stick to one style as they have everything from a Belgian blonde (named Mickey's Blonde after Jordan's muse, Michelle) to an oatmeal brown (Mind the Kerf) and, yes, even a New England-style IPA (The Oswald – Full O' Hops).
Some of their standouts are their Foothills Fire Red Ale, Oswald, and Swede Hook. Foothills Fire Red Ale, named in honor of The Foothills Fire Department, for which Jordan volunteers, is a classic American red ale with a rounded malt presence and sweetness nicely toned down with a moderate amount of hops. Oswald is a "classic" New England-style IPA with perhaps a bit more of a bitter backbone than others, but the same fruity-hop-forward notes you'd expect and, of course, the haze. Swede Hook, my personal favorite of the Woods Boss beers, is a hearty American porter with a kiss of sweet orange and vanilla that makes it both warming and somehow bright – like a chocolate orange without being cloying.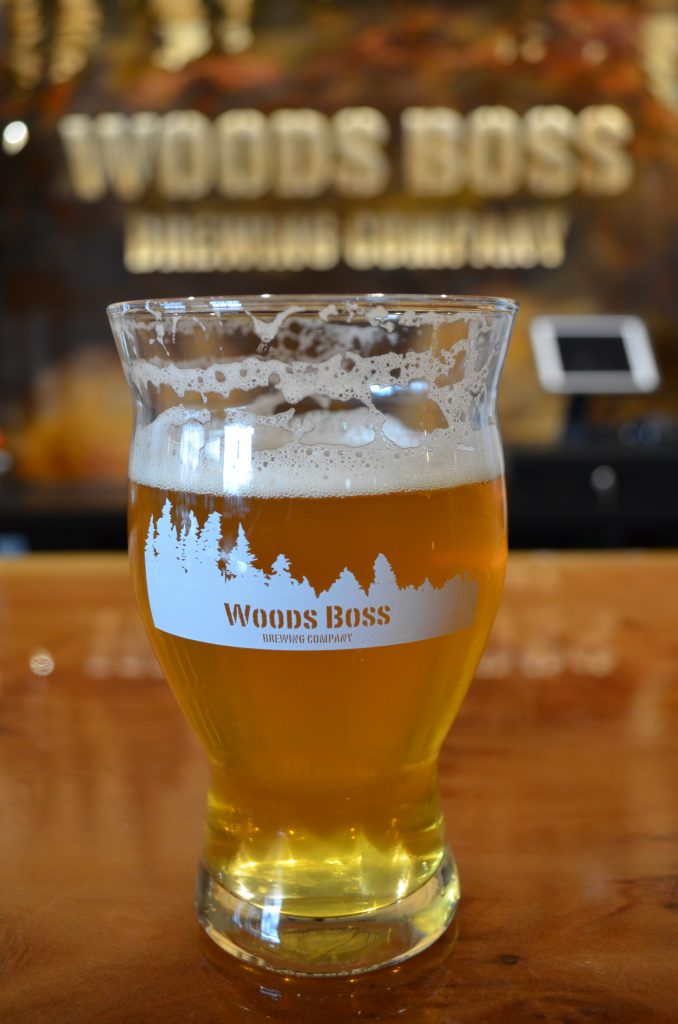 For folks who can't handle the gluten, they have a tap dedicated to beer from Holidaily Brewing in Golden, Colorado's only all-grain, certified gluten free brewery, alongside taps for Happy Leaf Kombucha and Tommyknocker Root Beer.
Woods Boss is founded on the ideals of conservation and being a part of the bigger whole. A belief in respecting the community of which you are a member and recognizing your place in the world is imbued into everything that they do. Owner Chad sums it up: "Woods Boss was created around the values we express and want to share. We are, most of all, excited about adventures and exploration, and running a brewery is definitely both of those things." In the spirit and attitude of the Woods Boss, in the person, the brewery, and the beer, it all comes together with the final line of the Woods Boss creed:
"The Woods Boss kicks it with a much-deserved brew, in good company, and gears up to get back on the trail."