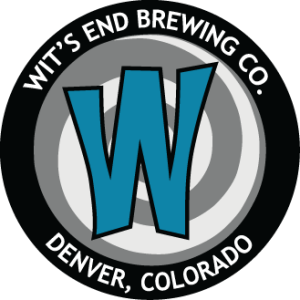 Description
We are an artisanal Denver brewery fueled by dreams and inspired by the limitless potential of craft beer since 2011… join us on our journey!
Wit's End shares a location with Strange Craft Beer Company
"Closing" 12/31/19 with the departure of the brewer that made separate Wit's End beers
Beers Brewed by Wit's End Brewing Company
This list includes beers brewed currently, previously, or seasonally by Wit's End Brewing Company. Contact the brewery for current beer availability.
| Name | Style | ABV | Availability |
| --- | --- | --- | --- |
| You're Killing Me Smalls! | American Pale Ale | 3.5 | Rotating |
| Ale of the Black Freighter | Saison / Farmhouse Ale | 6.3 | Special Release |
| Miami Berliner Vice | Berliner Weissbier | 3.5 | Rotating |
| Scotchy Scotch Scotch Ale | Scotch Ale / Wee Heavy | | Seasonal |
| The Mad King | Weizenbock | 8.3 | Rotating |
| Ugly Sweater | Christmas / Winter / Specialty Spiced Beer | 7.1 | Seasonal |
| Slam Dunkelweizen | Dunkelweizen | 5.90 | Rotating |
| Dim Mak | Belgian Blonde Ale | 9.3 | Rotating |
| Ambition | Coffee Stout | 7.4 | Rotating |
| Banana Hammock | Hefeweizen / Weiss bier | 5.4 | Seasonal |
| Cibeertron | Fruit Beer | 7.3 | Rotating |
| Dubbel Impact | Belgian Dubbel | 7.1 | Rotating |
| Messenger Porter | American Porter | 5.9 | Rotating |
| One-Cascade | American Pale Ale | 6.7 | Rotating |
| One-Tettnang | American Pale Ale | 6.7 | Rotating |
| One-Columbus | American Pale Ale | 6.6 | Rotating |
| Mick Jaggery | Extra Special / Strong Bitter (ESB) | 5.8 | Rotating |
| Come On Ryeleen | Roggenbier (Rye beer) | 6.2 | Rotating |
| Bitter Late Than Never | Extra Special / Strong Bitter (ESB) | 5 | Special Release |
| Nirvana | American IPA | 5.1 | Rotating |
| Judge Whoppner | American Brown Ale, Other Imperial Beer | 9.7 | Rotating |
| Kitchen Sink Porter | American Porter | 5.9 | Year-Round |
| Green Man Ale | American IPA | 6.5 | Year-Round |
| Super FL I.P.A | Black IPA / American Black Ale | 6.9 | Year-Round |
| Wilford | Belgian IPA | 7.0 | Year-Round |
| Jean-Claude Van Blond | Belgian Blonde Ale | 6.8 | Year-Round |