Congratulations to Ruth Malone for becoming the first woman in the state of Colorado to visit all its currently open breweries! I met Ruth and her husband, Patrick, at the closing of the original Caution East location where we were also welcoming the new tenants of that location, Brewability Lab. Later that year, I would write about Patrick as one of the "Colorado Brewery Masters" and dubbed him The Godfather of Colorado Beer Geeks. Since then we have visited lots of new breweries and shared many tasty beers together. It is hard to believe that it has been less than a year because both Patrick and Ruth have become such fabulous friends.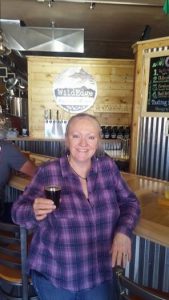 Who is Ruth Malone? I was raised in Bitburg Germany, not far from the borders of Luxembourg and Belgium, so I grew up drinking amazing beers. I moved to Colorado in 1985 and fell in love with my new home, except there was very little beer here then. My husband and I love to explore the state, see the sights, camp, bike ride and drink good beer 🙂
When and what was the first Colorado brewery that you remember visiting? 1988 – Wynkoop Brewing [the year they opened]
When and where did you accomplish the status of having visited every Colorado brewery? I think I have accomplished it many times over the years. As Patrick and I would bum around the state and hear of new breweries, we would make it a point to hit all that we knew of.  This was pre-internet and pre-Colorado Brewery List, so it was hard to know what was out there. Thanks to CBL, I recently had a firm count and set a goal. My official date of accomplishment was April 15, 2017 at WildEdge Brewing Collective in Cortez.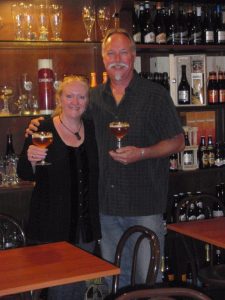 What are some of your favorite memories of your quest? Meeting families and listening to their dreams and challenges. Seeing all the cool ideas and buildings , recycling and repurposing, communities coming together and sourcing locally.
Has anyone influenced you in visiting all the breweries in the state? My husband, Patrick, has visited every brewery in Colorado and I was with him for most of those. Then the lovely Nikki Minette introduced us to Stephen Adams (Colorado Beer Geek) and he encouraged me to finish the list as well. I had 38 left to go and Patrick has spent countless hours driving me all over the state in the last few months to complete my goal.  Stephen Adams has also been my "DD" on occasion, and a constant source of encouragement.
What are your favorite styles of beer and your top breweries in the state of Colorado in terms of your beer taste? I like all beer but generally stick to Belgian beers and LOVE barrel aged beers.  Part 2 of your question is a tough one, as the talent in this state is over the top! My top breweries are Beryl's Beer Co., Black Shirt Brewing, De Steeg Brewing, Diebolt Brewing, Elevation Beer, Funkwerks, River North Brewery, Strange Craft Beer, and 12Degree Brewing.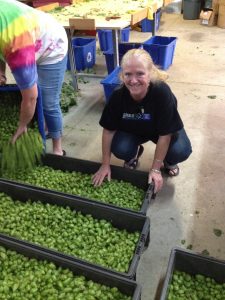 What are you favorite tap rooms in terms of aesthetics and atmosphere? Black Shirt Brewing, Brues Alehouse, High Hops Brewery, and Jessup Farm Barrel House.
What are some of your favorite destination breweries? Cerberus Brewing and Local Relic in Colorado Springs, Elevation Beer in Poncha Springs (near Salida), High Hops in Windsor, and Jessup Farm in Fort Collins.
What is your go-to brewery on a day-to-day basis? A very hard question to answer: Diebolt Brewing, River North, and Strange Craft.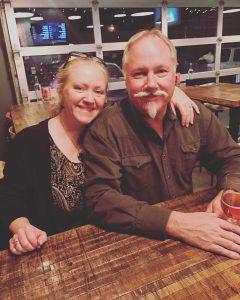 I am very happy to welcome Ruth as a fellow Colorado Brewery Master and even happier to call Patrick and Ruth friends.