Recently, I went on a trip to Western Colorado to finally visit a number of breweries that I had yet to mark off my list.  I was joined by my very good friends and fellow Colorado Brewery Masters, Ruth & Patrick Malone.   (Click through their links to read about their journey to visit every Colorado brewery).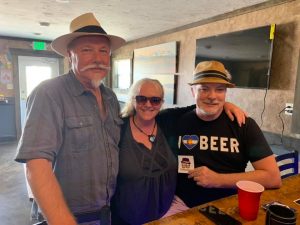 Our very first stop after a long but scenic drive over McClure Pass was Paonia United Brewing Co (PUB).   Last summer, PUB took over the location of Revelation Brewing.  With new management and new beers we wanted to check out how it has changed.  They have a beautiful spot that used to be an old church, and they have done a lot of work to make it a warm, welcoming gathering spot with an awesome patio and a wide variety of beers on tap.  I particularly enjoyed their Porterhouse! and Paonia ESP (an ESB).
Our next stop was Chrysalis Barrel Aged Beer, also in Paonia.  This was the highlight of our tour and the reason we held off on making the trip until they opened.  Chrysalis was named the Most Anticipated Colorado Brewery for 2019 in Colorado Brewery List's annual survey of Colorado breweries.
WOW!  We were not disappointed.  In fact, the Malones and I agree that Chrysalis is now in our top ten favorites of all Colorado Breweries (out of over 400)!
We ended up getting a full flight of every beer on tap which included Chrysalis' Dry Hopped Saison (their only non-sour), Sour Saison (the base beer for their fruited saisons), Apricot Saison, Cherry Saison, Yuzu Saison, and an Oud Bruin.  They were all fabulous!  We particularly enjoyed the Apricot Saison which gave a wonderful combination of the sweet apricots along with the sour.  The owner/brewer, Shawn Larson, knows a lot about working with fruit as he has been making cider at Big B's Hard Cider for many years.
Patrick even spotted a bit of Colorado brewery history at Chrysalis.  When he asked about the old brewing equipment, we discovered that it came from Champion Brewing Company which was located in Larimer Square in Denver in the 90's.
Upon leaving Paonia, we drove through Delta Colorado and stopped at a couple upcoming breweries that are opening soon.  Dented Face Brewing Company is downtown and will feature BBQ along with their beer.  They are currently targeting a December opening.  Coming much sooner and on the South side of downtown Delta is Stoik Beer Company which may open as early as late September.  They are planning to produce Belgian/American styles and working toward sourcing ingredients locally.  We were disappointed that they were not quite open, but are looking forward to making another trip out to the Western Slope when they, along with a few in Grand Junction, open up early next year.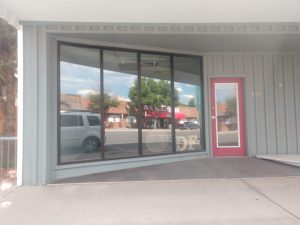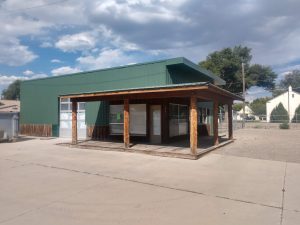 Our next stop was at yet another Colorado Brewery that hasn't quite opened yet.  Mad Russian Brewing in Olathe is hard at work to achieve a September opening.  In fact, we caught the owner/brewer, Thomas Wyjack, working on a multitude of final touches.  We even got to try some of his brew out of classic solo cups, appropriate to the construction atmosphere.  We tried an IPA and a lemon wheat and enjoyed them both.  We are very much looking forward to stopping in again once they open their doors.
Next on our itinerary was Red Mountain Brewing in Ouray.  Red Mountain is a full service restaurant and brewery with a huge event space in back.  In fact, there was a wedding happening when we visited.  We didn't stay long, but I enjoyed their Brut IPA and the dishes we saw come out of the kitchen looked very tasty.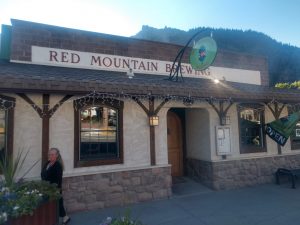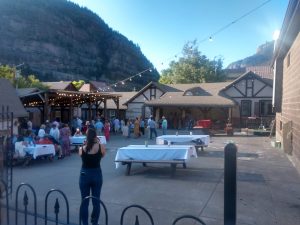 Our final stop for the evening was at Colorado Boy Depot in Ridgway.  While the town is only a handful of square blocks in size and already is the home of the original Colorado Boy location, they opened a second brewery and taproom on the North side of town next to their friends Forgeworks, the makers of brewing equipment for many Colorado breweries (and beyond).  While they have very limited operating hours, we made it in time to enjoy some great beers.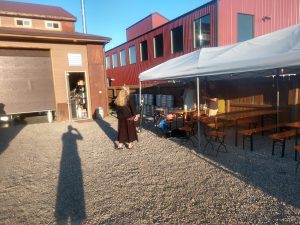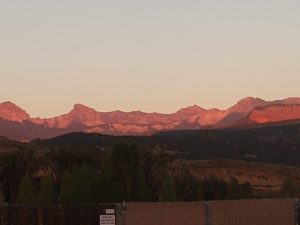 The next day we drove to Durango over one of the most scenic roads in Colorado (known as the $1M Highway) to the final destination of our tour, Chainless Brewing Company which recently opened at the old Durango Brewing location.  We enjoyed a beautiful day with a tasty lunch and some good beers on their patio.  I particularly liked their Over the Bars Stout and the Brut-al IPA.
After we completed our tour and were once again completely caught up in visiting all Colorado breweries, we took advantage of being in Durango and visited Ska Brewing then had dinner at Steamworks Brewing.  Sadly, we were unable to visit Animas Brewing this trip, which we have all enjoyed in the past.
The following morning we headed home taking the more direct route over Wolf Creek Pass to be able to stop at Elevation Beer Company.  Whenever we are in the middle of the state, we are sure to stop there as it is one of our favorite breweries in all of Colorado.  I can't get enough of their Red Wine Barrel Apis IV (Quad), False Summit (BBA Quad), and Oil Man (Imperial Stout).
As a last stop for Colorado Beer Geek, we dropped by the location of Tres Litros Beer in Salida.  They aren't quite ready to go public with pictures of the place, but they are well underway to making what looks to be a fabulous space in a great spot in downtown Salida.  Currently they are targeting a December opening and I look forward to going back.
We had an amazing weekend and I always enjoy traveling with the Malones.  The three of us agree that going to these breweries is a great way to see our beautiful state.  More important than the beer are the wonderful people you meet and the experiences that you will be able to fondly look back on.  I especially encourage our readers in the Front Range to GO WEST and discover these treasures yourself.