About this time last year, Stephen Adams, aka Colorado Beer Geek went west with fellow Colorado Brewery Masters Patrick and Ruth Malone to get caught up on holding the title of visiting every brewery in Colorado, (there are currently about 400 not counting the secondary taprooms on our list). If you'd like to read about their trip, see CBG Western Colorado Tour 2019. This year, my husband Ryan and I joined Stephen on our own western tour. Our trip spanned 4 days, during which we visited 17 breweries, 1 cidery, 1 winery and 1 distillery, (for a little variety).
Like most people, Ryan and I were getting cabin fever from being cooped up at home so much lately due to COVID. Knowing that most breweries/small businesses are hurting during these uncertain times, we wanted to support them while (safely) taking a brief sabbatical in our own state.
This was our approximate route, (note that the route may be displayed incorrectly due to the I-70 closure at the time of publishing. Fortunately we were home before the fires started):
Making our way through the usual barrage of semis and RVs, we arrived at our first stop, Two Mile Brewing in Leadville. Two Mile opened in early March, but has been open only for to-go sales up until recently when things started to open back up. It's housed in a repurposed gas station, about a 10 minute walk from Periodic Brewing downtown. We enjoyed a quick lunch on the sunny patio, and were even joined by Sean Terrill, the co-owner and brewer, who regaled us with the story of the long road to opening, not to mention the added challenges during a pandemic. We took home a growler of Those Who Wheat, a hoppy American Wheat.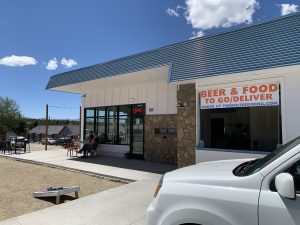 Next, we drove to Vail Brewing in Vail Village. It was my first time visiting Vail, (despite living in Colorado my whole life, I've never skied) and all I can say is be prepared to spend a bit of money. Parking by itself put us back about twenty dollars for an hour and a half of our time. The village square area is very upscale, as was the Vail Brewing taproom which overlooks the square. We got a full flight and enjoyed everything we had. A few of the stand outs were Fjords of Gold, a Norwegian IPA, the Watermelon Lime Gose, and Feelin' Good… Livin' Better Hazy IPA. We got a 4 pack of the Feelin' Good and a 4 pack of the Beautiful Chaos IPA to add to our growing beer horde. We also discovered that while they used to operate a pilot system there, that's no longer the case. All brewing is done at Vail Brewing Co in Avon.
Back in the car for about three hours to Ball Brewing in Glenwood Springs, which also happens to be a homebrew store. I personally appreciated the plush, formed bar stools, (since most brewery seating usually consists of hard metal or wooden picnic tables). There were eight beers on tap, and we got another full flight. We all enjoyed the Captain Ron Tropical Pale Ale. Additionally, we were given an orange creamsicle concoction made out of ice cream and their own homemade orange cream soda. Other nice touches included a retro Mario mural/arcade corner and full pours served in Ball jelly jars. Overall this was a comfortable stop at a friendly locals' watering hole.
Since we didn't have time to book a 2 hour session at the Casey Barrel Cellar, we stopped at the Casey Brewing & Blending Taproom in downtown Glenwood Springs. The taproom opened a year ago in a plaza of shops and restaurants tucked under the Grand Avenue bridge. This was one of the breweries that I was most excited to visit. When we arrived, the patio was already full, then within the hour, the taproom was at capacity and staff started turning people away. They are known for their high quality sours, but we also tried a few amazing IPAs and an imperial stout. No Title, the imperial stout, made with Madagascar vanilla, coconut, and almonds, became one of my favorite beers of the whole trip. So of course we took home a bottle of that, plus their Funky Blender Apricot, Citra Says Go, and Quiet Storm.
We proceeded on our last stretch of driving for the day to Grand Junction. We were greeted by the Book Cliffs and Monumental Beer Works. It was late afternoon and thus the hottest time of day, so we opted to forgo the expansive patio, (unfortunately) and sit inside at a high top across from the bar. Another full flight was ordered and we enjoyed the variety of styles, with fun names like Pina Colarada milkshake IPA and Perfectly Cordial chocolate cherry stout. Monumental periodically makes Oenobeer (a beer wine hybrid), or as they call them, vine beers, but unfortunately they did not have one on draft at the time.
After checking in to our hotel in downtown Grand Junction, we walked a few blocks to one of Colorado's newest breweries, Ramblebine Brewing. There has been a lot of chatter about Ramblebine since their opening, and apparently the secret is out because there was a wait to be seated when we arrived. The taproom is very spacious, modern, and bustling on a Friday night. We took the plunge and ordered a full flight, which turned out to be 11 beers and a kombucha. The Bango Tango, a fruited kettle sour was a favorite. No doubt Ramblebine will be a great addition to the Grand Junction downtown night life.
The next morning, we decided to stop at the Kannah Creek Edgewater Brewery for lunch and beers before leaving town. The original Kannah opened in 2005.  This is the second location which opened in 2013. They have a large facility with a big outdoor seating area complete with stage for events. No matter what you order, make sure to get some fries because they were the best I've had in a long time.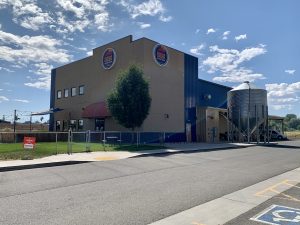 We made a brief stop in Delta to get a sneak peak of Stōik Beer Company. The owner, William Tedrow, gave us a quick tour of their space, most indoor construction already complete, and talked about their upcoming plans. In the near future, this brewery will be convenient for locals and a good pit stop for anyone passing through Delta. Look forward to them opening soon, (likely in September).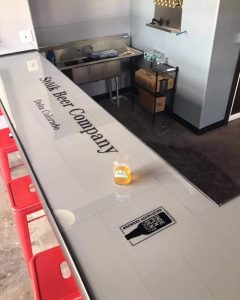 Next, we went to the quiet, somewhat isolated town of Olathe. Mad Russian Brewing is another brewery whose former life was a gas station. It was early afternoon, so it was nice to relax in the cool and quiet taproom which was empty since we were there shortly after opening. However, the owner was busy setting up for an evening of outdoor live music, so it surely got busier as the sun set. Once again we had a flight of everything and enjoyed the pils the most. Stephen had visited before the official opening, but wanted to revisit them for good measure. Mad Russian boasts a large outdoor space with frequent events, a volleyball court and camping is also available.
We doubled back a bit and continued on to Paonia. We wanted to visit at least one winery since Paonia is known for their vineyards. Black Bridge Winery has a tasting room at Orchard Valley Farms. This was a country store near the north fork of the Gunnison river and they offered wine tasting as well as many products including local honey, jams, cooking oils, and balsamic vinegars. You can even buy a bottle of wine to share and walk down to the river side, but unfortunately we didn't have time.
You can't miss Big B's Hard Cider which has a huge sign to announce itself and is housed in another country store off the main road. We sat outside in their shaded, peaceful patio area and watched people return from picking fresh fruit and produce while others were swinging on tree swings. There were about 4 ciders to choose from and our favorite was a jalapeno cider that had some interesting flavors. Apparently Big B's has a bourbon barrel aged hard cider called Grizzly Brand that sounded unique, but unfortunately it wasn't on tap. Stephen got a bottle of the Pommeau to-go. Paid camping is also available just down a short flight of stairs from the patio.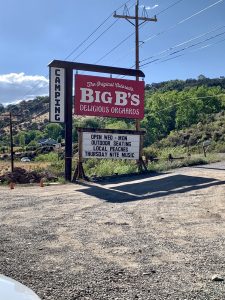 We parked at our motel and walked to Paonia United Brewing, previously known as Revolution Brewing. This brewery is located in a quiet neighborhood and was formerly a one room church. Due to its size, brewing is not done on site, but nearby. We took our flight outside to the back patio which faced a fence comprised of old skis. We liked the Vanilla Hopsicle milkshake IPA enough to take a crowler with us.
Before ending the day at Chrysalis Barrel Aged Beer, we picked up some tasty Italian food from Flying Fork Cafe and ate family style at our motel. Chrysalis is one of the few breweries in Colorado that specializes in sours. The head brewer, Shawn Larson, is also a cider maker at Big B's and has lots of experience working with fruit. Another highlight of the trip was getting to meet Elsie Saison, Chrysalis's brew cat. She is very friendly and specializes in holding down the bar/keeping the books. We got small growlers of the Elderflower Sour Saison and Apricot to-go.
Sunday morning, we took Kebler pass, (pronounced like Keebler) through one of the largest aspen groves in the world. If you love aspens like I do, this drive is well worth your time. I can only imagine how beautiful it is during the autumn.
We arrived in Crested Butte to find the town quite busy. Lunch was planned at Irwin Brewing at Public House, but since it wasn't open yet, we decided to have drinks at Montanya Distillery. We were the first customers of the day, and were given a table on their shaded front patio which was perfect for people watching. They currently offer four different rums and the tasting flights are free, so it was an enjoyable way to kill time, (and grab a bottle of rum for later). After the rum, we made it back to the Public House for lunch and a flight. Ryan and I had the Pulled Pork Mac and Cheese and Stephen ordered the Cottage Pie. This place definitely has a mountain town vibe, very reminiscent of Beau Jo's, with animal mounts and historic photographs on the wall. I enjoyed a pint of their Honey Saison.
For the sake of completeness, we decided to stop at the Eldo Brewpub & Venue. It may have a reputation for being, "a sunny place for shady people" but if you haven't been in a while it is definitely worth another visit. It has new owners and a brewer who takes pride in the beer. The inside has also been remodeled; where it used to feel like a mountain dive bar, it is now brighter with a little more space.
High Alpine Brewing is a good reason to visit downtown Gunnison. We were still too full from lunch so we couldn't enjoy any more food, but they have a cool wood-fired pizza oven and a nice second story patio for outdoor seating. Of course we shared another flight, and our favorites were an interesting Italian Mountain Basil Ale and Sol's Espresso Stout. Funny back story, Stephen and I actually started corresponding for the first time because of this brewery. I happened to photograph it in its construction phase and it wasn't on his list of upcoming breweries yet. We really connected over our love of craft beer and the rest is history.
When passing through Poncha Springs it is pretty much a requirement to visit Elevation Beer Co. Our primary reason to stop this time was to try the Montanya horchata spiced imperial porter aged in rum barrels from the distillery we visited earlier that day. Unfortunately they had just run out of bottles, but we got to try it fresh and everything on tap is always solid. It was nice to see that they have also increased the outdoor seating so we sat on the expanded patio under a large tent.
The final brewery stop for the evening and the last checkmark to complete Stephen's list of visiting every brewery in the state was Tres Litros Beer Co in Salida. This is a great new addition to downtown Salida, and since Brewers Rendezvous was cancelled this year, we were glad to have another reason to come to town. They had a good rendition of the Black is Beautiful stout, and Stephen really enjoyed the Operation Dark Snake, a baltic porter, and the ZingeBeer, a ginger beer.
On our final day of the trip, we took Guanella Pass into Georgetown to stop at the namesake Guanella Pass Brewing. This is a hidden gem as you're heading up to or returning from the mountains. The space has a relaxed feel and the offerings are on point. They recently opened a second taproom location just northeast of Georgetown in Empire.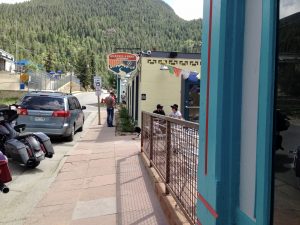 Before heading home to the "real world", we made our final stop at one of the most highly regarded new breweries of late: Cabin Creek Brewing. Situated on the bank of Georgetown Lake, this brand new space is wonderful inside and out. The mountain views from the patio are hard to beat, and the rustic touches of the brewery fit perfectly with the vibe of the historic town. Our final lunch included a Lamb Burger with lamb bacon, and the Mountain Burger which had a blended patty of bison, elk, venison, wild boar and antelope. Of course we tried everything they had on tap, and capped off our beer haul with a crowler of the Trail Tag hazy IPA. Stay tuned because the owners are also opening a hotel next door.
To reiterate, we hit 17 breweries, 1 cidery, 1 distillery, and 1 winery over 4 days. We covered over 600 miles. Overall, it was a great trip with amiable company, and it was satisfying to check off so many breweries from my own list. Due to the COVID situation we were less social than we would have been otherwise, but we were glad that we were able to meet the brewers or owners at almost every location. At a time where social interaction is discouraged, a road trip like this is a good alternative to the many cancelled events of this summer. While enforcement varied depending on the county and brewery, our article from June still encapsulates what to expect when visiting a brewery right now anywhere in the state.