With contributions by Ryan Steadman and the CBL team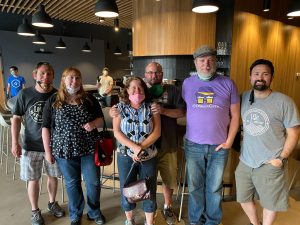 For us craft beer fans, it has been a tough couple of months not being able to visit our favorite breweries, taprooms, and brewpubs. Likewise it has been a difficult time for business owners as well, since they've been missing out on regular revenue from taproom sales. We were fortunate enough to visit several newly-reopened breweries during the last couple of weekends. While it is great to have a beer on draft again and some (safe) social interaction, the experience is quite a bit different from what you may be used to. But don't let that discourage you! The following is an account of our personal experiences, with the hope that it'll help those venturing out know what to expect.
It is clear that most breweries are taking these current social distancing regulations seriously, even as official guidelines are constantly changing. While the general rules are clearly defined, (such as capacity limits, mask requirements, etc.) each brewery is experimenting with the implementation differently. So your own experience may differ in the coming weeks as breweries continue to refine these rules. But rest assured, there will be signs posted everywhere outlining that specific brewery's social distancing guidelines.
The most obvious change is the mask requirement. Don't leave home without one, especially since the Governor gave permission for businesses to refuse service to anyone not wearing a face covering. Be prepared to don it any time you're not sitting at your table. Some places even ask that you wear them when not eating or drinking. Wild Provisions Beer Project takes this requirement seriously by requesting that everyone at the table put their masks back on whenever the server is present.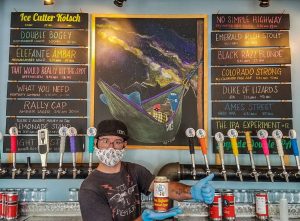 Another big difference to expect during your visit is the restriction of movement. Most breweries do not have open seating anymore, so you may have to wait for a host to seat you at a cleaned and sanitized table. Before entering Twisted Pine, an employee took everyone's temperature and checked IDs at the door before allowing us in. After being seated, it is recommended that you stay at your table unless visiting the bathroom. Some places allow you to order from the bar, but most have table service to prevent patrons from wandering. When you do need to get up, there are usually clearly marked traffic patterns on the floor to prevent people from crossing paths. Instead of the usual open water stations, you'll most likely need to request it from your server or at the bar. Restroom rules can also vary, but all seek to minimize contact with others. Some stalls or urinals may be taped off or are set up to only allow one person in at a time. Liquid Mechanics was one of the latter, and their posted suggestion was to call out "ka KAW!" before trying to enter.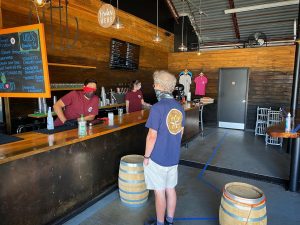 Once settled, you'll commonly find hand sanitizer adorning the tables and the bar. Twisted Pine kindly supplied clean plastic baggies so you could store your mask when not in use. A handy QR code might be displayed on the table allowing you to retrieve a digital menu without having to handle a physical copy. Wibby took it a step further by allowing you to order and pay from your phone, further minimizing contact.
Recent research on COVID indicates that open air spaces provide a much lower chance of spreading the virus, so many breweries have, or are working to, extend or create patios. Liquid Mechanics has expanded into their own parking lot and Wibby has taken over a vast area, utilizing an outdoor pavilion for their seating. One of the most popular categories that we track here at Colorado Brewery List are breweries with patios. Now more than ever, breweries will be depending on their outdoor spaces and newly christened asphalt beer gardens.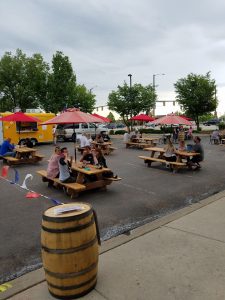 When you are ready to brewery hop, we have a few recommendations to make things go smoothly. First, check before you leave home to see if a brewery takes reservations. Otherwise, because of capacity restrictions, you may have to wait or come back later. Plus keep in mind your party size will be limited to between 6-8 people. Additionally, dogs and anyone under 21 might not be allowed in for the time being. This of course varies brewery to brewery. There may even be a time limit where customers are expected to give up their table after a set period of time, which is the policy at Joyride Brewing. Next, wear sunscreen and hats even if you do not plan to sit outside.  Since outdoor seating is becoming prominent, it is best to be prepared for that unrelenting Colorado sun. A recommendation to brewery owners as well: where possible, try to provide some shade for your outdoor tables. I myself got a little sunburned from my own unpreparedness. Most of all, be nice, patient, and tip your servers well. Nobody likes these new regulations or having to enforce them, but we're all stuck in this situation together for the foreseeable future.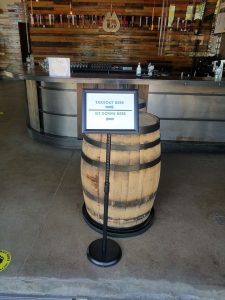 While visiting a brewery right now can be a little awkward, we assure you that it can still be an enjoyable experience when you know roughly what to expect. The beer tastes as good as it always has, or maybe even better after being deprived for months. Breweries need our support now more than ever. If you still don't feel comfortable visiting your favorite local spot yet, you can count on most breweries having a separate line for to-go orders. Some offer the ability to pre-order your beers online, so you can quickly grab and go. Beer delivery has even become an option. Another nice alternative to picking up crowlers/growlers are the slush beers at breweries like Wiley Roots, Wibby and Cerberus. Just make sure it's your last stop so you can safely drink them at home on your own deck.