Every year Colorado Brewery List sends out a survey to every brewery in the state to ask them about their favorite local breweries, (besides their own) along with their outlook toward the coming year.  One of the questions asks what is the standout new brewery among the Colorado Brewery Class of 2020.   No doubt this is a challenging time to open a brewery but 29 doors did open this year.
Congratulations to Cabin Creek Brewing in Georgetown for being chosen as the favorite New Colorado Brewery in 2020!

The mountain town of Georgetown is best known for their Christmas market, the Georgetown Loop Railway, and also as a gateway town you drive through on your way to one of the ski resorts. Now Georgetown boasts two breweries, and is a fine stop on your way up or down from Summit County without the crowds or parking nightmares.  Cabin Creek's lodge-like building and lakeside patio take full advantage of the expansive views of the mountains and lake. CC makes a wide variety of beers, with unique styles such as a foeder pilsner and a coffee stout among their core flagships. The food is excellent, with unique v-cut fries and a killer fried chicken sandwich, along with tasty pizzas. Also worth mentioning is their Lamb Bacon burger, and their Mountain Burger, which features a blended patty of bison, elk, venison, wild boar, and antelope.
Tyler Burgei, owner and brewer of Landlocked Ales, said they have a "beautiful space with a view and solid food and brews" while Kyle Knudson, owner and brewer of Barquentine Brewing, complemented them on "Great Friends, Great Beer, Comfortable Atmosphere."
James Coulter, owner and brewer of Zymos Brewing which is coming soon to Westminster, praised them saying, "Cabin Creek is definitely a stand out brewery and is putting out some exceptional beers. The "Pounder" foeder pils is a personal favourite; it is a unique take on the style and is a nice balance of clean wood that doesn't overpower an otherwise delicate beer."
Dev "Miss Lupulin" Adams, said: "It takes a big pair to make your #1 flagship at a mountain brewpub a foeder-fermented pilsner, but no one would ever accuse Pat Toland of being afraid of a fight, (the dude is a firefighter on top of running a business). In addition to the pils, their Cheaters mocha oatmeal stout is superb, and I even loved the Palisade peach milkshake DIPA they made. I can't get enough of their chicken sandwich, (with American cheese, because I'm basic like that) and I am blown away by their location on Georgetown Lake, (not sorry)."  Dev's partner in life and beer, Josh "the Beerd Wrangler" Norton adds: "Cool location, good beers, good food, and it's actually closer to our house than most Denver breweries. Plus Pat and Mikey are hotties."
* * * * * * * * * * *
Coming in at a close second place is Wild Provisions Beer Project in Boulder.  Wild Provisions is a new endeavor from 4 Noses Brewing owners showcasing open-fermented beers.  This brewery is bringing back some old school brewing techniques by utilizing multiple wood fermentation vessels called foeders and a large cooling tank called a koelschip. The cool thing is that over time, the inside of the foeders will develop their own funky flavor profiles and micro fauna from previous beers.
Davin Helden, owner of Liquid Mechanics Brewing proclaimed, "4 Noses makes incredible beer, and the offspring that is Wild Provisions was executed flawlessly. Foeders, a Koelschip, and one of the best spontaneous brewers in the nation, Brandon Boldt, is a winning combination. Granted, some of their most glorious masterpieces might not be ready for another year or two, but everything I've had out of that brewery so far has been stunning."
Dave Bergen, owner of Joyride Brewing said, "It was hard to visit new breweries this year because of, well, you know, but I was extremely impressed with Wild Provisions. Not only were their lagers on point, but their sour offerings were well executed and interesting. The space itself is beautiful, and I look forward to spending a long afternoon at their bar when things are 'back to normal.'"
When asked why Wild Provisions was his favorite new Colorado brewery, Peter Bouckaert, owner and brewer at Purpose Brewing & Cellars said, "What they do, reviving lager and sours in the same place."
* * * * * * * * * * *
In addition to the survey of the Colorado Breweries, I also asked my fellow Colorado Brewery Masters, (those of us who at one point have been to every Colorado Brewery) to pick their favorite opening of the year.  We've already heard from Dev & Josh regarding Cabin Creek above.  Here are some of the others…
My (Stephen Adams) personal pick for New Colorado Brewery of the year is Outworld Brewing in Longmont.  Outworld is a Sci-fi/fantasy-themed brewery and restaurant reinventing the brewpub experience with a curved mezzanine, really cool "pods," (booths) and a live music stage above the bar.  They offer great beer, (Belgian, Bavarian and ancient-styles) and a culinary adventure.  Outworld has achieved what I call the trifecta of a great brewery: friendly people, comfortable atmosphere, & outstanding beer. Add to that delicious food and extra geeky flair of a sci-fi theme and I'm in beer & geek heaven.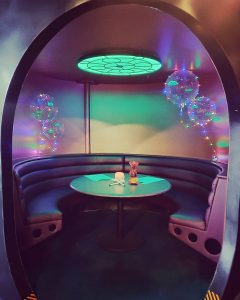 Actually, I'm going to pick two new breweries this year.  My other pick is Spice Trade Brewing which has been the brewing arm of the Yak & Yeti Brew Pub in Arvada for many years.  However, this year they branched out to open their own spot in Greenwood Village.  At this location they serve a delicious assortment of international dishes coupled with their outstanding beers using unique spices.  Their Chai Stout is well known but I really love their Tamarind Dubbel and was blown away by their Sumac Saison.  In my opinion, Spice Trade is one of the best brew pubs in the state.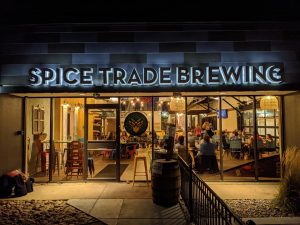 Randy Friederich's pick for favorite new Colorado brewery in 2020 was LUKI Brewery.  Located in Arvada, it is a circus-themed brewery without the scary clowns or overly bright colors and lights, but a contemporary take on a classic time in America.  Randy met owner/brewer, Jeff Smith, and some of his family on opening day and visits them periodically.  He finds them very friendly with an accommodating staff.  LUKI has many tasty beers, including IPAs, a porter, and a peach saison with new ones tapped weekly.  LUKI is comfortable and cleverly decorated, with garage doors and a heated patio.  "[They are] less than a mile from my house, so I make it there at least once a week."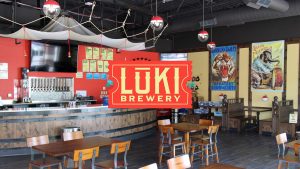 Ruth & Patrick Malone, fellow Brewery Masters picked Stodgy Brewing.  Stodgy was the only new Fort Collins brewery to open this year.  It opened in a local landmark, best known as the Friendly Fire building, a long standing stove and fireplace store on Laporte Avenue.  The location definitely has character, and stands out in a good way in this otherwise residential area.  Having a beer or three on the front patio and lawn feels like you're at a friend's house.  As Pat & Ruth say, "Great location, awesome vibe, excellent food truck, and oh yeah we also loved the beers."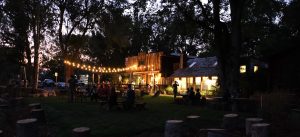 Finally, Kevin Harris picked Barquentine Brewing.  This Belgian-focused brewery is located in the Edgewater Public Market which offers a ton of different food selections that you can enjoy with your beers.  Kevin says "Great beer, theme, ambiance. Love the wandering, beer, and shopping. And as always parking is key and so often ignored but they have a ton!"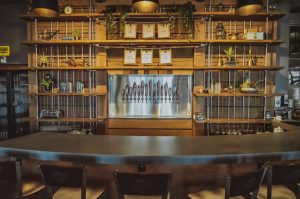 Congratulations to Cabin Creek, Wild Provisions, and all the breweries that opened this year!  Thank you to all of the breweries and my fellow Colorado Brewery Masters that contributed to this article.