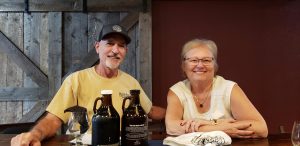 Randy is the newest person to claim the title of Colorado Brewery Master!  He has been to every currently open Colorado Brewery and joins the small list of those of us who has done so.  I had the pleasure of running into Randy just last year and discovered that he was getting very close to completing "The Quest" as I call it.  He recently finished and I reached out to him with some questions to learn more about his story as I have done for the other Colorado Brewery Masters (see the list after this article).
Who is Randy?  (Tell us a bit about yourself.)
I grew up in Kansas on my parents farm and moved to Colorado in 1971 after graduating from college.  I completed a 43-year working career in 2014, the last 25 years managing inbound logistics for food distributors.  I celebrated the 21st anniversary of my 49th year 2 months ago.  My wife, Barb (she prefers wine over beer), and I have been married 37 years and became proud grandparents 14 months ago.  We make our home in Arvada.
I've been enjoying craft beer for 30 years but began focusing more on visiting new or unvisited breweries in the past 5-8 years.  Since retirement, my objective had been to visit 2 new breweries every week (or 2 per day on road trips).  I've been following the Colorado Brewery List for several years and had a chance meeting with Stephen Adams while visiting Blue Tile Brewing after they rebranded from Zephyr Brewing last October.  Stephen generously emailed me his Colorado Breweries spreadsheet to compare to mine, which helped identify a few I was missing and provided incentive to complete the Colorado Brewery Master quest.
When and what was the first Colorado brewery that you remember visiting?
My first craft brewery was Wynkoop Brewing in 1988 or 1989.  (Actually, Coors Brewing before then, but I don't include Big Beer, except for my introduction to beer while in college.)  In addition to the 403 Colorado craft breweries currently open, I've visited a total of 827 breweries in 34 states and 11 countries on 5 continents.  It took visits to 504 Colorado breweries to reach 403, due to closings, sales and re-brandings.
When and where did you accomplish the status of having visited every Colorado brewery? 
Tumbleweed Brewing and Wine in Yuma on October 9, 2019.  Trent Bushner is one of the most accommodating and gracious brewery owners I've met.  He opened 2 hours early for my wife and I without ever having met us, as we would be passing through Yuma early afternoon on a 3-week road trip to North Carolina.  We visited and sampled beer for 3 hours and even got to meet his lovely wife, Vicki, who arrived around normal opening time.  (He even had wine for my wife.)  Trent brews excellent beers and his brewery has a very comfortable environment with great ambiance!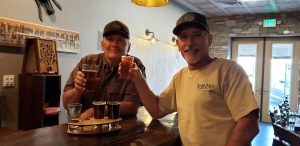 What are some of your favorite memories of your quest?
My wife and I enjoy sightseeing, so road trips around our beautiful state to visit the more-remote mountain breweries are always a lot of fun.  Until Barb retired last year, visits to many of these mountain breweries were on road trips by myself, camping in my Highlander and visiting friends along the way, but it's more fun with her along.
Also, just experiencing the incredible diversity and quality in beers and breweries that Colorado has to offer!
What are your favorite styles of beer and your top breweries in the state of Colorado in terms of your beer taste?
Although I enjoy all styles of beer, I really like double IPA's, Belgians and imperial stouts (in colder months).  There are so many great breweries in Colorado, many that I've visited only once or twice in order to complete my Colorado Brewery Master quest, so this list will certainly evolve over time as I revisit many of them.  Breweries closer to home at the top of my list include; Dry Dock, Avery, Gunbarrel, 4 Noses, Burly, Bierstadt, Bruz, Burns, Great Divide, Woods Boss, Wynkoop, Cannonball Creek, New Terrain, Tommyknocker, Liquid Mechanics, Odd 13, Left Hand, Living the Dream and Rikoli.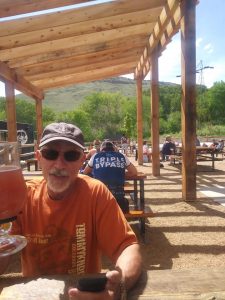 What are some of your favorite destination breweries?
Top breweries outside the immediate area include; The Colorado Farm, Cerberus, Crestone, Three Barrel, Ska, Jessup Farm, Outer Range, Casey, WeldWerks, Chrysalis, Elevation, Storm Peak, Parts & Labor, Timnath and, of course, Tumbleweed.
I'm attracted to breweries located in older, renovated buildings with their cool, historical ambiance and many mentioned are in that category.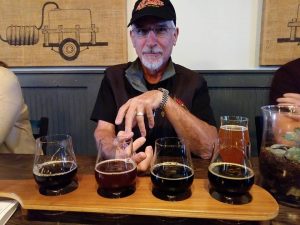 What is your favorite hang-out brewery?  (Where are folks most likely to run into you?)
Being a 70-year-old grandparent, I don't have a hang-out brewery.  (Maybe when I was 68 before becoming a grandparent!)  These days I'm known to buy a 22 oz bomber or 32 oz crowler when visiting a brewery or a mixed 12-pack of Colorado craft beer at the liquor store to be consumed at home.
What advice would you offer others trying to become a Colorado Brewery Master?
Enjoy and savor the journey!
Closing thoughts
Since answering these questions I ran into Randy again at the recently opened Good River Beer where I also had the pleasure of meeting Barb.   I look forward to enjoying the company with beer (and wine for Barb) many times in the near future.
The other Colorado Brewery Masters
Meet Kevin Harris – "The Other Guy"
Meet Patrick Malone – The Godfather of Colorado Beer Geeks
Meet John Vandewater – A Man with a Passion for CO Beer
Meet Scott Young – The Buckeye Brewer
Meet Ruth Malone – First Lady of Colorado Breweries
Meet Miss Lupulin and the Beerd Wrangler