At the end of every year we send out a survey to all of the Colorado breweries inviting them to nominate a favorite New Colorado Brewery of the Year and an overall favorite Colorado Brewery of the Year.  We also ask which Upcoming Breweries they are most anxious to see open.  As Colorado Beer Geek, it is my goal to keep track of all of these new breweries and to share pictures and news of their progress toward opening day.
Congratulations to Westbound & Down Brewing coming to Lafayette for being the most anticipated Colorado brewery for 2021!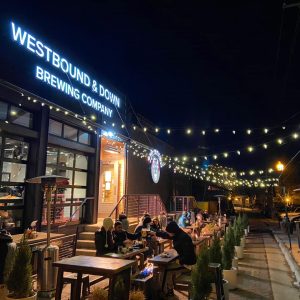 Westbound & Down first opened in Idaho Springs in 2015 and quickly became a popular stop for those traveling west into the mountains or to escape the traffic when coming back down.   In 2018 they teamed up with Amalgam Brewing to open the Cultural Center for experimental barrel aging and wild fermentation projects.  They actually claimed the title of Most Anticipated Brewery for 2020 for their plans to open a space in the Santa Fe Arts District of Denver, but those plans didn't work out and they instead set their sights on building a brand new location in Lafayette near Stem Ciders Acreage.  While this has also been put on hold, they did acquire the spot in Lafayette previously occupied by Endo Brewing and will be opening their doors there soon.
Two excellent beer journalists (and good friends) already wrote more about this expansion…
Westbound Expands to Former Endo Brewing Space in Lafayette by Jonathan Shikes of Westword
Westbound Acquires Former Endo Brewing Facility & Adds Dream Team of Brewers by Tristan Chan of PorchDrinking.com
Katie Schroepfer, a representative for River North Brewery said, "Oh man. I'm excited for Westbound for so many reasons! They've been throwing out really great collabs and just in general their beers are always at the top of my list; whenever someone shares a Westbound beer with me I am immediately happy with the results and I find myself always seeking their barrel aged beers. I'm looking forward to the new location as I never find myself in Lafayette and this will be a great excuse to go! It also helps that Derek Goodman is one of their brewers, who I've always viewed as a remarkable brewer."
Scott Ficarra, owner and brewer of Colorado brewery in planning Salt Road Brewing said, "[I] had a great time hanging out with these guys at Big Beers a couple of years ago and finally made it to their brewery in Idaho Springs last summer. Looking forward to having a closer option for their great beer, food, and atmosphere!"
Theresa Schirner, owner and brewer at Mirror Image Brewing said, "We are stoked to see West Bound & Down in Lafayette. Their beer and food has been spot on every time we visit the Idaho Springs location. We have enjoyed many great moments with their team who continue to deliver exceptional service. I also appreciate their marketing and merchandise, catchy and sleek. All in all they have the whole package and I cannot wait to be that much closer to good times, beer and food."
* * * * * * * * * * *
Close behind Westbound & Down was San Juan Brews in Montrose.  However, we really can't call them one of the "Most Anticipated in 2021″ anymore.  In a big surprise, San Juan actually opened the day after Christmas!
Kevin McHugh, co-owner and head brewer, sent me an update soon after. "Looks like we will be opening a little sooner than we thought. Soft launch last weekend went great. This coming week we will open up!!!  We will have the full line up of coffee products and will have several small batch beers flowing. We will supplement with other craft beers bought through a distributer just to make sure the patrons have a variety. Once my bigger system is up and running we will phase out the supplemented kegs and transition to all mine. Wow. Dream realized. This has been an amazing journey and I'm hoping 2022 doesn't disappoint. Montrose, and the Western Slope, is ready to be put on the beer map for great beer!!! "
Ryan Evans, owner at Bruz Beers said, "I love seeing the western slope getting some great craft breweries. Montrose is a cool town, and I think San Juan Brews concept of not only beer but coffee as well, will be a hit for that area! I look forward to visiting them on one of my next road trips through the area. Being a gateway town to some amazing Colorado destinations like Black Canyon of the Gunnison and Telluride and Ouray, I am sure plenty of people will find themselves looking for a good beer in Montrose this summer. Cheers to San Juan Brews!"
William Tedrow, owner and brewer at nearby Stoik Beer in Delta said, "They have been a huge support to us at Stoik getting open this year for one, coming to our soft opening and all of our small batch releases. Kevin, co-owner and head brewer is a good friend of mine and we have brewed together and have plans for some collab beers soon. Super passionate about all things beer and the industry. He is a well decorated homebrewer and has a vision like us to bring more attention to the craft beer scene here on the western slope. I really like their concept of opening early at 7:00 am with their craft coffee, being able to have a beer at 12 noon when most all breweries over here open at 4:00, some at 2. Their open was amazing, great feel and a large space. Coffee house meets brew pub. Love it!"
* * * * * * * * * * *
Another very highly anticipated brewery coming to Colorado in 2021 is Odell Brewing Sloan's Lake Brewhouse.
Odell Brewing Company, following the success of their first Denver brewhouse in the RiNo Art District, is planning for a second Denver location, this time in the Sloan's Lake neighborhood.  "As a Colorado-focused and employee owned brewery, growing in our home market is first and foremost," explains CEO, Wynne Odell. "Investing in our own backyard creates more opportunities for our co-owners and aligns with our goals of pragmatic innovation."
With the help of RB+B Architects and
Built.Construction
, (who designed and built Odell's RiNo Brewhouse) the Sloan's Lake location may be ready to open as early as February 2021.  The new space will include a scratch pizza kitchen, two bars with 16 Odell tap handles, and a rooftop patio overlooking Sloan's Lake and the Rocky Mountains. The brewhouse will feature a 10-barrel R&D system which will be used to brew experimental beers available exclusively at Sloan's Lake.
Dave Bergen, owner of Joyride Brewing which will be their closest neighbor said, "Odell is one of my favorites in Colorado and are one of the breweries that got me into craft beer way back when. Before the pandemic, we'd see a lot of their crew in our taproom, and after they announced their new location, our relationship got even closer. We've been able to collab together on two beers already, and are looking forward to hanging out and brewing together more often with our soon to be new neighbors."
Chad Miller, owner of Black Shirt Brewing said, "I'm really looking forward to anything new that Odell does, whether it be an amazing location looking over a lake at the steps of the Denver skyline, their wine project, pizza restaurant, or (of course) their beer. They have a feel for good aesthetic and ambiance and their pilot beers always wow me and my wife. Everything they touch seems to turn to gold. Their Mountain Standard IPA is a fixture in our fridge and my wife, Carissa, and I plan to be fixtures in their new space."
* * * * * * * * * * *
Congratulations to all of these breweries for being chosen by their peers as the most anticipated Colorado breweries to open in 2021!  I am very much looking forward to sharing news about these and all other brewery openings this year.
Thank you to all of those who provided kind words about your fellow breweries.  I love this community!