Every year Colorado Brewery List sends out a survey to every Colorado brewery asking them questions about the brewing industry and also who among the other breweries in Colorado are their personal favorites.  This article is not about who we as Colorado Brewery List picked as our favorites, (you can see our staff picks here) but is about their fellow brewery owners and brewers honoring excellence among their peers.
Let's get right to it…
People's Favorite Colorado Brewery
Not part of this year's survey, but back in March (does anyone remember that far back?) Launch Pad Brewery won the distinction of the People's Favorite Colorado Brewery by winning Colorado Brewery Madness which drew brackets from last year's survey.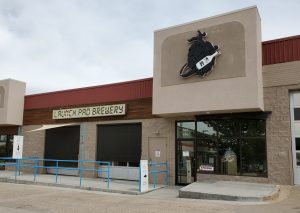 * * * * * * * * * * *
New Colorado Brewery of the Year
See our New Colorado Brewery of the Year article on why Cabin Creek Brewing in Georgetown won this honor.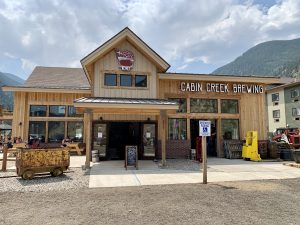 * * * * * * * * * * *
Regional Colorado Brewery of the Year
After the first couple years of doing our survey, we discovered that the larger breweries that have regional and even nationwide notoriety would have a big advantage over the smaller Colorado breweries.  We decided to split off the regional (and large) breweries into a separate category, using the Brewers Association definition of a regional brewery producing more than 15,000 barrels a year.
Without any surprise, Odell Brewing Company won the distinction of being the Regional Colorado Brewery of the Year for the fifth time in a row!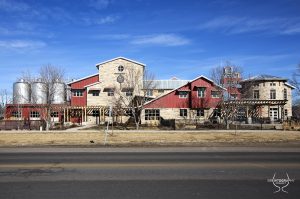 Davin Helden, owner of Liquid Mechanics Brewing says, "Odell? Nobody has rolled with the times as well as Odell in my opinion. They have managed to keep their flagships rolling in a world that no longer has flagships. But guess what, Odell IPA is in my personal beer fridge at all times. Plus, they have adapted to changing customer tastes and the need to chase the 'what's new this week' theme by coming up with trendy beers."
Dave Bergen, owner of Joyride Brewing says, "Odell is one of the breweries that originally got me into craft beer many years ago. I think they've done a superb job of rolling with the changes in regards to trends in the industry and consistently putting out world class beer. It's been fun to try the small batch brews at their RiNo Brewhouse and I'm looking forward to them opening up their new location in our neighborhood next year."
Eli Gerson, owner and brewer at Ramblebine Brewing simply said, "O'Dell is just the best brewery in the world."
The runners up to Odell for favorite Regional level Colorado brewery were Avery Brewing and Ska Brewing.
* * * * * * * * * * *
So who did Colorado breweries pick amongst themselves as their favorite breweries?
In third place (out of 400 to choose from) is Zwei Brewing Company in Fort Collins.
Zwei was started in 2014 by two brothers who are passionate about beer and talented at making it too.  They specialize in German standards including an outstanding Dunkelweiss.  They also make some awesome Belgian styles and many other specialty beers.
Scott Ficarra, owner and brewer of Colorado brewery in planning Salt Road Brewing said, "Kirk and Eric produce some of the finest representations of German beer styles I've ever had. They are devoted to brewing with premium ingredients and using traditional methods to create superior ales and lagers not only from Germany but throughout Europe and North America as well. The taproom and patio have a cool festival vibe that are enhanced by an awesome staff!"
Chris Marchio, owner and brewer at Knotted Root Brewing says, "Zwei is a brewery that focuses on traditional styles and executes them with precision. At Knotted Root, we are passionate about making Unfiltered IPAs and fruited sour concoctions, but traditional German lagers are also a passion of ours; being in an environment where many breweries follow "trends" as opposed to creating them, it's refreshing to drink beer rooted in history. Zwei has a casual environment with very good German beer. That's what it is and who they are. I love that."
Rich, owner of Sparge Brewing said, "Zwei is one of those places that has an atmosphere that promotes interacting with others, a friendly staff, and always has great beer. When I bring my friends and family to Zwei, it's just a good time!"
* * * * * * * * * * *
Coming in second place for the third year in a row, (and first place the year before that and favorite new brewery of the year before that) is Bierstadt Lagerhaus in Denver.
Bierstadt focuses on making only a few German lagers, but making them with the utmost care and attention to style standards.  Many brewers regard them as one of the best in Colorado. The Germans have been brewing lagers the same way for hundreds of years. So when brewers/owners Ashleigh Carter and Bill Eye opened Bierstadt Lagerhaus in 2016, they had no intention of changing things up. "No flair, no twist, no added things," says Carter. "We want to be as traditional as possible. You come here to our place, and it will be like getting off a plane in Munich."
New in 2020:  There were some major changes at Bierstadt this year.  They transformed their large parking lot into a massive biergarten and to really get the feeling of being in Germany they now feature some amazing schnitzel on their menus.  One of the biggest changes was that while they once said they would never package their beers, 2020 happened and now you can pick up cans to go.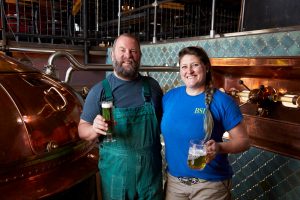 James Coulter, owner and brewer at Zymos Brewing coming soon to Westminster, remarked on how Bierstadt releases high quality product and is unwilling to compromise on their standards while staying true to style and traditions. Laura Worley, owner and brewer at Burns Family Artisan Ales, (my personal favorite) praised Bierstadt for "passionate dedication to their mission and their great skill and experience at executing it well."
Sam Enders, brewer at Stronghouse Brewpub said, "It's refreshing to see a craft brewery go back to the basics and traditions of brewing, making German Lagers. In a world of rushed 3 week lagers that flood craft beer, they take their time and it shows. I love seeing a brewery go against the grain of what most breweries are doing, making old brewing traditions new again. Arguably the best lagers you can get in the States!"
Chad Miller, owner of Black Shirt Brewing said, "Bierstadt's commitment to the tradition of making beautiful beer is steady and uncompromising; Everything from their brewhouse down to their glassware screams dedication. Bill and Ashley have created a much needed fixture in the beer scene and I will forever be grateful for it!"
Jordan Fink, owner and brewer at Woods Boss Brewing said, "Bierstadt is the type of brewery that other brewers like myself love. In a time where many breweries are chasing the next trend and crazy innovation or experiment with beer, Bierstadt has always been a throwback, producing consistent (consistency is the result of skill, care, passion and much harder to do than most people realize) amazing lagers that are so clean and that you can either enjoy with out having to dissect or can marvel at the fact that they do not hide behind anything."
Abigail George, owner at Barrels & Bottles Brewery, gave praise to both Cannonball and Bierstadt, "Not only do both breweries brew great beer and have a great fan base, they both stick to their true selves. They don't fall into gimmick trends or compromise who they are to sell a pint. And, both breweries are owned and run by really good people. If you needed a shirt, they would give you the one off their back."
* * * * * * * * * * *
Finally, in first place for a third year in row is Cannonball Creek Brewing Company
Cannonball was founded in January of 2013 by Jason Stengl and Brian Hutchinson. Jason and Brian met in 2004 at the Mountain Sun family of breweries in Boulder, Colorado where they both learned to hone the craft they love. With over 15 years of combined professional brewing experience and an uncanny ability to tolerate one another, they decided it was time to take a leap and chase the dream of opening their own brewery.
With both Jason and Brian calling Golden, Colorado home, the choice for a location was obvious. After settling on a property on the north side of town, they wanted the brewery name to reflect the home town they loved. After doing some research they learned that the original name for the majestic Clear Creek that runs through the center of Golden was Cannonball Creek. The historical significance paired with the duo's love for the iconic Cannonball made the decision a no-brainer and Cannonball Creek Brewing Company was born.
Knowing that they wouldn't be able to do it all on their own, Jason and Brian called upon former co-worker and professional brewer Jonathan Lee to help run the tasting room and work in the brewery. Jonathan's experience as a craft beer bar manager, combined with his professional brewing experience made him the perfect fit.
New in 2020:  They added a patio on the west side of the building in their parking lot, but the biggest change was adding fire pits and insulation around their front patio that helps mitigate the wind and cuts down on the noise from highway 93.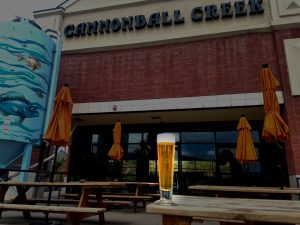 Jason Bilodeaux, owner and brewer at Over Yonder Brewing says, "They make consistently great beers. I especially enjoy their IPAs and lagers. Each release of their Alpha Project is something I look forward to trying. They've really mastered their recipe development and hopping techniques. They are a true influence on how I approach hopping my IPAs and other beer styles."
Michael Memsic, owner of Sanitas Brewing said, "Cannonball Creek has been and continues to be one of my favorite Colorado breweries for a number of reasons. First they are led by two great brewers and people. Guys who always do the right thing. Secondly, they make some of the best beers in the state. Not just award winning beers, (see the GABF medal collection) but great beers to drink every day! I love stopping by to see what is new on the wall any time I am passing through Golden."
Dave Bergen, owner of Joyride Brewing says, "Cannonball gets a lot of love for being masters of the hoppy styles, which is very deserved, but they show their true wizardry by also knocking it out of the park with lighter styles, such as Netflix and Pils and Let's Talk About Mex. Add in the impressive GABF streak, and you have to wonder if there's anything they can't do."
Anthony Martuscello, owner of Westfax Brewing says that he enjoys Cannonball beers, "because they are clean, crisp and consistent. They're hoppy beers, great and always enjoyable. But I've also been really impressed with their lagers. I had their Vienna Lager this fall (the name escapes me) and it was absolutely delicious."
Colorado Brewery List writer/consultant Dev Adams, says, "Cannonball Creek is dedicated to putting out excellent, consistent beer. If you go there, you never worry that there are going to be off-flavors or any issues whatsoever with the beer and that there will be a wide variety of styles. They have done an amazing job with COVID restrictions and I never worry about being safe when I'm there. On top of that – they have knowledgeable, friendly staff who don't take BS from people who are being awful to them – something that I personally find refreshing."
* * * * * * * * * * *
Congratulations to all of these breweries for being recognized by their peers as great examples of the fabulous Colorado brewery community!
Thank you to all of the breweries who answered our survey along with the follow up emails to spread their love for their fellow breweries.
P.S.  Standby for another article coming very soon on the Most Anticipated Brewery for 2021!