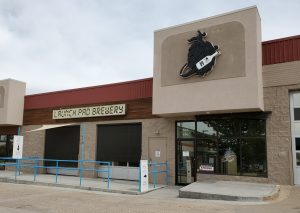 Good Day and Good Beer Everyone! I recently had the chance to finally sit down with the Colorado Brewery List's March Madness 2020 Winners, Launch Pad Brewery! I spoke with the owner, Dave Levesque, and head brewer, Paul Mahoney, to talk shop.
*I will issue my own disclaimer here, if there is any brewery in the state you will find me at, it is Launch Pad. You could say I'm a bit biased towards these guys. Either way, this interview was super fun and I learned a lot even though I spend a lot of my drinking time at the Pad.
CBL: Hi guys! I know it's been awhile since March Madness wrapped up, but how does the win feel?
Paul: It has been part of such a hot start to the year with Dave winning Colorado Small Business Person of the Year and then winning the March Madness bracket. It still comes up every day. Actually, when we were in the semi-final round we started talking with Liquid Mechanics and we made a bet with them. Whoever lost would host the collab we'd work on together. Look for that coming soon.
CBL: What has Launch Pad been up to since the shutdown?
Paul: Renovations. We installed a new light feature that looks like star constellations. It turned out very nice. Changed up some of the décor. Cleaned, cleaned a lot. There have been sixteen new beers during the to-go period. Probably four to eight of those are on right now. It has been kinda scary releasing new beers without being able to do the "splash tastings" for folks. It has also been super awesome though to see how many people have faith in us and come and buy a crowler without it.
We also film funny videos we post to our Facebook, Instagram, and You Tube channel about three to four times a week.
CBL: Out of curiosity how many crowlers are you guys going through right now?
Dave: We're buying about 1,200 a week. I think, last I checked, we are the number one buyer of crowler cans from Crowler Nation right now.
CBL: Wow. That's a lot of beer.
Paul: Yeah. It's a lot.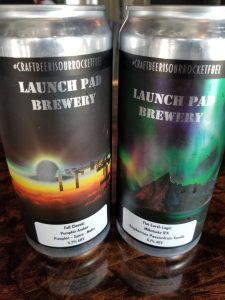 CBL: Any tips or tricks for folks drinking at home right now?
Paul: Don't let the beer heat up. Make sure it goes from fridge to fridge and stays cool in between. Then drink it within a month of getting the beer.
Dave: Make sure your glassware is beer clean. Rinse it with water and shake it clean before pouring, that's what we do at the brewery.  And don't be afraid to pour the first glass out of a crowler kind of hard. It releases the aroma and knocks the carbonation down.
CBL: So switching gears a bit here, why did you start Launch Pad?
Dave: Oh man. Honestly, it has to be the passion for the beer. When I started brewing I was working at Raytheon and Henry was working at Lockheed Martin. After my first shift on base, one of my friends took me to Dry Dock. At that time it was just a 15-20 seat hole in the wall. I learned to brew from Brew Hut. I figured you keep people happy, you can work on a small pilot system. The money will always be there in the beer industry, but if you don't have the passion the quality will show.
The reason we chose the area was because there was nothing around Buckley Air Force Base. There were no bars, no clubs, no NCO, no officer's club on base. So we figured let's open up something close to base.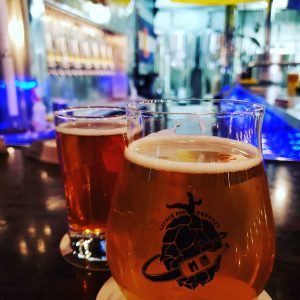 CBL: What changes can beer enthusiasts expect when the brewery opens again?
Dave: Expect the mandatory changes from the government. We won't have any more community tables, tables will be set to encourage social distancing. We will keep curbside and to-go options for the folks who still want Launch Pad beer but maybe aren't ready be out yet. We also understand people may still want to distance to save money and we get it.
We will be reducing capacity. That will be the tough one since we have never been one to turn people away. Otherwise, there will be no change in quality or service. Oh and masks, we will be wearing the masks.
CBL: Okay last two questions. First, what would you tell all the people who voted for you guys?
Paul: Thank you, hope to see you in person soon.
Dave: Thanks, thanks a million. We were blown away by the response. We watched the numbers and couldn't believe the results the polls were getting. We couldn't have done it without you guys.
CBL: Finally, what would you tell the people who did not vote for you?
Dave: I get it. The competition was fierce. We were competing against a lot of favorites. But it was fun not just to run away with it.
Paul: I understand. Liquid Mechanics is my favorite brewery. But you should come give us a shot. Drive out to West Kansas and give us a try.