Happy Pride 2021!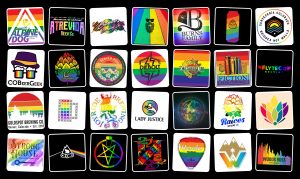 The LGBTQ+ community has had a longtime friend in the Colorado brewing industry.  Here are some of the Colorado breweries that are proudly showing their support through events, rainbow-themed merch, special beer releases, and an outpouring of love for the entire LGBTQ+ community.
This is a living article in which I will add more information throughout Pride month as I find out about it.
************* Queer Owned Colorado Breweries *************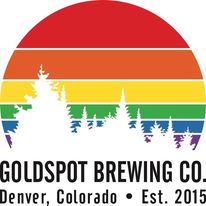 Goldspot is a fabulous craft brewery in Denver's Berkeley/Regis neighborhood with traditional ales and lagers and some not so much.
They strive to create a sense of community, a place to be known, to gather, to celebrate and to feel at home.
They hope their eclectic, balanced, and lovingly-crafted beer will bring people together to share in this wild adventure of living, and living well.
Kelissa Herber is their head brewer and sole-owner.
From Bartender to Owner: How Kelissa Hieber Made Goldspot Her Own by Jonathan "Colorado Beer Man" Shikes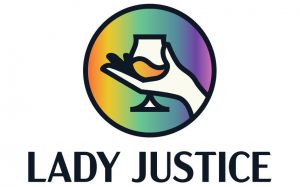 The Lady Justice Brewing Company was dreamed up by Betsy Lay, Kate Power, and Jen Cuesta during their 2010 service in AmeriCorps – asking the question "why can't we brew beer and give back to our community?" What began as a small operation on a custom-built homebrew system in a tiny storage space has grown into a flourishing taproom and movement.
Today, Lady Justice Brewing is a community-focused brewery dedicating time, space, and money to nonprofits and community partners that support and empower women and girls in the state of Colorado. Our giving is focused in two direct ways: through our Community-Supported Beer (CSB) memberships with 100% of profits over cost going directly to nonprofit partners, and through the fabric of the taproom community, highlighting opportunities to volunteer, collaboration brews, and more.
Betsy Lay is their co-owner and head brewer.
Lady Justice Takes Over Longtime Brewery Space on East Colfax in Aurora by Jonathan Shikes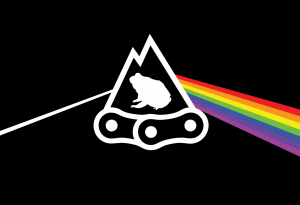 Mountain Toad Brewing is a small microbrewery specializing in handcrafted, creative beers.
Their focus is on providing a place for the community to gather and unwind.  The taproom offers a quaint and comfortable atmosphere for locals and visitors alike to grab a pint and make a new friend.
Good vibes and high fives are always on tap.
Mountain Toad is owned by Thad Briggs & his partner Brian Vialpando
All in the (Chosen) Family by Holly Regan
************* Pride Beers *************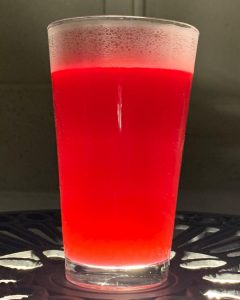 tapping today is our all new pride beer this year: Hibis-Kiss Whoever You Want!
It's been a minute but @makinnoisebeer is back and we are excited to be a part of this special, woman-led non profit organization once again! This year the focus was on giving back to a local BIPOC or LGBTQIA+ non profit of our choice where $1/pint goes directly back to them and we have chosen to work with Inside Out Youth Services an amazing organization that aids, supports and celebrates our LGBTQIA+ community! Please be sure to come out and support for a great cause. Not to mention this sangria-style blonde ale made with hibiscus, spices, citrus and a splash of honey is not only drop dead gorgeous but will leave your taste buds dancing! Come out and support amig@s!!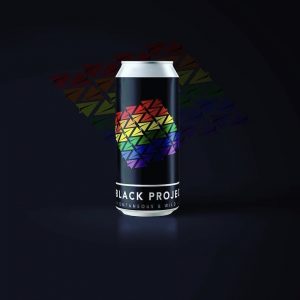 Cerebral Brewing – Authentic Expression Progressive Pale Ale & Superior Mirage Contemporary Pilsner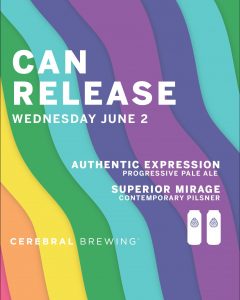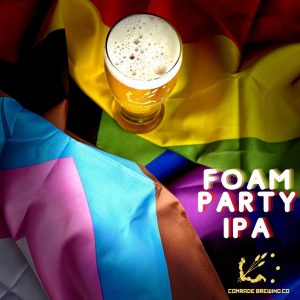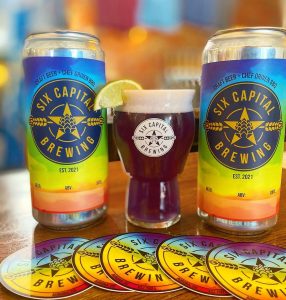 Ursula Brewery – "All for Love, Love for All" Lime Kolsch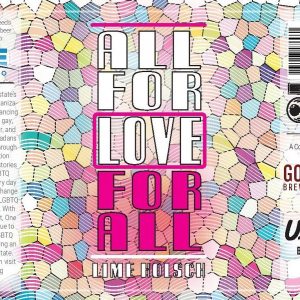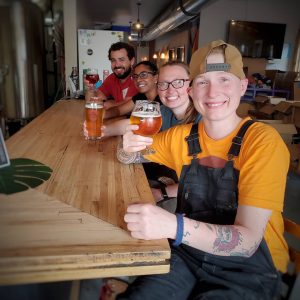 —
—
Pon De Floor is one of six donation-based Goldspot beers being released this month. Stay tuned.
************* Brewery Pride Shirts (and other merch) *************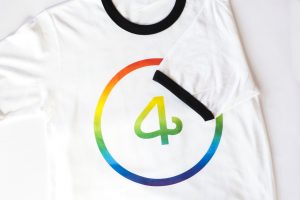 4Love T-Shirt
$15 from each shirt sold is donated to the Trevor Project, providing 24/7 crisis intervention for LGBTQ youth. Read more HERE.
https://www.4nosesbrewing.com/merchandise/4-love-t-shirt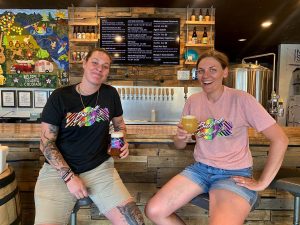 And pride shirts are in! 100% of proceeds ($6 per shirt) will help our friends at Transformative Freedom Fund make their magical mission come to fruition. It's another fun tweak on @itscalleddesign party time artwork they conjured up for us a while back. 
.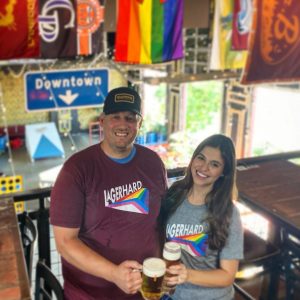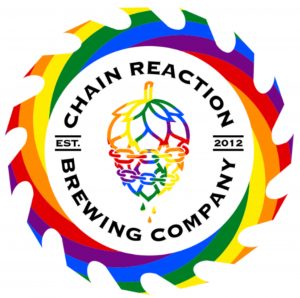 Chain Reaction Brewing Company has these stickers and will be donating the proceeds to the Matthew Shepard Foundation.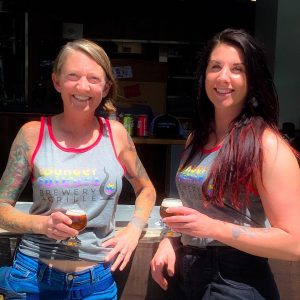 Pride tanks have arrived, and our new Vienna Lager is tasting especially excellent today!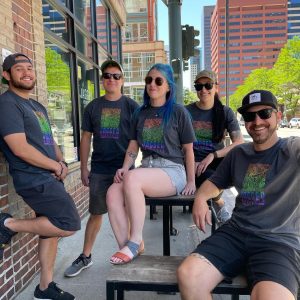 Pride Shirts are in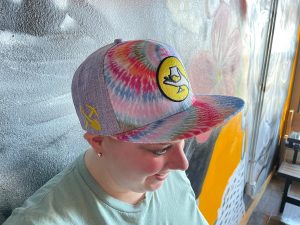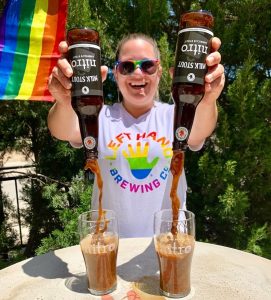 Hard pouring Love For All.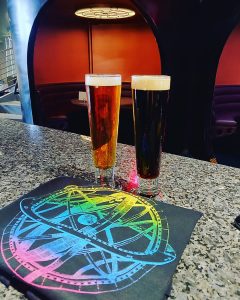 Check out our Rainbow Armillary t-shirts!
(Last year's post but "The shirts are back!")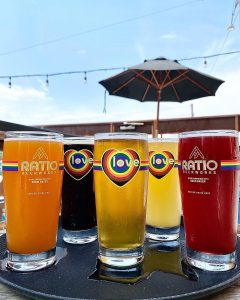 We teamed up with local artist Koko Bayer on a special glassware collaboration in honor of pride! Starting today, you can snag a limited edition Love glass in our taproom for only $7.00! Come enjoy a colorful pint in one of these insanely beautiful glasses or just snag one to take home for anyone in the family to enjoy! Either way, 10% of all proceeds will be donated to The Center on Colfax on behalf of Koko.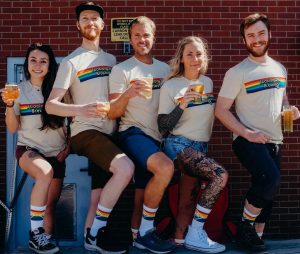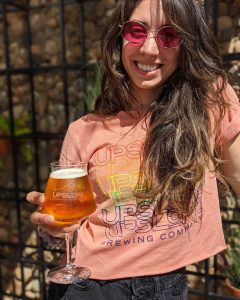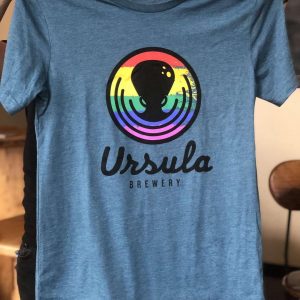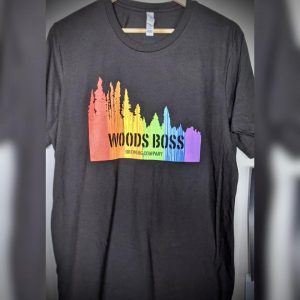 $25 per shirt // $5 per shirt donated to One Colorado
I've heard rumors of many more breweries planning Pride shirts (but no official post yet)…
Check back later for more updates and let me know if you see an announcement that I may have missed!
************* Pride Support *************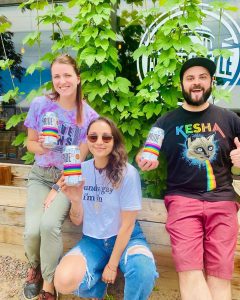 Happy Pride month! For the month of a June we are celebrating Pride with these awesome rainbow 32 oz crowlers! Come get some draft beer to go and get one of these babies to take home.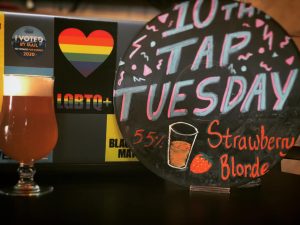 Pride month holds a special place to a lot of us here at the Hippie, and continues on to everyday of the year. Kicking it off with a much requested 10th tap Tuesday. Strawberry blonde is back and may or may not have enough for all of June, catch it while you can! Stay tuned to our social media for this months fun! Hope to pour ya one.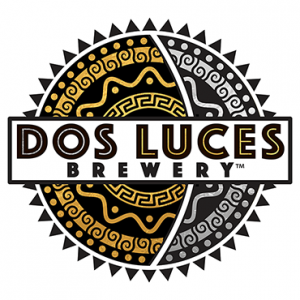 At Dos Luces Brewery we will be choosing an LGBTQ+ charity for our Black is Beautiful proceeds for the month.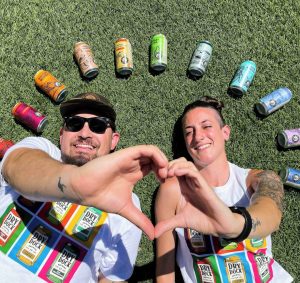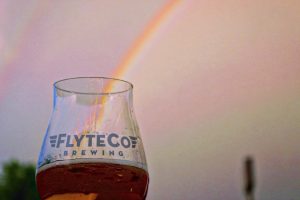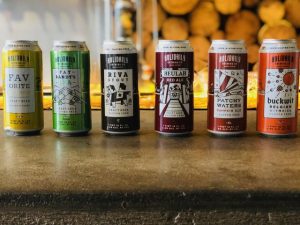 Happy Pride month!
At Holidaily we strive to provide an inclusive and comfortable environment where everyone and anyone can enjoy delicious Gluten Free beer.
In addition, we have special Pride Flights that display a rainbow of colors and styles.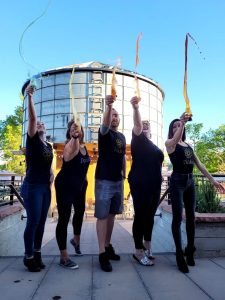 At Peculier Ales everyone is welcome. We wish you a very happy #pridemonth2021
*************
Do you know of any other Colorado breweries supporting the LGBTQ+ community in 2021?
If so, please let me (Colorado Beer Geek) know and I'll add them to this article.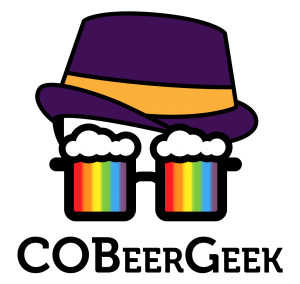 ************* Past Events *************
These are the events that were held by Colorado breweries during Pride month 2021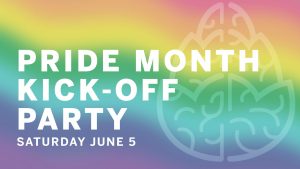 — 𝗣𝗥𝗜𝗗𝗘 𝗠𝗢𝗡𝗧𝗛 𝗞𝗜𝗖𝗞-𝗢𝗙𝗙 𝗣𝗔𝗥𝗧𝗬 —
For the second year in a row, Denver's Pride celebration will look a little different than years past. Pride Month memorializes a moment in time when passionate individuals took action to instigate change, rectify injustice and demand equality so we figured we had to do our part to start the month long celebration of these influential figures with our first ever 𝗣𝗥𝗜𝗗𝗘 𝗠𝗢𝗡𝗧𝗛 𝗞𝗜𝗖𝗞-𝗢𝗙𝗙 𝗣𝗔𝗥𝗧𝗬 taking place this SATURDAY (6/5) at the taproom!
The rundown: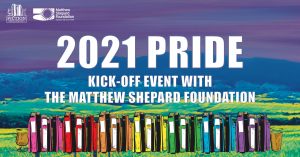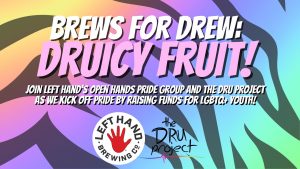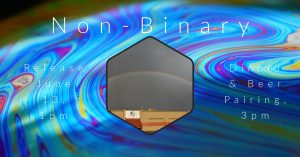 PRIDE Month release of Non-Binary, an 8.8%abv HellesRauchWeissenDoppelbock.
Non-Binary Dinner and Beer Pairing, 3pm.
Join us picnic-style, or take home a meal plus a bottle of our PRIDE Month beer. For dinner, Lokal-Lamb/Vegetarian Meatballs with Sweet Potato Hash and Green Chili Crema. For dessert, a Chamomile and Strawberry Mille Feuille. Pairs beautifully with the clove, banana, caramelized smoky sugar and toasted bread notes of the Non-Binary beer.
$25.00/person. Must reserve by June 10.